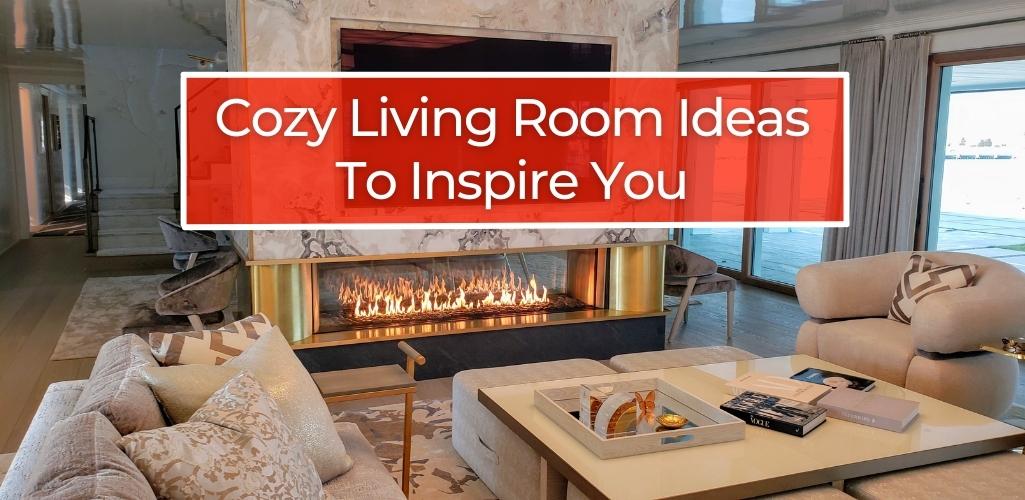 You've seen cozy living rooms in magazines and all over Pinterest, but cozy living room ideas are often harder to implement in real life. 
The important thing to remember is that coziness is more than just how a room looks; it's about how a room makes you feel. Cozy spaces span all styles as well, even the most modern and contemporary. We'll cover some key elements to keep in mind when thinking about how to make a room cozy with examples along the way to help get you started.

Looking to transform your living room? Let Acucraft Fireplace Systems help with a custom fireplace built just for your space.
What Makes A Living Room Cozy?
You can probably distinguish a cozy living room from an uncomfortable living room, but can you pinpoint what it is that actually makes a living room cozy? Cozy can mean different things for different people, but cozy living rooms all have this in common: they naturally welcome guests into the space and make them want to stay awhile. To make a warm and inviting living room, consider the following elements for your space.
Lighting: Bright overhead lighting can make a space feel flat and one-dimensional, so play with a mix of lighting sources and levels of light.
Textures: Adding texture in fabrics and other materials can bring in another dimension of interest to the space.
Furniture: In addition to the type and design of furniture, think about the layout and flow of the room for maximum comfort and functionality.
Decor: Your living space should be a reflection of who you are, so bring in decor and artwork that speaks to you!
Fireplace: Whether wood burning or gas, a fireplace adds warmth and character to any space.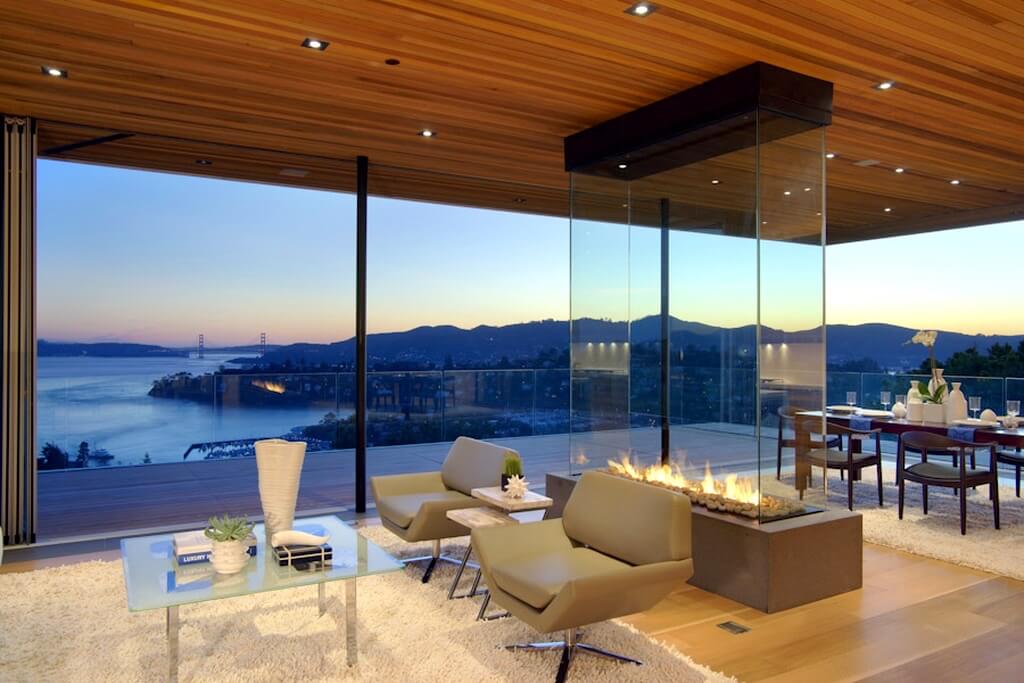 Cover Your Living Room With A Fluffy Rug
One idea for how to make a room feel cozy is to add a large area rug, preferably one that is soft and fluffy. As a general rule on sizing, your coffee table and the front legs of your sofa should be on the rug, while the back legs of the sofa should not be on the rug.
Area rugs are really a multipurpose addition to your living room, adding softness and texture, defining areas of your space, and even providing insulation and muffling sound. Modern living rooms like the one above can be made cozy with the simple addition of a fluffy rug.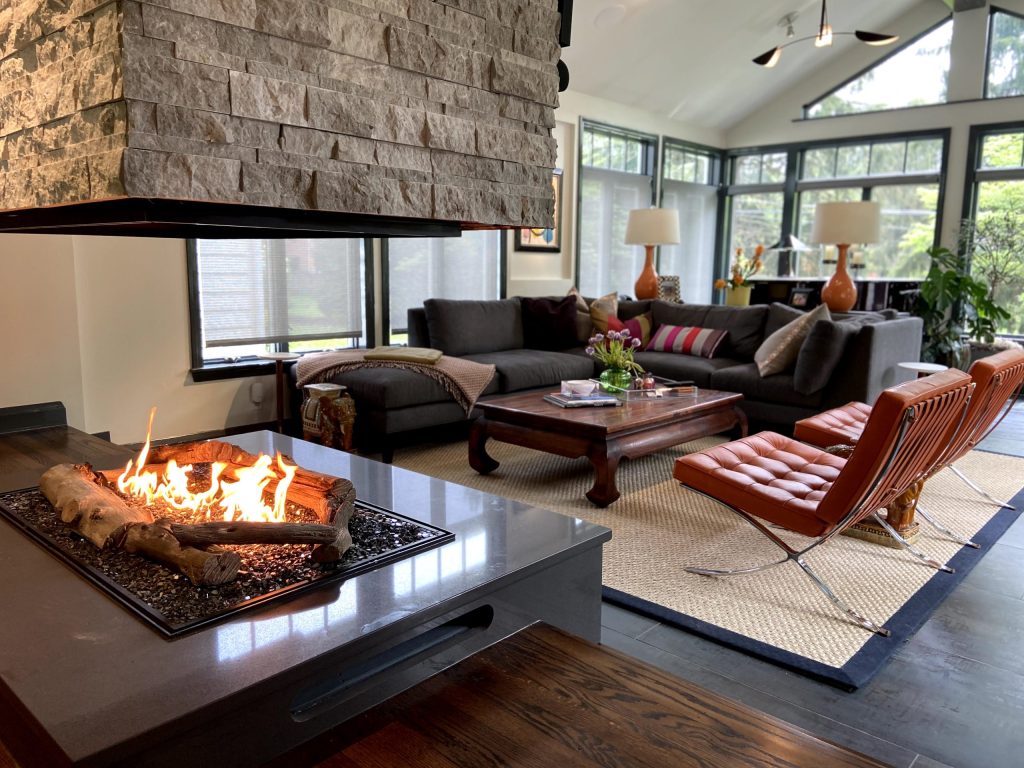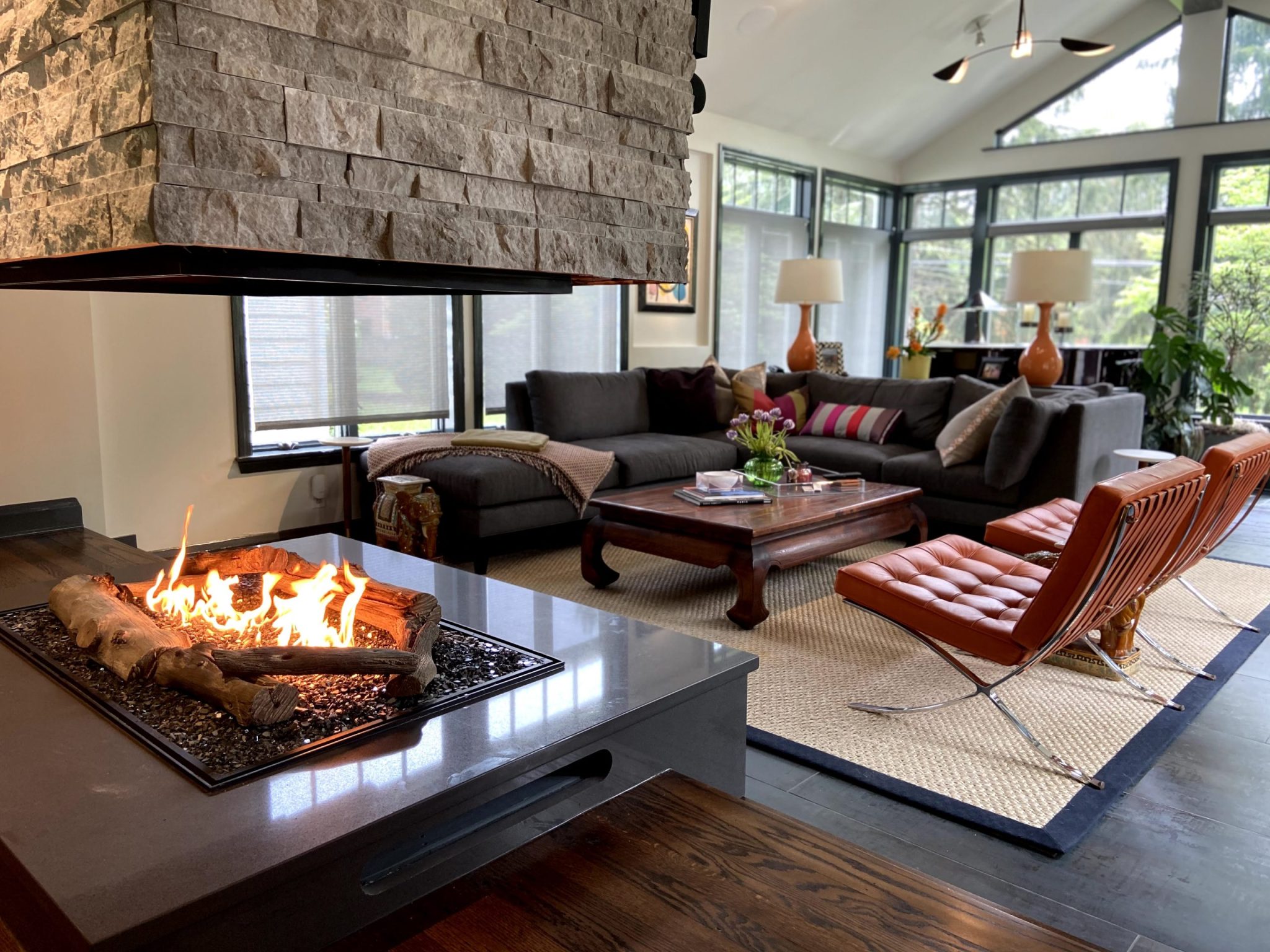 Think About Vibrant Colors
It may seem counterintuitive, but deep and even vibrant colors can have a calming effect on a space. Try a navy or dark green wall color to create a moody and comfortable living room. If painting the walls is out of the question, opt for a vibrant color that you can incorporate and carry throughout the room.
Use artwork and functional pieces like lamps, throw pillows, and chairs to pick up the color and ground the space. There's a fine line here between creating a calming effect and going overboard, so be sure to step back as you're designing and take a look at the room as a whole.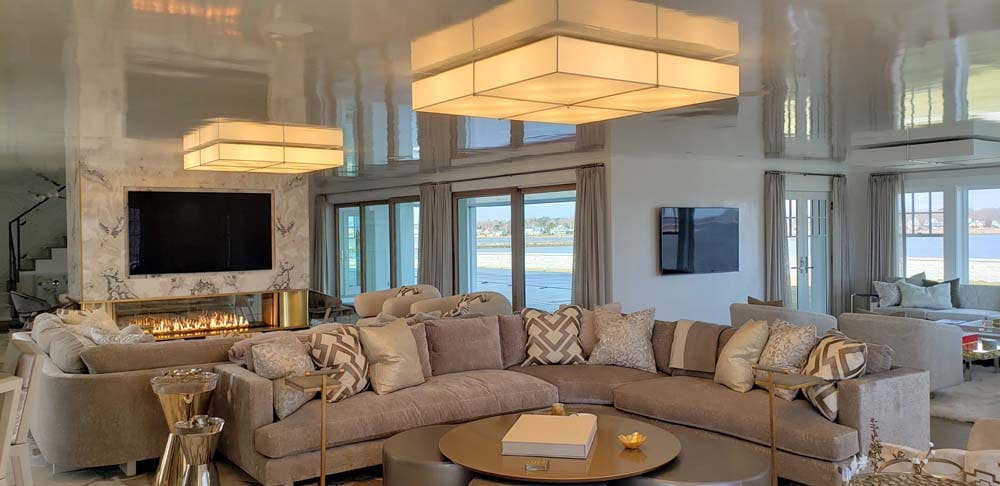 Or Consider Soft Colors
Sometimes what makes a cozy family room is a more neutral, soft palette. Again, this comes down to your space and your unique preferences. What's important to remember with this one is to consider texture as well as color. With a softer, less vibrant color scheme, you'll want to layer in texture and pattern to still keep the room interesting.
Notice how in the example above, there are many materials, textures, and patterns at play. Even though the throw pillows are all in the same neutral colors, the patterns and contrast against the soft sofa and the orange flames from the linear see-through gas fireplace give visual appeal and interest.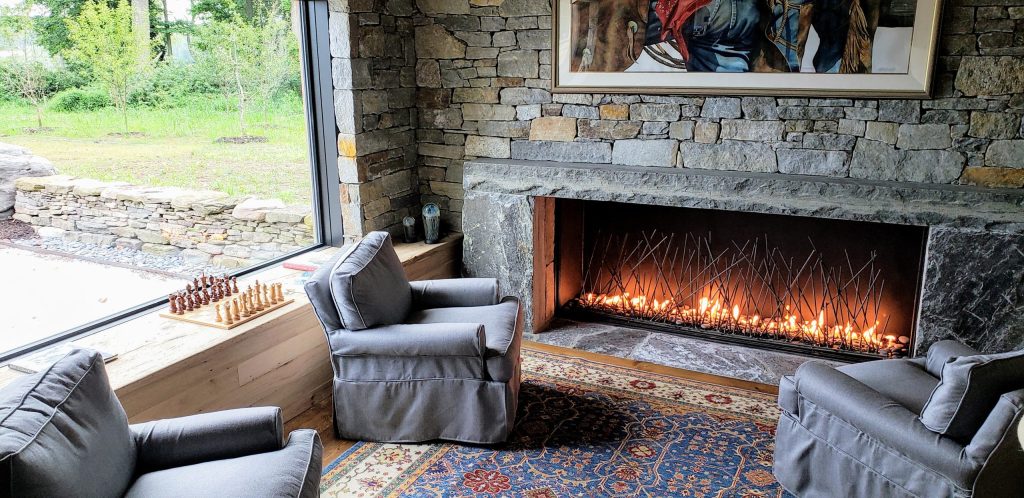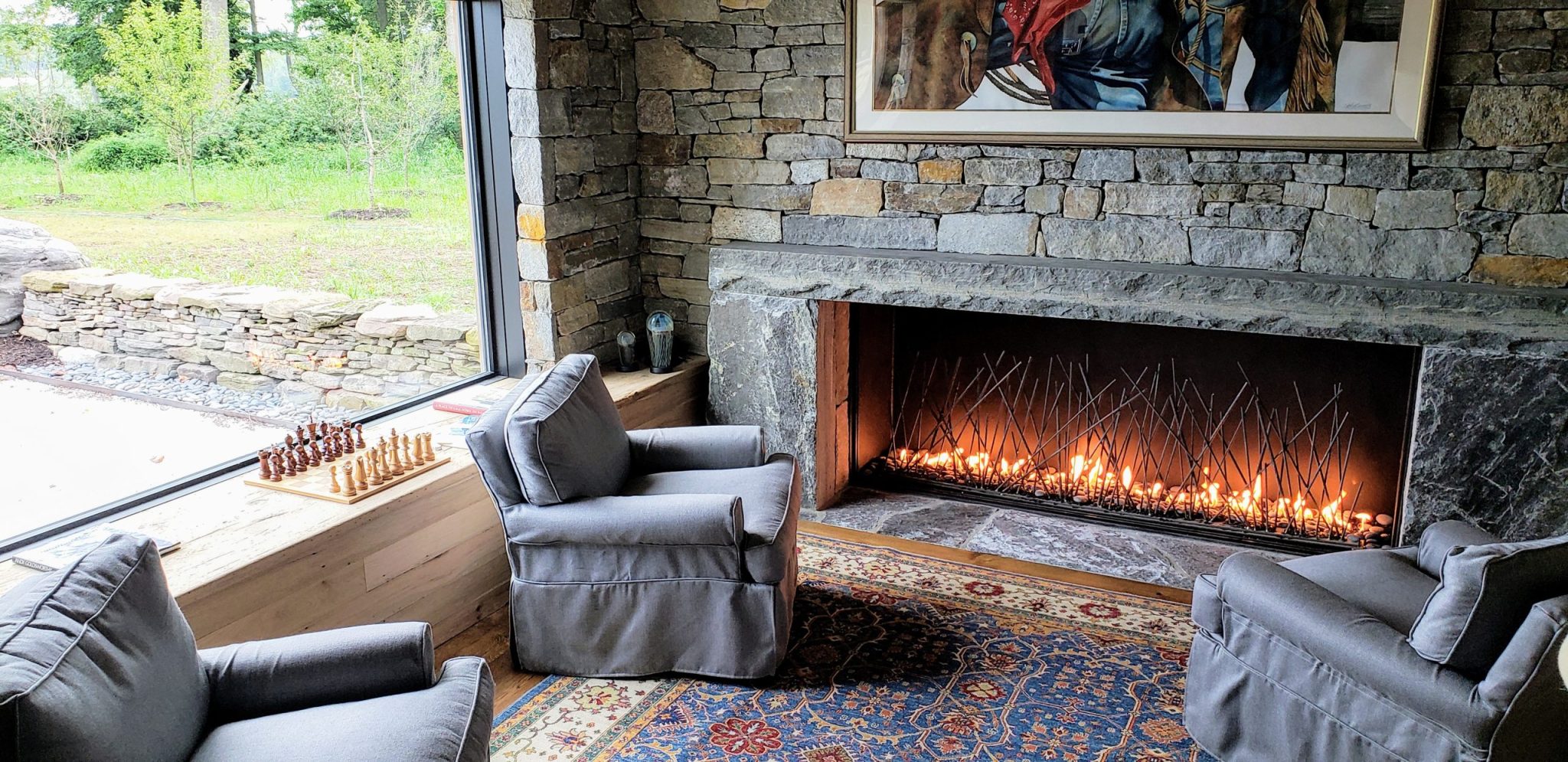 Have Games Out & Ready
One small warm and cozy living room idea is to have games out and ready for guests to enjoy. Nothing says welcome to the space like a variety of games just waiting to be played, especially if you are going for a cozy cabin vibe for your living room. Be careful not to overdo it, though. We don't need to see your entire game collection! Pick a couple of your favorites, and don't forget about the classics like cards and chess.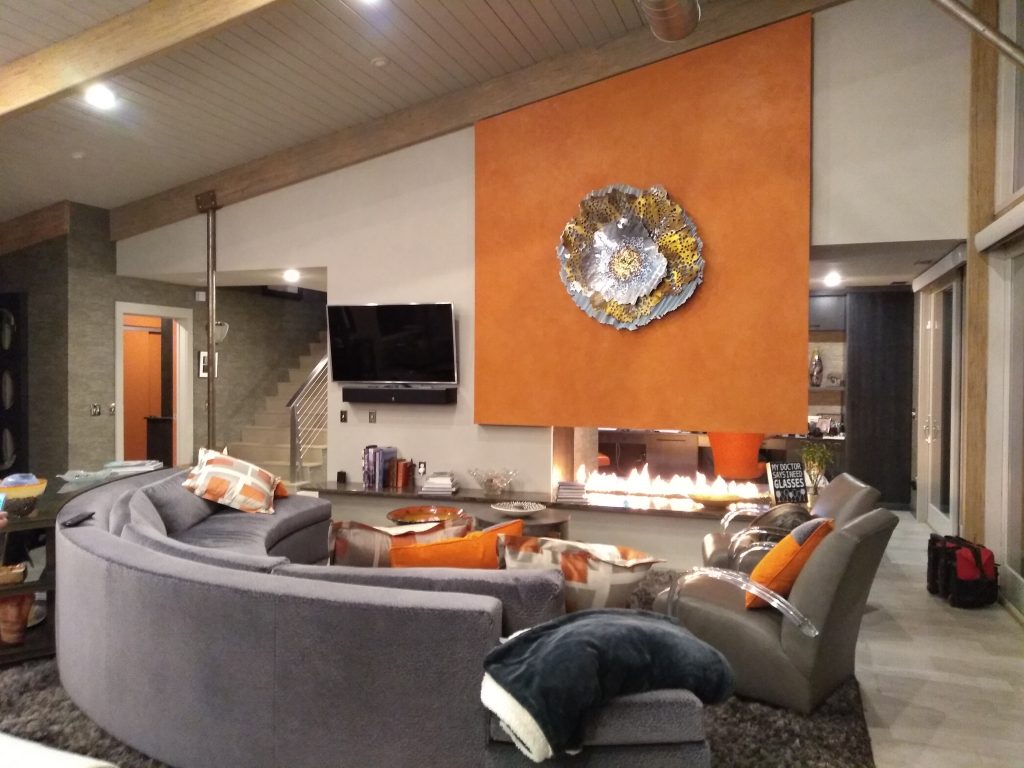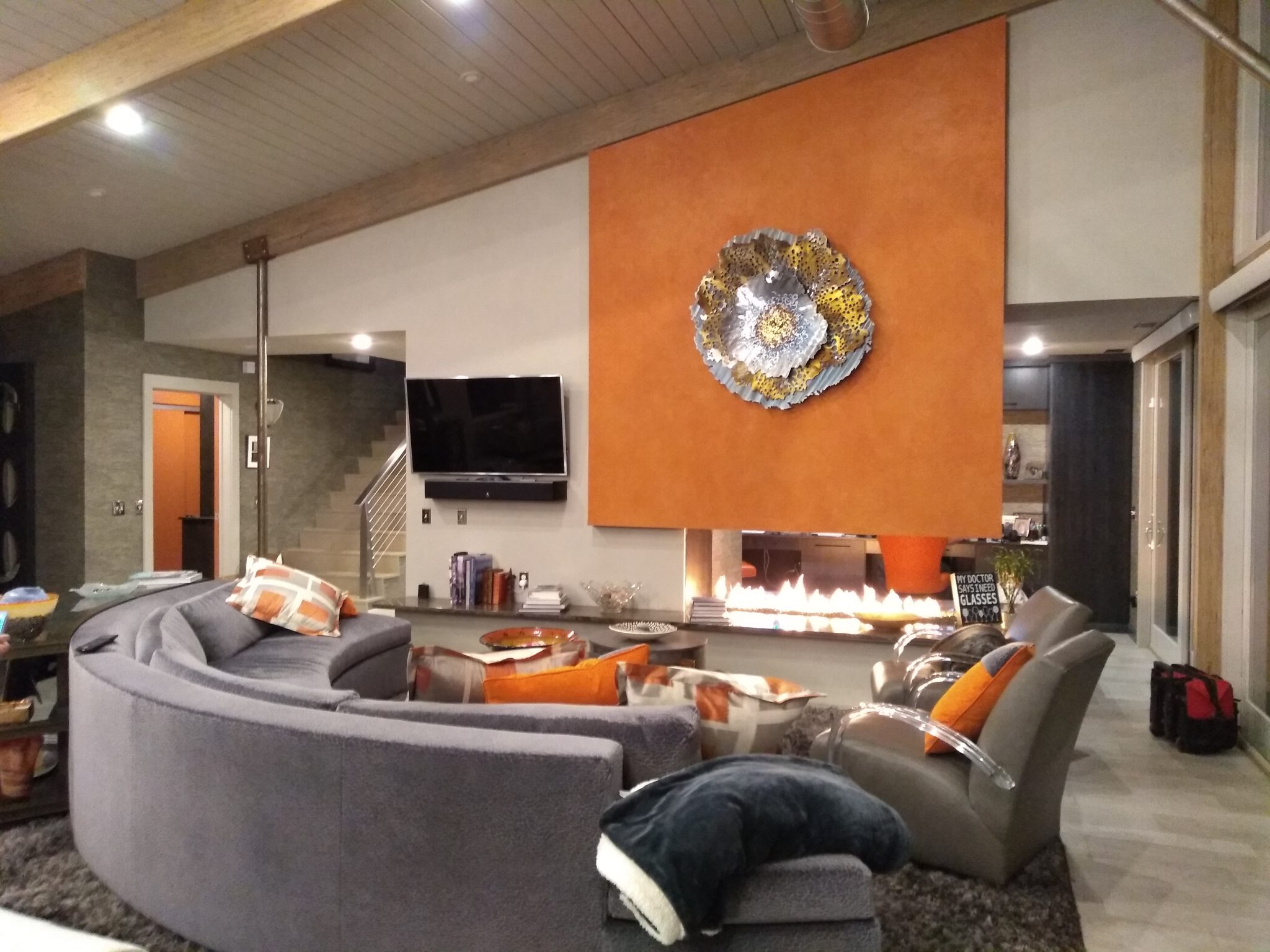 Position Your Furniture In A Half Circle
Cozy interior design often comes down to the room's flow and how people feel when they're in your space. Play with arranging your furniture in a way that creates a half circle. This breaks up the room, creating a natural gathering zone and promoting conversation.
The soft lines of a circle are also just more appealing to the brain and make the space more inviting. Even if you don't have a rounded sofa like in the photo, you can work with chairs and other accent pieces to create a cozy cocooning effect around a coffee table or fireplace like this elegant open peninsula gas fireplace.
Looking to add a fireplace to your living room for extra coziness? Check out our top fireplace trends for 2023 to get the inspiration flowing.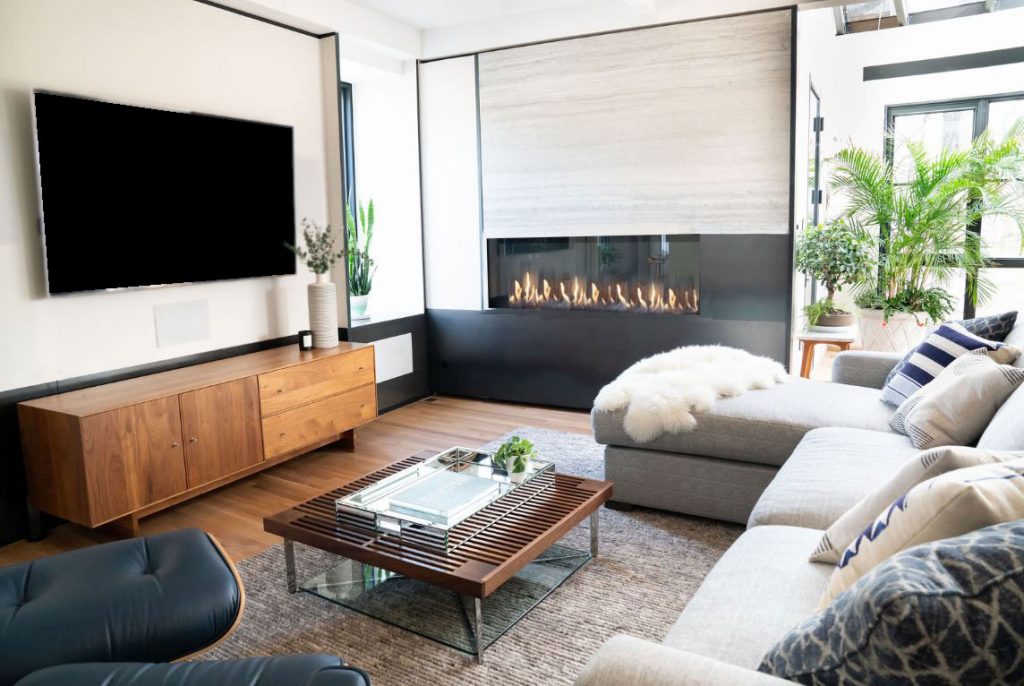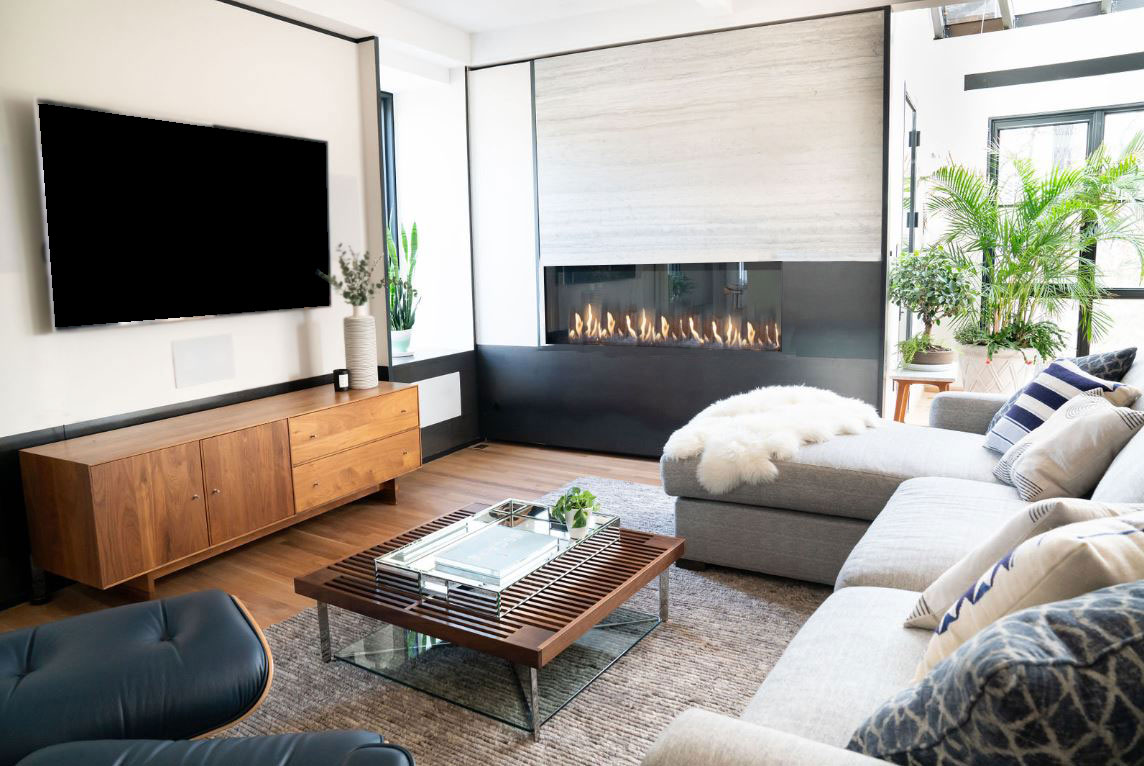 Highlight Wood Features For A Natural Look
It's important to note that you don't need to start from scratch when you're thinking about how to make a room cozy. Use the existing features of the space to your advantage. Wood naturally adds softness and warmth to any space, so if you have wood features, be sure to highlight them! If you don't, add wood furniture pieces or other natural materials like stone or organic fabrics. As demonstrated in this photo, your wood pieces don't need to be all the same type or color for the space to feel cohesive and cozy.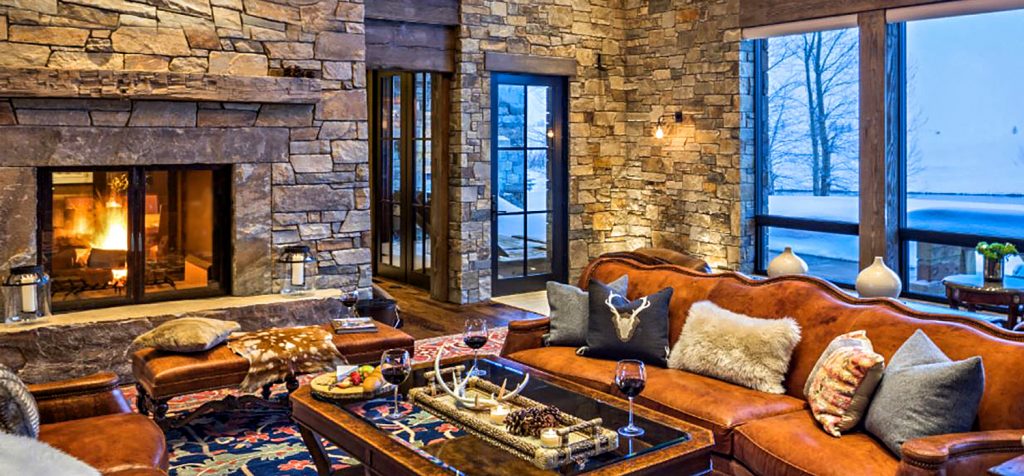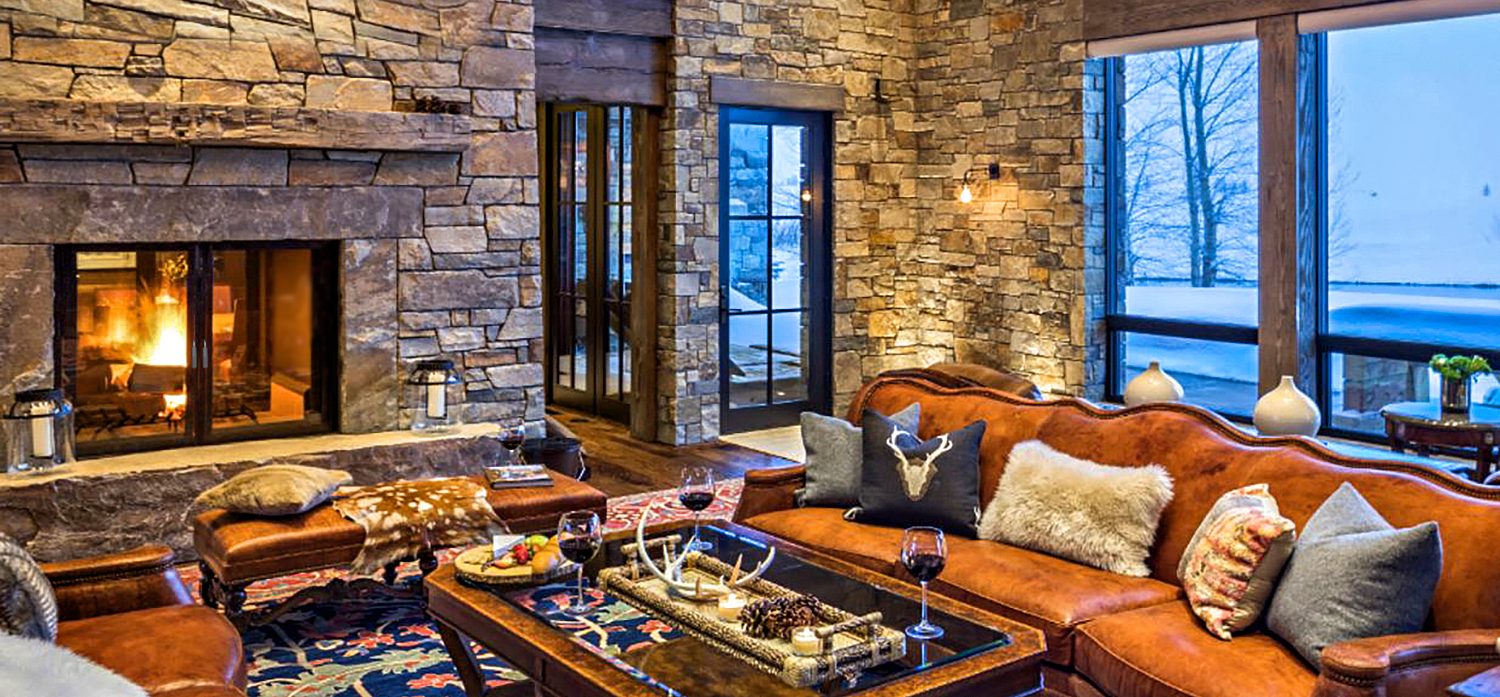 Sink Into Leather Furniture
There's just something about an oversized, worn-in leather couch that screams comfort. Combine this with other natural elements like a stone double-sided wood-burning fireplace and wood finishings like the image above, and you've created the ultimate cozy space. Leather carries a higher price tag but is durable and meant to last for years and age over time. It's the signs of wear that add patina, character, and coziness to your room. Even a leather chair can elevate your space and add the cozy effect you're going for.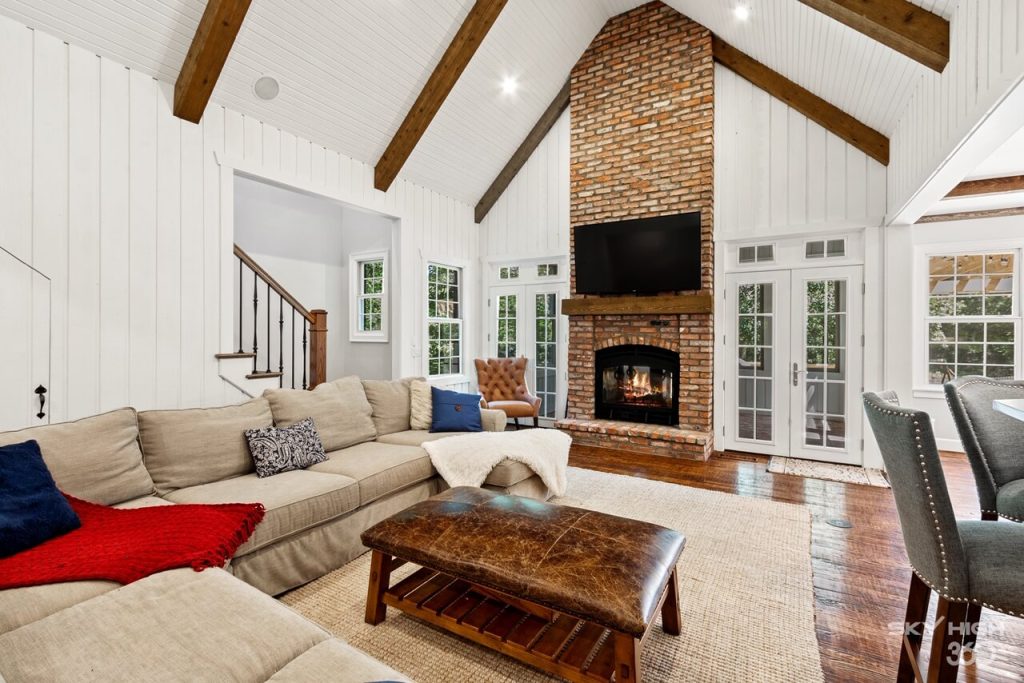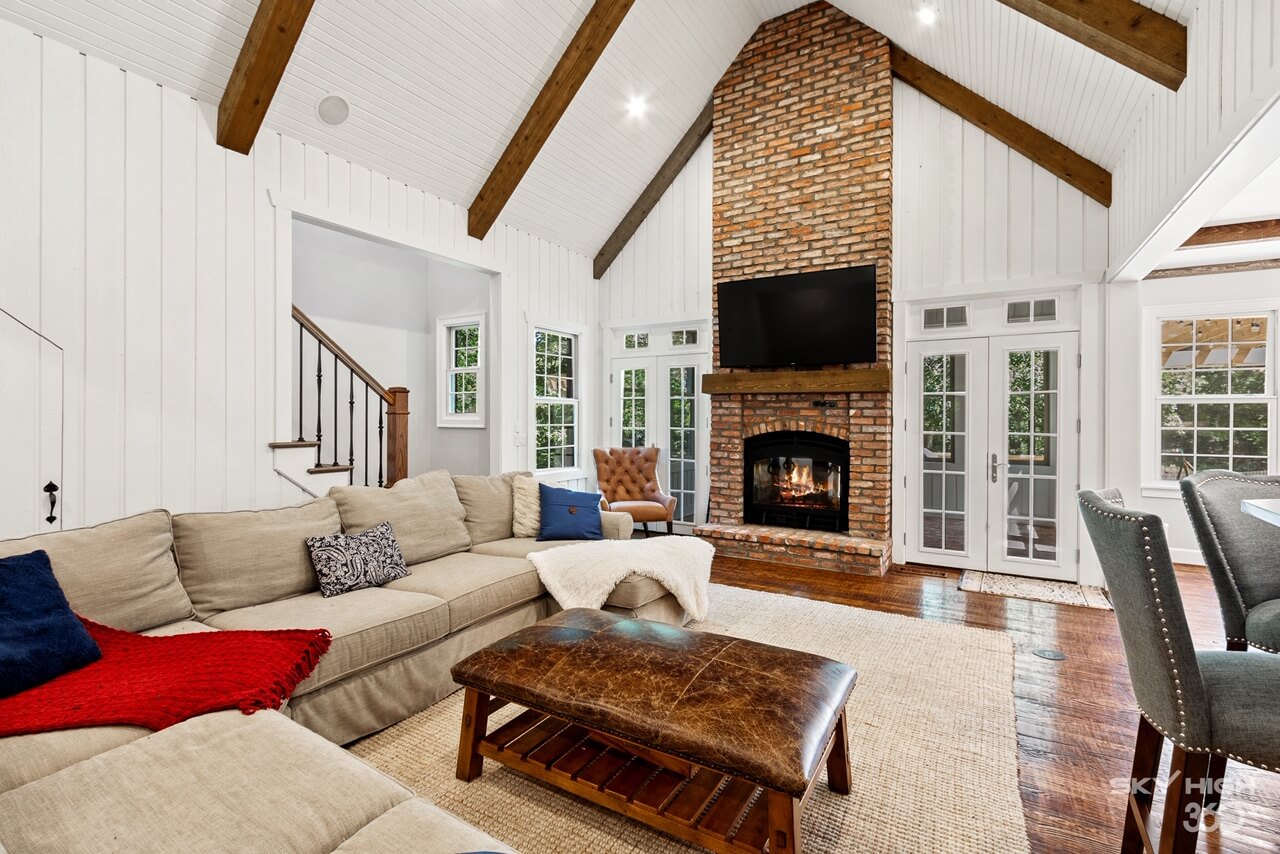 Or Have A Leather Feature
If purchasing a new leather couch or chair isn't in the cards right now, opt for a feature piece like the ottoman above, leather coasters, or even a throw pillow made out of leather. Mixing material and fabric throughout your living room creates visual interest and dimension to the space. Even a leather accent piece can bring a charm that adds a touch of cozy.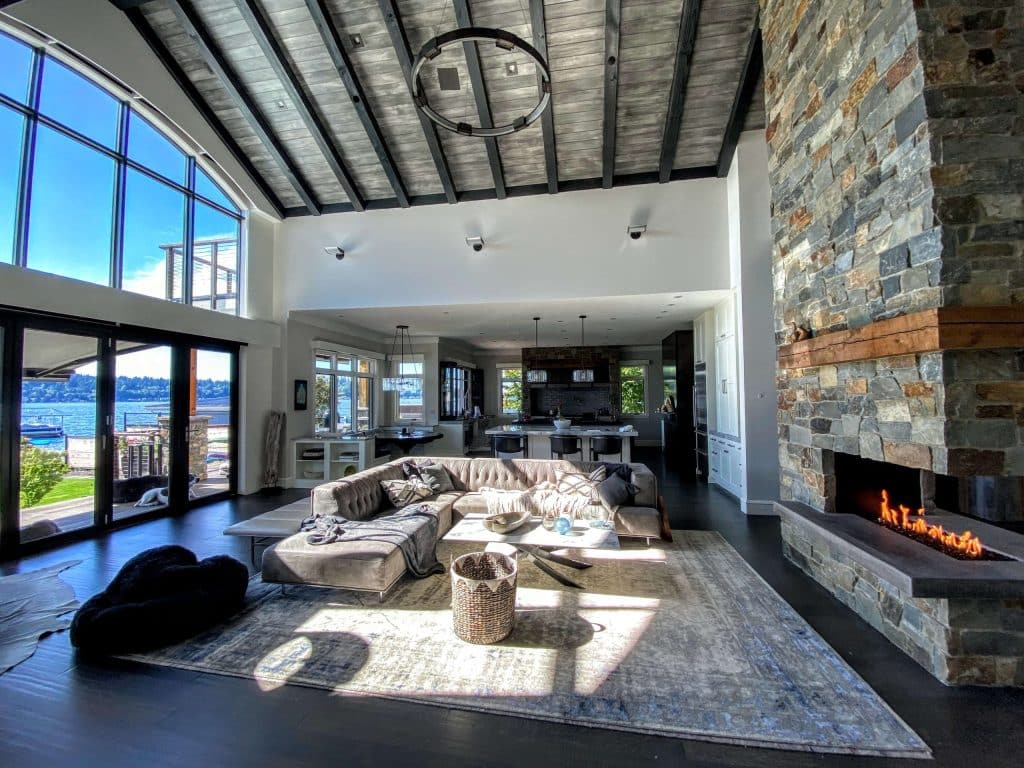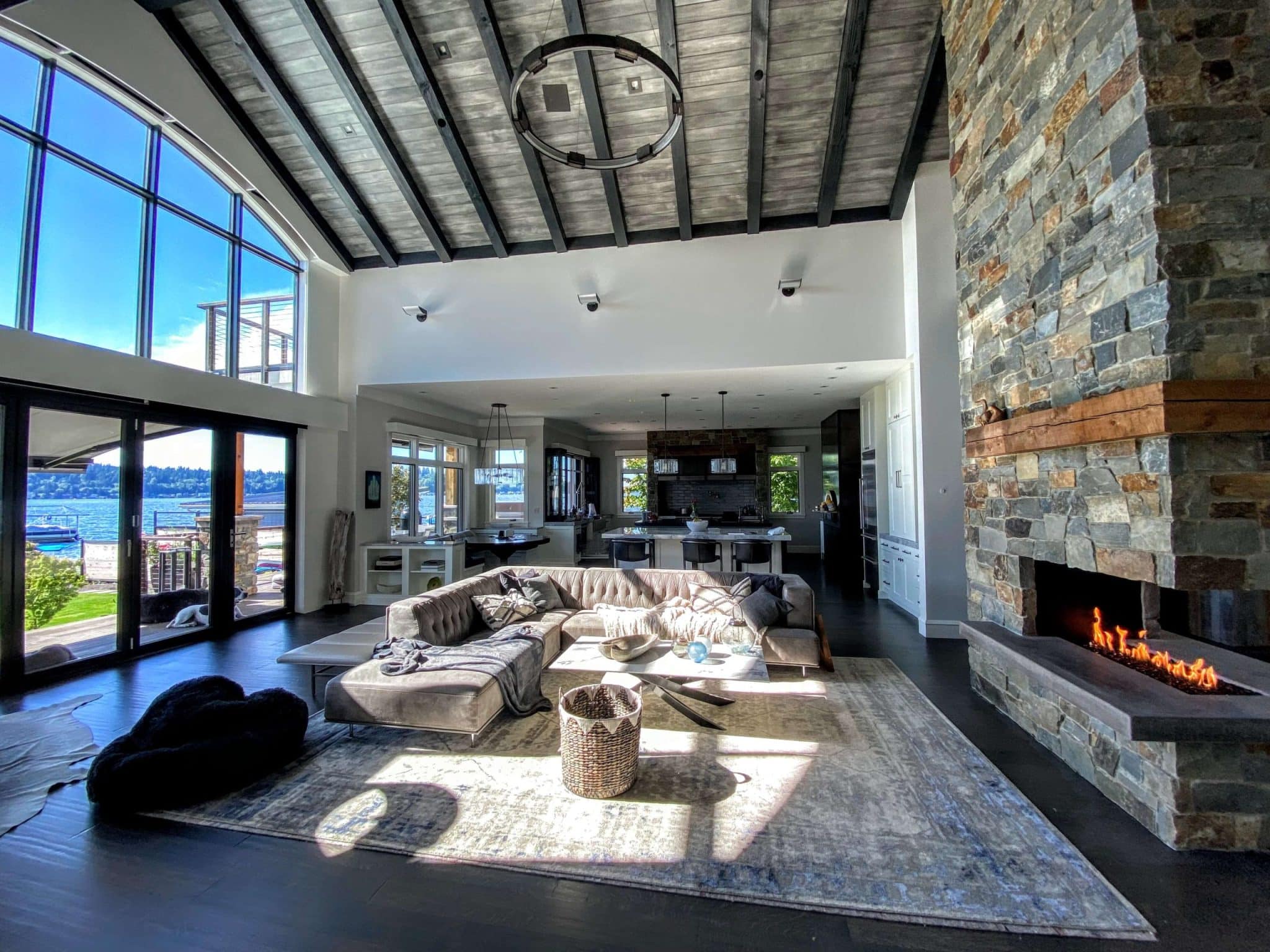 Throw Blankets Should Always Be Available
Is there anything more comfort-inducing than a pile of soft and cozy throw blankets? Adding in throw blankets is an easy and effective way to level up the cozy factor of your space. Try draping your favorite one nicely over the back of the couch or the arm of a chair.
If you have multiple, play with neatly folding or rolling them up. You could even incorporate a woven basket into the space to store them. Change them up with the seasons, opting for linen or other thinner throws in the summertime and more chunky and fluffy versions in the winter.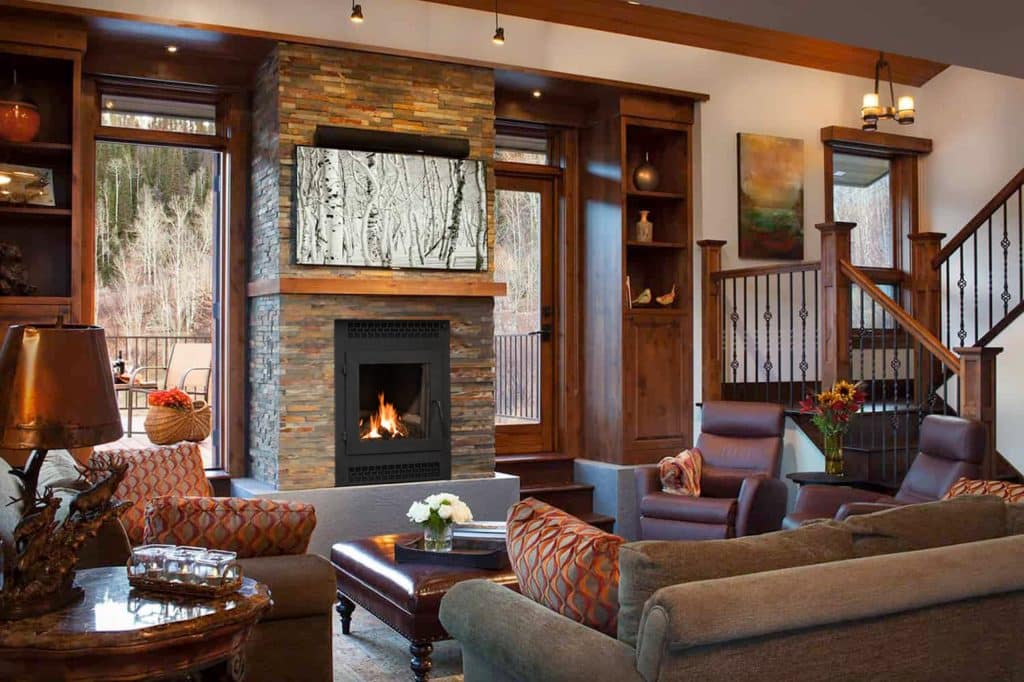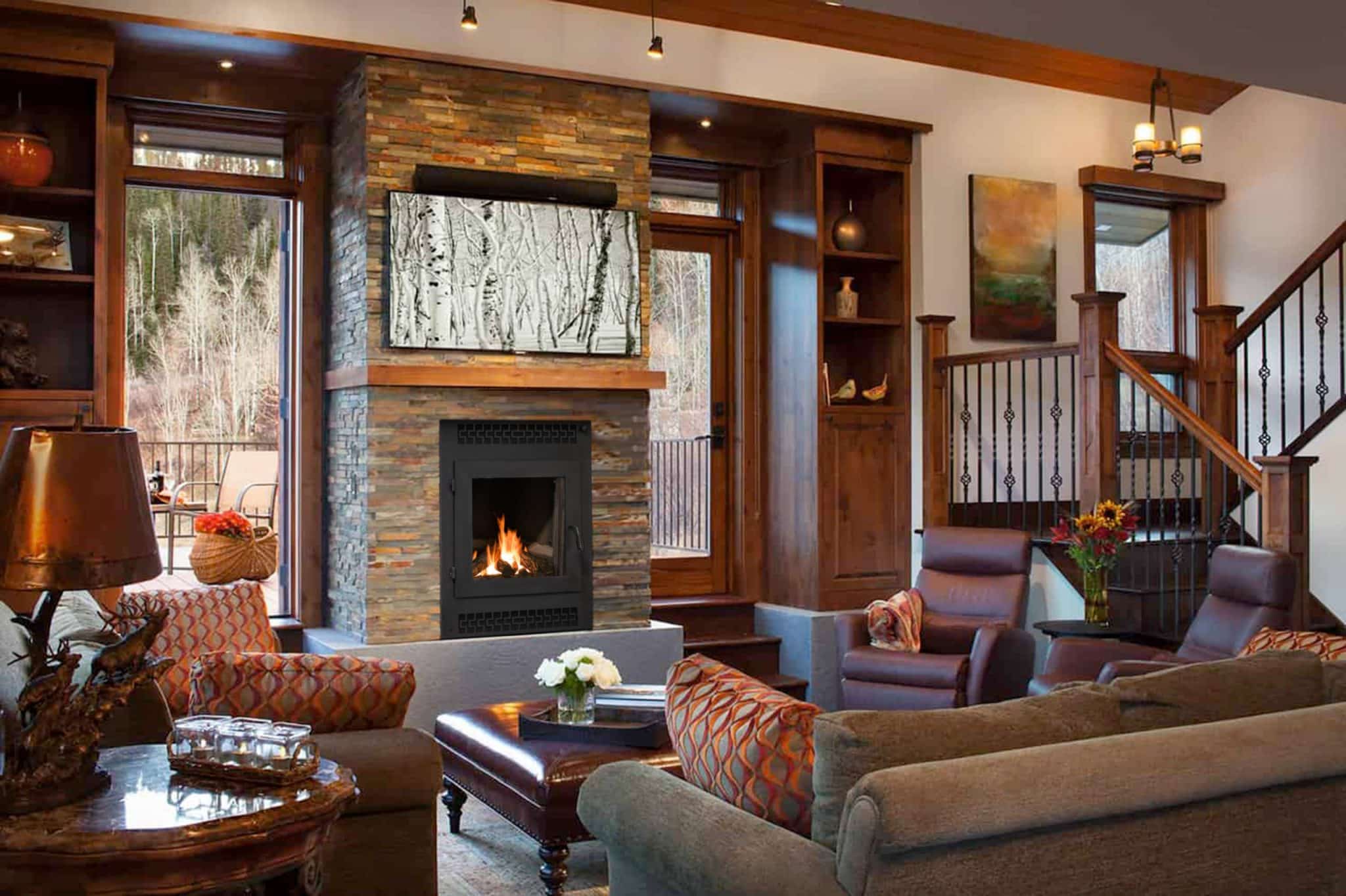 Create A Visual Texture With Throw Pillow Cases
Another functional accent piece for a cozy living room are throw pillows. This relatively inexpensive option allows you to play with color, pattern, and style to create a look that's unique to you. Enhance the overall look and feel of the space by tying in color found in artwork or other decor around the room. Think about size and placement in order to maximize comfort for yourself and anyone else who enters the space.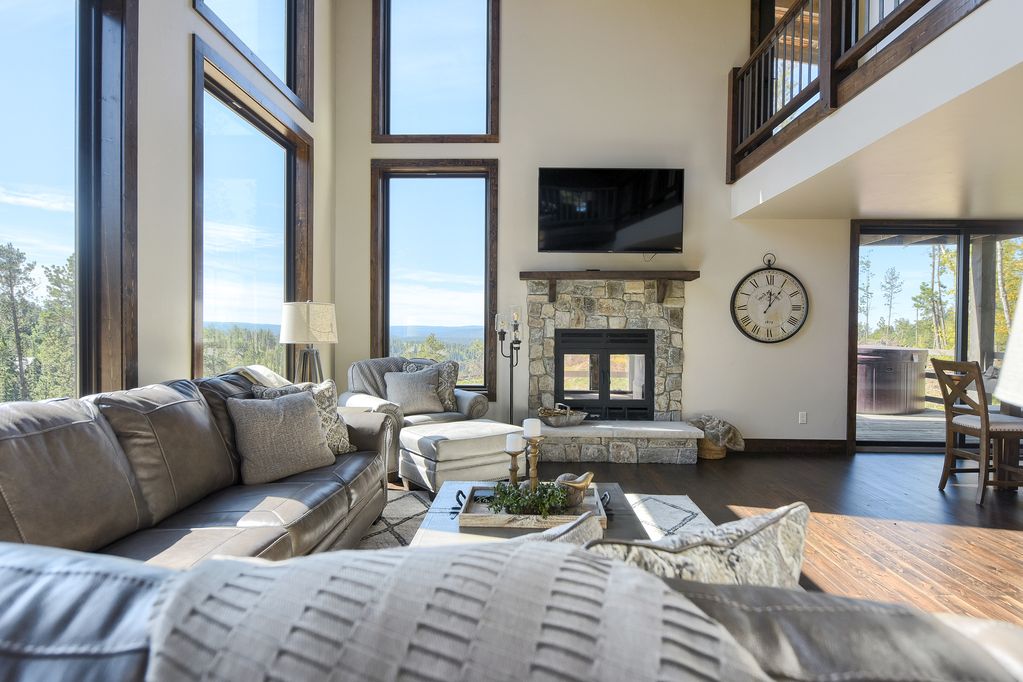 Have A Big Wall Decoration To Extend The Room
Decor makes every living room special and reflects so much about who you are. Decoration is an opportunity for you to express yourself while also bringing in warmth and coziness. Incorporating a large piece of art or other decoration on the wall creates a focal point and can make the room feel larger.
In this particular space, the expansive windows bring the outdoors in. Check out the inviting outdoor space featuring a custom indoor/outdoor fireplace with stone surround that's for both spaces. And the big clock on the wall then transitions from the living room to the dining.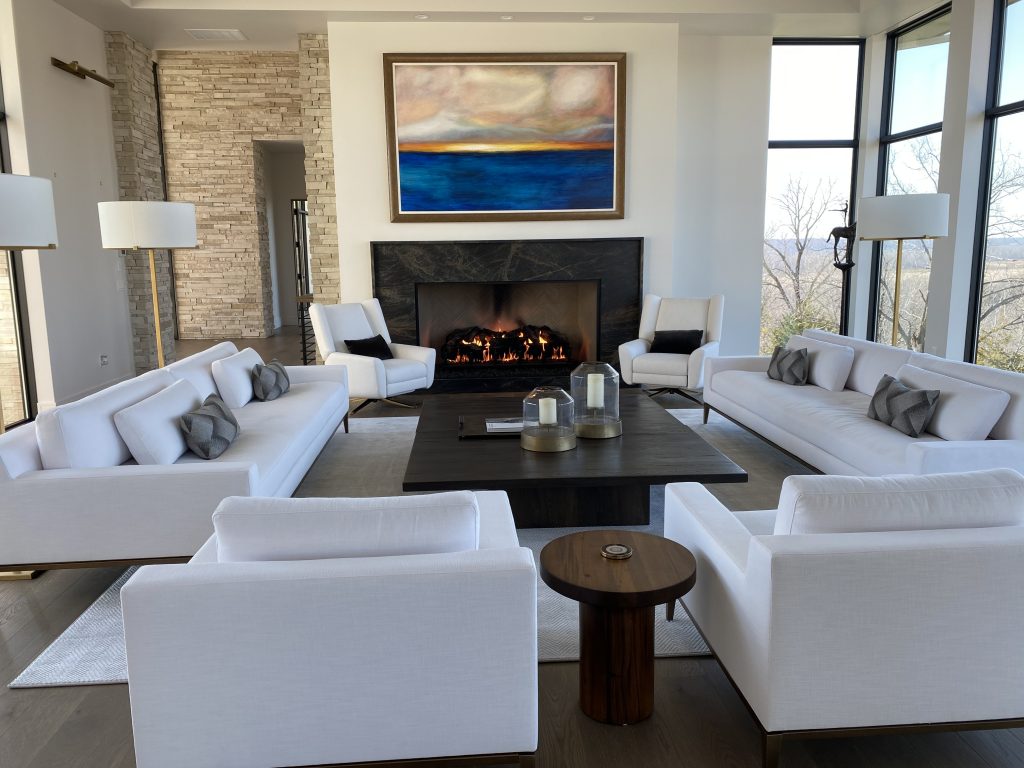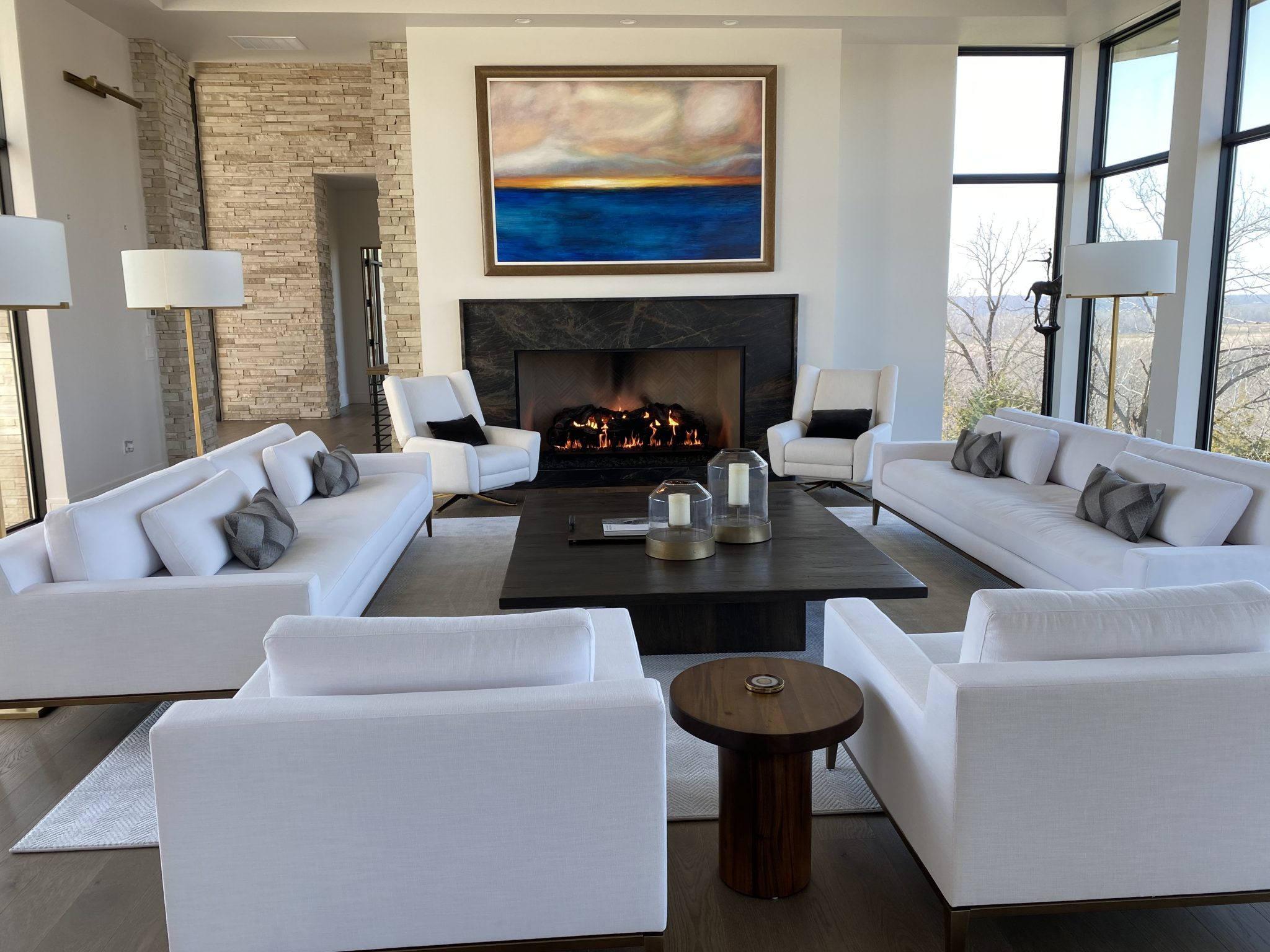 Or Keep The Room Intimate With A Centered Portrait
If you're working with a smaller space or less windows, center the room around your favorite piece of artwork. You don't need a fireplace to make it happen, although we love the look of the modern and contemporary fireplace design featured here. Add some color to an otherwise neutral space with your art for a more cozy feel, and remember to have furniture placement in mind for optimal flow and comfort.
Tie All Colors Together
Even if you aren't big on color, making sure your color palette is carried through the entire living room is key for making it visually appealing and increasing the cozy factor. Consider matching your throw pillows to an accent chair, rug, or piece of decor. This helps to create a story for the room and a cohesive, inviting space.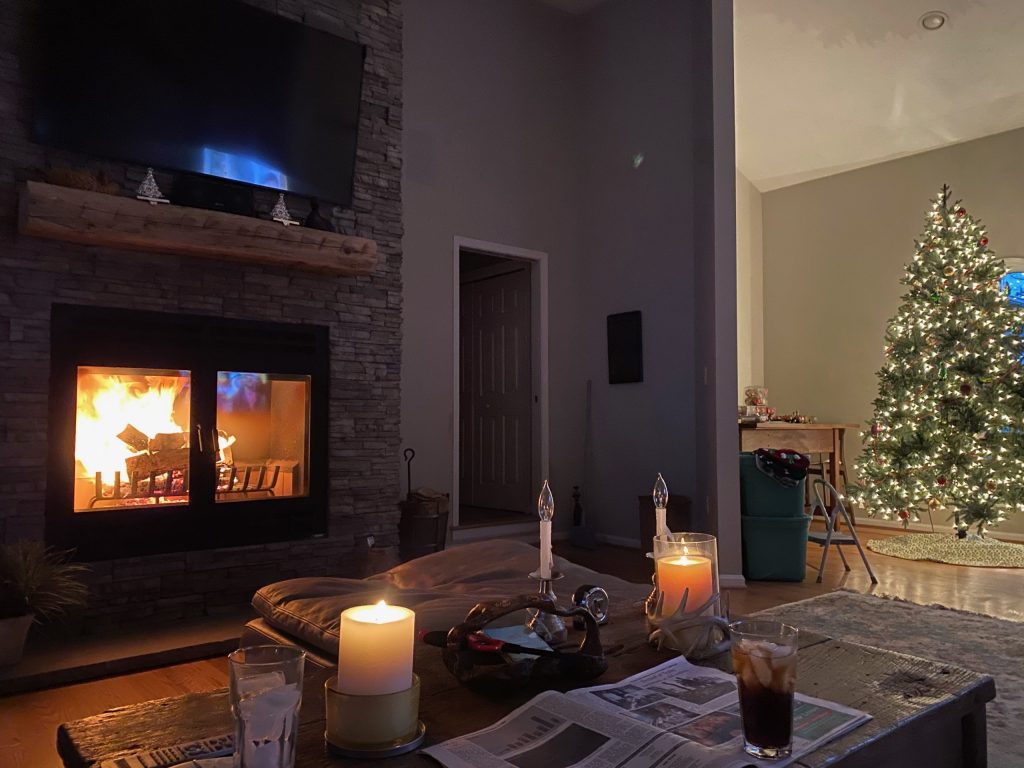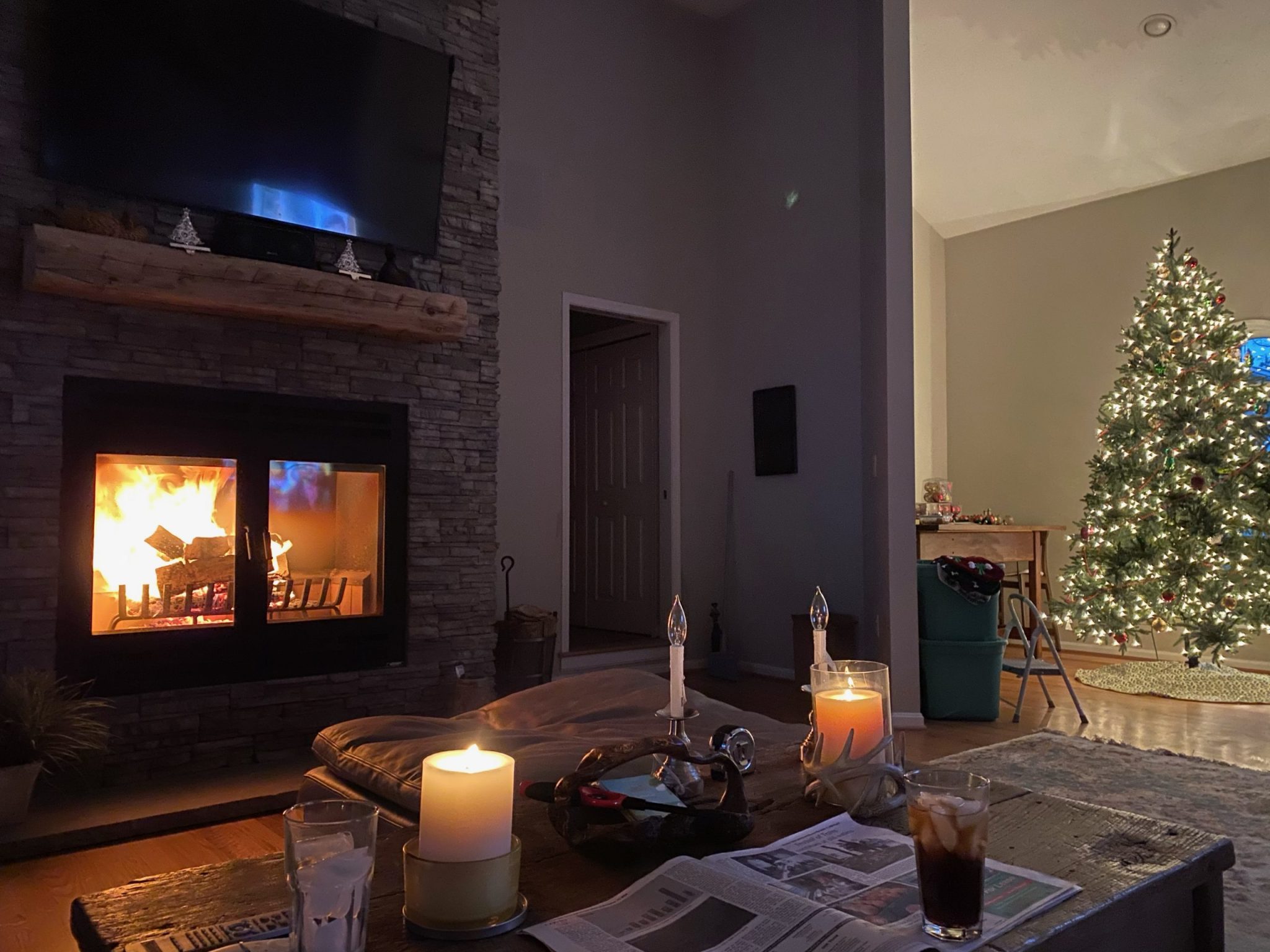 Have Natural Lighting Sources
If you're lucky enough to have lots of windows in your living room, you'll find it easy to use natural light as a lighting source for the room. Even if you do receive sunlight in the space, adding other sources of natural light like fireplaces or candles can be a fun and comfy living room idea. Having a variety of light sources, like a pristine wood-burning fireplace and candles, will have a warm and glowing effect on the space that bright overhead lighting cannot achieve alone.
Need a fireplace for your outdoor space? We offer custom fireplace options for rooftops, patios, and screened porches.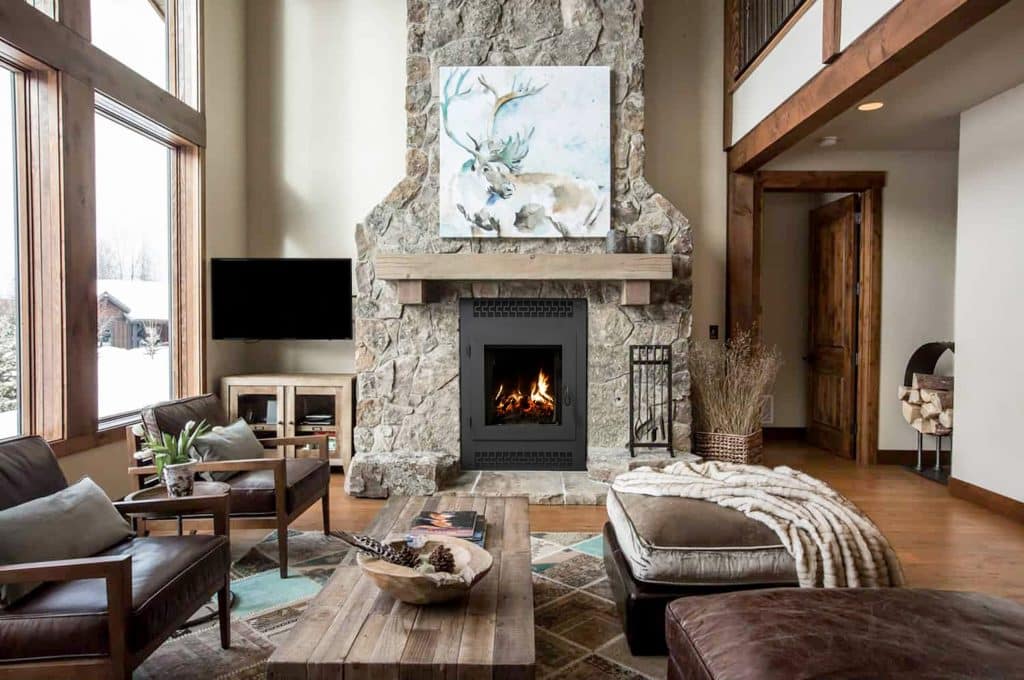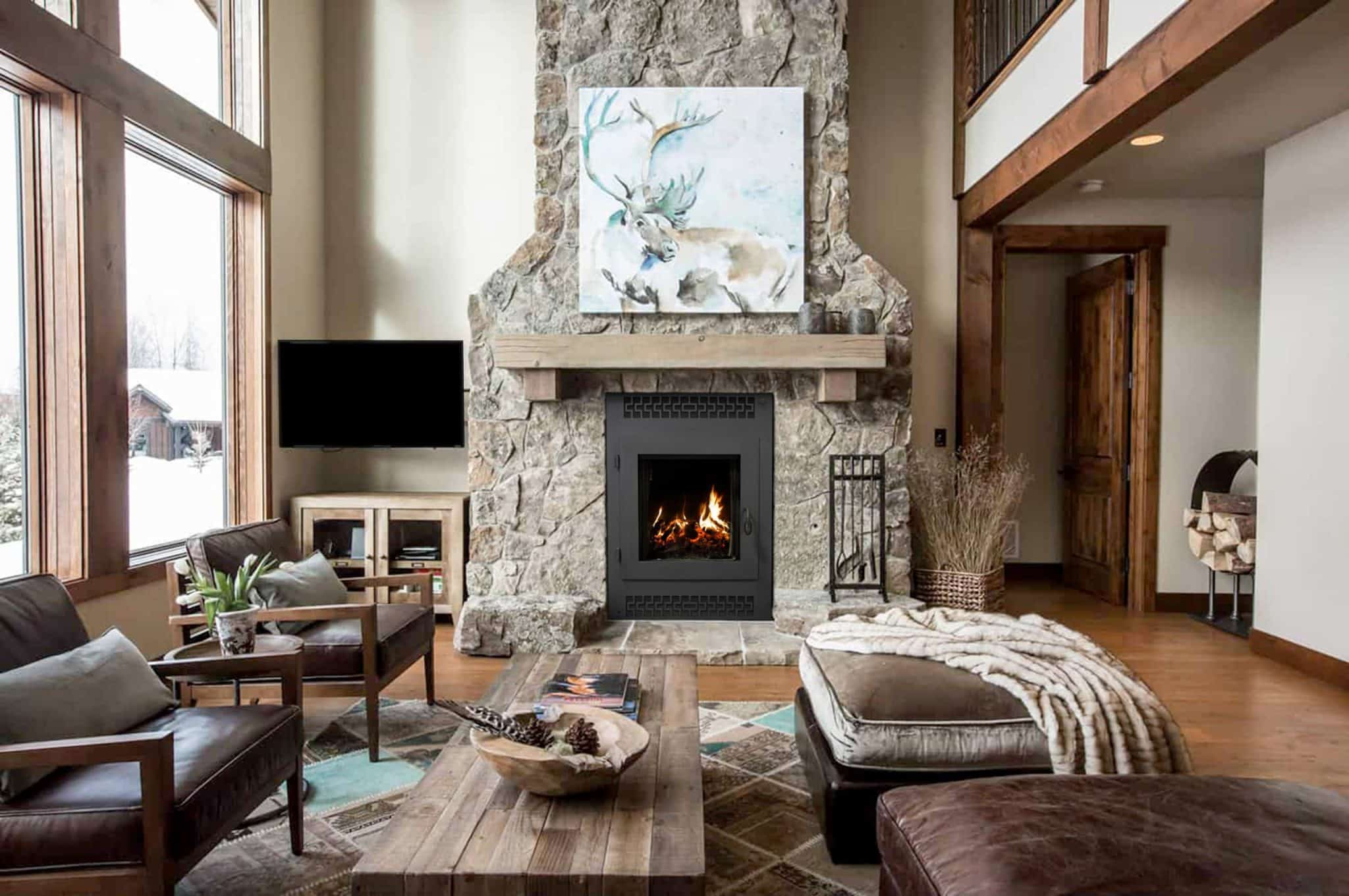 Keep Furniture Around A Coffee Table
Most cozy family room ideas involve a coffee table as a centerpiece to the room. Not only are coffee tables incredibly functional, but they help dictate furniture placement. Your couch and accent chairs should be placed around the coffee table with enough room for people to navigate around. Combine materials and textures for that layered, cozy feel.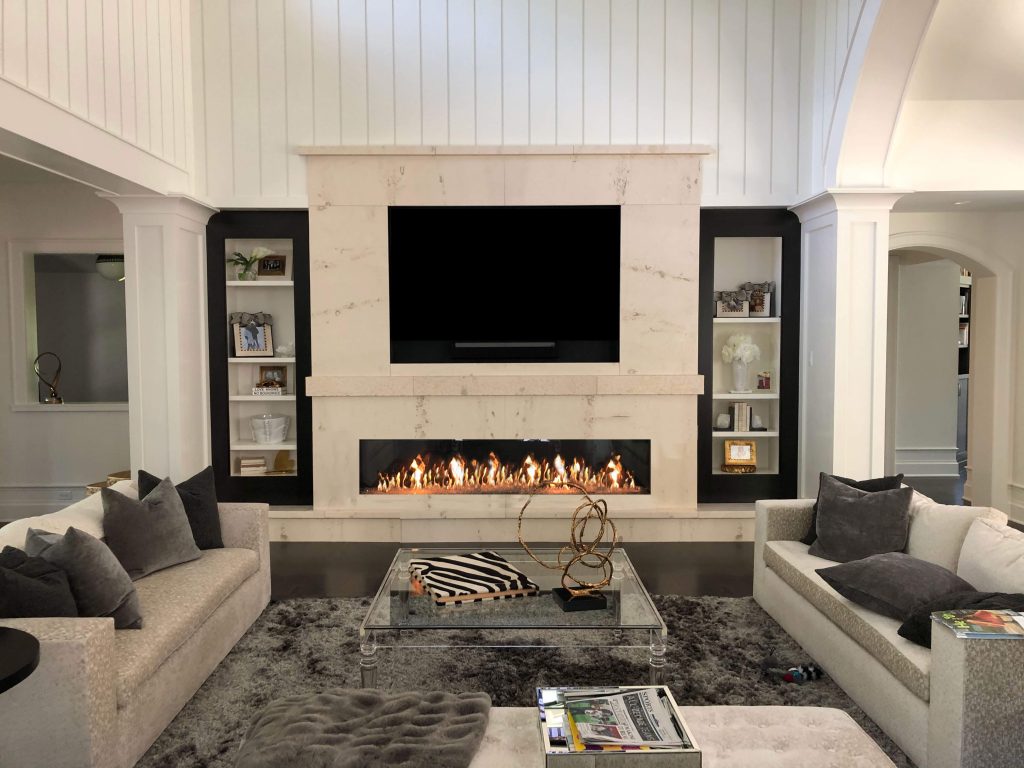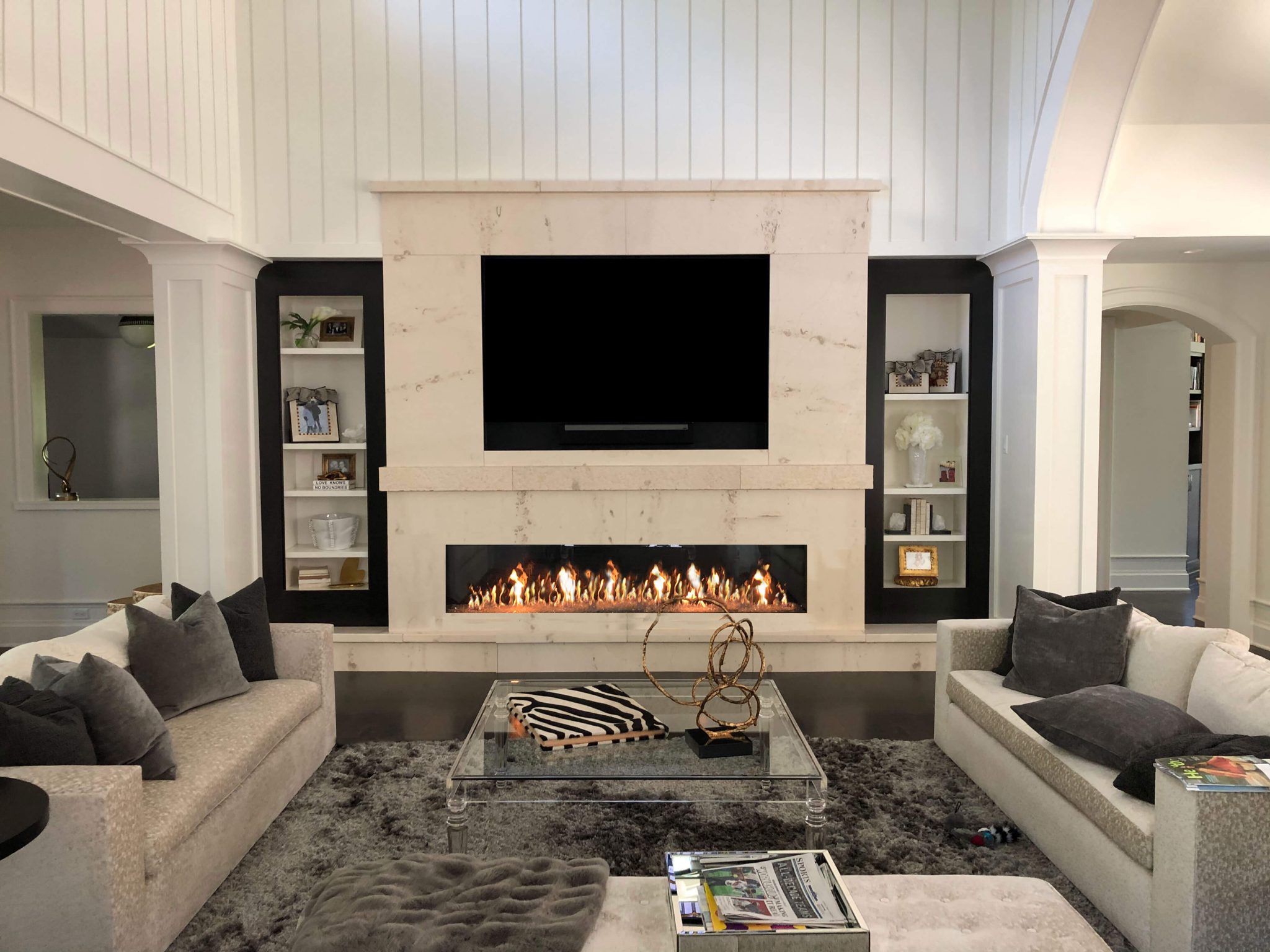 And Add Decor To The Coffee Table
When you think about what goes on a coffee table, you probably think of items like books and coasters. However, the items on your coffee table don't need to be strictly functional. Include a mix of functional and decorative pieces on the coffee table to spark curiosity and welcome people into the space. Bonus points for decorative items that have a story behind them or are extra unique or striking.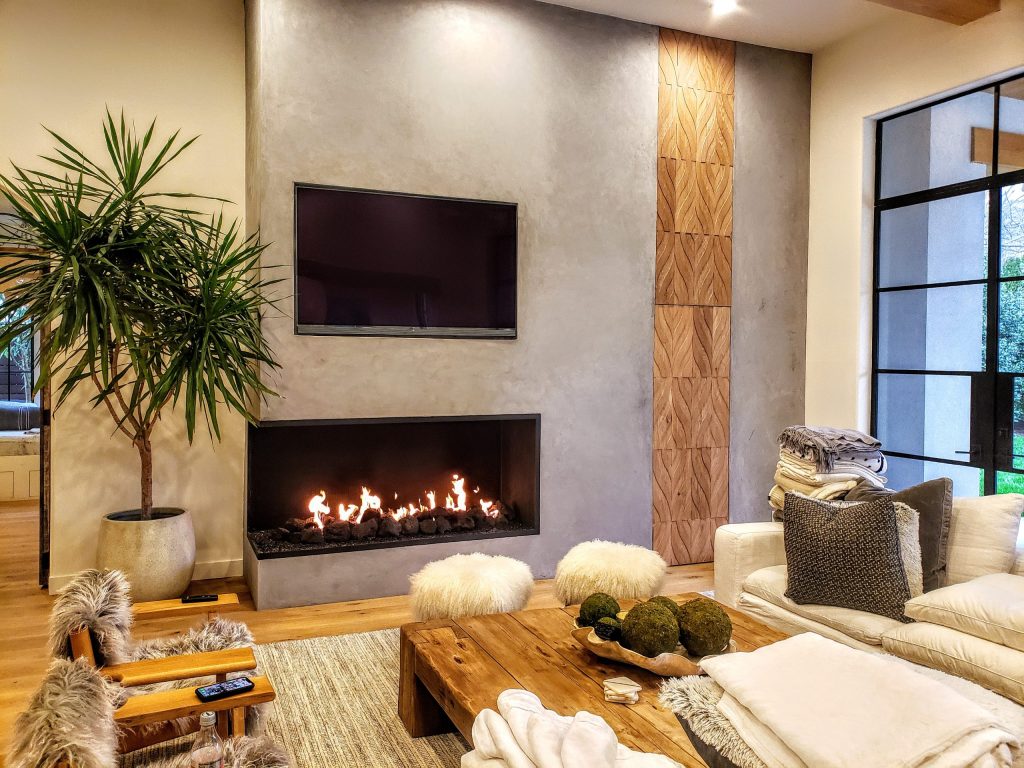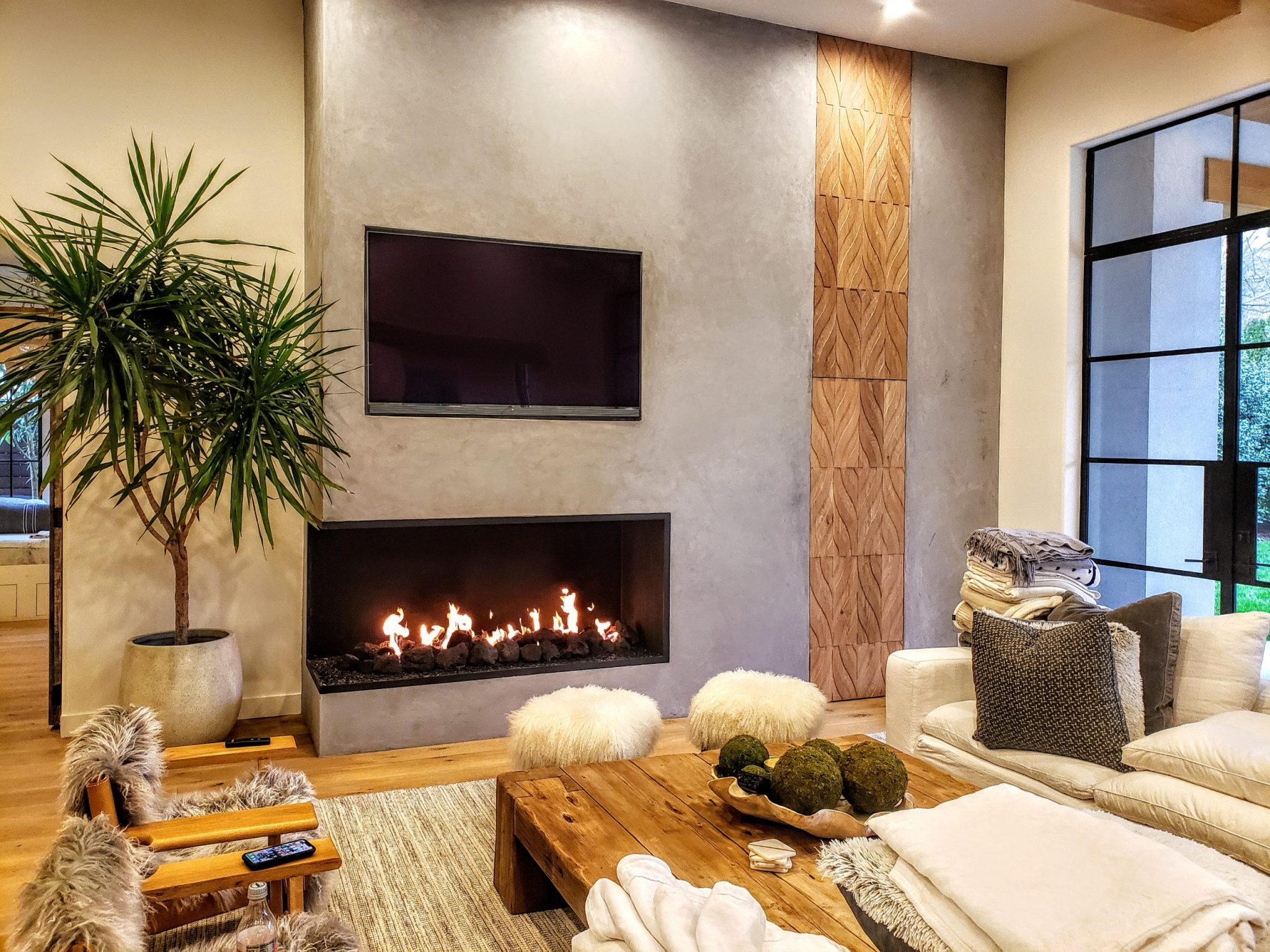 Freshen The Space Up By Bringing Nature Inside
As we've mentioned previously, bringing nature indoors can have a big impact on the overall feeling of the room, and you can achieve this even if you don't have huge windows and a scenic backyard. Buy a house plant and place it in a nice planter to create a zen-like effect. If you're not so keen on the upkeep, even fake house plants can do the trick! Other options include fresh or dried flowers and stems in pretty vases.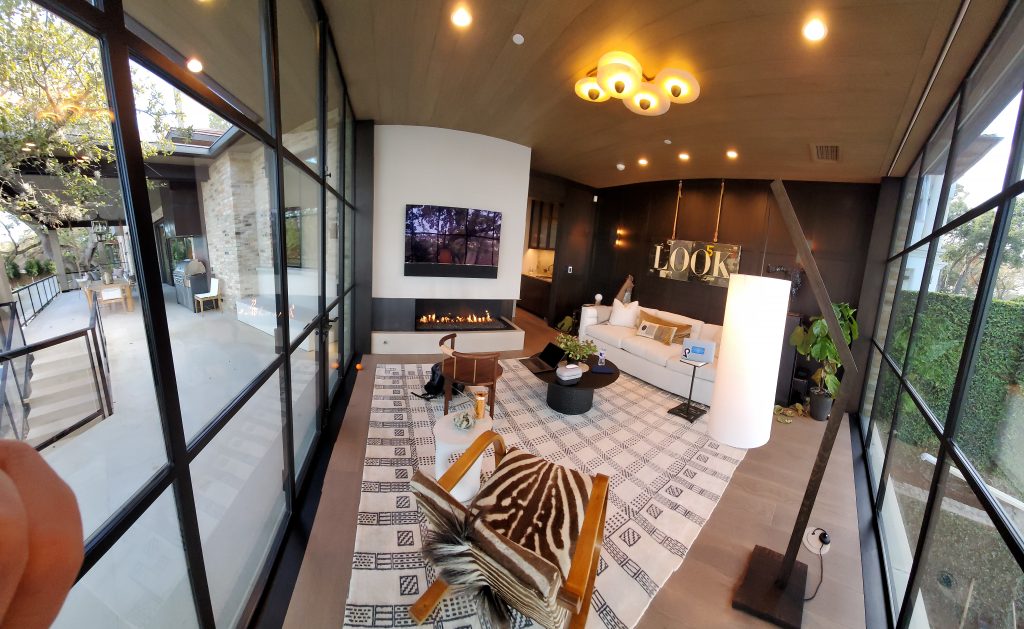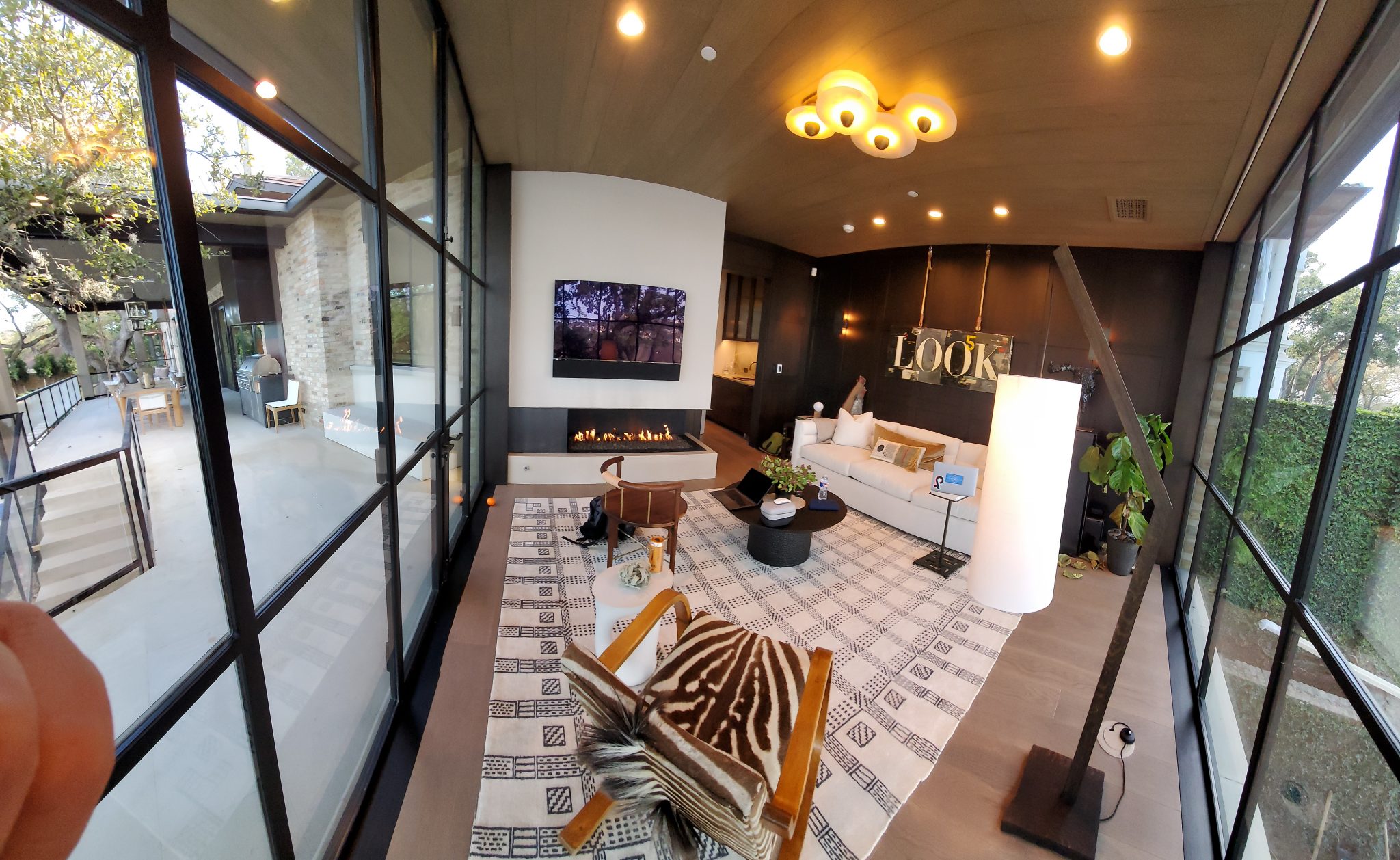 Fun Lamps Are A Must For Less Direct Lighting
We've talked a lot about lighting so far, and for good reason! Lighting plays a huge part in creating the desired effect for your living room. Not only do lamps and sconces help cut down on bright overhead lighting, but they also add a fun and personal touch to the space. Add an interesting lamp or even a unique open fireplace to create a glowy ambiance while injecting some of your personal style.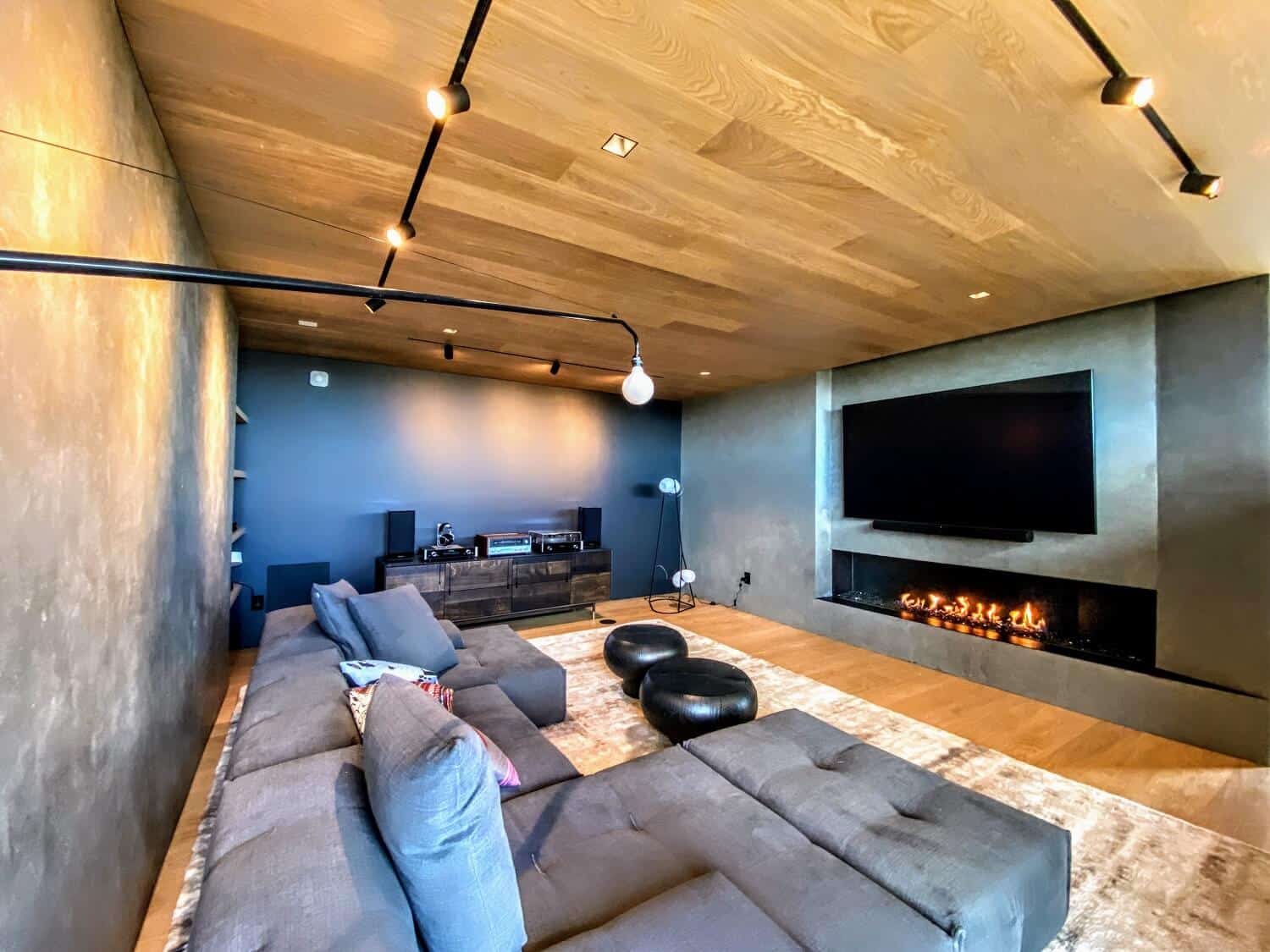 Feature A Ready-To-Use Music System
Any cozy modern living room should incorporate all five senses. A ready-to-use music system can really make the space, whether you're looking to host a party or have a comfy night staying in. The music will enhance your mood in addition to the space.
Going for a modern cozy living room? Check out our photo gallery for modern fireplace ideas for your space!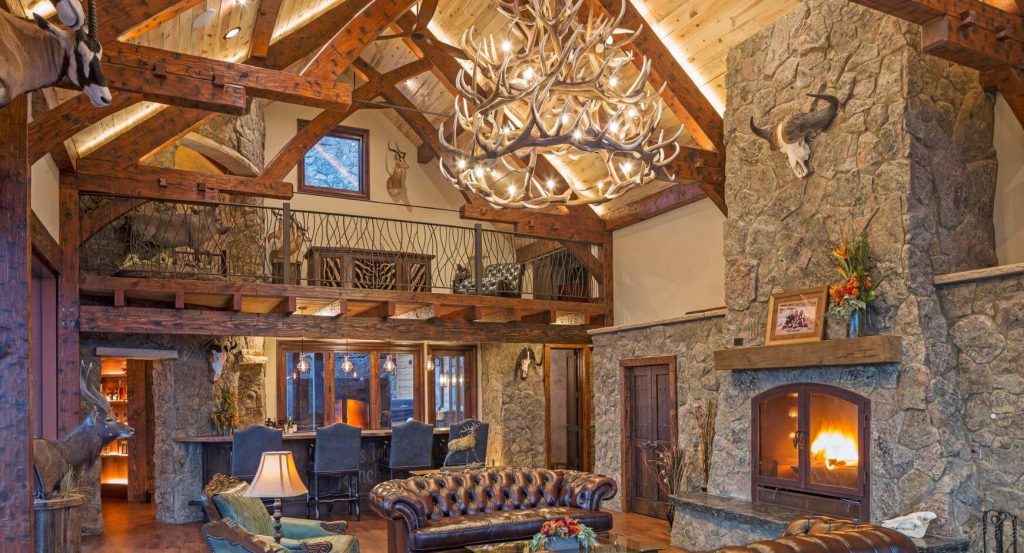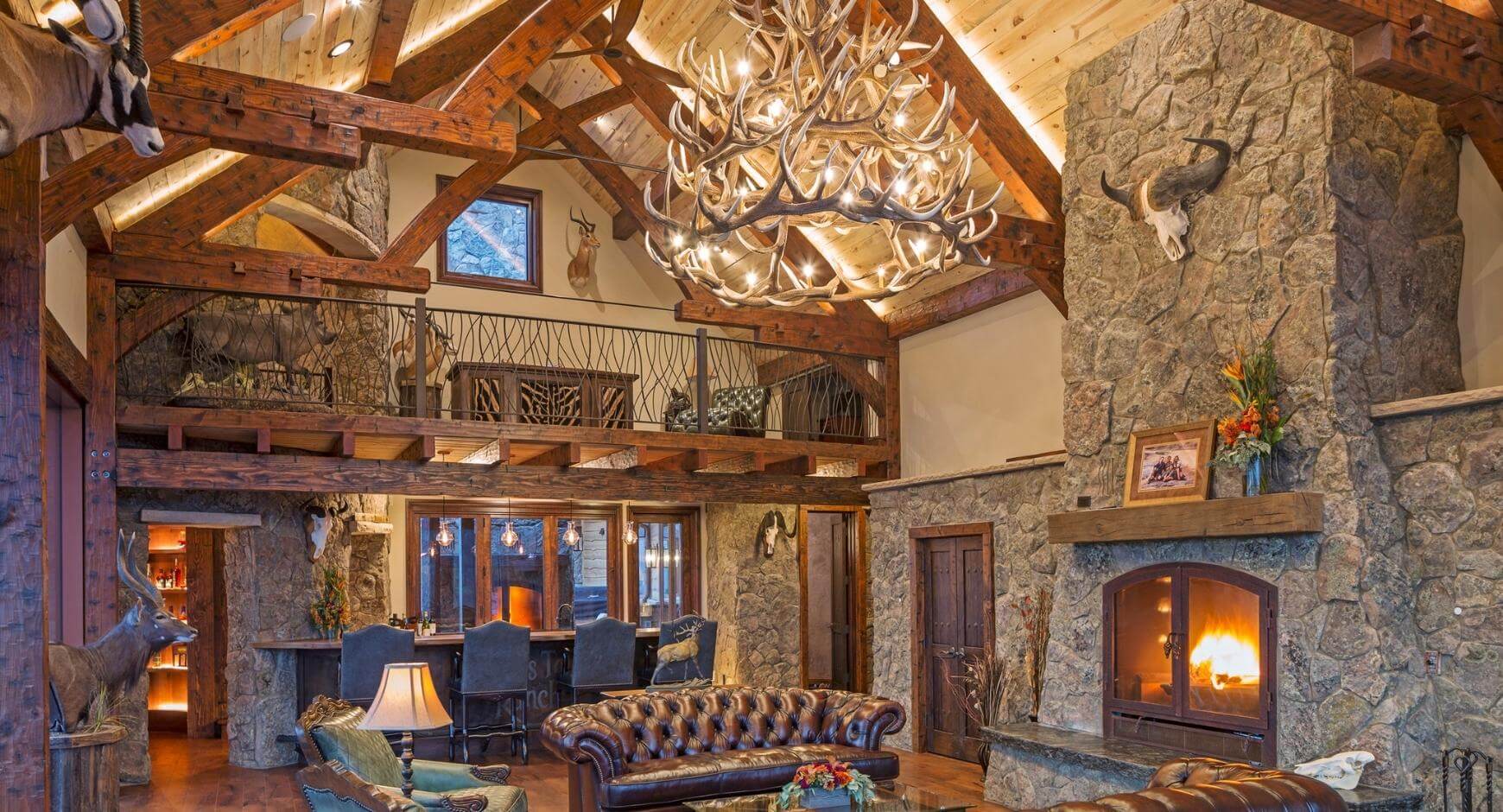 Showcase One Intricate Lighting Piece
The last of our warm and cozy living room ideas is to consider a statement overhead light fixture. There are many options out there that not only are unique in style and design, but they disperse the light in a way that creates cool shadows throughout the room. Your statement light fixture can enhance your already cozy living room even more.
Acucraft's Custom Fireplaces Will Make Any Room Cozy
You may have noticed a common thread through all of the images shared in this article: fireplaces. They are a beautiful and functional piece for any space, ushering in coziness and light for your room in addition to their visual appeal.
With over four decades of experience in the business, at Acucraft, we are passionate about bringing our customers' fireplace visions to life. We work with designers, architects, and homeowners alike, and our products are all backed by our lifetime guarantee. Visit our website to see our range of fireplace product offerings, and contact us today to get started!