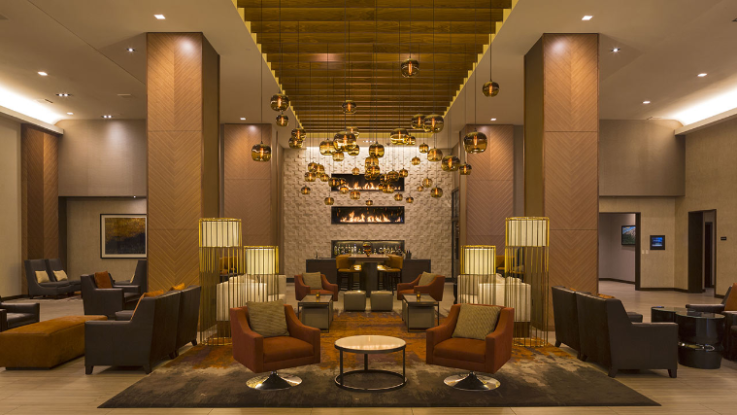 Custom Linear Stacked Gas Fireplaces at Grand Hyatt
Elevated 7 feet above the floor.
A viewing area of 26″ x 108″.
A flue running 120′, mostly horizontal at 5,700 elevation .
Only a 26″ gap between the two identical fireplaces stacked on top of each other.
Dual pane glass with forced air going between the panes to remove heat.
Exposed steel frames finished in a Japanese Brown Patina – a 400 year old recipe which was originally used for painting tea pots.
A fire that glows, creating an amazing ambiance within the bar area – we lined the back, sides, and top with porcelain reflective panels. When you are seated at the bar looking up, you can see the flames reflect and glow off the porcelain.
 These were the unique, and fairly specific, requests made by the architect and management representative for Grand Hyatt.
     Acucraft Fireplace Systems prides itself in receiving unique requests and then being able to create solutions that make the vision possible.  After decades of creating one-of-a-kind fireplaces, Acucraft has determined key ratios that we incorporate into every design, from the very beginning, that help us make your idea attainable.
After receiving the request from Grand Hyatt, Acucraft needed to design a custom, modular system for stacking the fireplaces and attaching them to the concrete behind, for structural support. In addition, there was not enough room to vent vertically, so we designed a flue system that exits the fireplace horizontally, and runs 120′. Many companies are not able to design a fireplace to fit your specifications, but at Acucraft, we specialize in making your requests possible through truly unique, one of a kind, solutions.
     The following images are blueprints created by Acucraft after talking with the client, detailing dimensions, the support structure, and the flue system: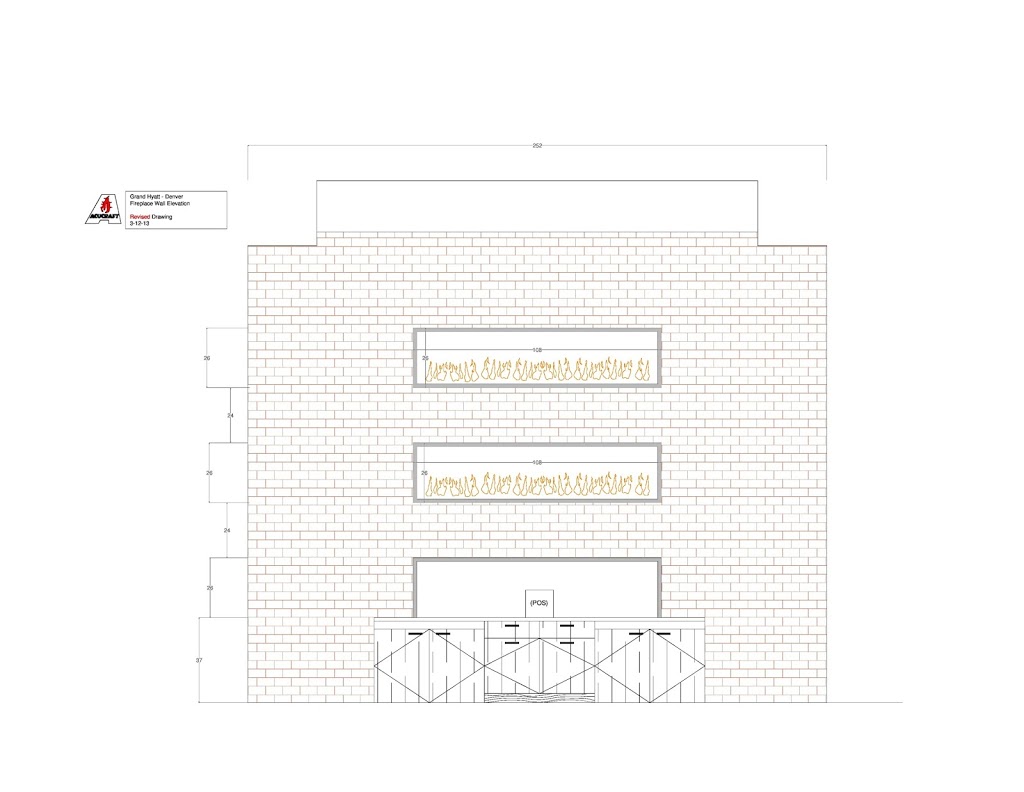 Wall Elevation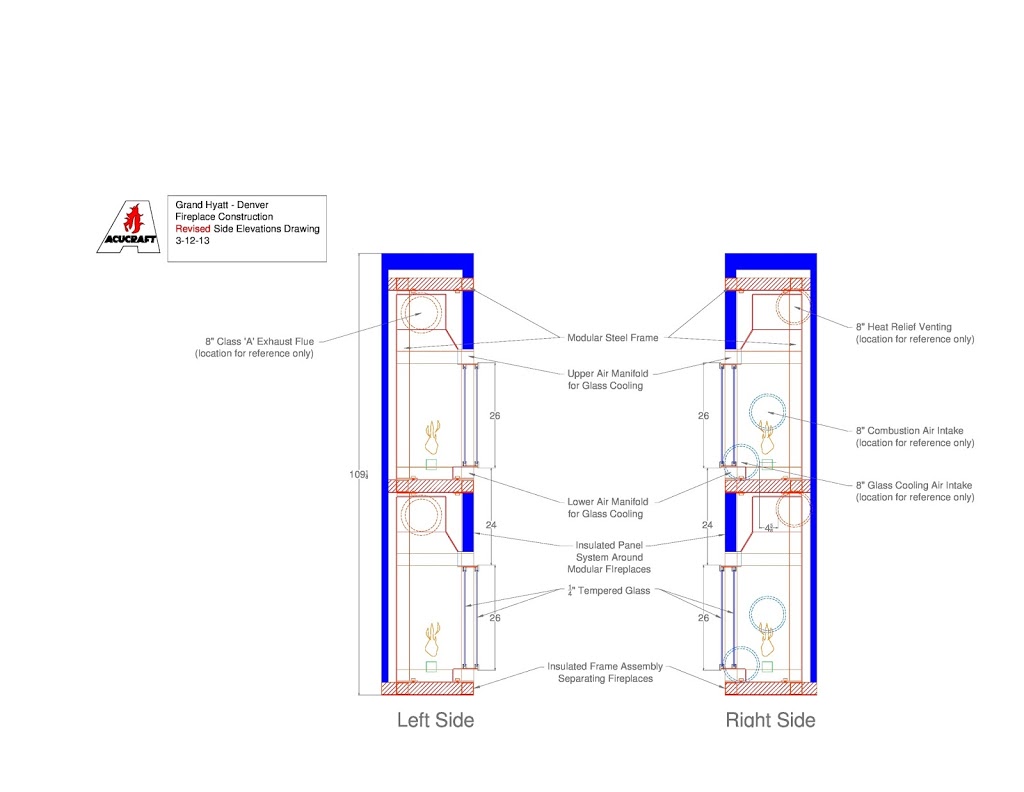 Side Elevation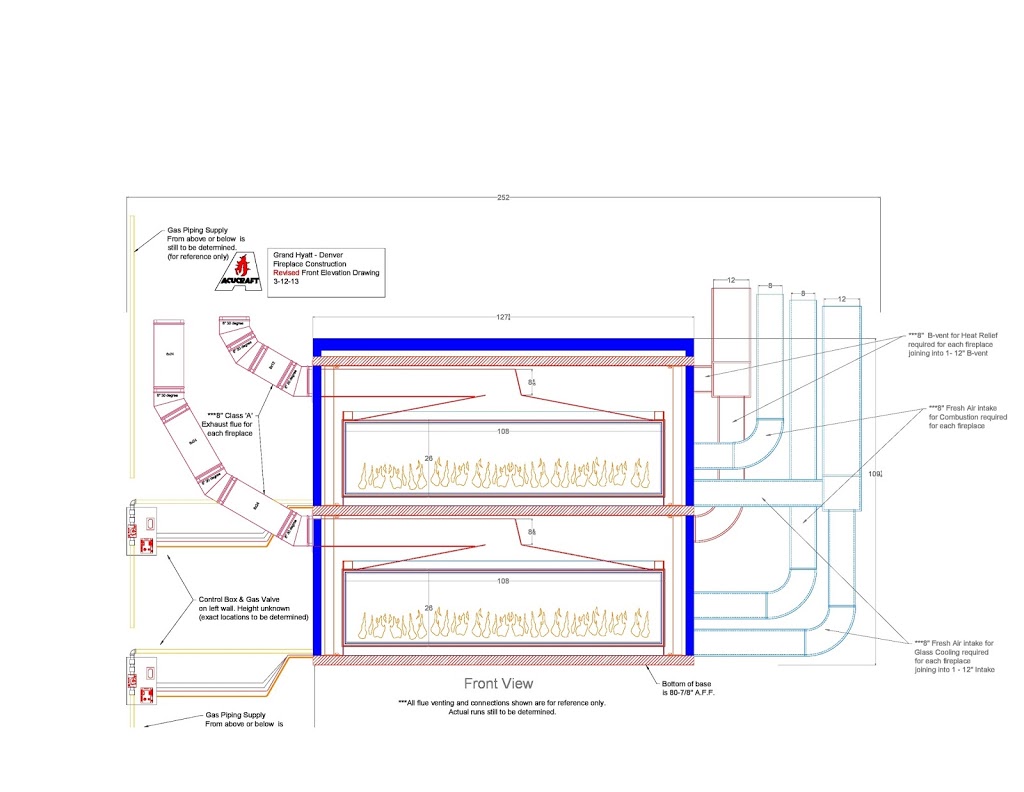 Front Elevation
The flue exhaust system exits on the left side along with the fireplace controls. The fresh air for combustion and glass cooling enter on the right, along with the heat relief which pulls the heat from the glass and the firebox.
After presenting our ideas to Grand Hyatt, and receiving approval, we began production.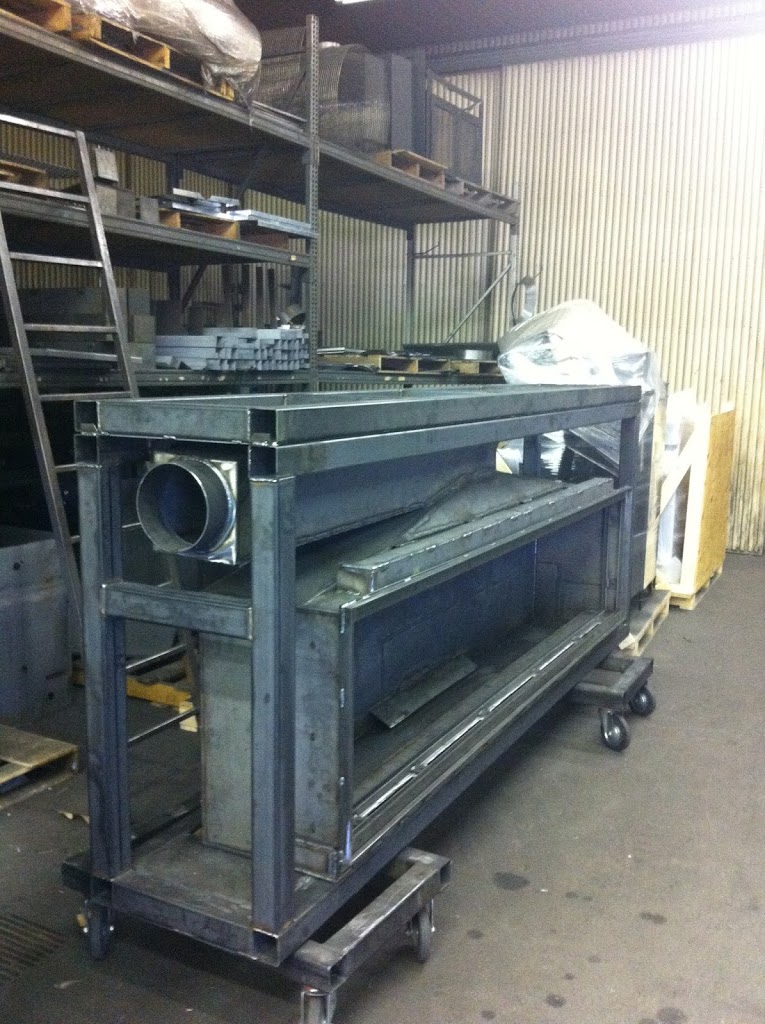 Lower Fireplace Production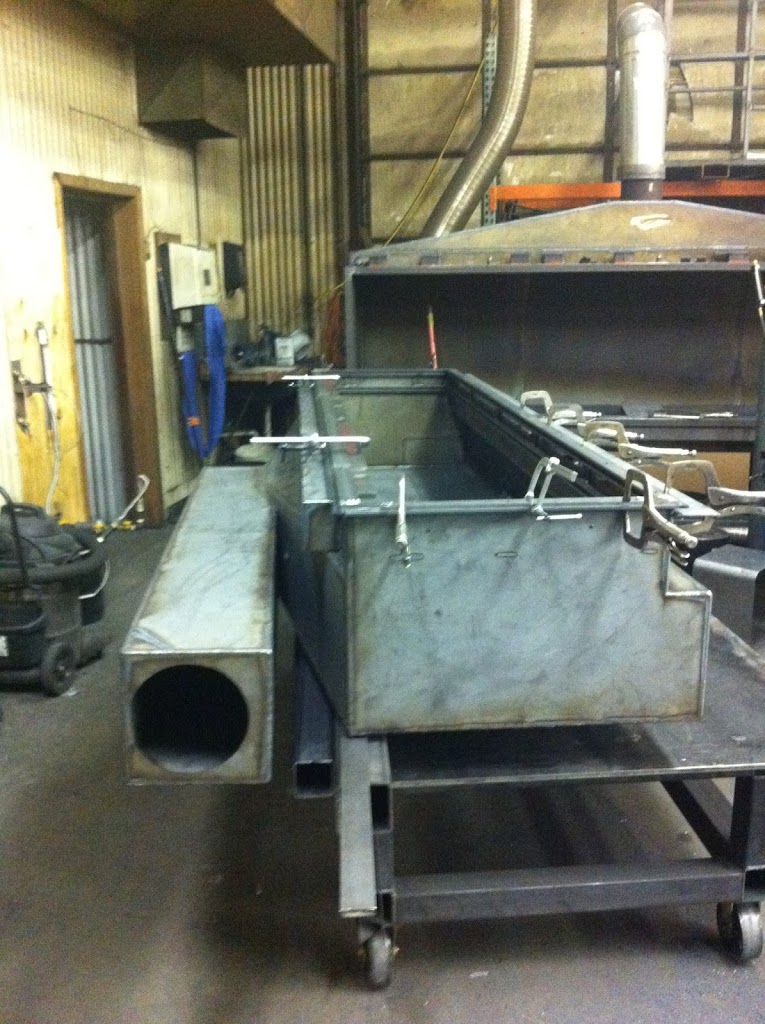 Upper Fireplace Production
Both fireplaces stacked during production
We test fire all of our fireplaces before shipment.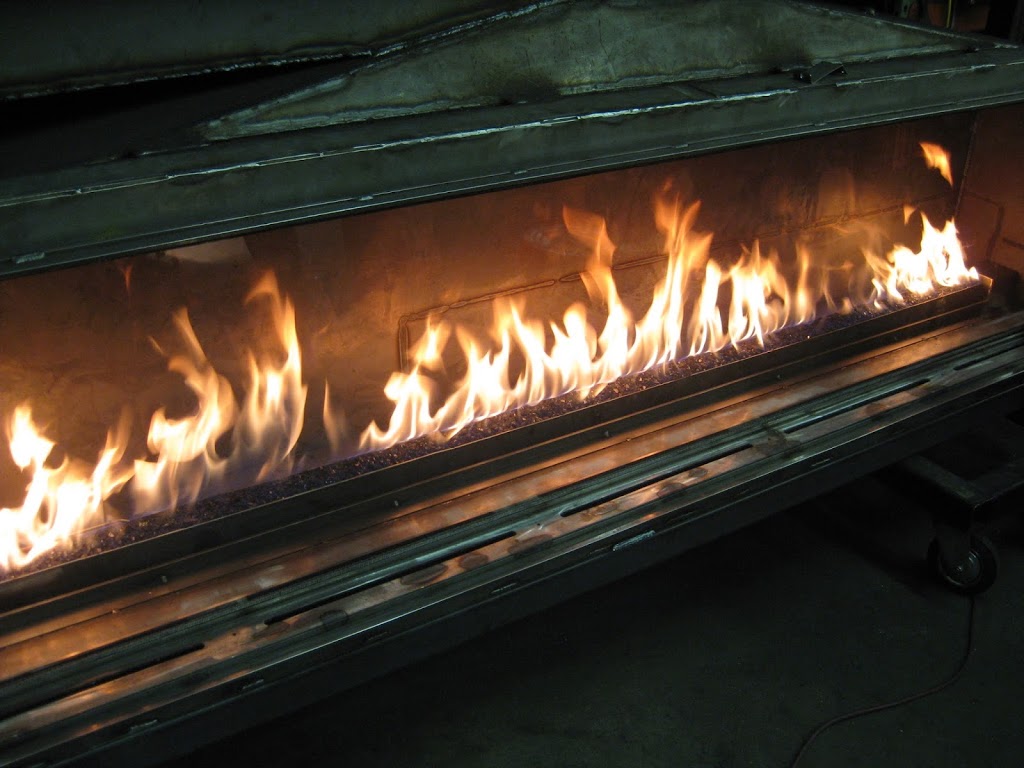 The finished product is below.
Note: the ghosted flames that are in fact reflected flames from the porcelain panels.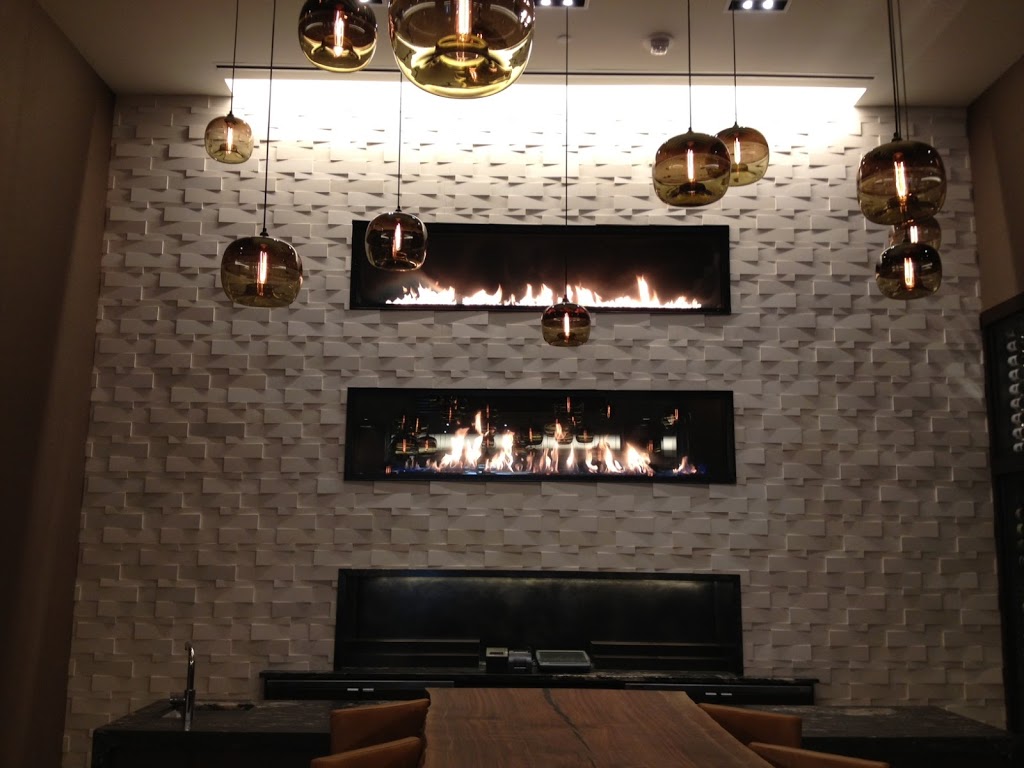 Acucraft was presented with a unique request and was asked by the client if it was possible. With our more than 30 years of experience in the custom fireplace industry, we made it possible.
So, if you have an idea (even if it's just scratched on a napkin) let us know, we would love to make it a reality!