Custom Outdoor Fireplaces
Are you looking for something to make your outdoor space special? You can create a truly unique outdoor gathering area for your friends, family, and guests that they will naturally be drawn to with a custom outdoor fireplace! Because your fireplace is custom designed, engineered, and built just for you, it will fit your space and exhibit your personality and style. Learn more about what excitement you can bring to your outdoor space; work with Acucraft to create your perfect custom outdoor fireplace!
Fireplace Sizes: From Large to Small
Custom fireplaces are designed to fit perfectly into your space. Whether you have unlimited square footage or just need something small to bring more excitement, Acucraft can create a fireplace just for your needs. No matter how large or small your fireplace needs, you will always have the tallest flames on the market!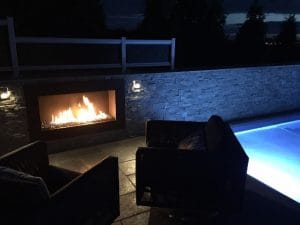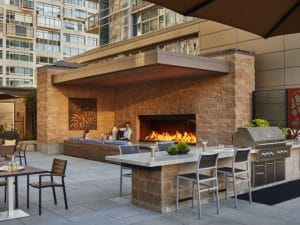 Left: 3′ Outdoor Fireplace in Private Residence, CA     Right: 8′ Outdoor Fireplace on Apartment Rooftop, Seattle, WA
Flames & Glass
Create a unique look with your flames! You can use torch burners to make a statement about your space. Or, amaze and impress all with Acucraft's 3XL flames that reach up to 24″ tall! You can keep your fireplace open to make that fire pit look. You also have the option to have half glass, full glass, or two panes of glass complete with glass cooling. Depending on who you plan on having near your fire feature, you can choose glass and flame options that work for your entertaining area.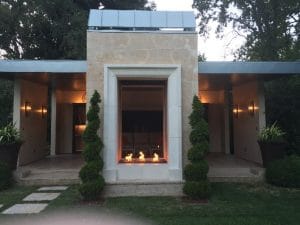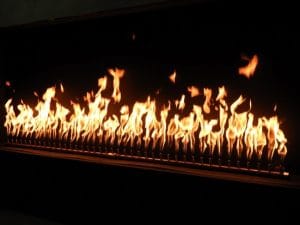 Left: 3 Torch Burner Indoor/Outdoor Fireplace in Private Residence, NY     Right: 3XL Burner Fireplace in Testing, Big Lake, MN
Fireplace Styles: No Limits
Custom outdoor fireplaces are designed and engineered to be fit for commercial and residential spaces so you know you are getting the highest quality fire features for you space. Working with Acucraft, custom doesn't mean just choosing your media; custom to Acucraft means you can create and choose any size, shape, style, flames, glass, and media options! We work hard to make your dreams a reality combined with the highest engineering for operation and safety.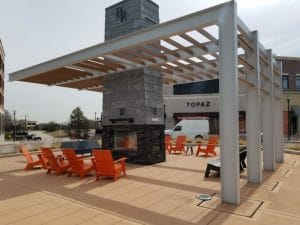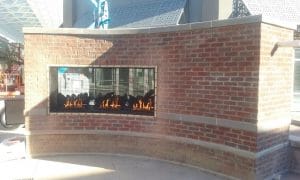 Left: Outdoor 4-Sided Fireplace in Outlet Mall in CA    Right: Curved Outdoor Fireplace with Log Sets in Outlet Mall in VT
As the premier manufacturer of standard and custom fireplaces, Acucraft is well versed and is willing to accommodate to your unique desires. Outdoor entertaining is a special experience and deserves a special atmosphere. Contact Acucraft and meet your personal Fireplace Advisor to discuss your dreams for your outdoor space!