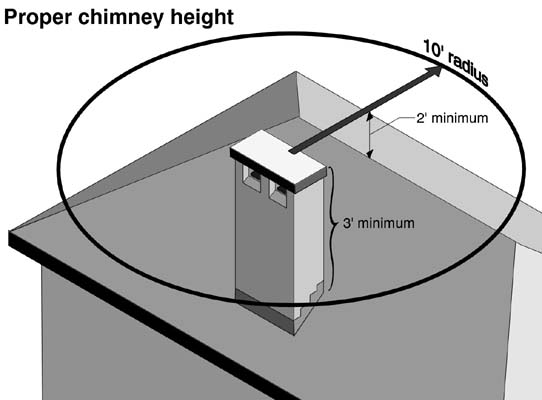 The 10-2 Rule is the guideline for determining the amount of chimney required for proper operation and draw of your wood burning fireplace or stove. This guideline is the same for exposed "naked" chimney's as it is for enclosed chimney's in a chase.
This guideline has 3 main components:
1. Is your chimney within 10′ of your peak?
If you are within 10′ of the highest point of your roof, typically the peak, the chimney needs to extend 2′ above that point. Therefore, if you draw a 10′ Radius around your chimney the flue needs to be 2′ above everything within that radius. The minimum length above the roof is 3′ ( this is why some industry people use the term 2-3-10 which means 2′ above anything within 10′ and a minimum of 3′)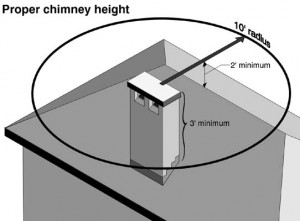 2. Is your chimney farther horizontal than 10′ away from the peak?
If you are farther than 10′ away from the peak, your chimney needs to be 2′ above the highest point within 10′. For example, your chimney is exiting 20′ away from the peak and you have a 6/12 pitch roof. If you draw a horizontal line 10′ the chimney will be 6′ from the shingles and you need to add 2′ from that mark, therefore you will have a total of 8′ of chimney above your shingles.  Please note: if your chimney is exposed and is greater than 5′ tall, a Roof Brace Kit is required to keep it supported.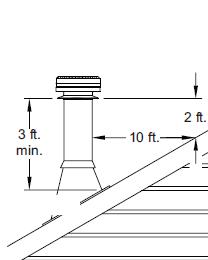 3. Does your chimney have more than 2 pair of elbows and/or is your chimney being installed higher than 4,500′ above see level?
All rules and guidelines have exceptions, the more offsets you have and the higher the elevation the taller your chimney will need to be. For example, if you are building in Breckenridge, CO which is appx 9,600′ ft above sea level OR you have two pair of offsets, we would need to analyze the fireplace opening, the total chimney run in feet, the distances between the elbows and how much is offset.
It is amazing that if your chimney is 6″-12″ short how the draw is impacted. As always, if you have any questions please let us know.
Happy Burning!