The BLAZE Series: Commercial Linear Gas Fireplace
An Acucraft commercial linear gas fireplace is designed with commercial-grade components and thick, 7-gauge steel; seamlessly sitting within restaurants, hotels and gathering spaces.
Choose from single-sided, see-through, or indoor/outdoor styles in six feet to sixteen feet in 24″ or 30″ high viewing areas. All Blaze fireplaces come standard with our dual pane glass cooling system providing safe-to-touch glass.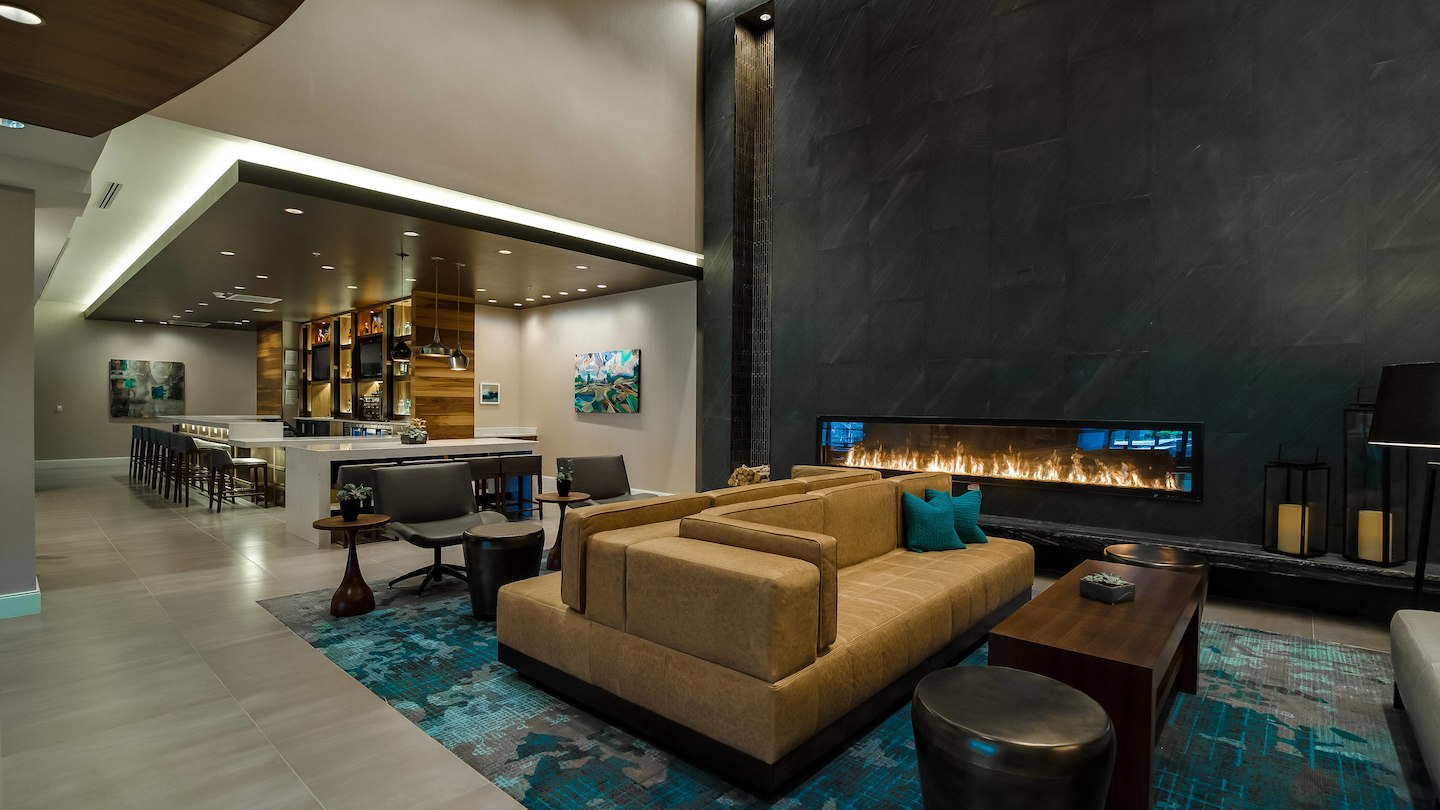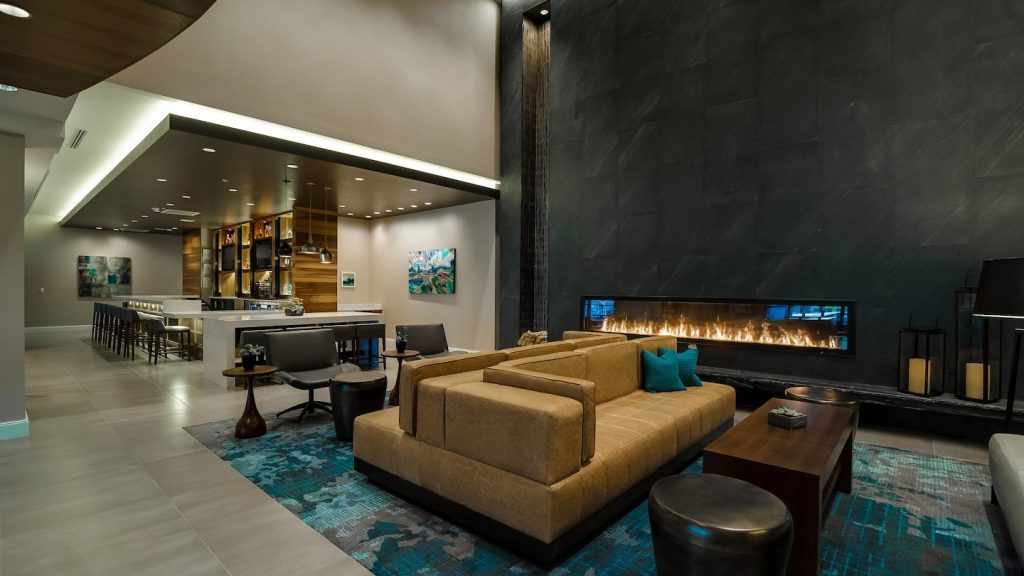 Create the most inviting space for residents, guests, employees and more with an Acucraft BLAZE series commercial linear gas fireplace.
Choose from one of our standard BLAZE fireplaces, or maybe you're looking for something awe-inspiring? Co-create a custom gas fireplace with our Fireplace Advisors and get exactly what you're looking for!
Features & Benefits of BLAZE Linear Fireplaces
Choose your viewing size: 6′ – 16′ in length and 24″ or 30″ in height
Available in single-sided, see-through or patent-pending indoor/outdoor styles
Guaranteed the tallest flames on the market
Safe to touch dual pane glass cooling system
Natural gas or propane
Select from a variety of crushed glass media, stones and log sets
Finish your fireplace with a custom frame in matte black, brushed stainless steel or mirror polish stainless steel

Kansas Star Casino – Three BLAZE Linear Gas Fireplaces
Commercial builder, John Gratz, came to Acucraft curious about the BLAZE fireplace, specifically the flame height and average glass temperature. When our fireplace experts told him that the overall flame height was 9″-12″ and the glass temperatures don't exceed 110°F, he firmly said "I've been told that before."
After being awarded the Kansas Star Casino project, John had originally chosen a competitor of Acucraft's to design and manufacture three linear see-through gas fireplaces to be placed between the casino floor and the Woodfire Grille restaurant, and a fourth unit in a private dining room.
Unfortunately for John, the fireplaces produced by one of our competitors delivered flames so small they couldn't even be seen from the casino or the restaurant. On top of that, they created so much heat, that even after being raised above head height, they were making guests uncomfortably warm.
Needless to say, John was skeptical. So, he came from Kansas to Minnesota to see for himself that our fireplaces would go above and beyond his expectations. After touring our facility and seeing our fireplaces John knew that the BLAZE series of linear gas fireplaces could deliver the flames he wanted and the temperatures he needed.
In an effort to have the restaurant and section of the casino closed for as little time as possible, our Field Technicians helped direct the installation team with John so that it could be completed in one day. He was so satisfied with the final fireplaces that he made Acucraft his go-to fireplace supplier.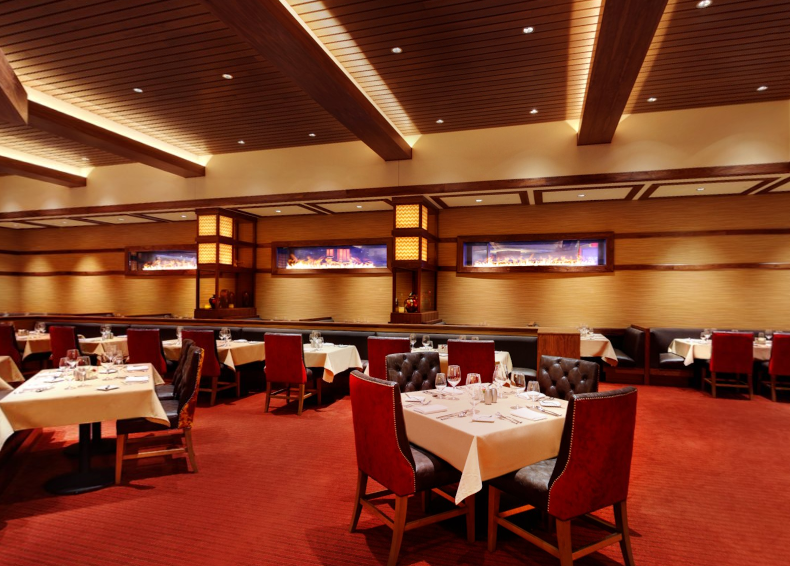 John is just one of many satisfied customers. At Acucraft you will not only receive the highest quality product when you need it, but our team also provides you with a world-class customer service experience. Connect with one of our fireplace experts to co-create the fireplace you've been dreaming of!
Get Started On Your Own Fireplace Project Today! Speak with one of our Fireplace Experts: (888)317-6499
BLAZE Linear Gas Fireplace Models
Single-Sided
See-Through
Patent-Pending Indoor/Outdoor
6′-16′ viewing length
24″ or 30″ viewing height
Fireplace Finishing Options
1/4″ Glass Media
1/2″ Glass Media
River Rock
Semi-Polished Stones
Lava Rock
Log Sets
Custom Paint
Brushed Stainless Steel Frame
Mirror Polished Stainless Steel Frame
Mesh Interior
Black Porcelain Reflective Panels
LED Lighting with Remote
Linear Gas Fireplace Gallery
Click on image to zoom in