100% Satisfaction Guarantee
If you're not 100% satisfied with your Acucraft Fireplace, send it back!
At Acucraft, we want you to have the fireplace you've been dreaming about! Which is why our products are not only backed by a Lifetime Warranty but we're so confident that you'll love your fireplace that we're taking the fear out of purchasing. If you're not 100% satisfied* with your fireplace after you've received it, send it back for a refund.
Take Ken, for instance, he purchased an Acucraft Hearthroom series wood burning fireplace but after installing it he realized he did not like the firescreen that came with the fireplace. Our Hearthroom fireplaces are UL-listed for use in the United States and Canada and we must adhere to those standards. Given our Hearthroom fireplaces can be operated with the doors closed, open (with firescreen) or fully removed (with firescreen) we need to ensure we're protecting anyone enjoying the fire (along with any materials around the fireplace) from sparks and embers that may exit the fireplace during a fire. Ken purchased an indoor/outdoor model which means he could load wood from either the inside of the home or the outside. He wanted to operate his fireplace with the doors open on the interior side which required the use of our custom safety firescreen. Unfortunately, he didn't want to have to remove the firescreen to load more wood into his fire, and due to the UL-listing we weren't able to accommodate Ken's request for a sliding firescreen**. We wanted to make sure that Ken had a fireplace he could love forever, even if it wasn't an Acucraft. We worked closely with him to return his fireplace and provide him with a refund. At the end of the day, we believe in making sure our customer's are happy with their purchase!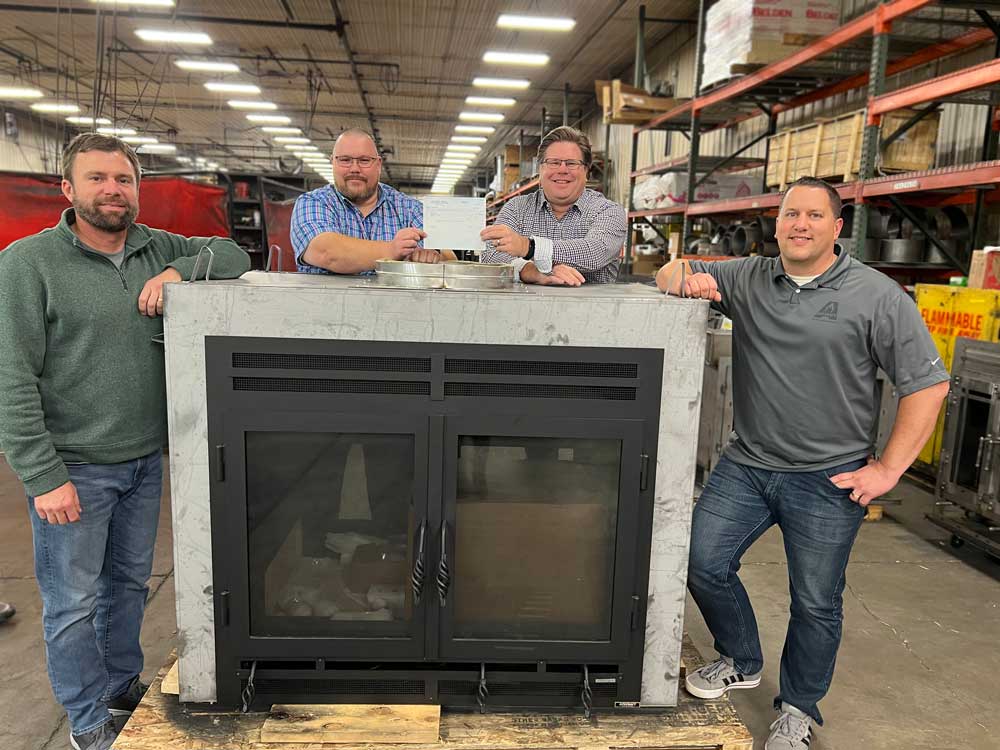 *Subject to the terms and conditions below.
**Sliding firescreens, also known as cascading firescreens, are not recommended. When burning wood often times the wood moves and if it were to roll forward, it would roll right through a cascading firescreen and out into your space causing damage to everything around it and/or anyone around it. Acucraft's firescreens are secured in tracks within the fireplace itself ensuring no logs or sparks can exit the fireplace, keeping you safe.
Terms and Conditions
In the event that a Customer is not one hundred percent (100%) satisfied with their Acucraft fireplace, the Customer may provide written notice to Acucraft Fireplaces of their dissatisfaction within 60 days of the shipment of their fireplace. Such written notice must identify the reasons(s) for the dissatisfaction with reasonable detail to determine eligibility of a refund. Written notice should be sent to [email protected]. Acucraft Fireplaces shall have ten (10) business days to determine the Customer's preliminary refund eligibility. Eligibility will be determined based on the resale value and quality of the Customer's fireplace and/or flue system. If Acucraft Fireplaces determines the Customer is eligible for a refund, of any amount, an RMA will be provided to the Customer. The Customer is responsible for properly packaging and shipping their return to Acucraft Fireplaces (19672 172nd Street, Big Lake, MN 55309). Acucraft Fireplaces is not responsible for any shipping costs, loss or damage during transit. Acucraft is not responsible for any incurred costs by the Customer for construction, masonry, electrical work, etc. in relation to the work done to install or uninstall the Customer's fireplace. A non-negotiable 15% restocking fee will be deducted from the Customer's refund for any returned flue or fans. Upon receipt of the Customer's return, an Acucraft Representative will inspect the Customer's fireplace and/or flue system to determine their refund amount eligibility.  If Acucraft Fireplaces determines the customer is eligible for a refund, of any amount, a check will be mailed to the Customer within thirty (30) business days of receiving the Customer's returned fireplace and/or flue system. Due to the customization of Acucraft Fireplaces' products, Acucraft Fireplaces reserves the right to deny the Customer's refund request at any time, for any reason.
Contact Us:
Acucraft Fireplaces
19672 172nd Street
Big Lake, MN 55309
Main: (763)263-3156
Toll Free: (866)226-8610
Fax: (763)263-8311