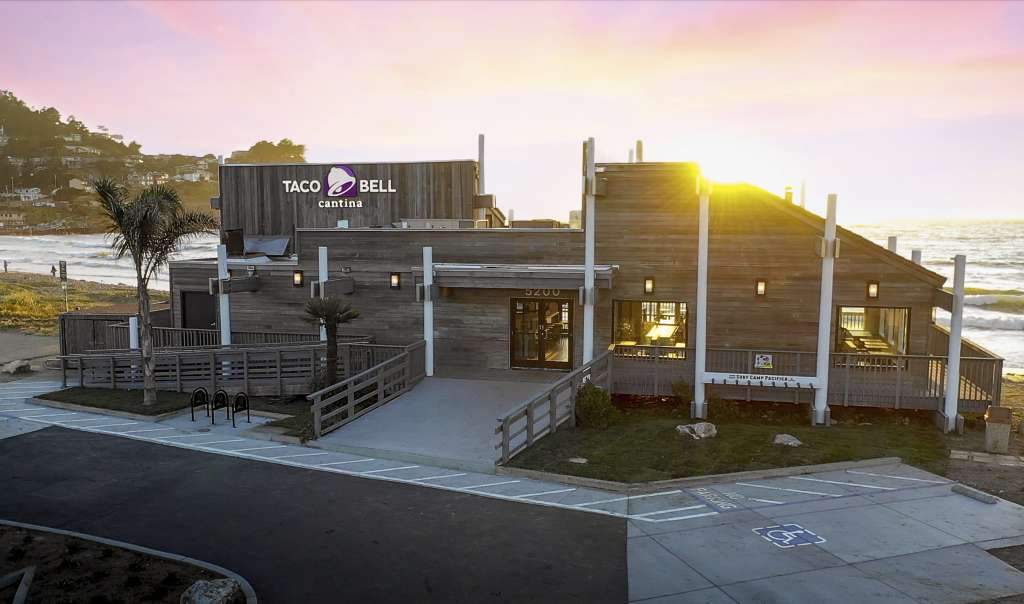 The World's Most Beautiful Taco Bell
The Taco Bell located just off the Pacific Coast highway on the southern tip of Pacifica, California has become somewhat of a landmark. From locals grabbing a taco at the walk up window while taking a surf break to out-of-state travelers looking for that Instagram-worthy photo opp at the "World's Most Beautiful Taco Bell" (according to the SF Chronicle) and even hosting a wedding. Yep, you read that right!
---
The Renovation
After being featured in Forbes, Business Insider, Trip Advisor, Buzzfeed and more, newly appointed VP at Golden Gate Bell LLC decided that this unique Taco Bell location deserved an upgrade – both to it's interior and its menu! Golden Gate Bell LLC chose CM Architecture and First Street Development for the renovation project, so when Vice President & Architect, Brent Smith, came to Acucraft for a custom fireplace we were excited to help.
The key to this remodel was to maintain the large ocean views while providing customers with space to enjoy conversations over tacos and new Twisted Freezes. Brent worked hand-in hand with one of our Fireplace Advisors to determine the best style fireplace for their space. Due to spacial constraints, limited seating for guests, and wanting to maintain large ocean views, an Acucraft patent-pending indoor outdoor see through gas fireplace was the perfect fit for the project.
Brent's colleague, Leah Smith, Architect worked closely with our Fireplace Design Team to ensure the fireplace & venting would fit within the constraints of the building. This indoor outdoor gas fireplace needed to fit in between two large picture windows and existing structural supports.
The indoor outdoor gas fireplace would act as another window providing customers with relaxing ocean views, while still being able to cozy up next to a fire while enjoying a meal with family or friends.
| | | |
| --- | --- | --- |
| | | |
| Customer provided rendering of fireplace location & space | | Acucraft provided 3D drawing |
---
Custom Gas Fireplace Delivery
After solidifying the fireplace design with Leah Smith, Architect at CM Architecture, and Chris Czyz, VP of Development at First Street Development, the Taco Bell fireplace was ready for production! Acucraft's Project Manager worked closely with Chris to ensure their timeline was met and their indoor outdoor gas fireplace would be delivered and installed before their grand re-opening in July 2019.
Once their fireplace was manufactured it made it's way into our internal test lab for 3rd party certification and ANSI safety testing. The Acucraft Team even enjoyed some Taco Bell breakfast next to the fire before it shipped.
---
Fireplace Enjoyment
The Linda Mar Taco Bell, as it's known by locals, is the only large structure in this area surrounded by a cliff wall, tree-lined hills, and endless ocean views. Although Taco Bell has over 40 Cantina locations across the country, this location is it's first free-standing restaurant. So drop your board in the "surfboard parking" zone, order your favorites at the walk-up window, cozy up to the custom indoor outdoor gas fireplace and enjoy the ocean views! (Read more about this location here)
On July 13th Pacifica's Taco Bell Cantina officially re-opened. The Pacifica Chamber of Commerce helped employees, Taco Bell executives, local leaders, and excited Taco Bell customers celebrate the grand re-opening with a ribbon cutting ceremony, free beach towels, raffles, and piles of tacos for all…not to mention the much sought-after photo opportunities next to the gorgeous indoor outdoor gas fireplace and newly remodeled interior!
"That fireplace is such a beautiful feature!" -CM Architecture
"On behalf of everyone at Acoustiblok Soundproofing Solutions, we say this is the most amazing Taco Bell ever and the idea of adding your fireplace is brilliant!" -Marilyn Westropp, Acoustiblok, Inc.
Check out the photo slideshow below for more pictures, as well as Taco Bell's video featuring Acucraft's fireplace!
Looking for your own one-of-a-kind fireplace? Get started today by requesting a copy of our NEW Custom Gas Fireplace brochure by Clicking Here!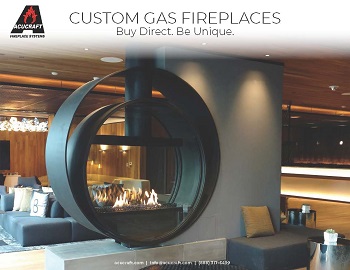 ---
Did you know that Acucraft + Taco Bell have been working on fireplace concepts together since 2016? Yep, it's true! Check out some of the inspiration we collaborated on: