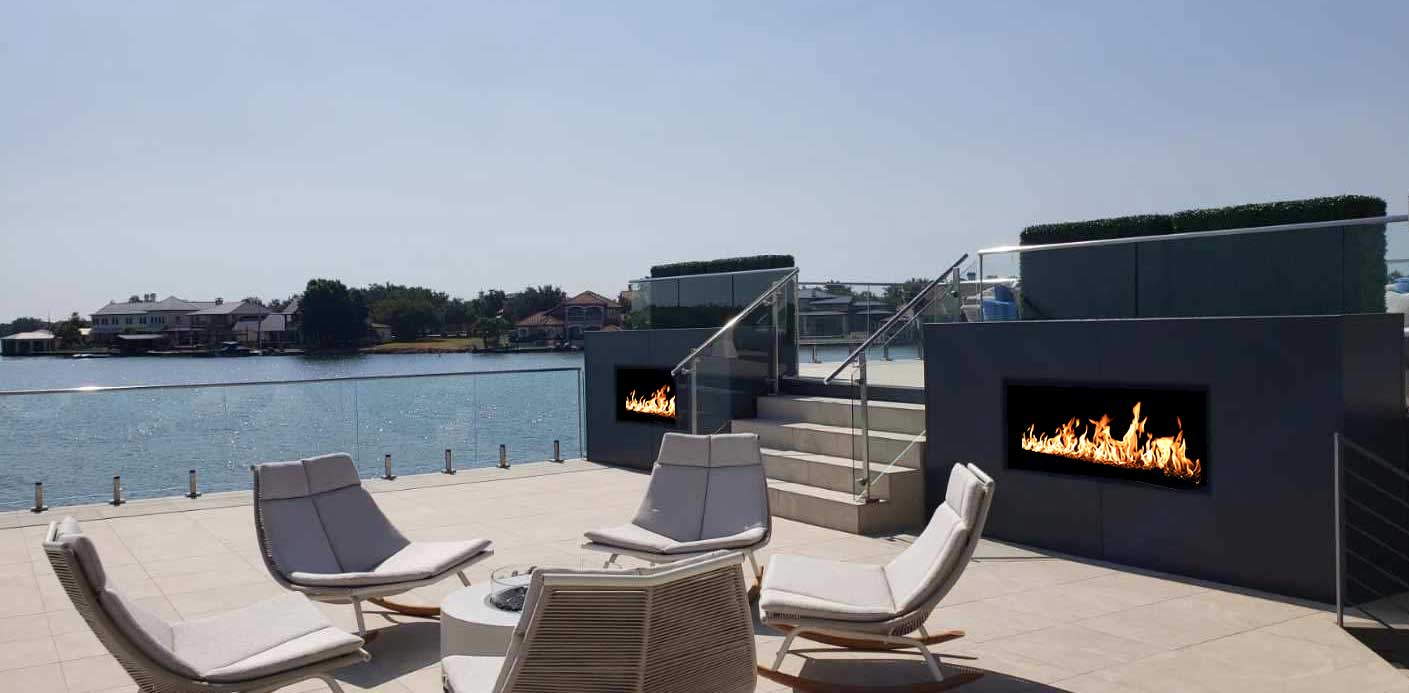 Acucraft Technical Support & On-Site Services When You Need Them
Some companies think their job is done once your fireplace has left their facility; but at Acucraft we're with you throughout the life of your fireplace and are committed to a lifetime of enjoyment. Our Fireplace Advisors work hand-in-hand with you to determine the best fireplace for your space; our Engineers & Project Managers work directly with you to meet your exacting needs; our Expert Craftsmen bring your fireplace dream to life; and our Technical Support Team supports you from installation to maintenance & troubleshooting for the life of your fireplace!
On-Site Services: A Customer's Story
Jeff & Gabrielle came to Acucraft looking for multiple fireplaces for their lake home that was being remodeled. They wanted two identical outdoor fireplaces and a large see-through gas fireplace for the interior of their home. Fireplace Advisor, Ben, worked closely with Jeff & Gabrielle as well as their Contractor Darrin to find the perfect fireplaces for their space included two identical outdoor gas fireplaces and a see through gas fireplace.
Project Manager, Chad, coordinated all of the details and needs for their three fireplaces including: open (no glass) viewing areas with fire screens and and a matte black finish with black reflective glass media for the dual outdoor units; and a sealed (with glass) Signature 8′ see through fireplace with black reflective glass media.
Pictured below from left to right: custom outdoor fireplace drawing, fireplace being welded, and the fireplace being crated for shipment.
Once the three fireplaces were shipped and installed Jeff & Gabrielle called Acucraft concerned about their outdoor fireplaces. One of the outdoor fireplaces wouldn't ignite when turned on using their remote controlled system due to a dimmer control installed which was causing the valve, igniter and transformer to not receive enough power to ignite. On top of that, their installer had not filled their burner trays with any glass media which cause them to have match-stick size flames.
We pride ourselves on the size of our flames and the quality of units so this was very concerning to us. One of our Technical Support Specialists, Hugh, went on-site to Jeff & Gabrielle's home to further troubleshoot the issue(s) and determined that their installer, unfortunately, had not followed the installation instructions provided by Acucraft. Fortunately, Hugh was able to get their fireplaces in working order so they could enjoy their outdoor space as a family that evening!
You can see photos of Jeff & Gabrielle's three gorgeous fireplaces below.
Our Technical Support Team is here to serve you.
Whether you're looking for an Acucraft technician to be on-site during installation; to calibrate your gas fireplace post-install; or run into any issues throughout the life of your fireplace, our Technical Support Team is here to serve you.
From on-site services to phone & video support and gas fireplace maintenance agreements, we want you to enjoy your fireplace for a lifetime! For more information about our Technical Support team, or to inquire about a support visit or maintenance agreement, call our Team at: (888)317-6499. We look forward to working with you!
The Acucraft Technical Support Team
Start Your Own Fireplace Journey Today by Filling Out the Form Below!