December 30, 2016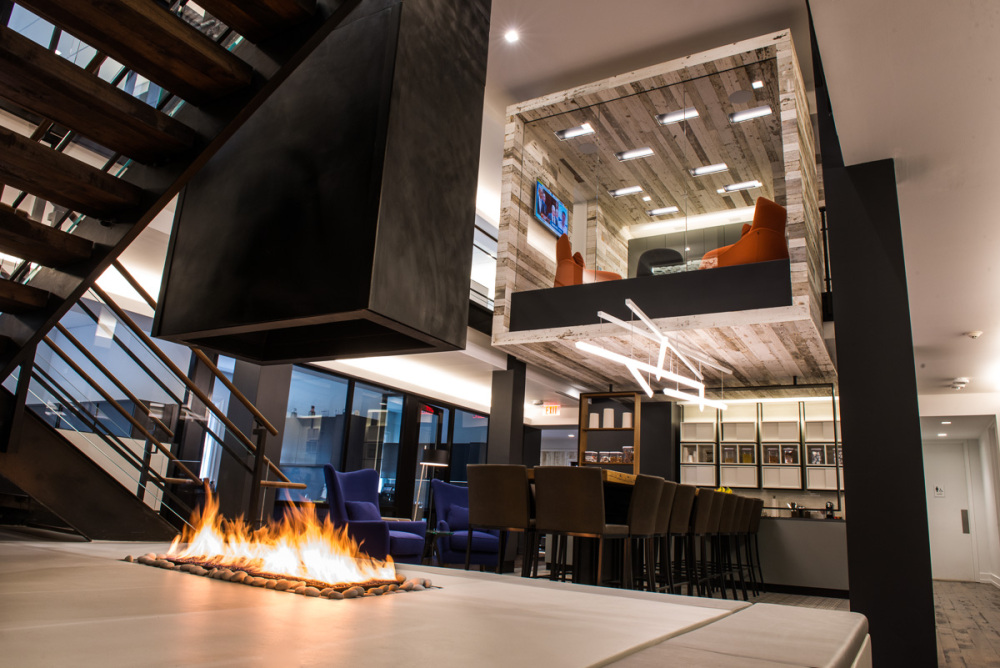 Four-Sided Open Gas Fireplace
Open gas fireplaces have become one of the hottest fireplace solutions in the past year; in particular, the open gas indoor fire pit. So what is the difference between an open fireplace and an indoor fire pit? Well, to begin with, indoor fire pits offer the same feel you get from roasting marshmallows in the flames of an outdoor campfire…minus the bugs!
One thing you can't beat with an indoor fire pit, sometimes referred to as a four sided gas fireplace, is the 360 degree wrap around, unobstructed view; allowing enjoyment of your fireplace from every angle.  But that's not all; our indoor fire pits are fully customized with burners to suit your needs including: square burners, rectangular burners, or circular (round) burners. These show-stopping gas fireplaces come open (no glass), partial glass, or full glass styles.
A perfect example of one of our custom gas indoor fire pits is a gorgeous unit we designed and manufactured for Atlas Holdings, LLC in Greenwich, CT.  This four sided gas fireplace was designed to be open (no glass), with a custom rectangular burner and a suspended hood supported entirely by the roof of the building.  All Acucraft custom gas open fireplaces are fully equipped with an Automatic Draft Control System and power venting for safety.
Our open indoor fire pits have four safety checkpoints, each of which needs to be met before the system will ignite:
When the fireplace is turned on (wall switch on/off), it sends a signal to the Automatic Draft Control (ADC-100) System which opens the damper.
The exhaust fan engages.
The Proven Draft System (PDS) ensures positive exhaust of flue gases.
The gas valve opens, signaling the spark ignition. The flame sensor provides combustion.
Our Fireplace Advisors and Designers worked with Pavarini North East Construction Company (Stamford, CT) to design the perfect fire solution for Atlas Holdings, LLC. We initially received a rendering (see photo to the right) of the space from the customer and worked with them to determine the best option for an open four sided gas fireplace that could be enjoyed by their employees.
Our Fireplace Designers prepared drawings for the open fireplace along with the suspended hood of the fireplace in accordance with the plans provided.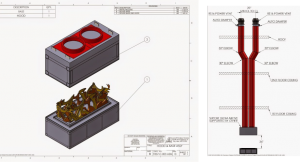 After the design was approved by the customer, it was placed into our production schedule for manufacturing. Every Acucraft gas fireplace is handcrafted using 7 gauge steel and double welded inside and out to ensure a lifetime of enjoyment.
Before being shipped to the customer, the four sided fireplace was put through Acucraft's internal functional tests including, but not limited to: BTU rate, proper combustion performance, flame height, turbulence and performance, along with positive flue performance. Once the fireplace was tested to meet International ANSI standards, along with Acucraft's high standards, it was shipped to the customer for installation.
Finished with gorgeous slate river rock, this indoor fire pit is the perfect addition to Atlas Holding's ultra modern common area for their staff! To learn more about our Indoor Gas Fire Pits or request a copy of our stunning Custom Gas Fireplace Brochure, click here!