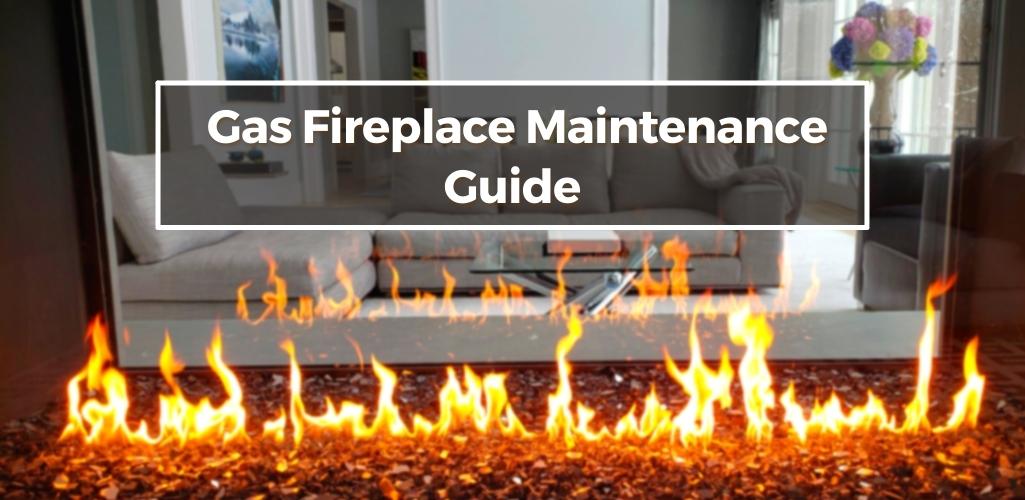 Gas fireplace maintenance is an important part of keeping your home safe and your fireplace working optimally. Gas fireplace maintenance like cleaning can be done by yourself, but a professional is needed for more technical maintenance and servicing.
By taking preventative steps to ensure your gas fireplace is well-maintained, you can improve your fireplace's longevity, identify potential problems, and take remedial action when needed. In this guide, you'll learn more about how gas fireplaces should work, common gas fireplace issues, and what maintenance a gas fireplace needs to stay in top working order.

Acucraft's customers are our top priority every time. Our Technical Support Team will be there to support you for the life of your Acucraft fireplace.
Gas Fireplace Maintenance Basics
Whether you're working with a prefabricated unit or a luxury custom-built gas fireplace, you can rest assured that a gas-burning unit is a safe and convenient way to bring the classic appeal of a fireplace into your home. While gas fireplaces are generally easy to maintain when compared to wood-burning units, it's still critical to maintain and clean them.
Cleaning and maintenance aren't just to ensure your fireplace looks good aesthetically. Regular maintenance and cleaning help remove dust and debris that can potentially pose fire hazards and impact the airflow and performance of your fireplace.
How Gas Fireplaces Should Work
To maintain your gas fireplace, it helps to understand the key components and how they work together. These components include:
Gas valve: This is a simple valve that controls the flow of gas into the unit. When your fireplace is turned on, this valve is opened.
Igniter: This component provides the initial electric spark for igniting the fuel in your fireplace.
Burner: This metal element is used to distribute gas and, in turn, flames evenly throughout the unit.
Thermocouple: This is a safety device that automatically shuts off the gas supply if the igniter's pilot light goes out.
Ventilation: This refers to the chimney, also known as the flue system, which safely vents smoke and combustion gases from the fireplace out of your home or building.
These components must be in good working order to ensure your fireplace is operating safely. A fireplace needs good airflow, fuel supply, and ignition elements to work properly.
Common Gas Fireplace Issues
Typically when a gas fireplace is acting up, it can be traced back to a few common issues that are often directly related to inadequate gas fireplace upkeep. Some common gas fireplace issues include:
Pilot light issues: A pilot light is sometimes subject to mechanical failure and may need replacement.
Dirty or clogged burners: Dust, debris, and other sediments can cause clogging issues for the burner.
Ventilation blockages: Airflow is critical, and sometimes unseen blockages can cause problems.
Thermocouple issues: A loose connection, damaged wiring, or excess dirt and debris can cause a thermocouple to fail.
Lifetime Technical Support for Acucraft Gas Fireplace Owners
If you end up having trouble with your Acucraft gas fireplace, Acucraft is committed to providing dedicated support and assistance to ensure customer satisfaction and success. We offer customers lifetime technical support services for their fireplace, including phone support, on-site gas fireplace service, and cost-saving maintenance agreements.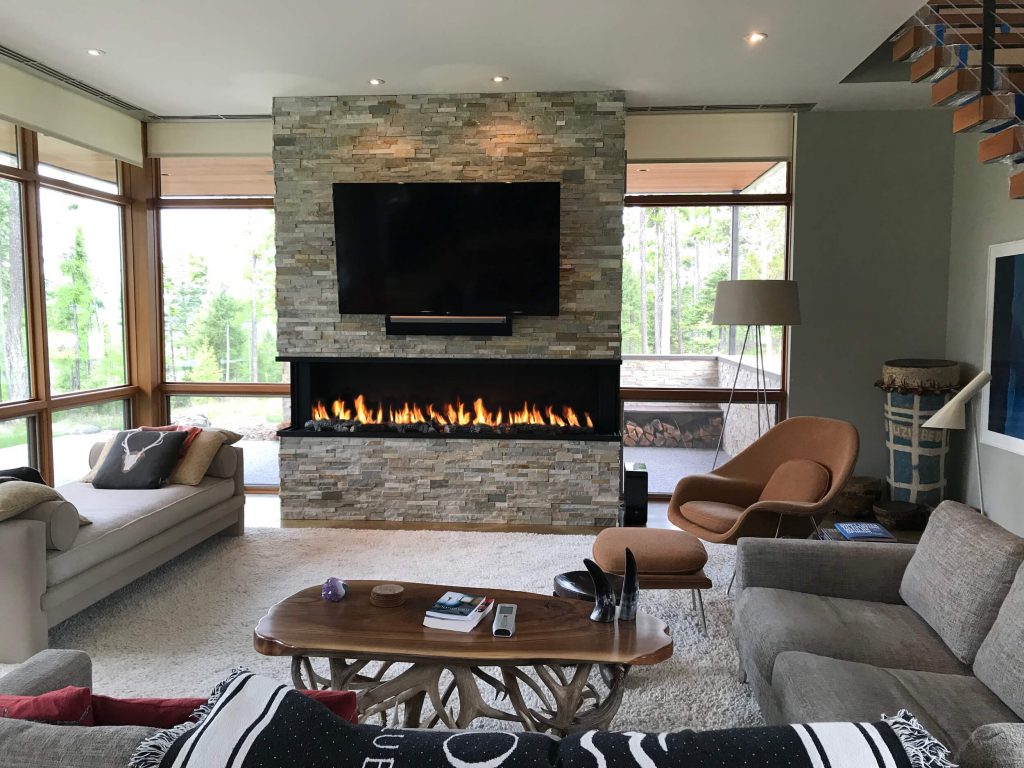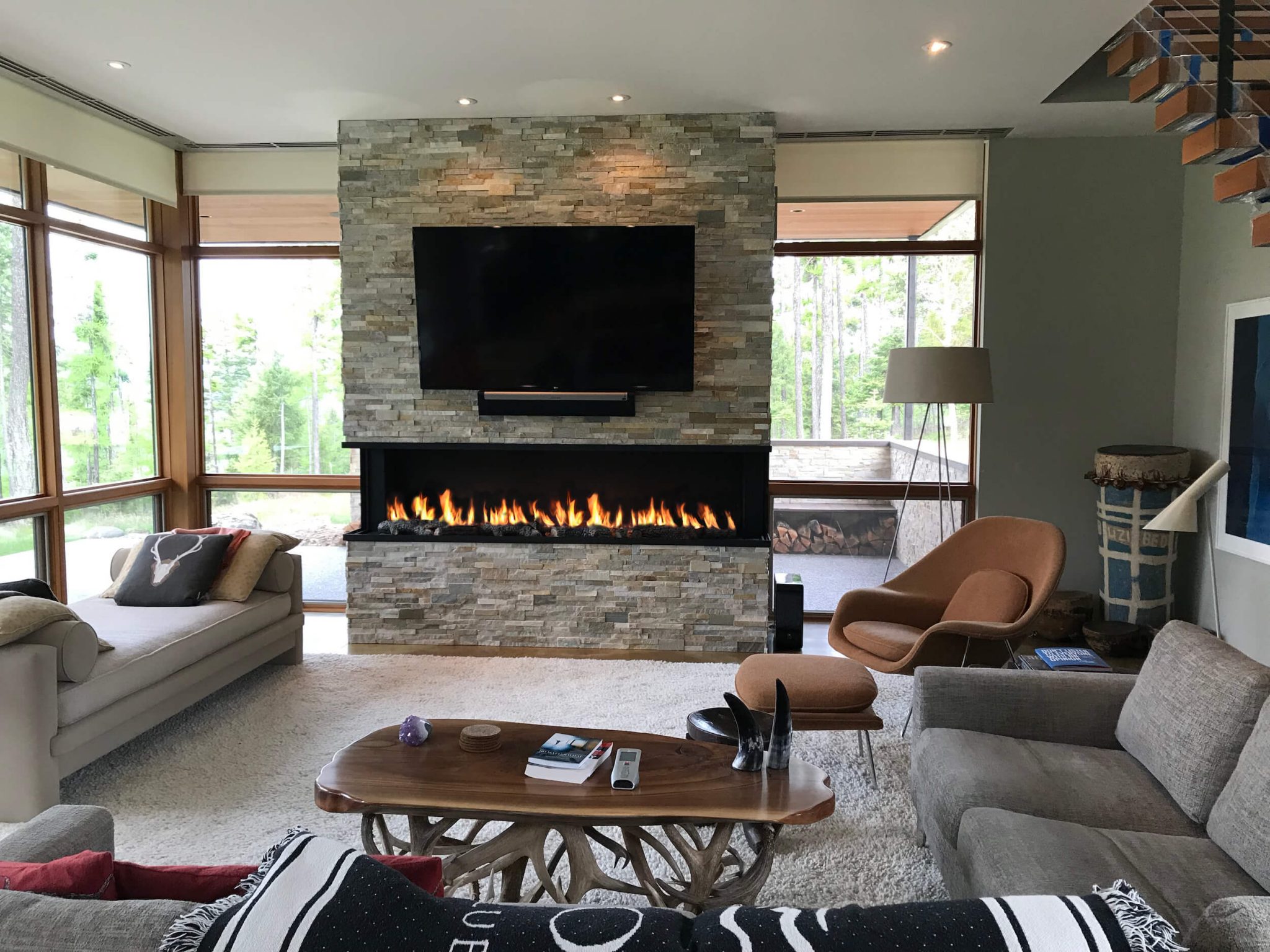 Do gas fireplaces need maintenance? Yes, fireplace maintenance and safety are critical. Explore our fireplace safety tips.
How To Maintain A Gas Fireplace
Performing gas fireplace maintenance can come in two forms: light annual personal cleanings and visits from professional fireplace service technicians. Light cleaning, which we'll cover in more detail below, is a relatively simple preventative step that can help keep bigger issues from popping up. Professional maintenance visits will combine this cleaning with an inspection and recalibration of components as well as additional service recommendations as needed.
Clean Your Gas Fireplace
Cleaning your gas fireplace should be done annually, ideally before the fall and winter months when it'll be used most. The areas you'll want to focus on for a gas fireplace's annual maintenance are the glass, gas logs, burner, pilot assembly, interior casing, and ventilation system.
The tools needed for this job are simple. A vacuum cleaner with a brush attachment, a soft-bristled handheld brush, some soft cloths, and a fireplace glass cleaner are all it really takes for more regular cleaning. Never use soap, glass cleaner that contains ammonia, or other abrasive cleaners, as it can damage the tempered glass.
First and foremost, only clean your fireplace when it has completely cooled down after turning off the gas. Once the fireplace is cool, you'll want to lightly brush up and vacuum any excess dirt and debris. The burner shouldn't require maintenance unless something is wrong, in which case a qualified technician should be the only one accessing any of the components.
The venting/flue/chimney should be cleaned by a professional on an annual basis, along with a chimney inspection to avoid potential creosote build-up. This build-up can lead to chimney fires. We recommend keeping the interior of the firebox free from debris along with keeping control compartments, burners, and vents are kept clean and inspected annually.
Gas Fireplace Maintenance Services
Though cleaning your fireplace is a relatively simple bit of preventative maintenance you can do on your own, an annual inspection from a trained technician is important as well. They can better identify mechanical issues, spot-fix minor problems, and calibrate components to ensure your gas fireplace stays in good condition.
Need help with a wood-burning fireplace as well? We've got you covered with our wood burning fireplace maintenance guide. 
How Often Should Gas Fireplaces Be Serviced?
Servicing a gas fireplace should be done at least once per year. For fireplaces in heavy use, consider a beginning-of-season and end-of-season service routine.
A gas fireplace annual service should keep most unexpected issues at bay. If you're having trouble with your fireplace, do not hesitate to call our professionals to help diagnose what's going on, as some problems can become a safety issue.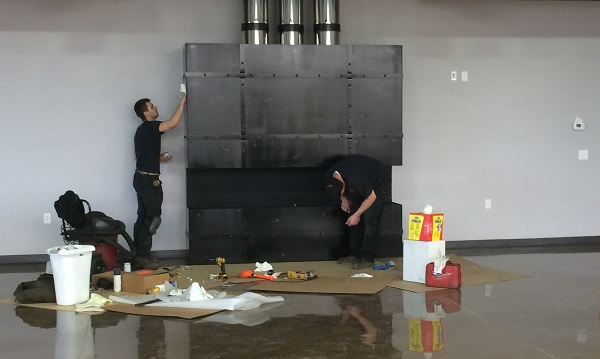 Acucraft's Technical Support Team Will Support You With Your Acucraft Fireplace
Staying on top of your gas fireplace's routine maintenance needs will go a long way toward keeping your gas fireplace unit a long-lasting, eye-catching, and valuable feature in your home. Now that you know a little more about the key components of a gas fireplace and what it takes to care for them properly, you should have everything you need to ensure your fireplace stays in excellent condition.
Never worry about the upkeep of your gas fireplace again with Acucraft. Our skilled field support specialists are ready to assist you with cleaning and maintenance whenever you need us. Simply give us a call, and we'll take care of the rest. Visit the technical support services page to learn more about our helpful maintenance offerings.