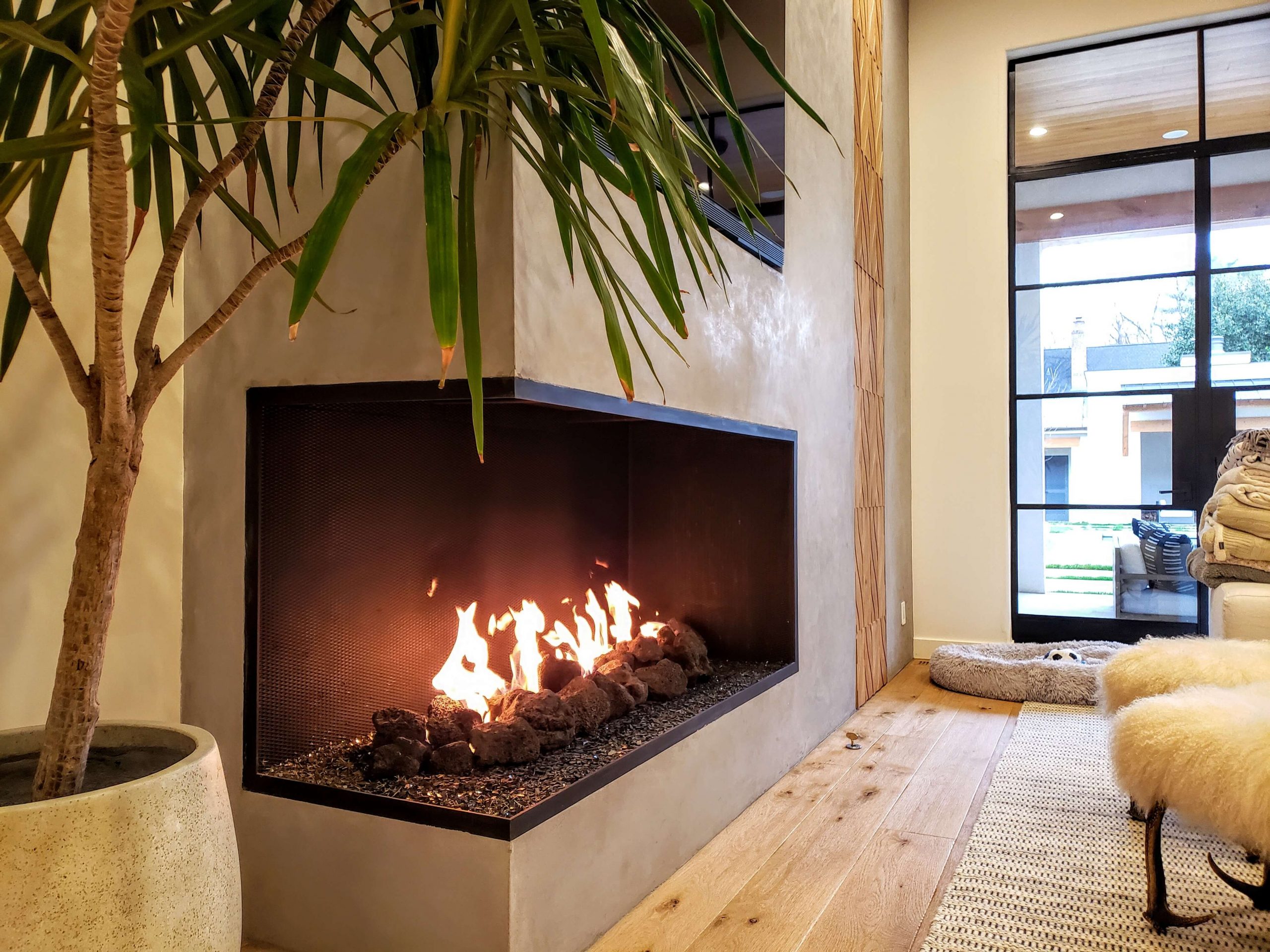 Gas fireplaces provide warmth and coziness. They even require less maintenance than a traditional wood-burning fireplace. But, the phrase low-maintenance still sparks questions from fireplace owners and prospective owners. Questions like: does a gas fireplace need a chimney? Or, more specifically, do gas fireplaces need to be vented? And how many hours can you run a gas fireplace safely? 
Get answers to these burning questions about gas fireplaces in this guide:

10 Burning Gas Fireplace Questions And Answers
Fire is a beautiful element, but there's a potential for danger if important questions are left unanswered –for example, do you need a chimney for a gas fireplace? We've already created a helpful list of answers to fireplace FAQs, but as more questions specific to gas fireplaces arise, we have more answers to provide.
Does A Gas Fireplace Need A Chimney?
Although a traditional brick chimney may work, you don't necessarily need a chimney in the classic sense for a gas fireplace. What you do need in place is a ventilation system, like Class A Flue or B-vent. 
Class A flue is the highest quality flue on the market. It lasts longer; and it's safer. All of Acucraft's custom gas fireplaces and wood-burning fireplaces use this.
B-vent is a more affordable and easily sourced option that works by exhausting combustion by-products to the outdoors using either a liner or a single pipe installed inside the chimney. This type of ventilation competes with other appliances in your home for combustible air.
Acucraft's gas fireplaces are always installed with a new flue system, including either a B-vent or a class-A flue system. Request information from our fireplace advisors to learn more about each.
Can You Burn Wood In A Gas Fireplace?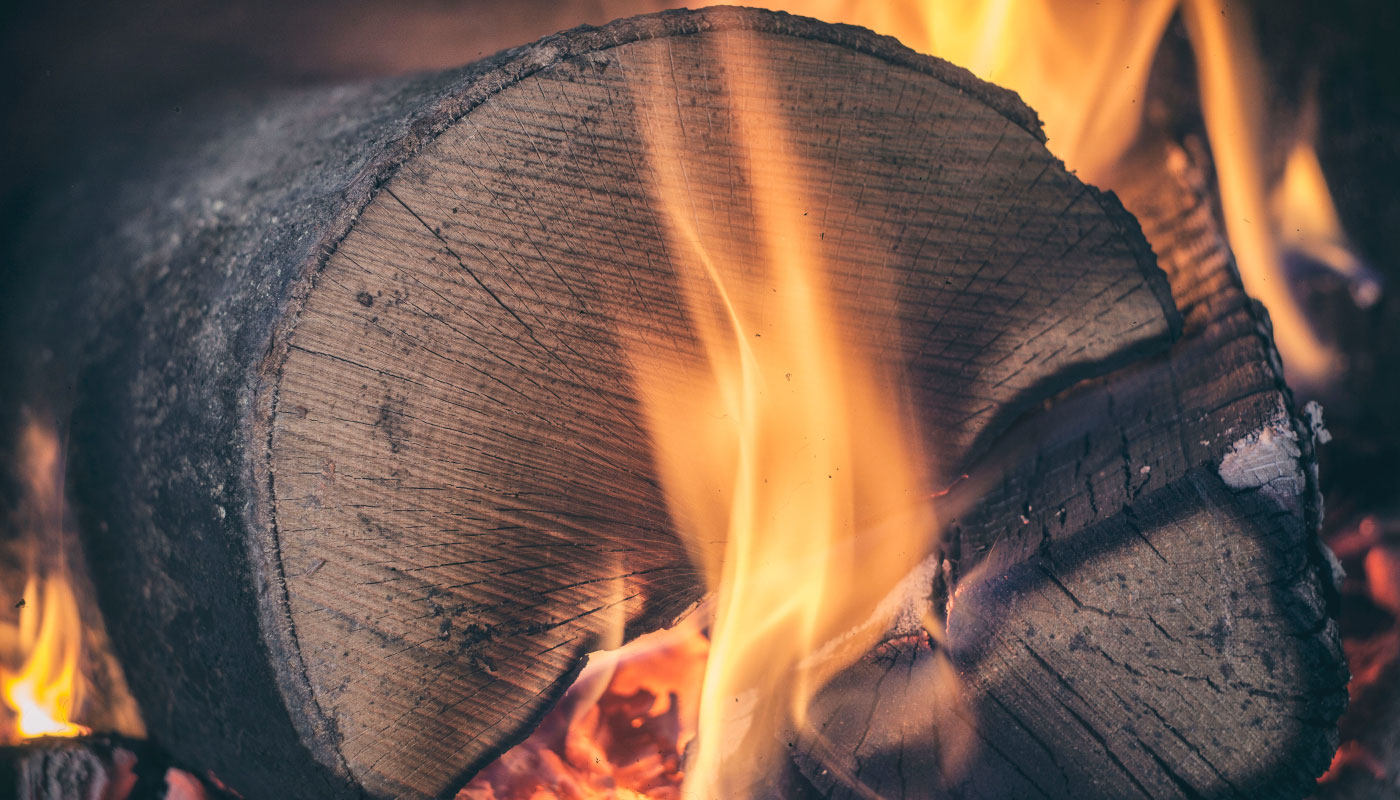 Real wood cannot be used in a gas fireplace. In fact, it's a fire hazard. However, you can still get that wood fire look without the risk by using a gas log set.
Gas log sets are usually made out of ceramic because the material can withstand very high temperatures and will last the longest – sometimes over 10 years. If you're wondering how to arrange fake logs in a gas fireplace, you really only get the opportunity if the logs are being replaced. Log sets are designed to be specifically placed on the burner for optimal performance, so use your opportunity wisely. Otherwise, it's not safe to move the logs around.
At Acucraft, our charming gas log sets are modeled after driftwood. If the traditional wood look isn't for you, we also offer more modern media options:
¼" Glass
½" Glass
River Rock
Semi-Polished and Polished Rock
Lava Rock
How Many Hours Can You Run A Gas Fireplace?
Most vented gas fireplaces are safe to run continuously, as long as the glass front is sealed. If you plan to run your gas fireplace continuously, it may get hot.
You'll want to keep the following away from the fireplace:
Pets
Children
Any combustible materials
Acucraft fireplaces are hand-made and designed in-house using only the highest quality materials. Our gas and wood fireplaces are backed by a Lifetime Guarantee to deliver tall flames with long-lasting performance.
Is It Safe To Keep The Pilot Light On In A Gas Fireplace?
There is no danger in leaving the pilot light on. If you live in a humid environment, it may even help keep moisture out of the unit. But, for energy efficiency, it's generally recommended that you turn your gas fireplace off during the months that you don't use it (if there are any), simply because it still costs money to keep gas running to the pilot flame when you aren't using it.
Acucraft gas fireplaces do not have standing pilot lights, so you don't have to worry about gas being spent to maintain an unused pilot light. Instead, the gas fireplace is electronically ignited each time the switch is used to turn it on. Our fireplace advisors can tell you more about the benefits of intermittent pilot lights.
How Big Should The Pilot Light Be On A Gas Fireplace?
The ideal pilot light flame should be strong enough to come out about ½" at the end of the thermocouple and will be mostly or entirely blue. If the flame has a little yellow tip, that's okay.
If the flame is mostly or entirely orange, it's likely burning inefficiently due to a lack of oxygen.
Here are more examples of unsatisfactory pilot flames and how to troubleshoot them: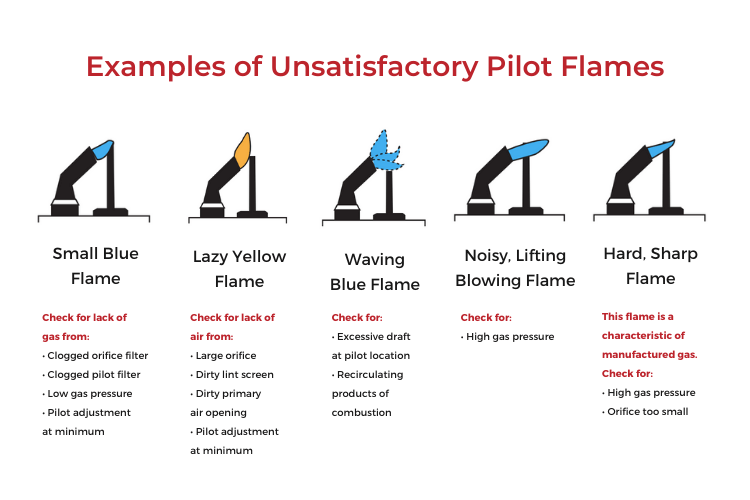 Why Does My Gas Fireplace Keep Going Out?
If your gas fireplace keeps going out, there are two most likely causes:
First, the pilot may need to be cleaned out. If dust gets in the assembly, it can create a lazy flame which lifts the flame away from the thermocouple, causing the gas valve to shut off. If this is the case, you or a professional will need to clean the pilot.
The second cause may be a part of the ignition system that is damaged. The most common piece of the system to need replacing which causes the pilot light to go out is a broken thermocouple.
Can I Remove The Glass From My Gas Fireplace?
If it was made by Acucraft, yes! Acucraft offers the only gas fireplace that can be transformed from a glass sealed unit into an open viewing area with a firescreen –or vice versa– using our conversion kit. The best part? It only takes about 10-minutes to easily add or remove the glass from your fireplace.
Acucraft is the only manufacturer to create open fireplaces that can easily maintain large flames.
What Are The Parts Of A Fireplace Called?
There are many parts that make up a fireplace; some you can see, some you can't. What are they?
The Gas Line delivers the gas into the fireplace, ending at a valve that is shut when the fireplace is off and opened when it's being used.
The Ignition System is a part of the gas line that ensures the gas ignites. It's typically a pilot light, which is an electric igniter that sparks and lights the gas entering the fireplace. This flame lights the gas entering from the main valve, creating continuous fire.
The Hearth is the protective base in front of a fireplace, made of typically a large slab of rock or non-combustible material in front of the fireplace opening. Most gas fireplaces do not have a hearth; hearths are traditionally only seen with wood-burning fireplaces.
The Firebox is the enclosed combustion chamber where the fire actually starts. Here is the attachment point for the burner, pilot light, and other functional gas fireplace components.
The Venting System provides oxygen to the firebox and vents out the exhaust fumes. It's usually made of heat-protected pipes connecting the firebox to the air outside.
Fans allow gas fireplaces to effectively maintain proper draft and pressure for ventilation.
Why Does My Gas Fireplace Smell?
If your gas fireplace is emitting an unfamiliar smell, there may be a few reasons for it:
If your fireplace is brand new. It's fairly common for it to emit some strange smells during first use. Let it burn off for a few hours, as long as it doesn't smell like rotten eggs. If the smell continues in later uses, call the installer.
If you smell rotten eggs, shut your fireplace off immediately by turning off the gas valve and call a natural gas professional. Faulty or incomplete combustion can cause the accumulation of soot and dangerous carbon monoxide gases.
If you continue to smell rotten eggs after you've shut your fireplace off, call a gas professional right away. There is likely a leak somewhere in your system.
All Acucraft gas fireplaces are carefully tested for safety and performance before shipment.
Who Fixes Gas Fireplaces?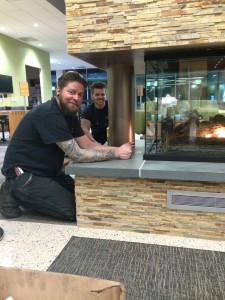 At Acucraft, we offer all types of gas fireplace support. When we build your fireplace, we want you to enjoy it for a lifetime. We're committed to providing expert care and support through on-site services, service contracts, and phone support. We can deliver routine maintenance and support to keep your fireplace in excellent working condition.
We have a few different service contract options, but if you don't sign up for a contract, don't worry. We're still committed to you and will help you with any problems that arise. Give us a call if you're concerned and we'll recommend the right services for you. All Acucraft fireplaces are backed by our lifetime guarantee.
Learn More About Acucraft's Custom Gas Fireplaces
At Acucraft, working with you to build your dream gas fireplace is what we are all about. Through honesty, integrity, and seamless communication, we have been making customers' dreams come true since 1979.
Whether you know what you want in a gas fireplace or you need some inspiration, browse our gallery of custom work and get in contact with our support team to answer any more burning questions about gas or wood-burning fireplaces.