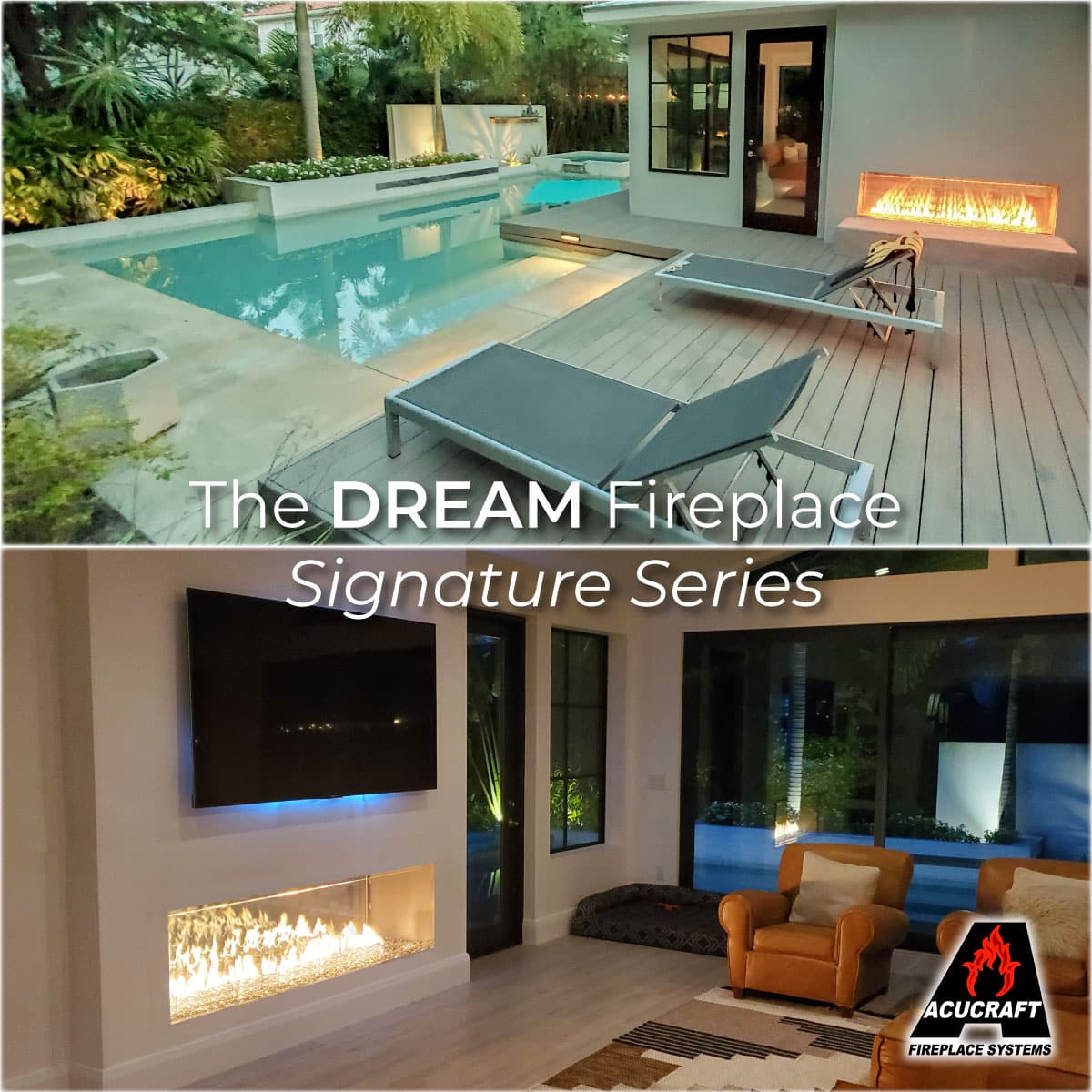 The Dream Double Sided Fireplace
A Signature Series Fireplace Journey: Why a Customer Chose Acucraft Over the Competition for Their Dream Double Sided Gas Fireplace
When Ben came to us early 2019, he was looking for a double sided fireplace for his home, they were remodeling their existing space and adding a new family room. He was looking for a linear fireplace that could be enjoyed from their indoor family room as well as from their exterior pool deck. Given this was a remodel, they needed to fit a fireplace within their existing expansion design, have a flue system fit within a standard block wall, as well as matching the aesthetic of the home and meeting their wants & needs.
Originally Ben was looking at a Davinci fireplace but couldn't find a solution that met all of his needs and he didn't want to settle for anything less, which is why he chose Acucraft for his fireplace project!
Fireplace Advisor, Randy, worked closely with Ben to finalize the details and specifications for the project:
Sealed with safe-to-touch glass with the option of being open
Finishing materials framed to the face of the fireplace
Propane fueled, no access to natural gas but with a tall flame
Minimal heat (they live in Florida & want to enjoy their fireplace year-round)
Fit within an existing space with surrounding windows
12″ mantel clearance for a TV
Ability to handle humidity without the glass becoming foggy or wet with condensation
Intake underneath (bottom) the unit
Meet their timeline
After working closing with Randy, Ben chose a Signature Series 6-foot Indoor/Outdoor Double Sided Fireplace System which included:
A sealed (with glass cooling) viewing area with the option to convert to an open-hearth viewing area at any time with our 10-minute conversion kit
Frameless appearance to finish the fireplace with any non-combustible materials
Propane gas with the tallest, fullest flames on the market
Radiant heat only with the rest of the heated air being exhausted to the outside
Simple installation with one intake and one exhaust
12″ mantel clearance perfect for TV placement
Fully gasketed glass panes to prevent any condensation reaching the interior of the fireplace
Intake coming out the bottom, circulating air through the firebox and exhausting up and out the flue
Flexibility with production & shipping based on the customer's timeline
Ben received his fireplace and had it installed the tail-end of 2019 and says: "It is great! Thanks for helping our builder with installation." See some of the fireplace photos Ben sent us below; to see more customer testimonials click here.
Thank you Ben for the opportunity to let us bring your fireplace dreams to life; Happy Burning from the Acucraft Team!
The Only Open or Sealed Gas Fireplaces Available
Introducing the NEW Signature Series of linear gas fireplaces; the only open (with firescreen) or sealed (with glass) gas fireplaces available on the market!
Our Signature Series takes linear fireplaces to the next level including:
Open or Sealed Viewing Areas (with 10-Minute Conversion Kits)
Clean, Frameless Design
Tallest, Fullest Flames on the Market
SIGNATURE SERIES FIREPLACE STYLES
Indoor Outdoor Fireplaces
Acucraft's Indoor / Outdoor Signature Series gas fireplaces let you enjoy one fireplace from an interior space and an exterior space providing you with flexibility to entertain family or guests indoors or out while still having the ambiance of a fireplace.
Double Sided Sided Fireplaces
An Acucraft Signature Series gas double sided fireplace, also known as a see-through fireplace, seamlessly transitions your living room from your kitchen, divides your owner's suite from your bathroom, or simply creates ambiance in any two spaces within your home or property.
Single Sided Fireplaces
Acucraft's Single Sided Signature Series gas fireplaces will become the focal point of any room or property providing welcoming ambiance and a sleek modern centerpiece.
Request A Brochure
Fill out the form on this page to a request a copy of our NEW Signature Series brochure!