August 7, 2023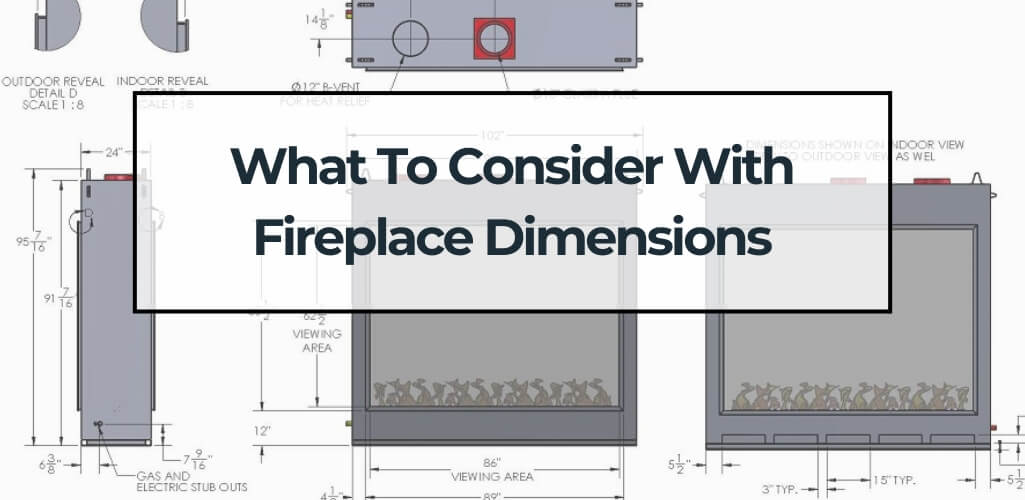 An Architect's Guide To Fireplace Dimensions
Whether you're looking into wood-burning or gas options, figuring out the shape and size of your fireplace is the first step. This guide can help you understand what you need to know about designing the perfect fireplace.
Architects and designers require fireplace dimensions plans to understand what shape, size, and style of fireplaces they can effectively put in their designs. Once they know the size of the room and what kind of design they want, they can start to visualize the perfect fireplace. Acucraft is the luxury fireplace expert, and we're here to help you find the perfect fireplace dimensions for your space.


Access to fireplace specs can help make designing a fireplace much easier, and we have BIM, CAD files, and spec sheets for both architects and designers to utilize for their projects.
How Customizable Are Fireplace Size Dimensions?
Depending on what you want for your space, there are multiple options for fireplace width and size options. Generally, there are two avenues you can explore – pre-fabricated fireplaces and custom fireplaces. Custom fireplace sizes, as the name suggests, can be crafted specifically to the space's needs. While generally a bit more expensive, this allows the space to have the perfect fit and look.
Prefabricated fireplaces can also be customized but generally follow a set firebox dimension.
Acucraft can help you design large or unique fireplaces to fit the space's needs. Some average fireplace dimensions (based on our Timeless gas fireplace series) to be aware of as you start your planning include:
36" wide x 36" tall
36" wide x 42" tall
48" wide x 36" tall
48" wide x 48" tall
We design gas, wood-burning, and outdoor fireplaces for both commercial spaces and homes.
Average Fireplace Dimensions
Standard fireplace dimensions depend on whether it's a gas or wood-burning fireplace. While there is no set fireplace size, our Timeless Series, which has a standard fireplace size, ranges from 36" to 48" wide and 21" to 48" tall.
Multiple measurements go into typical fireplace dimensions, such as:
Fireplace hearth height
Fireplace depth
Firebox sizes
Additional space may also be needed around your fireplace for ventilation.
The interior of the fireplace will contain space for where either the wood burns or where the flames from the burner or gas fireplace logset will flare. This is called the firebox. The exterior portion is the visible areas, such as the opening and the surrounding area. Some other important questions to explore while considering gas or wood-burning fireplace dimensions include:
How wide is a fireplace?
How deep is a fireplace?
Determining the right fireplace dimensions for your space can give you an idea of the perfect type of fireplace to design and install in your space.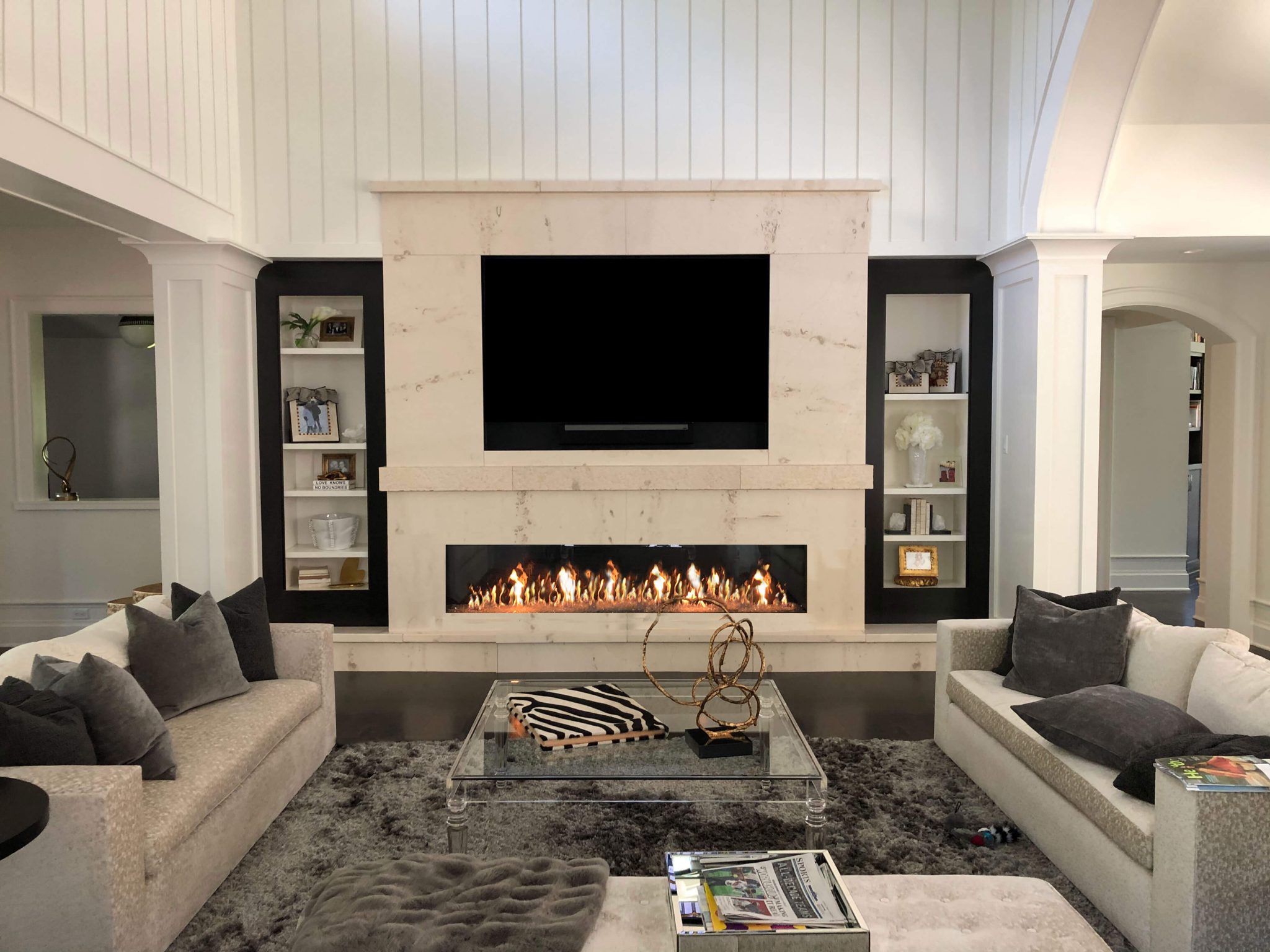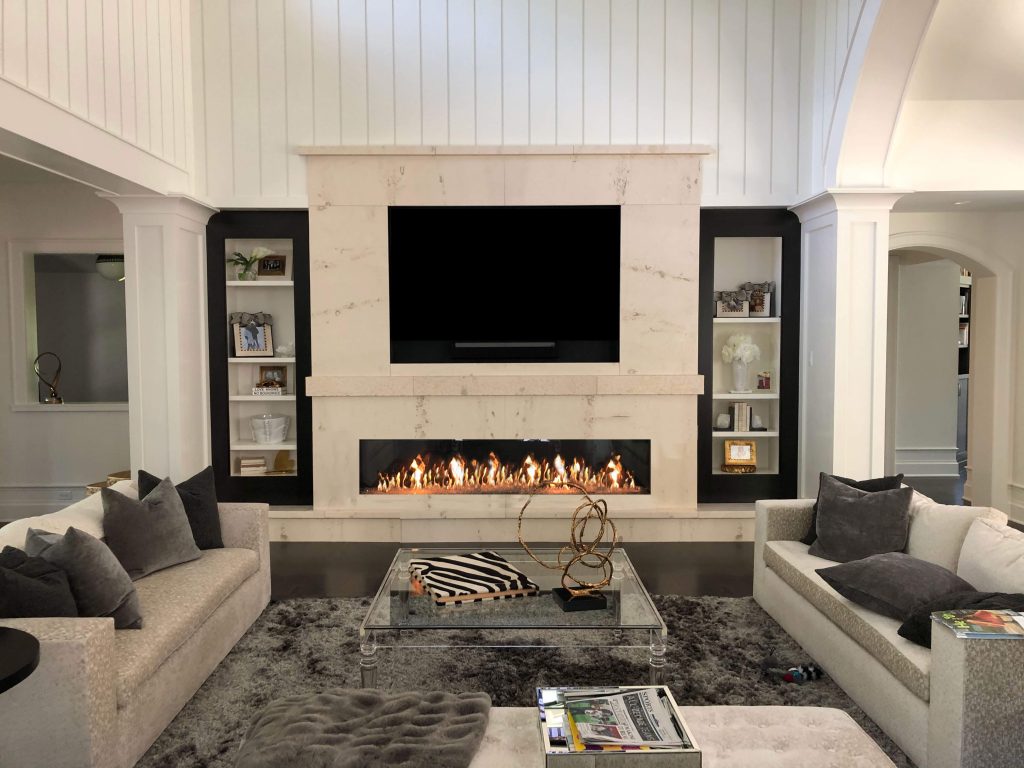 Standard Gas Fireplace Dimensions
Standard gas fireplace dimensions are anywhere from 4-8 feet long. Also, our Signature linear gas fireplaces are the only ones on the market that can have a sealed and open viewing area as well. We also provide the fullest, tallest flames. We will work with you to help design your perfectly-sized gas fireplace.
Gas fireplaces have become much more popular in recent years as well. Many people love to install these fireplaces outdoors as well, as it heightens the look of the outdoor space, but it needs to be specially made for outdoor use. Our custom outdoor fireplaces are tested specifically for the outdoors and require additional features like drains, outdoor gasketing, etc., to function safely. Sizes for an outdoor gas fireplace vary depending on the overall space provided and what kind of statement you want the fireplace to make.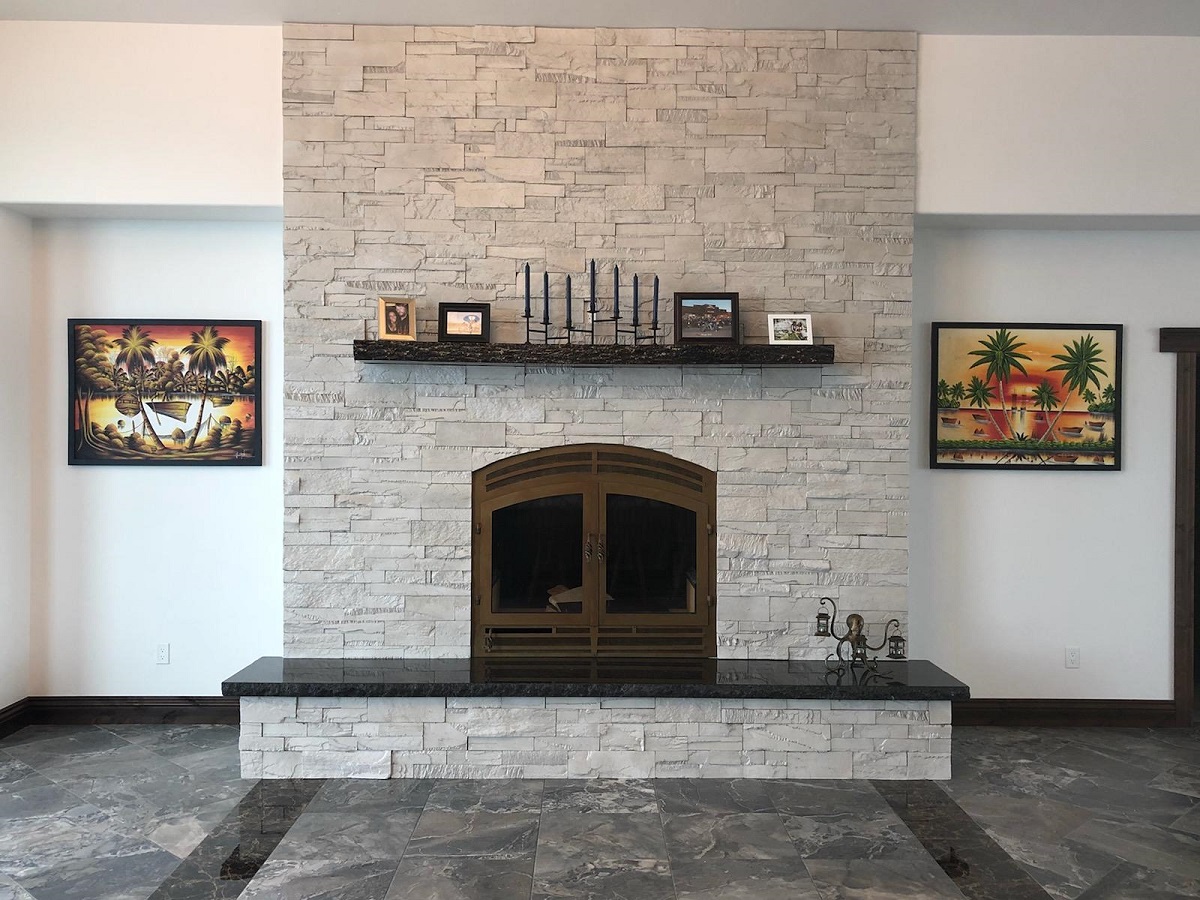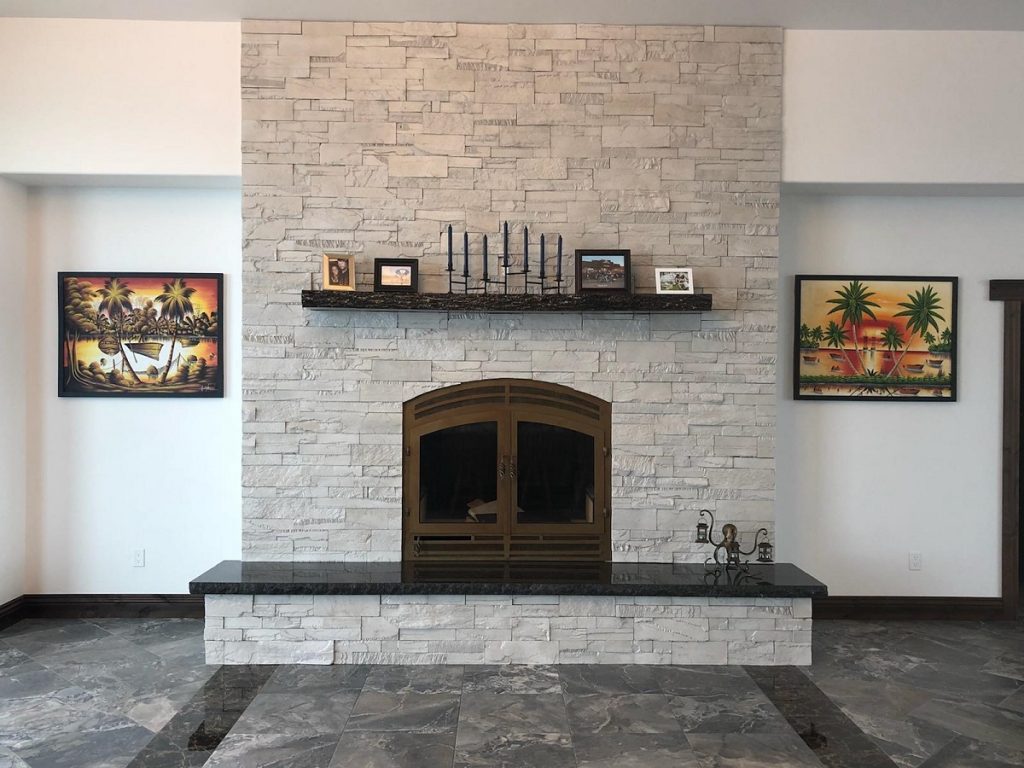 Standard Wood-Burning Fireplace Dimensions
Standard wood-burning fireplace dimensions (based on our Hearthroom series) come in three standard sizes:
The fireplace size and viewing area can change depending on the dimensions of your home and the size of your space. Wood-burning fireplaces like The American can be customized with Acucraft to fit your specific needs and the dimensions available.
Acucraft can help design and transform your space with our fireplace systems. 
Key Factors To Consider With Fireplace Dimensions
While determining the fireplace measurements you need is important, there are a few other factors to keep in mind as well. Beyond considering the average fireplace width you need, the design of what you want, and other aspects, you should also look into the following:
Room size and layout
Chimney height and ventilation
Mantel and hearth dimensions
Clearance requirements
Materials
Depending on if you want to install a wood-burning or gas fireplace, some of these aspects will be more important to consider than others. The fireplace dimension sizes of your piece can help determine some of these factors as well.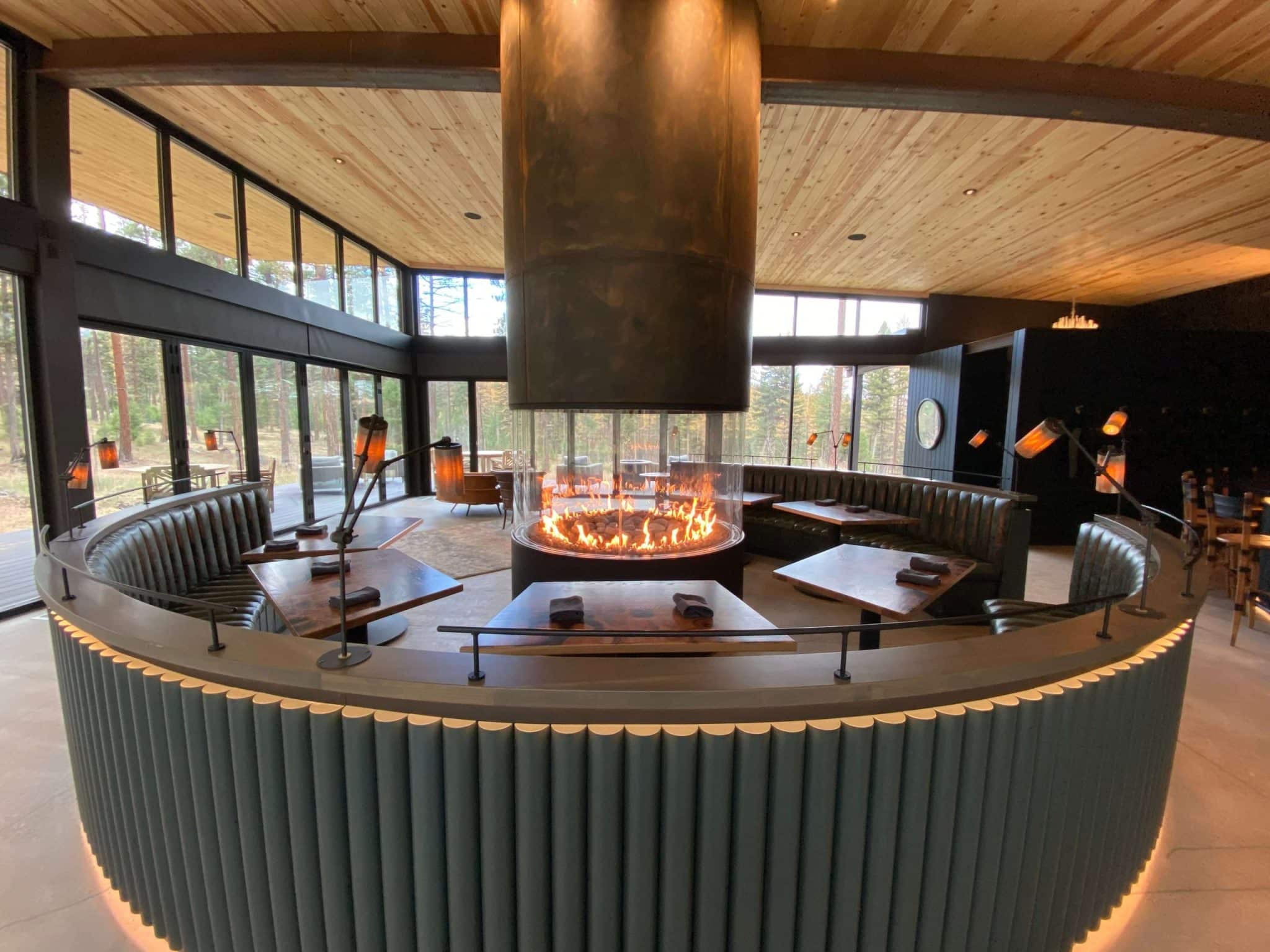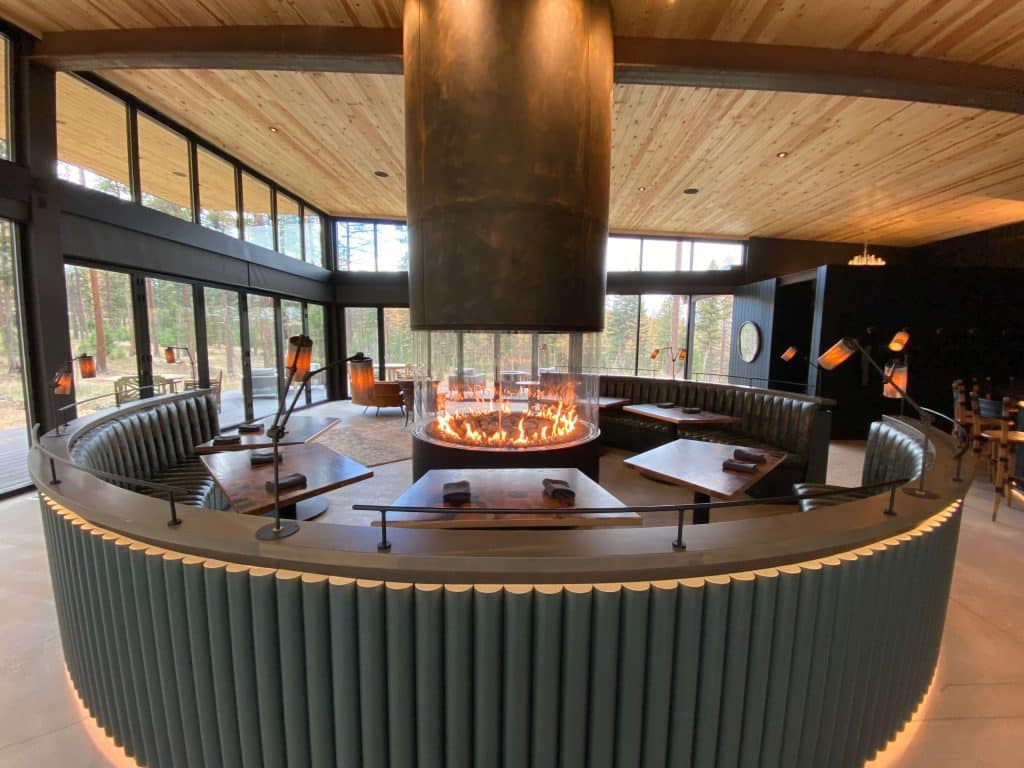 Room Size And Layout
It's important for your fireplace to not only fit into the room where it will be installed but also to fix the look and feel of the layout. The way the room looks as a whole can help contribute to the design you're going for.
That's the beauty of being able to customize your fireplace dimensions. You don't have to worry if the standard width of a fireplace or any other aspect is too big or small for the space. You can uniquely craft a fireplace that works for the room's needs.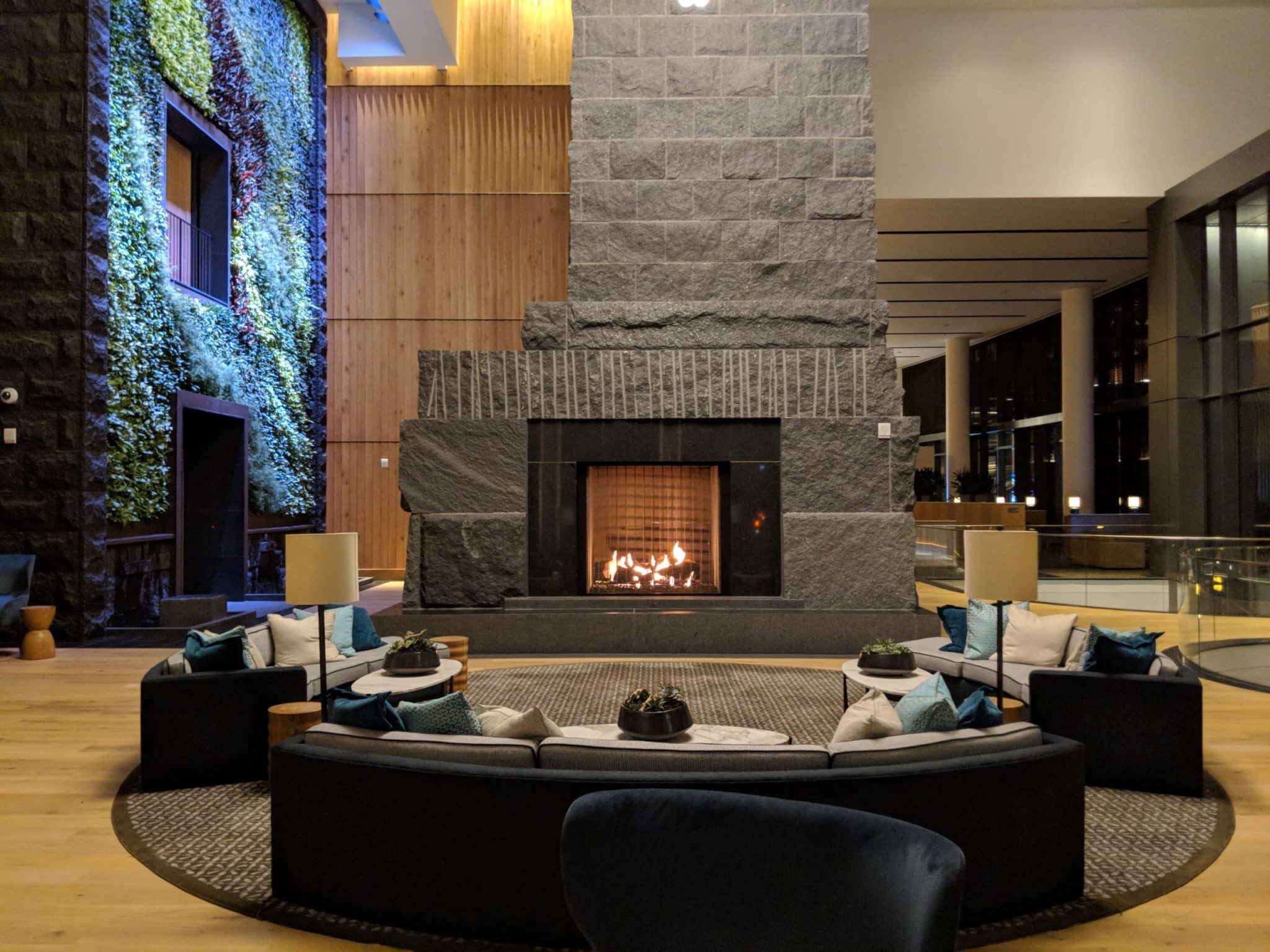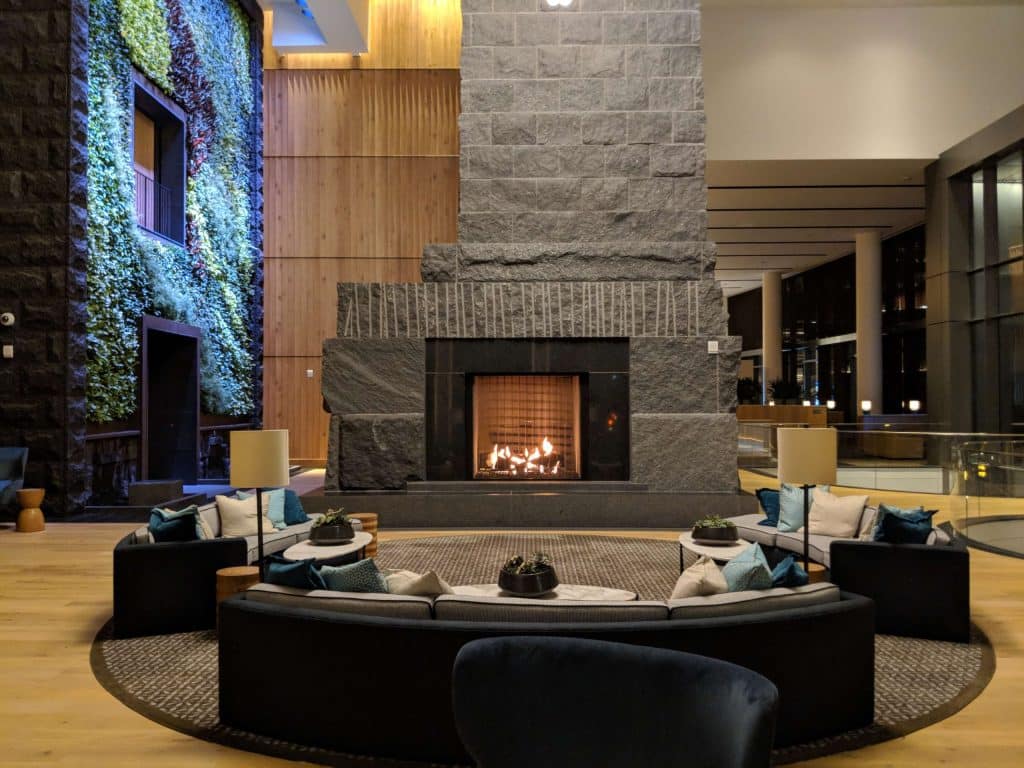 Chimney Height And Ventilation
Chimney height and ventilation are important considerations as well, especially for wood-burning fireplaces. If you install a wood-burning fireplace, make sure that the standard fireplace width and height take into account how tall you need the chimney to be in order to ventilate the fireplace properly.
For both gas and wood-burning fireplaces, it's important to have a vented fireplace to properly function and meet safety standards. If a traditional or modern chimney look is important to your fireplace design, you can incorporate it into a custom fireplace design and make it a staple feature of your fireplace.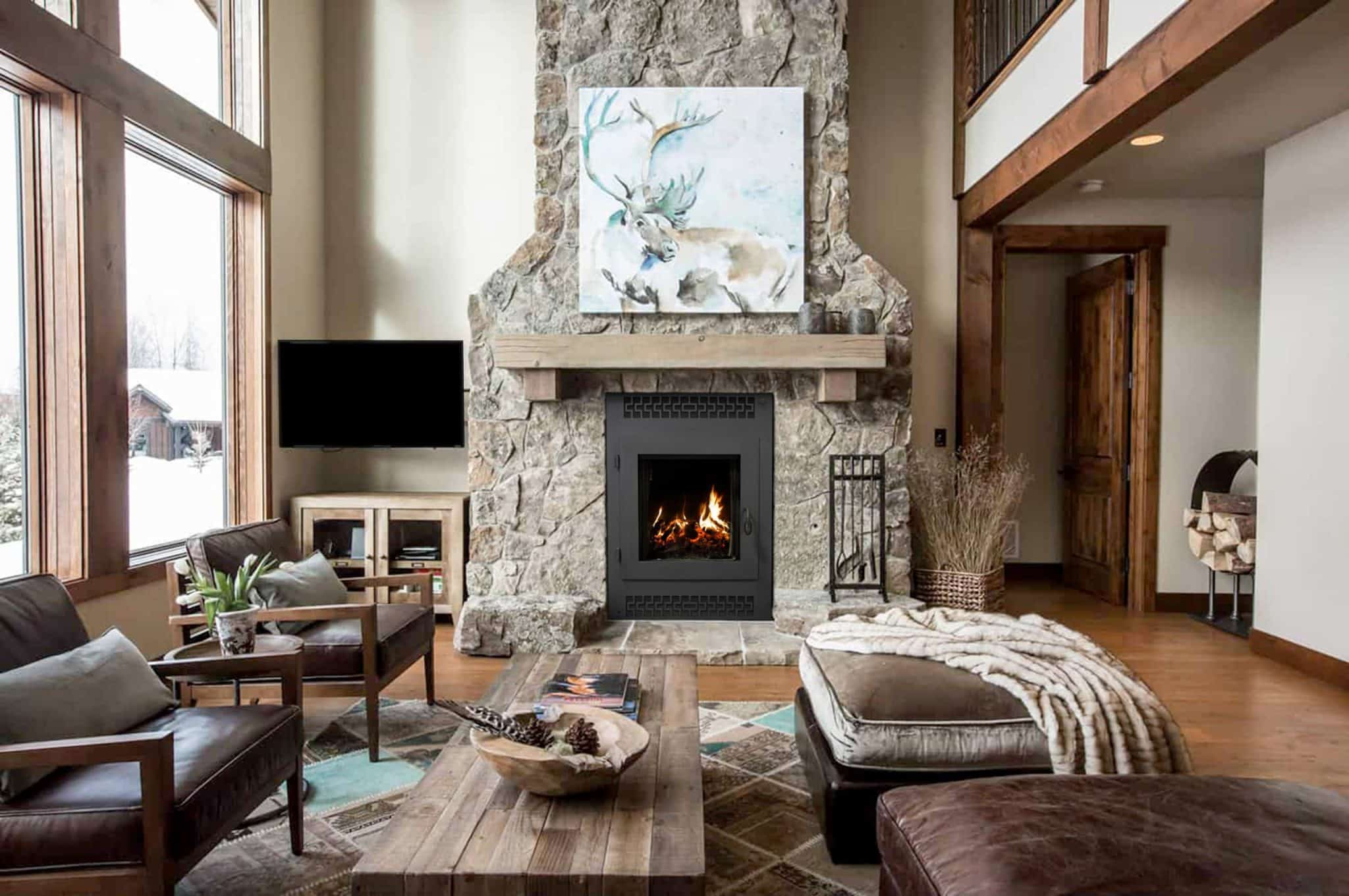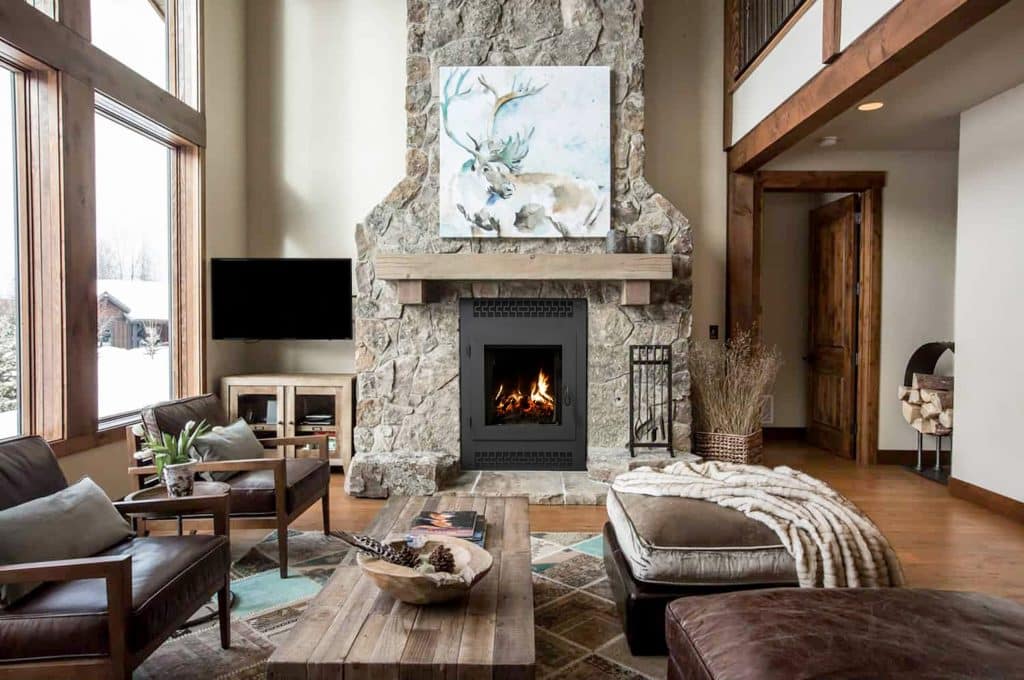 Mantel And Hearth Dimensions
Fireplace mantel and hearth measurements can also impact the overall fireplace dimensions of your design. The average width of a fireplace should be the first thing you take into consideration. Using this measurement will be important to help determine the size of the surrounding area.
Some designs can incorporate smaller mantels or hearths, while other homeowners may want a large and unique display. Either way, speaking with the experts at Acucraft can help determine what dimensions you need for your design.
Linear or traditional fireplaces can both fit into your space and design, depending on your room's dimensions and measurements.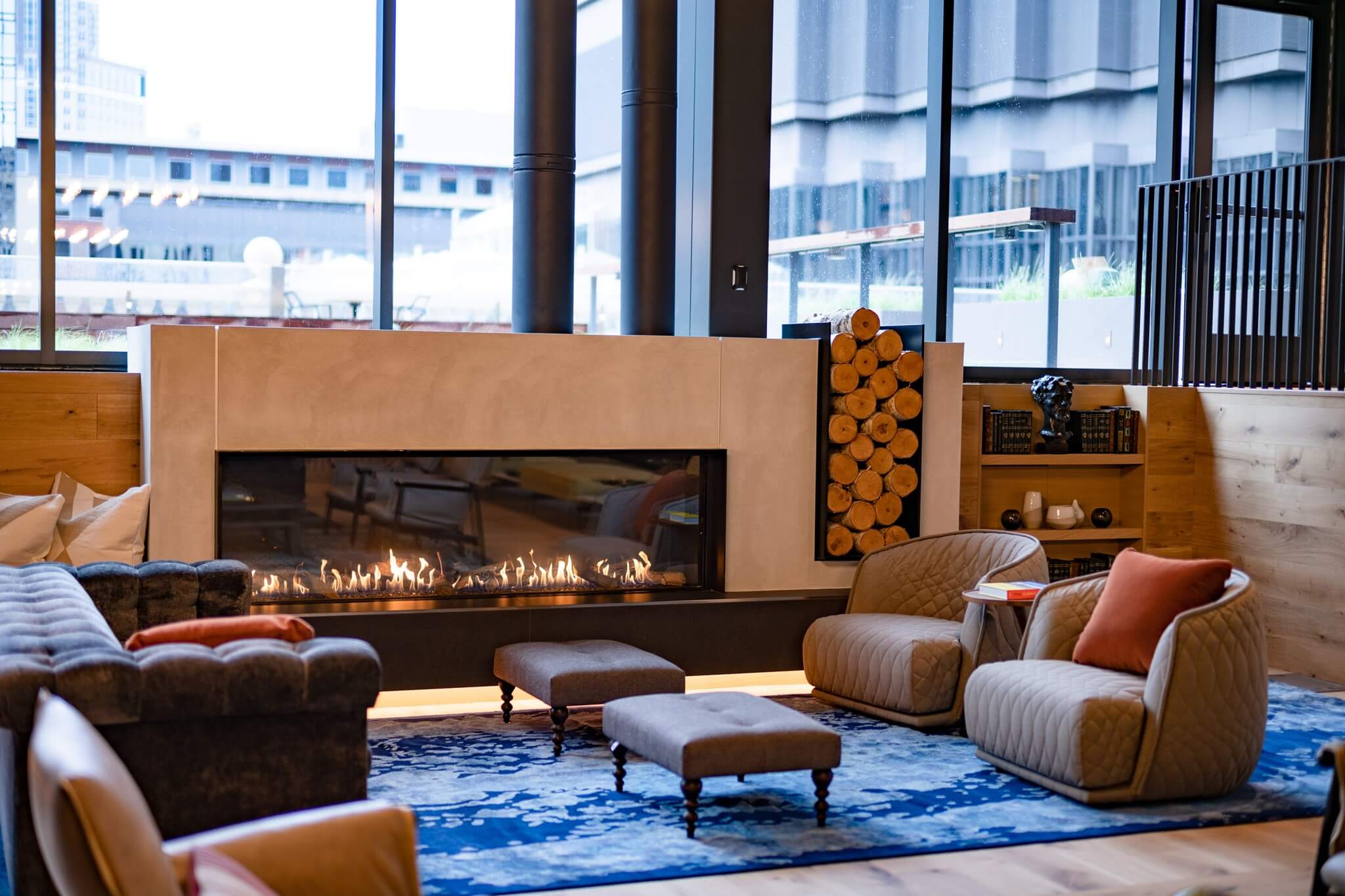 Clearance Requirements
Mantel clearance is based on the distance from the top of the fireplace to the bottom of the mantel. It can be anywhere from 8″-12″+ on average. The mantel height from the top of the face of the fireplace to the bottom of the mantel is the space that needs to be adhered to. But clearance requirements are more than just the mantel and hearth. It also affects the type of finishing material you can use and how closely it can be installed to the face of the fireplace.
Consulting a fireplace professional during the designing process will help you determine the clearance requirements of your gas or wood-burning fireplace. It's important to follow the manufacturer's installation manual and guidelines to ensure a safe installation. This will ensure that your fireplace is installed properly and avoid damage to the surrounding area and house fires.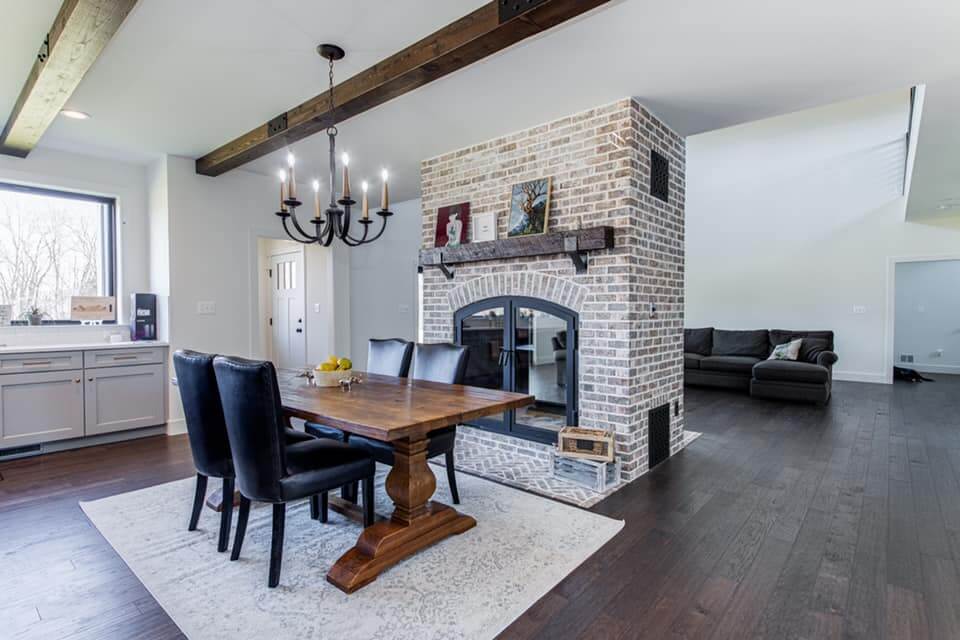 Materials
Finishing materials and what is used for fireplace surrounds are also important factors when looking into fireplace dimensions. Some materials are better suited to particular fireplace shapes and sizes. Acucraft fireplaces are all made out of steel, with the thickness being different between wood-burning and gas fireplaces.
Some material options for your fireplace may include:
Concrete
Stone
Brick
Tile
Rock
Deciding on the right materials also depends on your overall style and aesthetic. Some materials are better suited for certain home designs than others.
Design Your Dream Fireplace With The Experts At Acucraft
These considerations for your gas or wood-burning fireplace dimensions can help you get started on designing the perfect fireplace. If you have further questions about design, engineering, or manufacturing, reach out to our fireplace experts at Acucraft. We can help you with design specs, provide the clearance to the combustibles, and manufacture the fireplace unit itself.
We pride ourselves on providing endless choices that can fit seamlessly into your home or business. Whether you're looking for single-sided fireplaces, see-through fireplaces, unique designs, or indoor/outdoor fireplaces, Acucraft can help you design and manufacture the fireplace of your dreams. Get in touch with us today to start the process. We will work with you one-on-one to provide you with the best fireplace solutions for your space.