July 9, 2021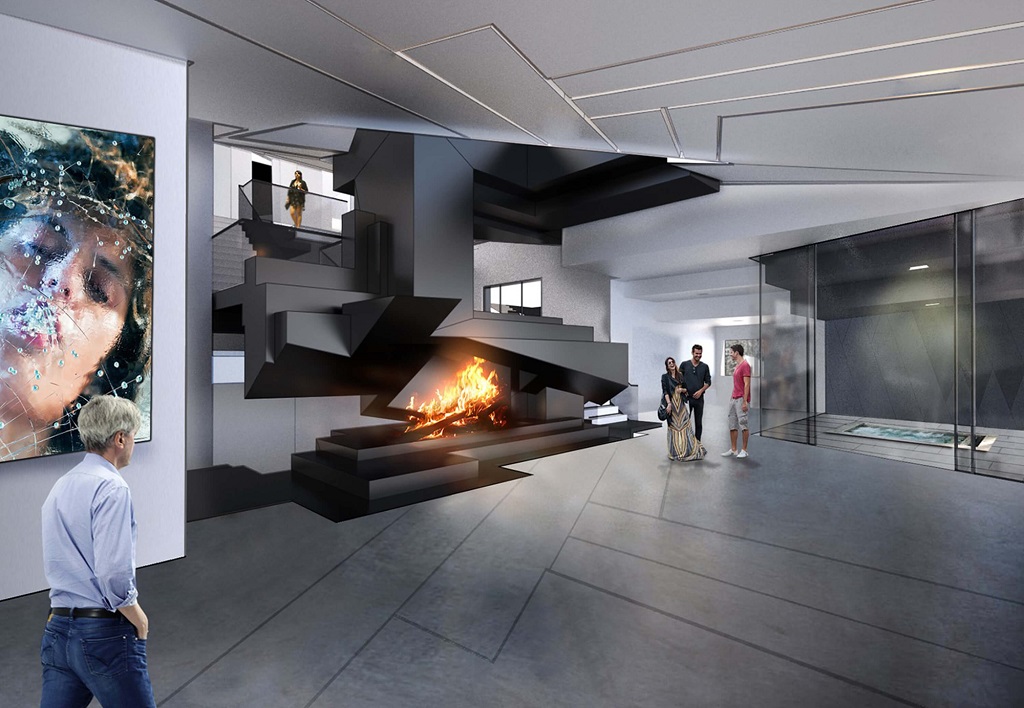 Custom Open Wood Burning Fireplace Becomes an Essential Element of Eden, UT Chalet
In 2017, Xavier Ramirez, Architect at Tom Wiscombe Architecture, came to Acucraft looking for a custom open wood burning fireplace. The project he was designing was an ultra-modern ski chalet in Eden, UT that had a 28′ wide fireplace as a focal point of the home. Aptly named The Dark Chalet, it's vision is cast as a "black diamond nestled on the steep snowy mountain," according to Tom Wiscombe Architecture.
Clients Tom Buttgenbach and Sean Leffers enlisted TWA to design this ultra-contemporary property with a small footprint, pass-through route for skiers, and a "mega-scaled fireplace with embedded stairs connecting all levels of the house," (The Dark Chalet, Tom Wiscombe Architecture) to provide a truly one-of-a-kind focal point of the space.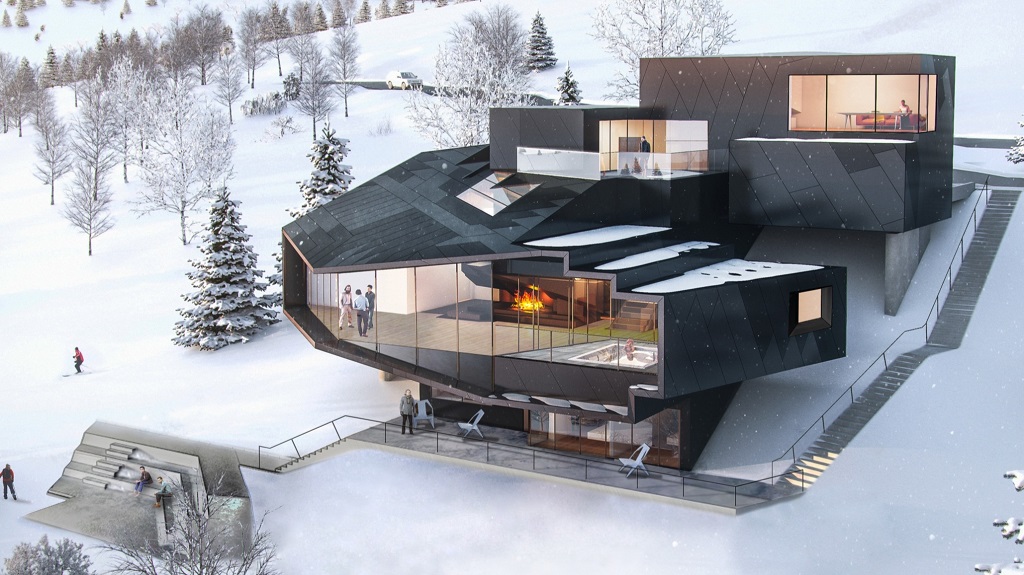 Summit Powder Mountain Resort is creating a community of entrepreneurs and global elite from around the world, embodying the ethos of The Summit Series: kindness, authenticity, relationship-building and environmental stewardship, according to the Wall Street Journal. The ski resort has attracted some high-profile investors including, Richard Branson, Sophia Bush, Ken Howery, Reed Hastings, and Bryan Meeham. Bryan subsequently chose to build a 1,800 square foot home made with sustainable materials.
The year-round resort includes 9 lifts for skiing, trails for biking and hiking, and community events & races. In addition, a luxurious real estate development lies in southwest corner of the property. It's no wonder the 14,000+ acre resort continues to sell out season passes every year! And, for those lucky few who have built their sustainable dream getaways get to enjoy the gorgeous views and amenities provided by Summit Powder Mountain ski resort, including the gorgeous Dark Chalet.
The Custom Wood Fireplace
This unique property is not only a private residence, but was also built to serve as a venue for Summit Powder Mountain Ski Resort's community events. The fireplace itself was inspired by "grand ski chalets and castles," In other words, something so grand it would be the focal point of the space, while adding to the 'living elements' of the home. The fireplace design that Tom Wiscombe Architecture presented was both unique and curious, "like a Swiss Army knife, it is densely packed with functions" and serves as a primary structure to the home itself.
Fireplace Advisor, Mark Kennedy, worked closely with Xavier Ramirez, Architect and Chris Arth, Architect on the custom wood fireplace design and spatial requirements. Chris says, the fireplace is "…acting as the central core of the building with the circulation spiraling around it." Below you can view multiple renderings of the home, the flue run, and the overall inspiration the homeowner wanted to replicate.
The Fireplace Design
After our design engineers met with the project architects, and contractor (Benchmark Modern, Inc.) they got to work on designing the fireplace.
The Fireplace Specifications:
Custom angled viewing area: 90″ long x 45″ deep x 24″-38″ high
Open (no glass) view
7-gauge steel constructed zero-clearance firebox
Matte black finish
Interior lined with black firebrick
Gas knockout
Dual 18″ Class A Flue system
Dual RS 16 Fan with variable speed control
After the fireplace design was completed the customer received a full submittal including detailed drawings (as seen below) and a full installation manual to review and approve prior to production.
Manufacturing the Custom Fireplace
Every Acucraft fireplace is hand-built at our facility in Big Lake, MN for each customer based on their desires. And this fireplace was no different. Our Fabrication team prepared all the parts and cut all the steel needed for the fireplace. Our Custom Welders then built the fireplace according to the specifications from our Design Team. From there our Final Assembly team prepped, polished & finished the fireplace and prepared it for shipment to the customer.
The Benchmark Modern Inc. team was on a tight timeline. So, while our team was building their custom wood burning fireplace they began building the home so when the fireplace arrived they could install the fireplace prior to finishing the home.
The MEGA-FIREPLACE Brought to Life
We are proud of how this fireplace turned out and how at home it looks in this multi-use residence and community center. It was a pleasure working with Tom Wiscombe Architecture and Benchmark Modern Inc. on this truly one-of-a-kind fireplace! We look forward to future partnerships and opportunities to bring even more fireplace dreams to life.
Want to learn even more about this project? One of our Supplier Partners, Enervex, Inc. featured this custom wood fireplace on YouTube: