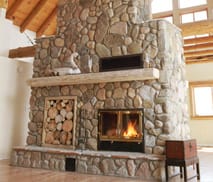 The Great Room See Through
The Great Room See-Thru fireplace has two sets of door openings. Construction of the doors consist of high temperature ceramic glass, with a lifetime warranty, gasketed to a rugged 22 pound door frame. The door latching system is double-pinned (top and bottom) for a long term tight seal.
The Great Room See-Through fireplace offers a 35" x 28" viewing area! It has up to 150,000 BTUs/hour, a burn time of up to 12 hours and has the capacity to heat up to 3,000 square feet!
Single-Sided, See-Through, Can Be Made To Accommodate Masonry
Framing and Handle Options Available
How it Works:
The air within your home enters into the bottom vent. It becomes heated by the system, as well as the masonry chamber. Then the heated convection air rises up and circulates out the top heat vent.
Details
Lifetime Warranty
Single-Sided & See-Through
Can Be Made To Accommodate Masonry
Framing & Handle Options Available
High temperature ceramic glass
Door is gasketed to a rugged 22 pound door frame
Double-pinned door latching system
Max BTUs : 150,000 BTUs/Hr
Heats Up To 3,000 Sq Ft
Average Burn Time Up To 12 Hours
Specifications
Great Room See-Through Zero-Clearance and Masonry
Door Opening : 35″W x 28″H
Firebox Dimensions : 39″W x 54″H x 48″D
Zero Clearance Dimensions : 53″W x 85″H x 48″D
Zero Clearance Framing : 57″W x 89″H x 50″D
Estimated Weight : 1,800 LBS
Request Info