May 31, 2023
15 Modern Fire Pit Ideas To Make Your Outdoor Area Perfect
Fire pits have come a long way, evolving from simple DIY projects to a limitless range of design possibilities. There are now many types of modern fire pits to elevate your outdoor space, whether you are looking to create an ambiance or a gathering place. 
Modern outdoor fire pits are great for commercial and residential use. They can be used in apartment building courtyards, restaurants, hotels, and backyards. They are functional pieces of art. Different styles that are popular right now include fire tables and poolside fire pits. Learn more about these trendy fire pit designs in the list below.


Get a completely custom outdoor fire pit to transform your residential or commercial outdoor space.
Benefits of a Modern Fire Pit
Modern fire pits are designed to work in any weather, including wind and rain. But their benefits go much deeper than that. The right modern fire pit can transform any outdoor space. A well-designed and placed fire pit is an expression of the aesthetic of the space. It can make a space feel more welcoming and comfortable.
It can also promote interaction by creating a social space that invites people to gather near each other. Around a cozy fire, people can chat, roast marshmallows, and create lasting memories together. Lastly, installing a modern fire pit can increase your property value.
Fire Pit Placement and Design Considerations
If you are a business owner or homeowner, safety is the number one priority when designing a new outdoor modern fire pit. A good-quality contemporary fire table or pit will be made of noncombustible materials such as:
Brick
Stainless Steel
Concrete
Limestone
Gravel
The pit should be on a non-combustible surface away from grass, shrubs, and low-hanging trees. Also, try to predict the flow of traffic around the pit to ensure that people can move around it safely.
Fire pits should be a good size to create the ambiance or seating you are looking for. Think about how many people you want to be able to fit around the pit comfortably. Will they be sitting in chairs or standing around the pit? Or do you envision the pit being a piece that people may stop to look at but not gather around?
When choosing a fire pit:
Are you looking for modern fire pit ideas? Focus on stunning designs with sharp edges or geometric shapes for a contemporary feel.
Do you want your guests to be able to see the fire pit from all sides of the space? Think about outdoor fire pit ideas with low walls that won't obscure the view of the flames.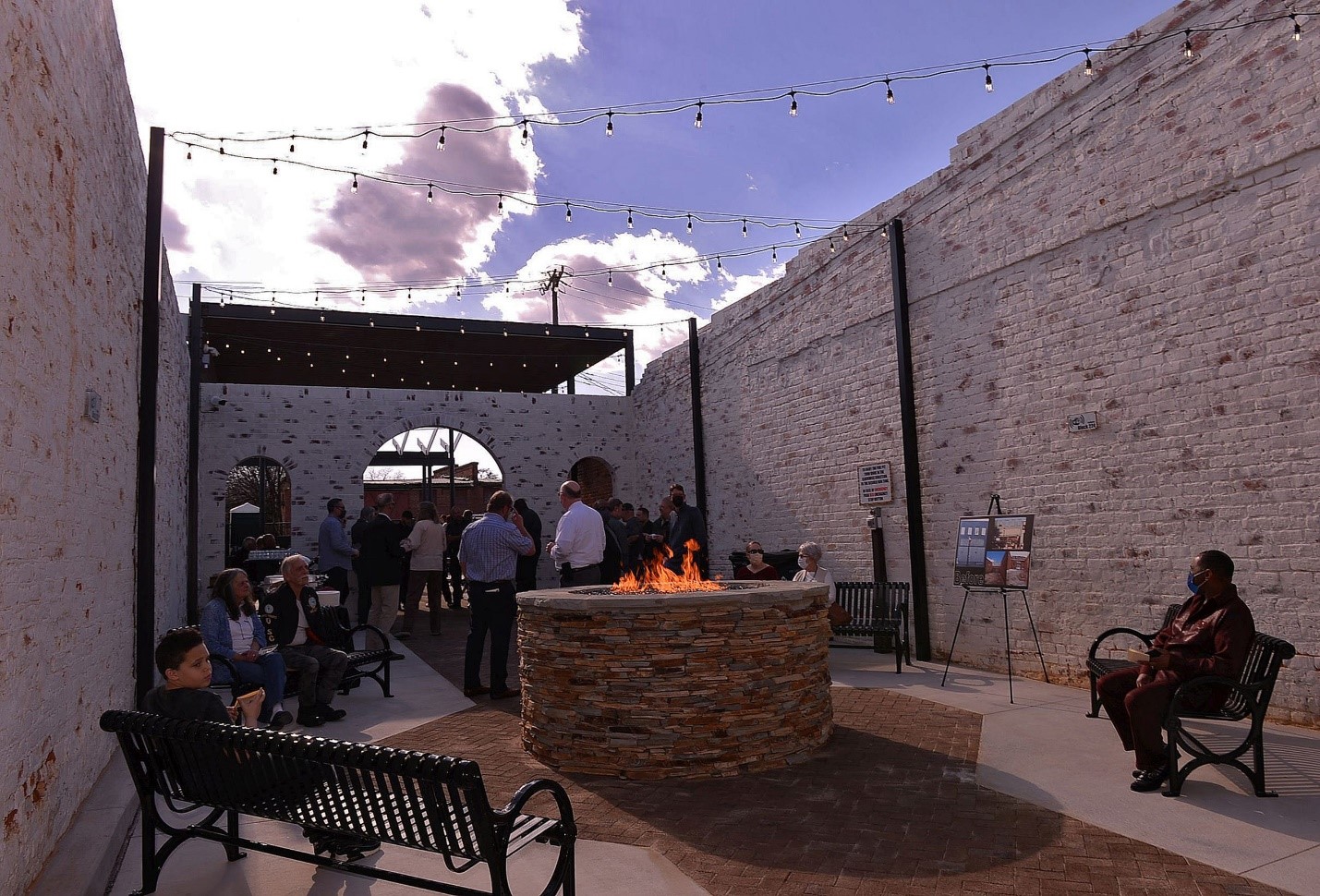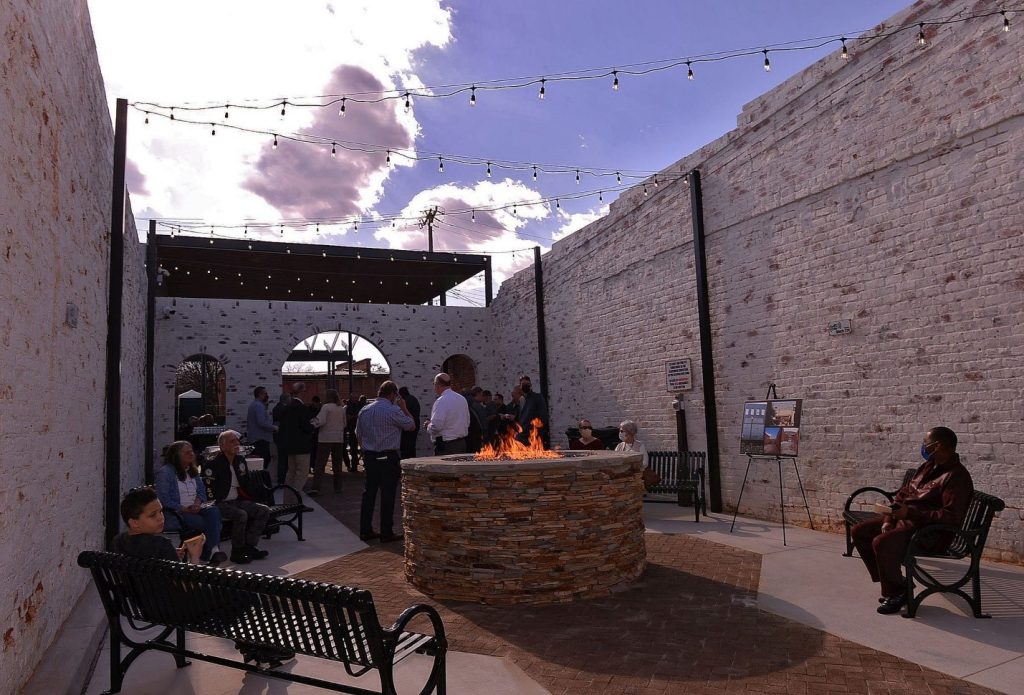 Stone Circular Fire Pit
This rustic circular stone fire pit matches the space and is easily accessible. Adding circular seating around the pit creates a natural flow of traffic around the space and complements the design. It's important to make the pit the exact height you want. Think about whether you want people to stand or sit around it. If you want to use lounge chairs such as Adirondack chairs, the pit should be low to the ground. For a standing area, you could add a stone rim around the top of a tall pit for people to gather and set their drinks or small plates of food.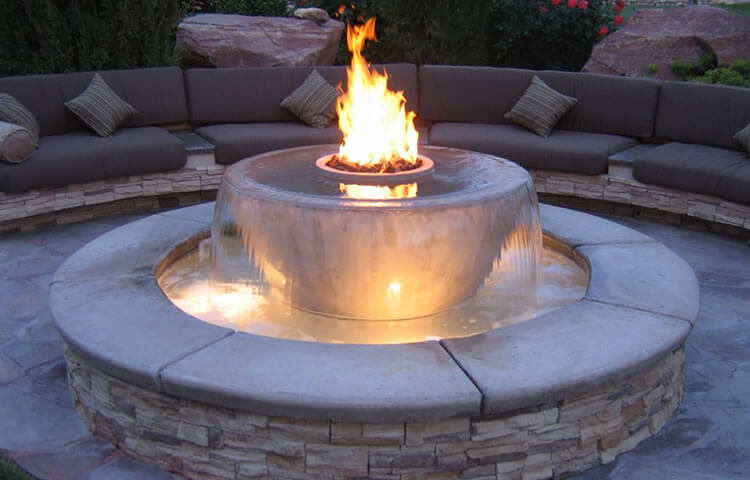 Cool Fountain Fire Pit
These amazing fire pits can add a "wow" factor to your outdoor space while creating a serene environment with the sound of running water. The combination of running water and an open flame can be captivating and draw people into a space. It's great for a hotel or apartment courtyard. When designing your fountain fire burner, it's imperative to work with an expert to make sure everything will function properly and safely with the gas and water systems.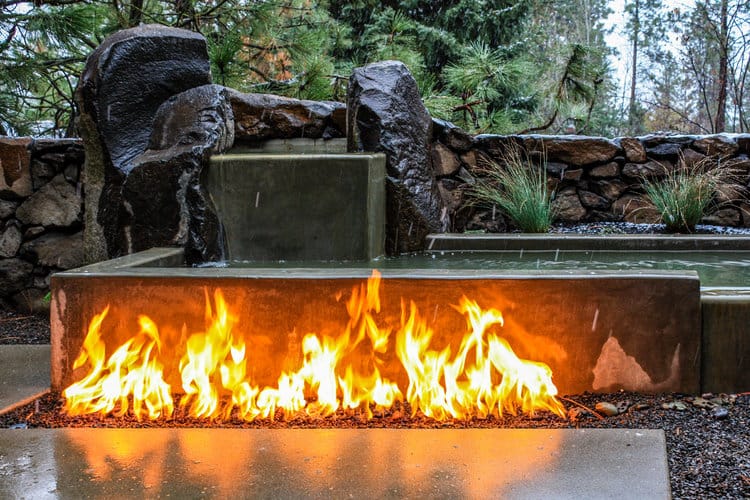 Contemporary Waterside Fire Pit
Here is another powerful combination of water and fire. There are so many outdoor gas fire pit ideas for areas with water like pools or fountains. The right one for you depends on your space and the vibe you are trying to achieve. For a dramatic look, you could add a pit around part of the perimeter of the pool.
If the water feature is in an area where there may be small children, consider a fire pit enclosed in safety glass. You still get the striking, modern look you want while protecting loved ones or customers. There are even ways to add a pit near a ground-level water feature for improved ambiance.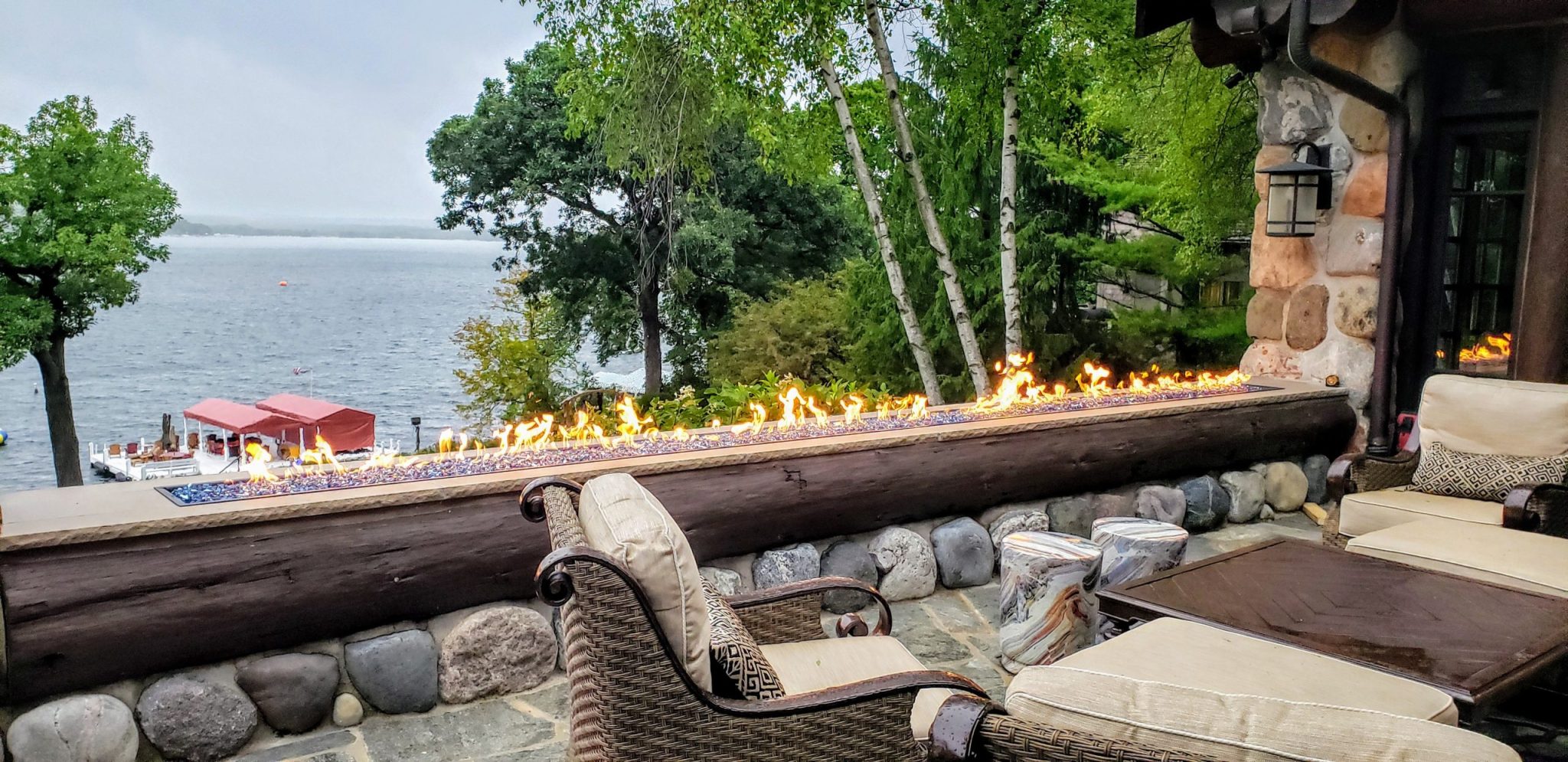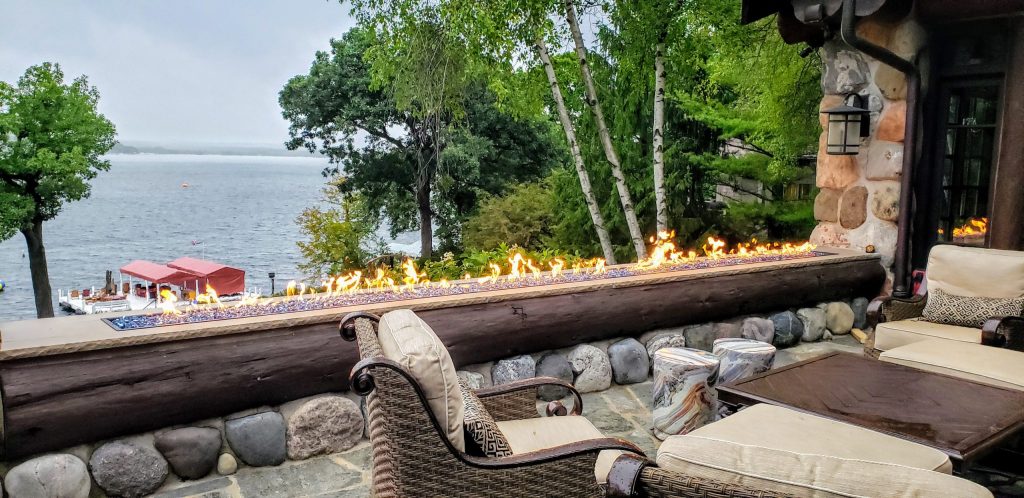 Deck Fire Table Ledge
Are you looking for something that blends in with your modern backyard deck or outdoor seating area? You can elevate any space by adding a magnificent fire table ledge. The finish of the ledge can be made of stone, steel, or another heat-resistant material that will help you achieve the modern style you are aiming for.
A fire table ledge is an ideal fire feature to add to a rooftop bar or outdoor seating area at a restaurant. It's one of our favorite patio fire pit ideas for its uniqueness and functionality. You can include usable portions of the ledge for customers or guests to set their drinks. For a post-modern twist, add some sharp angles to your ledge design instead of doing a traditional linear style.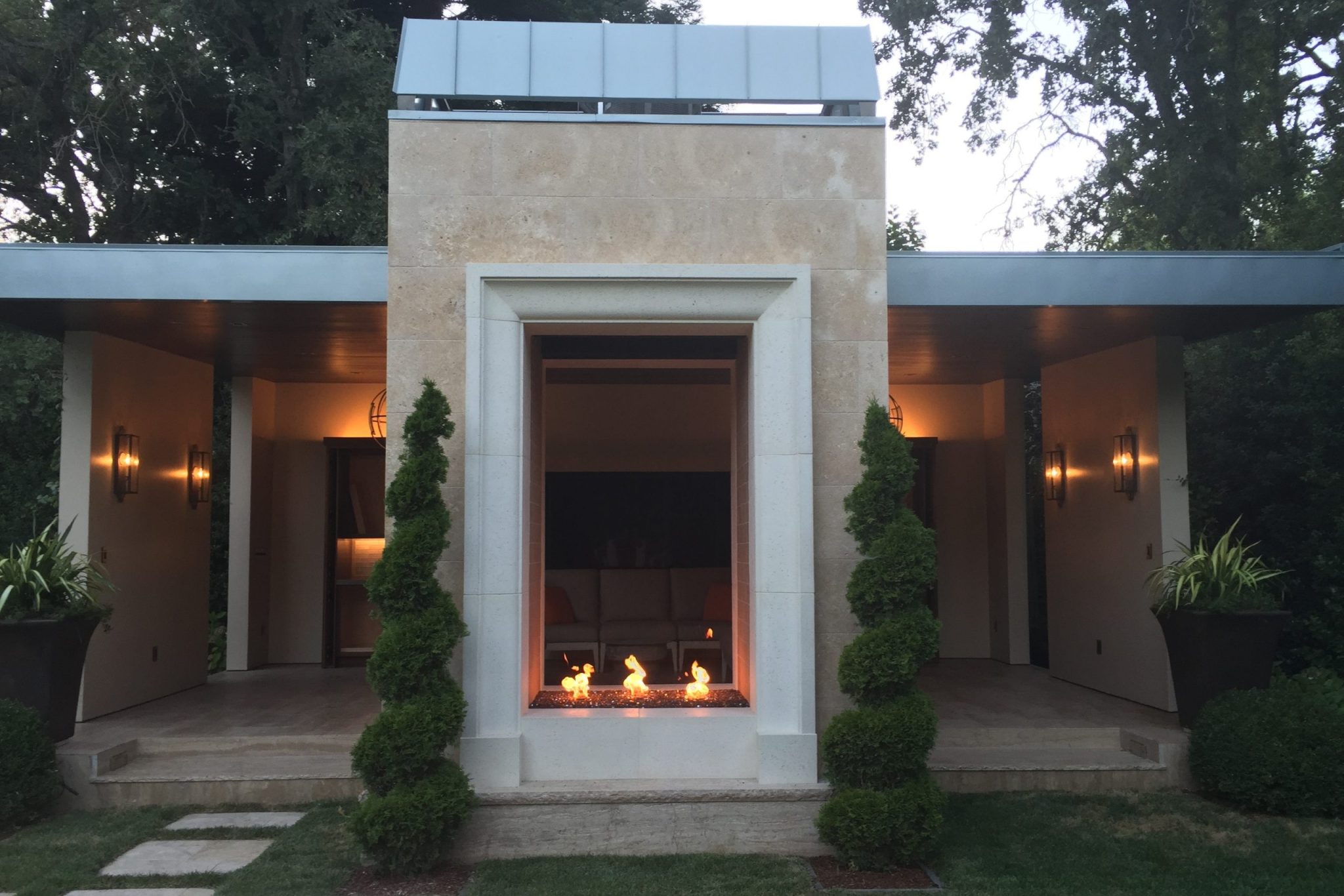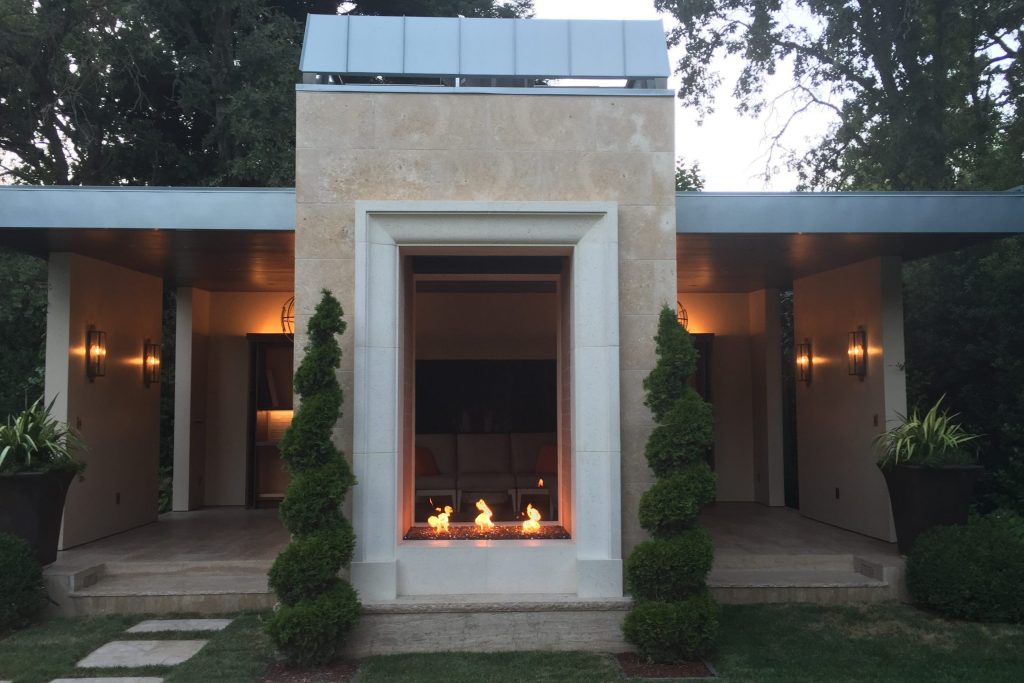 Double-Sided Gas Torch Burner
This fire pit is integrated with the architecture of the building. The flames emitted by the burner can often be bigger than other pits because there is no seating or pedestrian traffic nearby. Safety glass keeps the flames secure with a seamless look. You can even have a double-sided fire pit with one side indoors and one side outdoors. Or the pit can trace the bottom of an exterior wall to provide lighting and ambiance.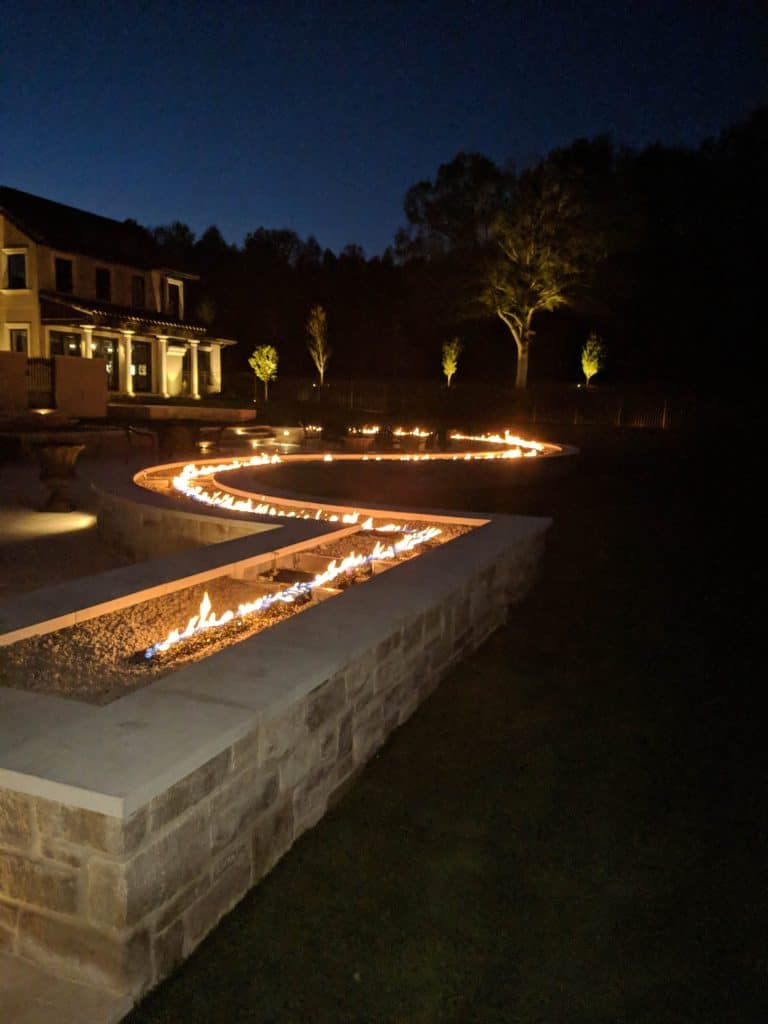 Backyard Fire Pit Perimeter
Looking for striking backyard fire pit designs? Consider a fire pit perimeter. A backyard fire pit perimeter is an excellent addition to a luxury home, hotel, or restaurant. When designing your modern fire pit area, you can add seating around different sections of the perimeter. The pit will also provide lighting around the property for increased security and safety.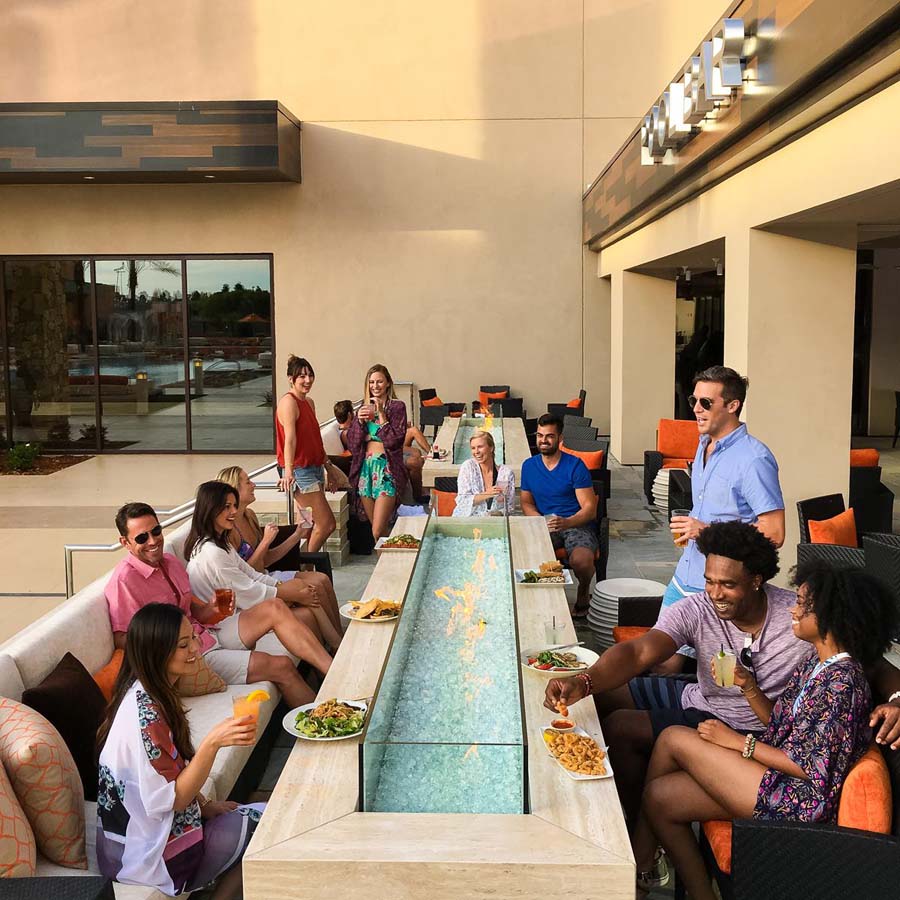 Literal Fire Table
A tabletop fire pit provides a unique dining experience. It's a modern take on the cozy feeling of eating next to a fireplace. With glass, you can enclose the flame without obstructing the view for a seamless look. This is an excellent option for:
Families who enjoy sharing a meal outdoors
Homeowners that want to throw house parties
Bars that serve food
Coffee shops with outdoor seating
Depending on how many people you want to fit around the table, you could have larger sections on the end without the fire. Think of the contemporary fire pit as the centerpiece of the table.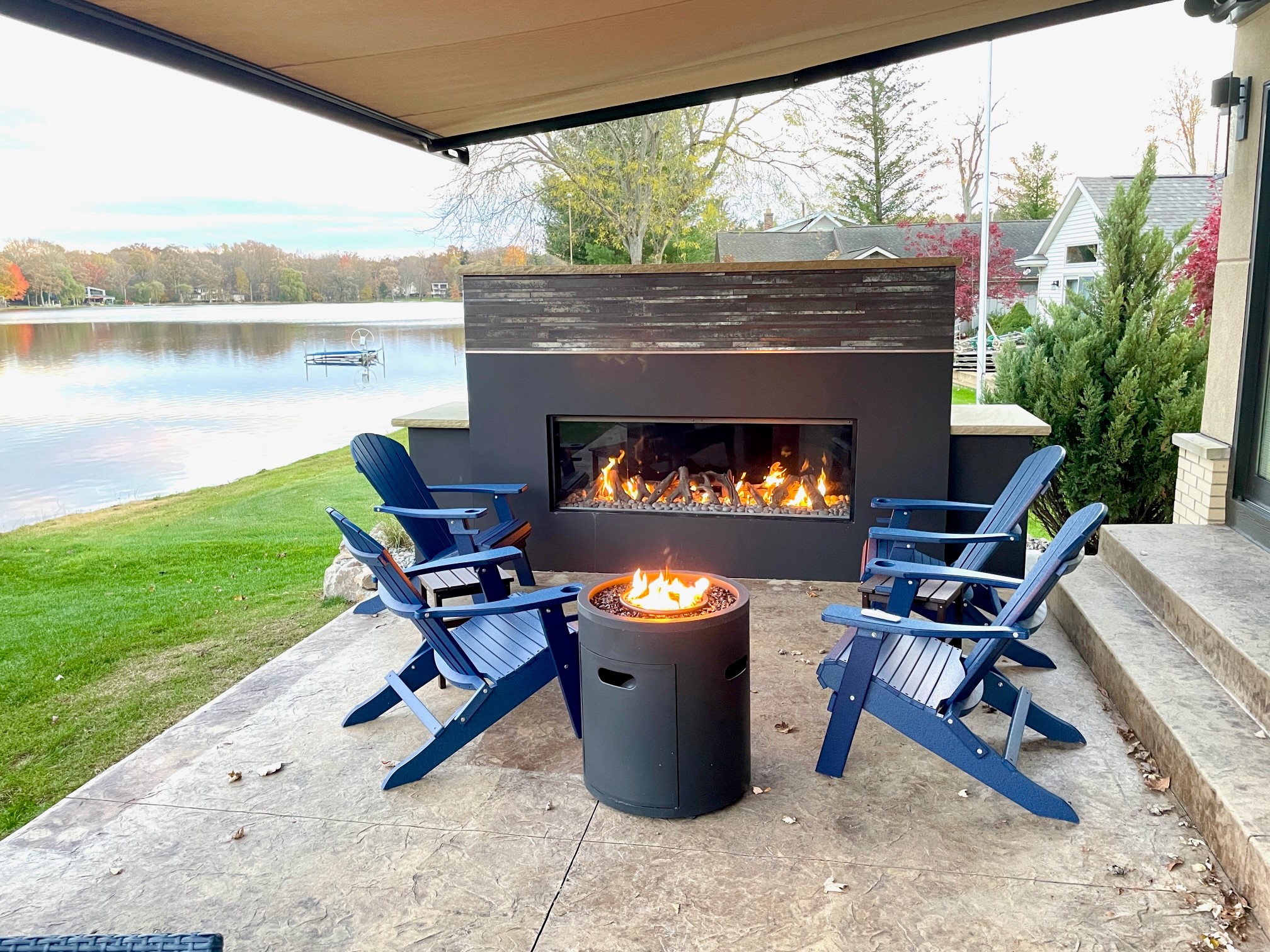 Outdoor Fireplace For More Ambiance
Outdoor fireplaces are a great place to gather with family or friends after dinner. When you order a custom outdoor fireplace from Acucraft, you can choose every detail. You can choose from various open-viewing designs with no glass and add a firescreen for protection.
For a modern look, go with a stainless steel finish, and add some contemporary lounge chairs around the fireplace. You could embed your outdoor fireplace into an existing wall or add a free-standing fireplace to your backyard or rooftop patio. For additional seating opportunities, consider a double-sided fireplace. The options for outdoor fireplace designs are endless.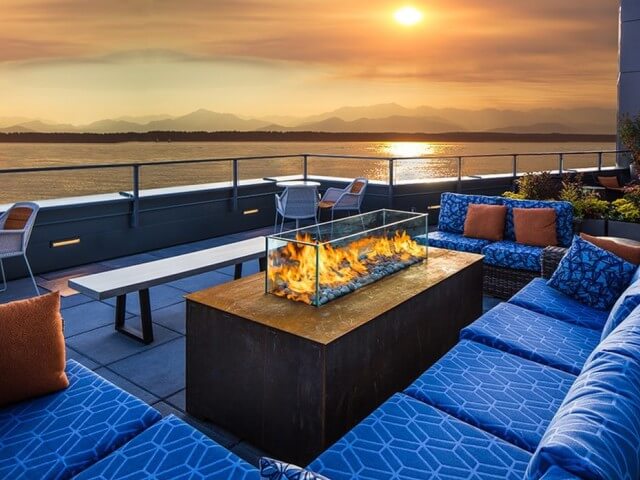 Modern Fire Table
Fire tables are very trendy right now. Impress your house guests or customers with a modern fire table. You can change out the fire pit media based on the contemporary style of the outdoor space. Colored glass can be sleek and modern looking. For a more industrial feel, use lava rock. Adjustable lighting around the base of the fire table can help you curate the perfect outdoor space.
When shopping for a modern fire table, think about the following design options:
The shape and size of the fire table
Safety glass, firescreen, or open viewing
Ledges for placing drinks/food
Ledges or sections of the table for sitting
The materials used to build the table
The media used in the fire pit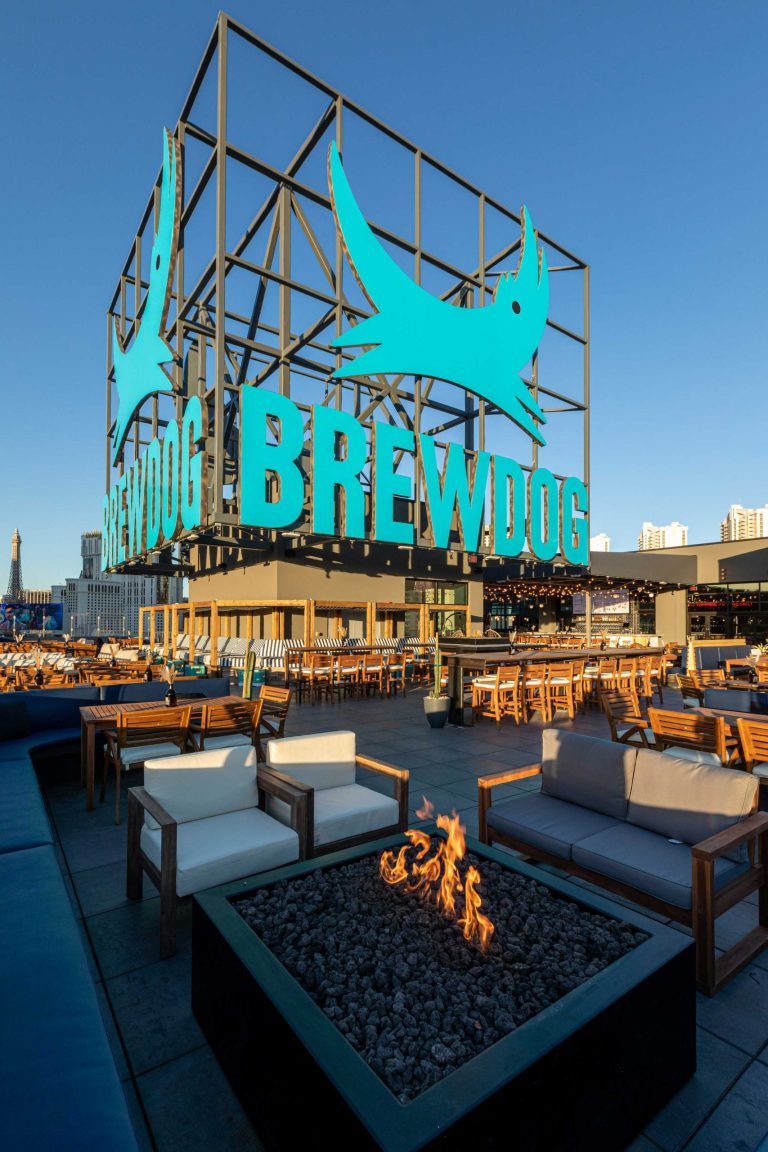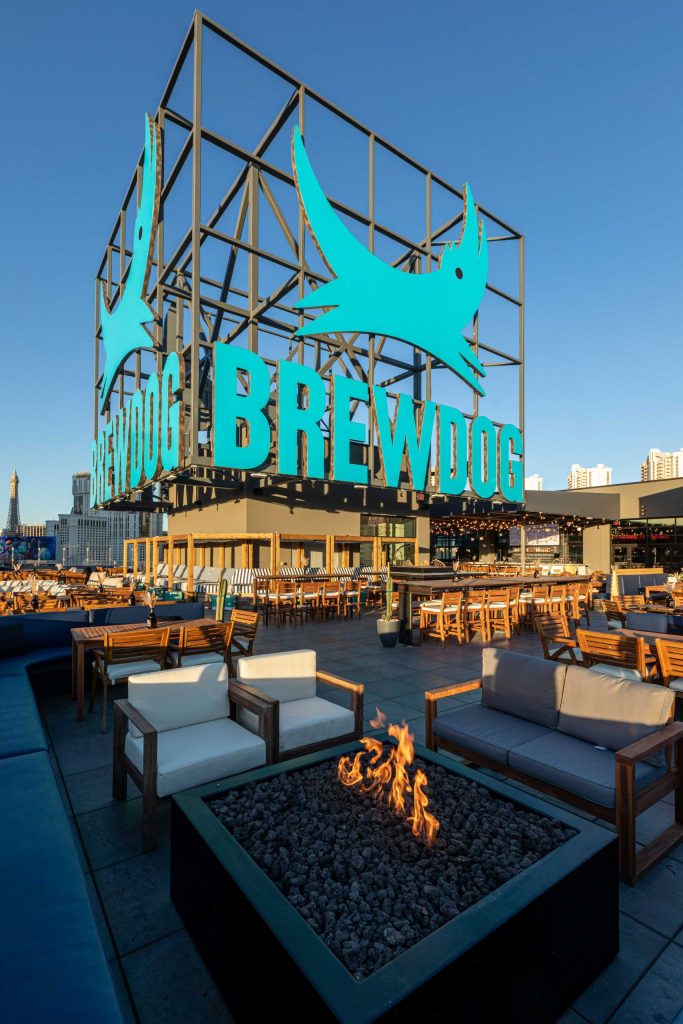 Minimalist Fire Pit
A minimalist modern space may call for a chic fire pit. Think dark colors and simple shapes. High walls around the flames of the pit can create a campfire vibe, or you could do a sunken fire pit on a patio. Add minimalist seating to complete the look.
The most minimalist design is a metal pit without a top. Minimalist fire pits are suitable for small backyards and spaces where you want the focus of the outdoor space to be on other features, such as a garden or sculpture.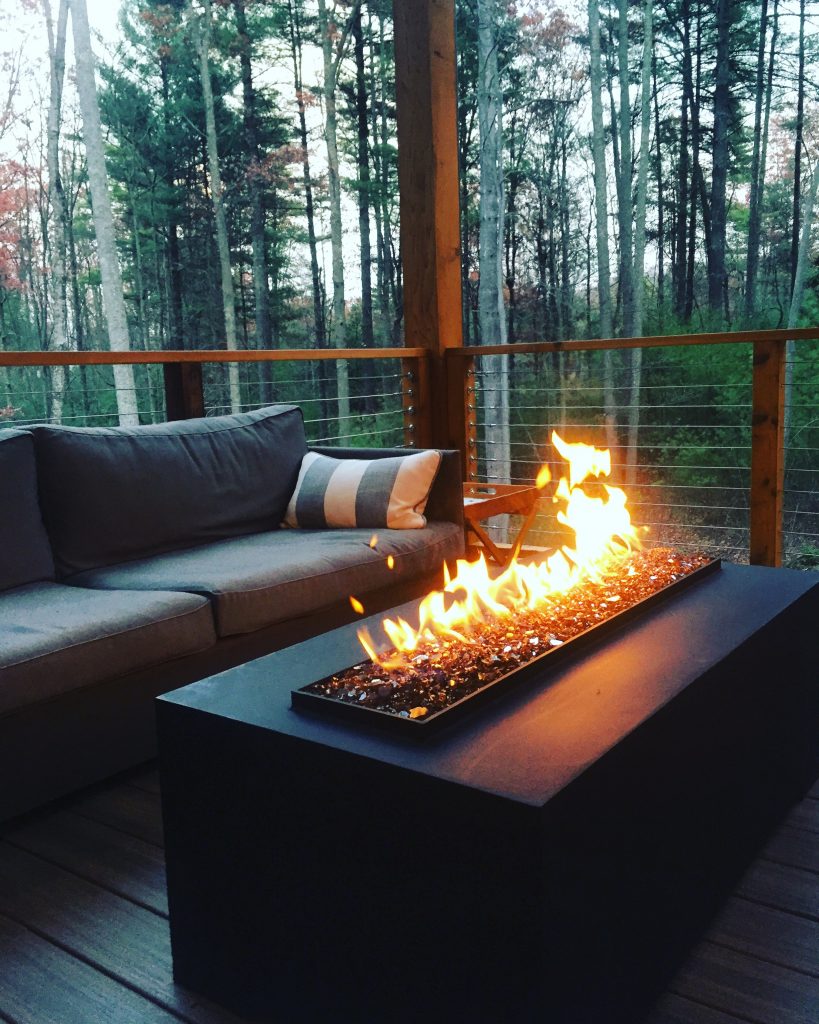 Patio Fire Table
Gas fire pit designs have improved in recent years. Small and medium-sized fire pits and fire tables are accessible to many homeowners. Even if you have a small patio, you can replace your outdoor table with a contemporary fire table that has enough room for a functional ledge. Upgrading your patio can improve the ambiance, add light and supplemental warmth to your outdoor space, and increase your property value.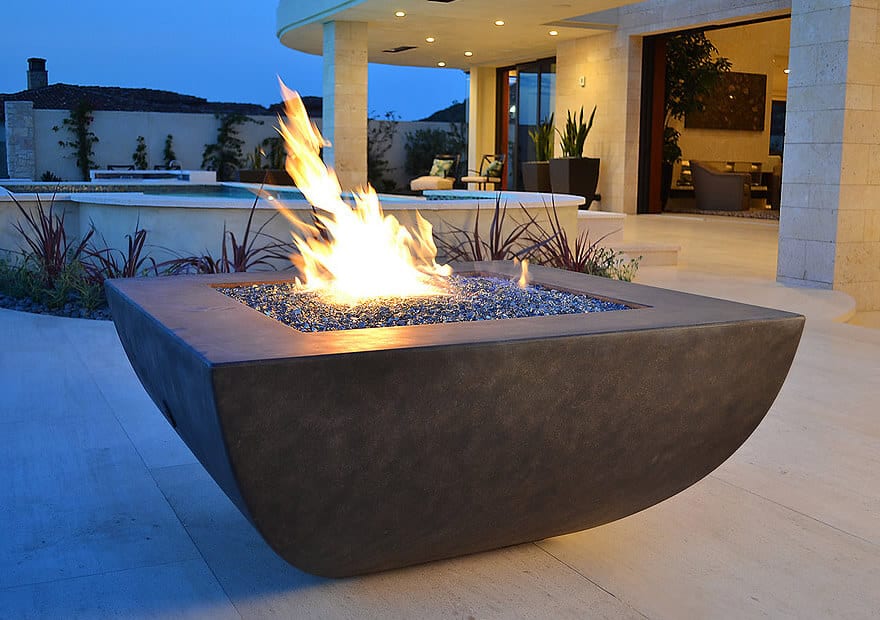 Large Statement Fire Pit
Want a fire pit that makes a statement? A large fire pit can draw people into a space. Depending on the lighting, it can also be a good setup for people to pose for pictures. If you are looking for a focal point for your modern outdoor space, this could be it. Make sure to position it how you want as it may be difficult to move it depending on the material it's made out of.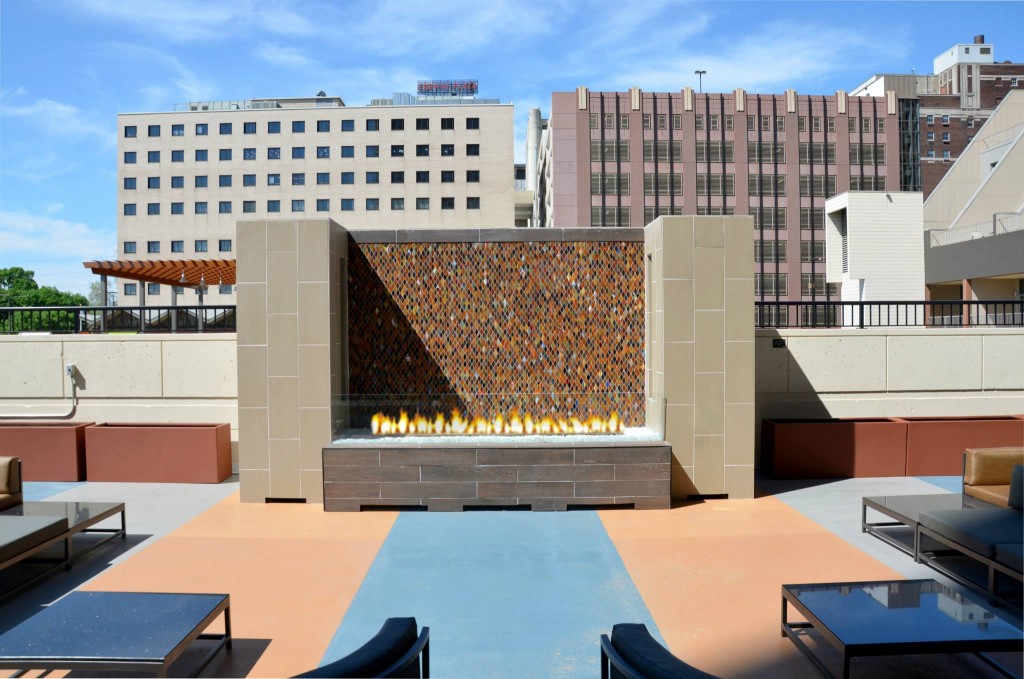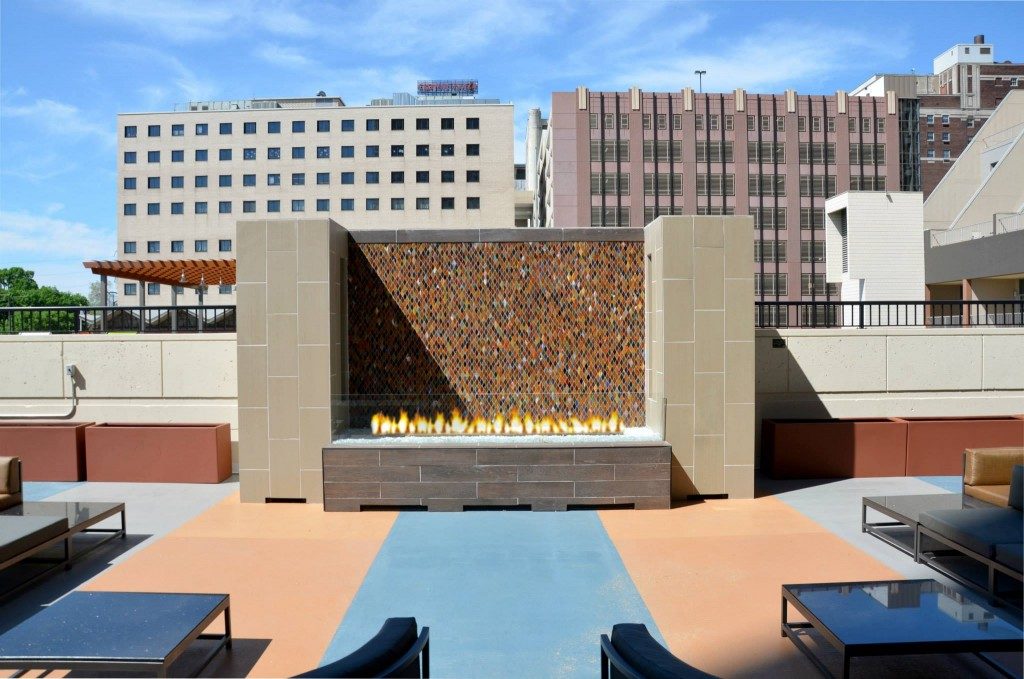 Fire Table For Ambiance 
Some fire tables are purely for adding to the ambiance of the space. Cool fire pits and fire tables can elevate your bar, hotel, or restaurant by attracting new clientele. They can bring new life to your rooftop patio or backyard deck. Acucraft's custom gas fire tables will create the outdoor space of your dreams.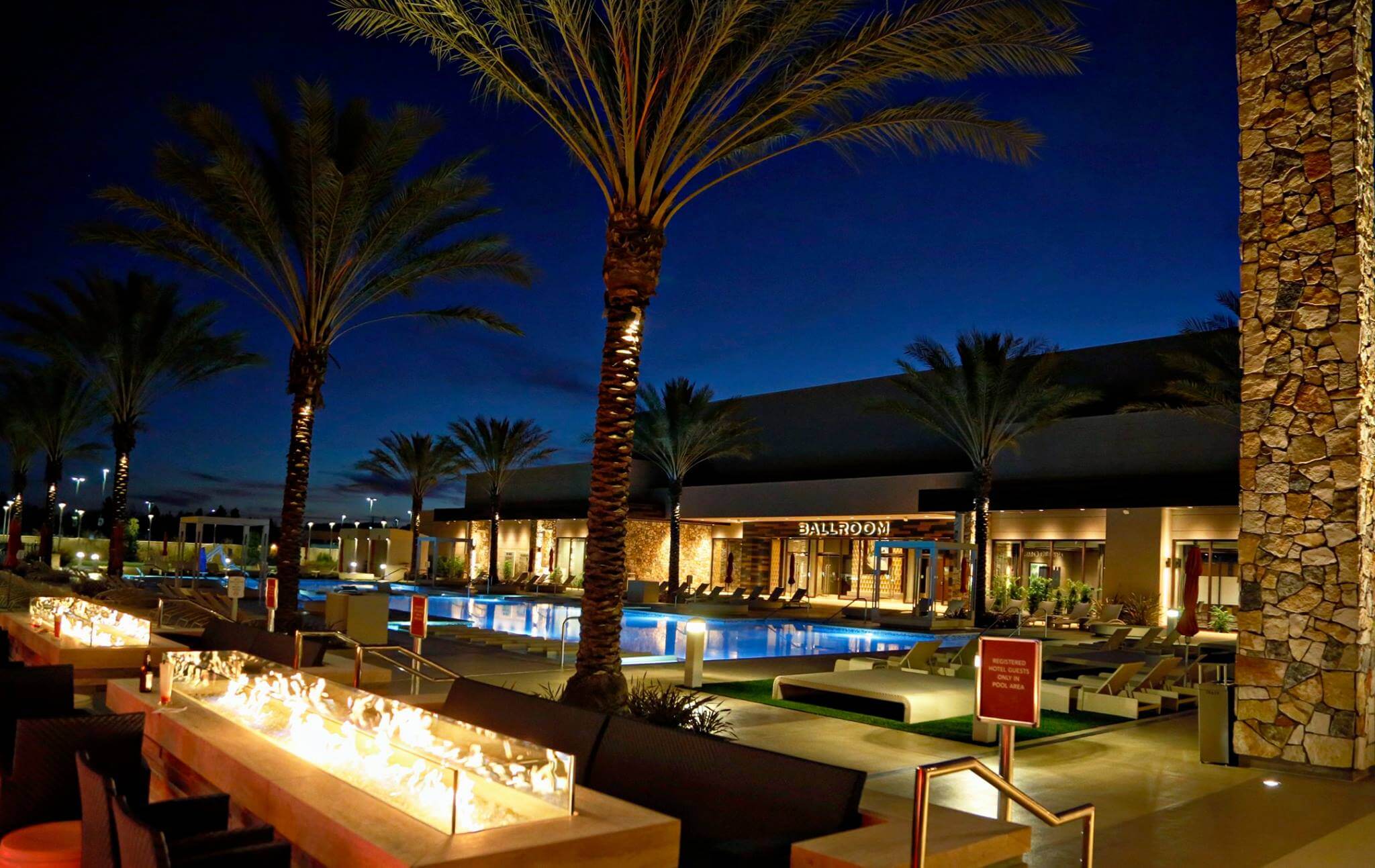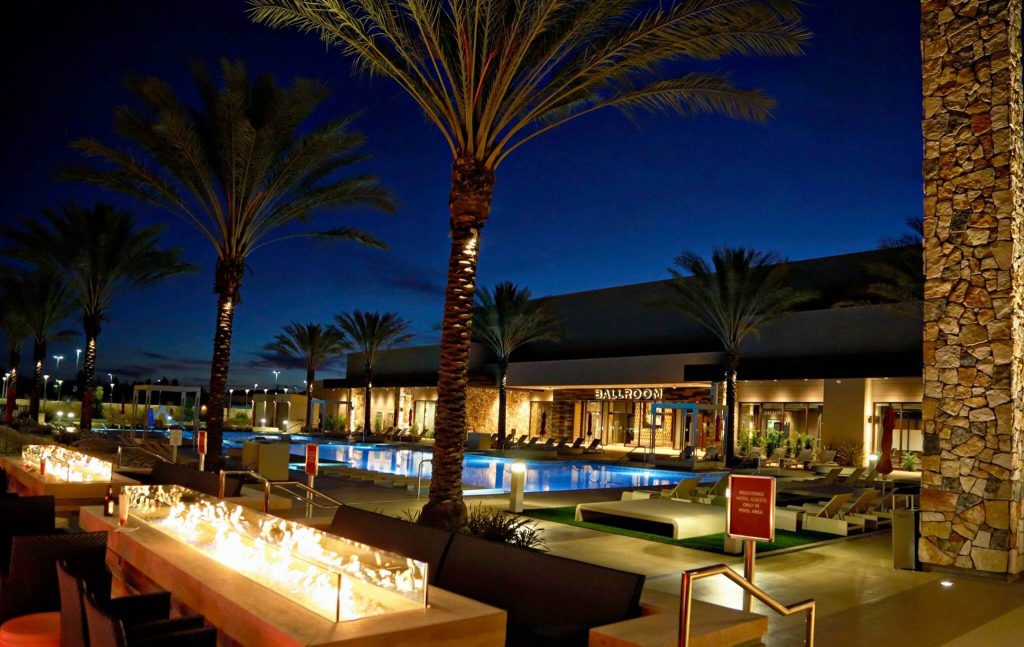 Dining Poolside Fire Tables
Hotels can enhance their outdoor spaces with dining fire tables. These tables are safe for guests to sit and eat a meal at while enjoying the mesmerizing flames and a view of the pool or courtyard. Gas dining fire tables are available in all shapes and sizes. They can be used in luxury homes as well. Modern fire tables often come with advanced features like safety glass and the ability to operate in wind, rain, and snow.
Looking to wow your guests at dinner parties? Acucraft has more backyard fire pit ideas for poolside parties.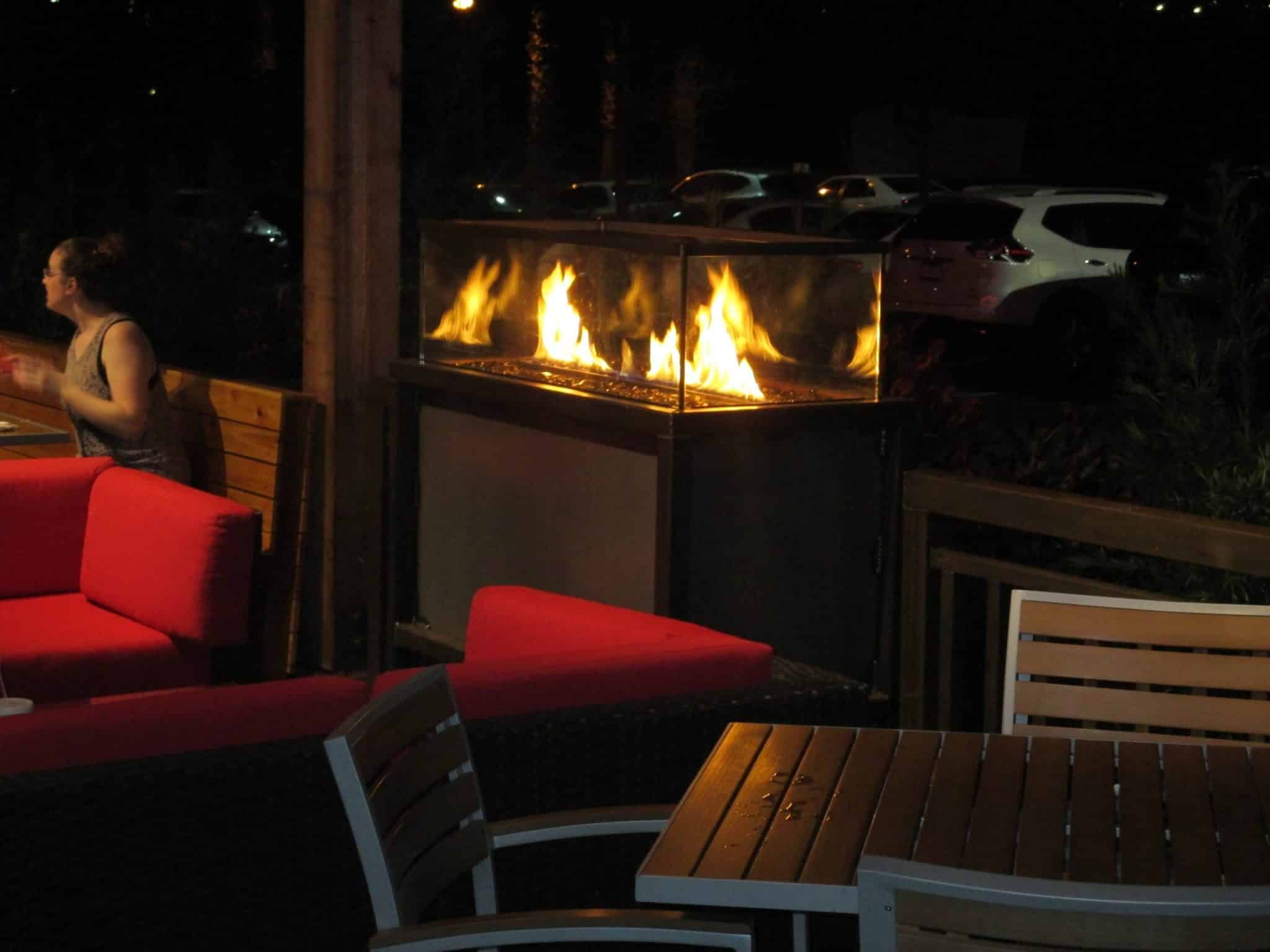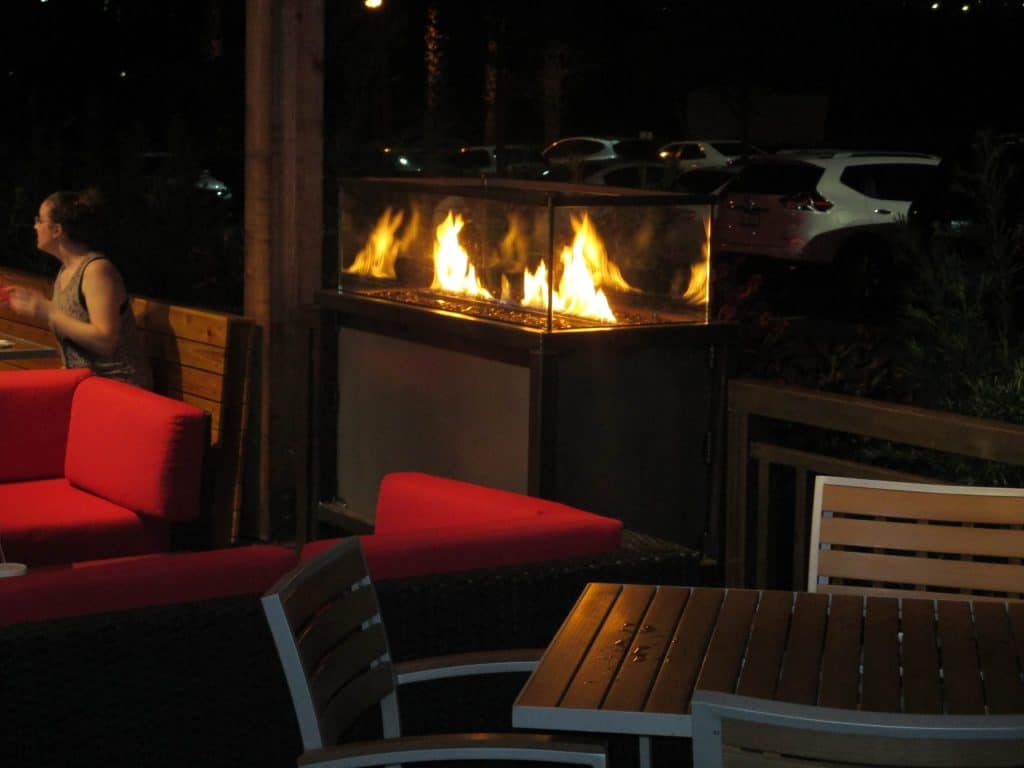 Restaurant Patio Fire Burner
Restaurant owners and managers can incorporate outdoor fire pit ideas for their patios. A fire pit can make a restaurant look more up-scale. It's more attractive than those portable heaters that many restaurants use. In addition to supplemental warmth, patio fire pits can help create a cozy environment. Fire burners can be added to existing structures such as tables, ledges, and fountains. Acucraft makes custom fire burners to fit into the design of your modern outdoor space.
Explore Acucraft's Luxury Fire Pit Collection for Your Outdoor Space
A modern fire pit, fire table, or fireplace can add ambiance, supplemental warmth, and gathering areas to your outdoor space. Turn your fire pit ideas into reality with a custom fire pit from Acucraft. All our products operate using gas. They can function through wind, rain, and snow. Our modern fire tables, fireplaces, and other fire pits are completely made-to-order. We can work with you to design the perfect luxury fire pit for your outdoor space.
Whether you want open viewing, safety glass, stone, or stainless steel, we can make it happen. Still need inspiration for cool fire pit ideas? Browse some of Acucraft's previous fire pit projects to get some ideas of what could work in your space.