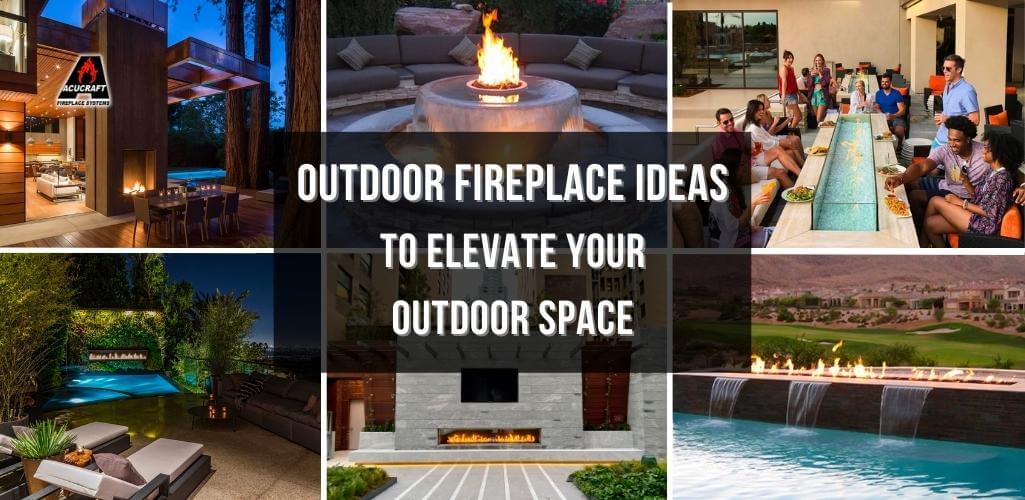 20 Outdoor Fireplace Ideas To Elevate Your Outdoor Space
Looking for outdoor fireplace ideas to elevate your outdoor living space? From rooftop lounges to swimming pools, gas-burning fireplaces, and water features, our guide covers the latest outdoor fireplace trends to help you create a cozy and inviting atmosphere in your outdoor space.
If you're looking to take the look of your outdoor living space up a notch, a luxurious outdoor fireplace can be the key component that elevates your space. Let's take a closer look at some of the different types of outdoor fireplace designs available to you.


Stay up to date with the latest fireplace trends with our 2023 Fireplace Trends guide.
Custom Outdoor Fireplace, Burner, Table, And Pit Ideas
Your options for an outdoor fire feature are certainly not limited. Custom fireplace features can add a "wow" factor to your space, are easy to use and maintain, and can be configured to work in nearly any space. Some common examples of this type of outdoor fireplace feature include:
Outdoor and rooftop lounges with fire burners or fire tables
Swimming pools/pool areas with built-in fireplaces
Deck and outdoor patio-based fire features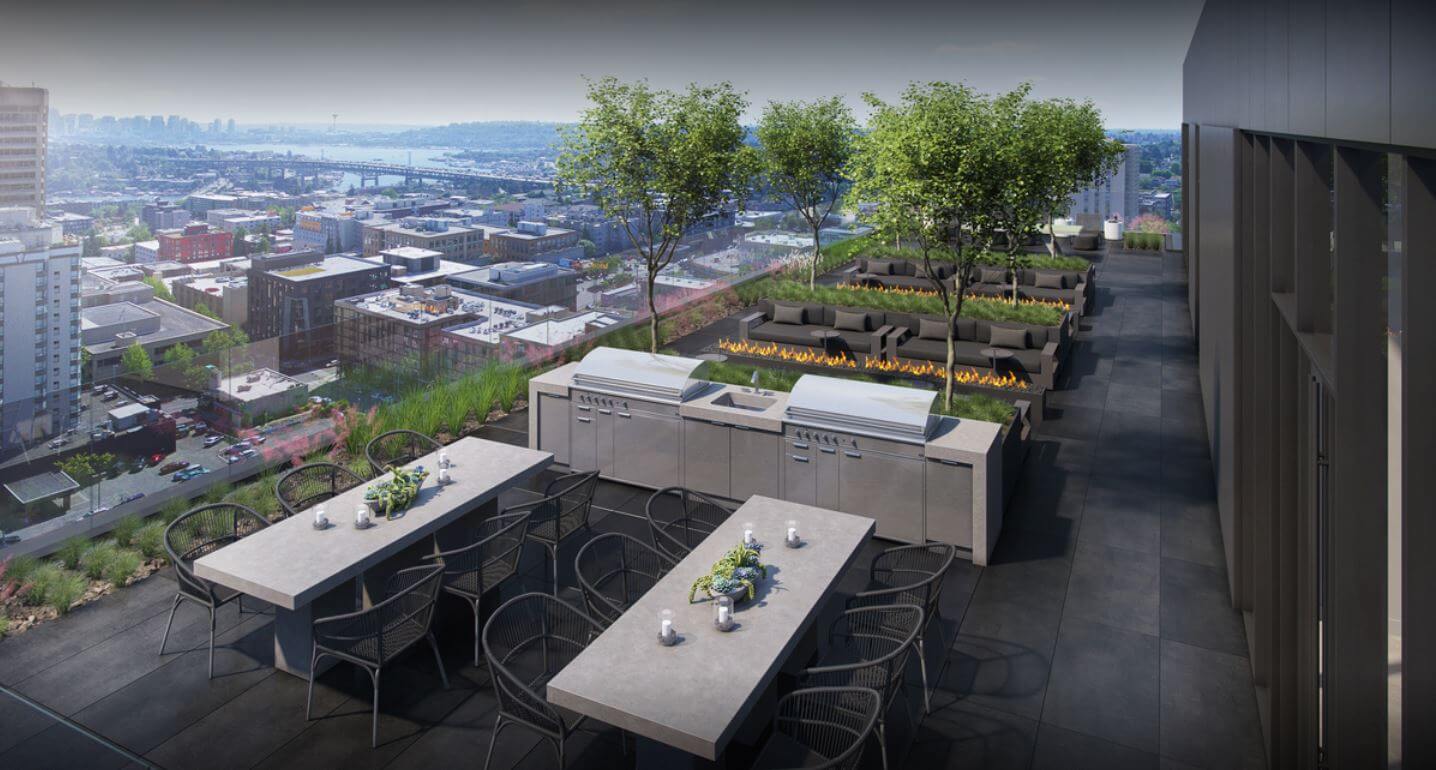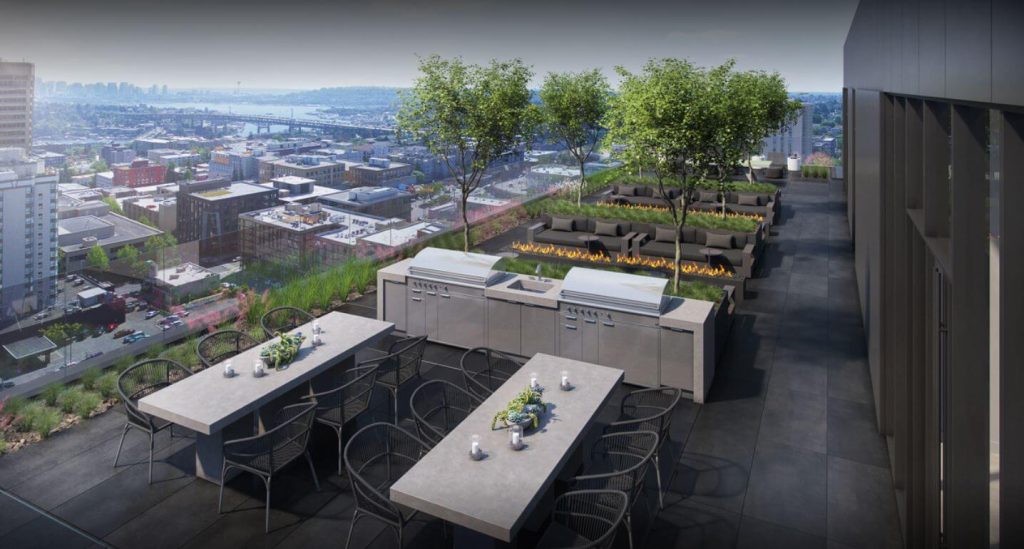 Rooftop Outdoor Lounge With Fire Burners
Rooftop patio views are undeniably gorgeous. When paired with an outdoor kitchen and lounge space featuring fire burners, you have the perfect combo that's sure to attract the attention of guests and keep them wanting to come back to enjoy the space.
Gas-based fire tables and fire burners in this setting are easy-to-use, durable in the elements, aesthetically pleasing, and can provide a cozy evening outdoors. These stylish fire pits and tables come in a wide variety of shapes and sizes, which will give you added flexibility as you form your perfect outdoor patio fireplace ideas.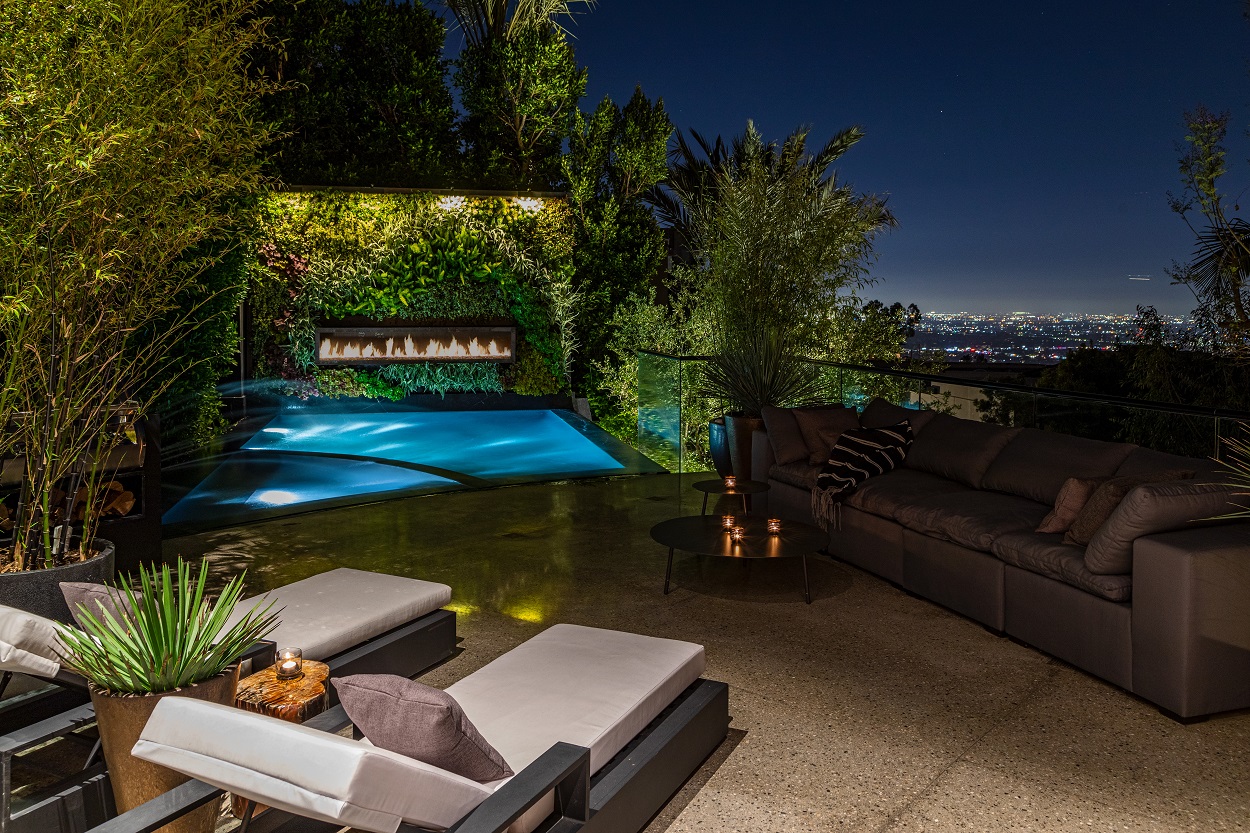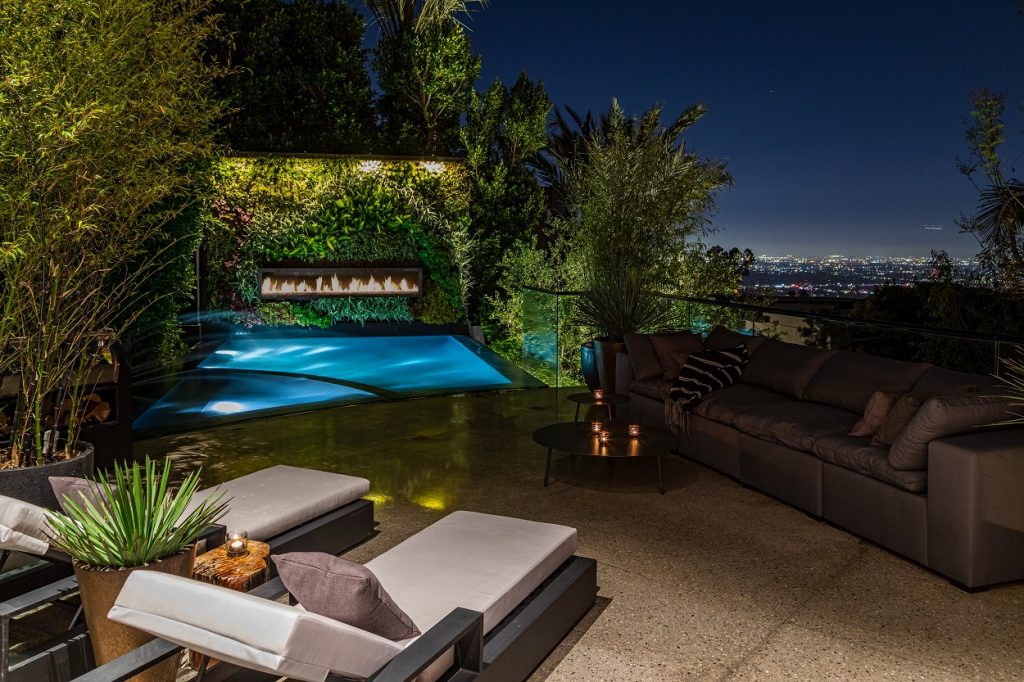 Swimming Pool With Built-In Fireplace
Few things will catch your attention as easily as an outdoor swimming pool with a built-in fireplace. These custom-built features offer an incredible aesthetic appeal that can elevate an already great outdoor space into something truly special.
These gas fireplaces are typically housed in a customizable fire-resistant casing, with options for adjusting the finish, media, and exterior glass to ensure your pool and fireplace combo is stylish and cohesive.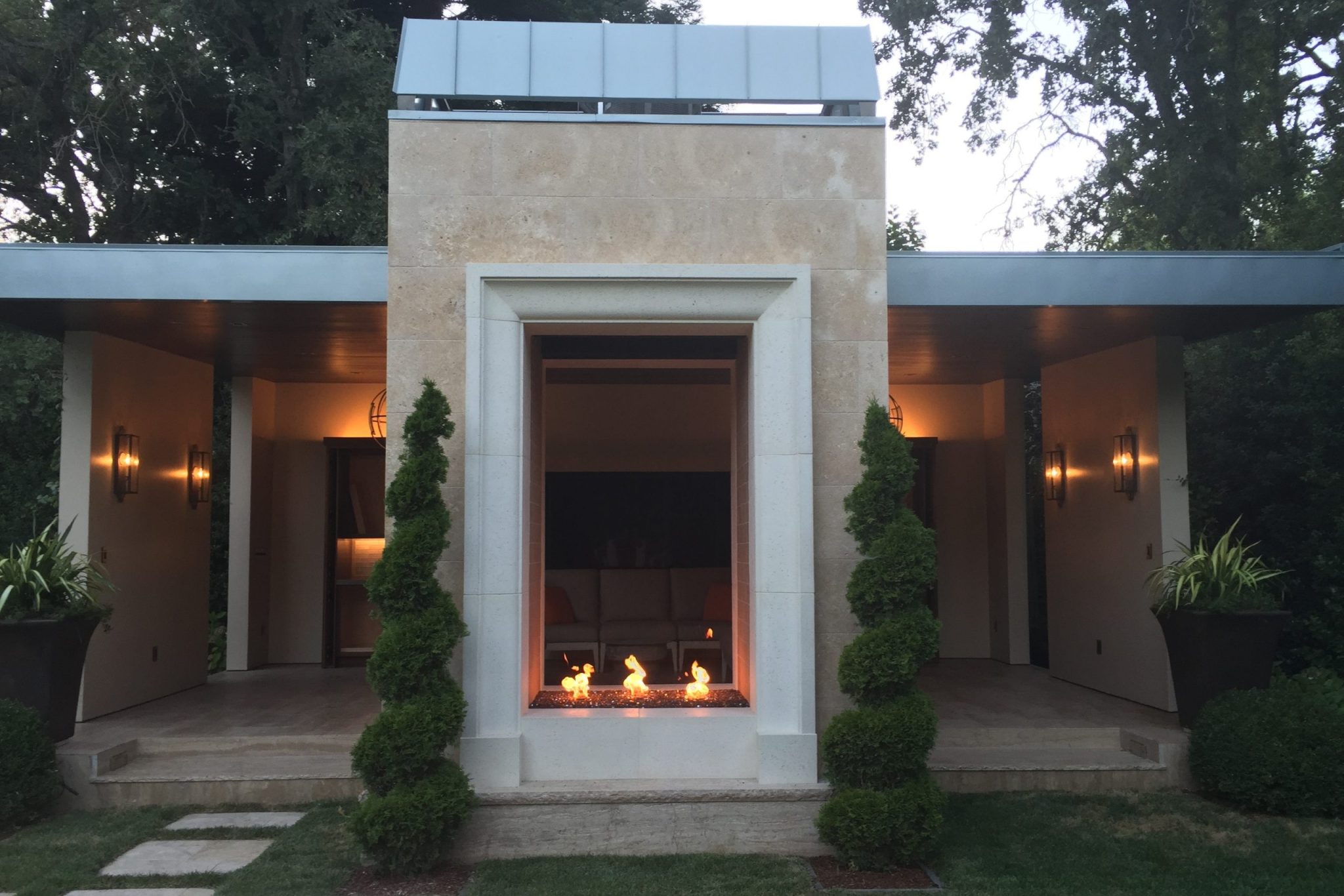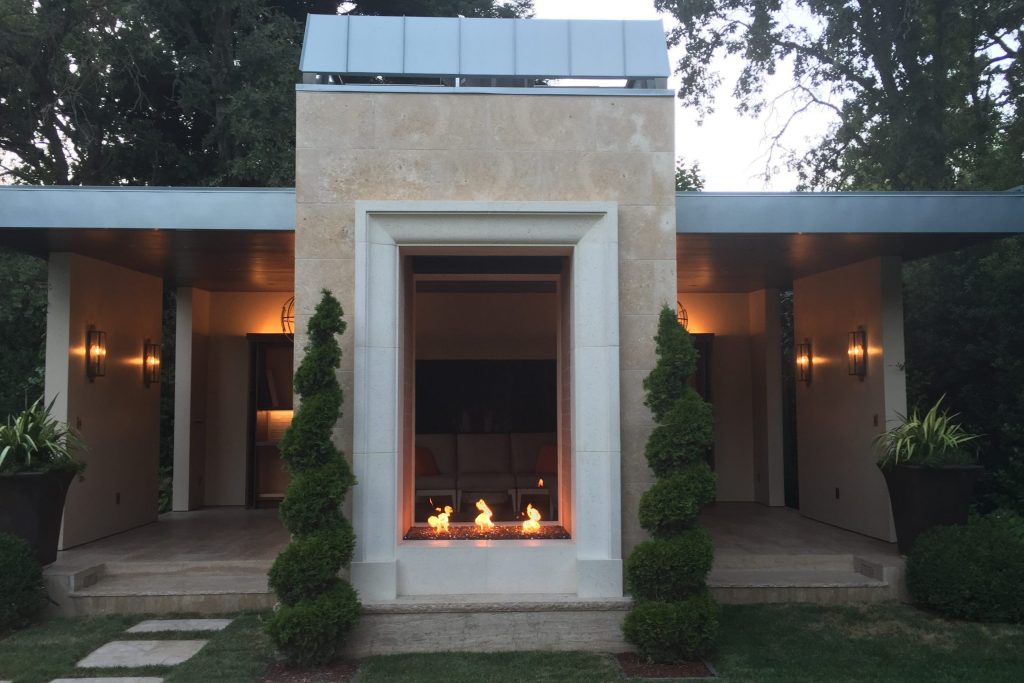 Vertical Outdoor Gas Fire Burner Idea
Vertical outdoor gas fire tables are another great way to create a central focal point for your outdoor space. These designs use standard gas fire pits or tables (with the option for taller flames) but rely on the tall accompanying structure housing them to help draw in your guests' attention. This style of gas fire burner can be an appealing option for any alcove or mixed indoor-outdoor space.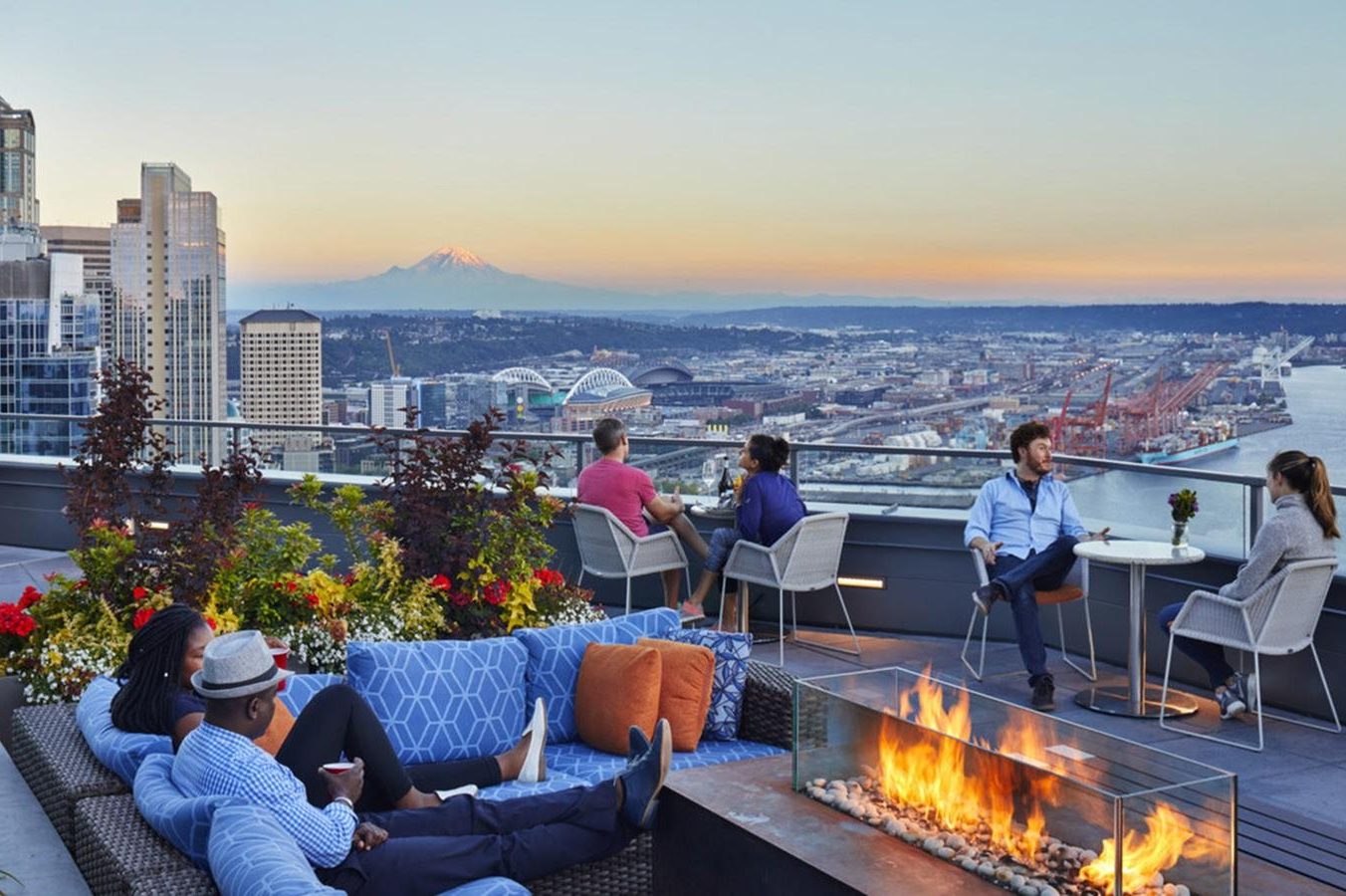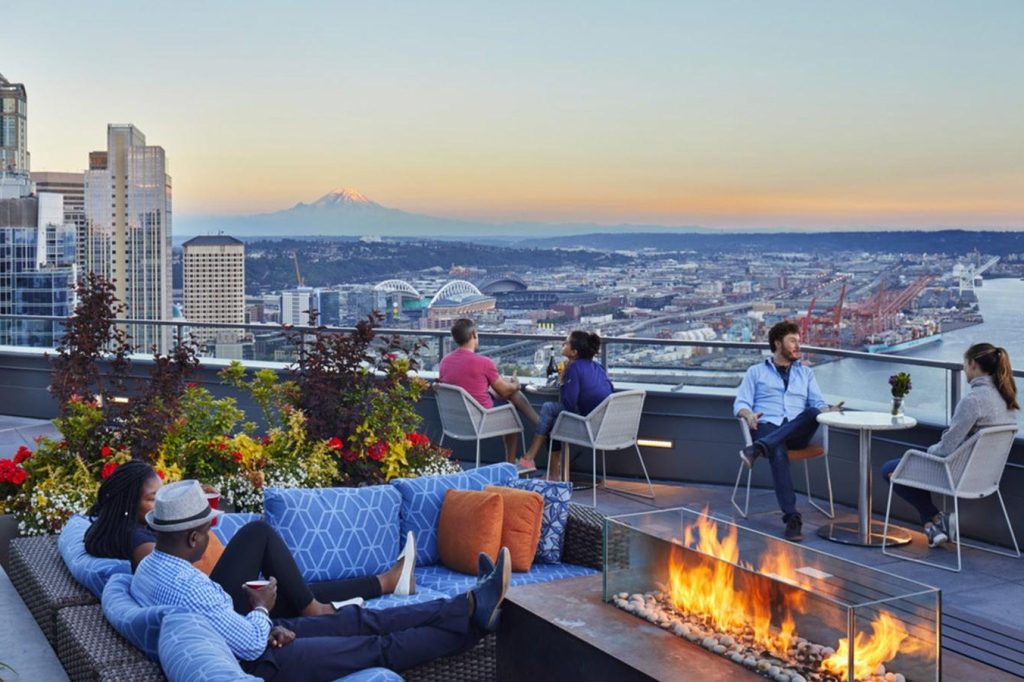 Rooftop Outdoor Patio Fire Table Idea
The table is a natural gathering place, and that's precisely what makes a rooftop patio fire table an appealing option for you and your guests to kick back and enjoy. These natural gas or propane-based tables serve as a focal point for your outdoor patio space and can be designed to accommodate practically any shape or dimension. Even if your rooftop patio space isn't usable year-round due to inclement weather, these tables are a dependable and easy-to-use option that hold up well against the elements.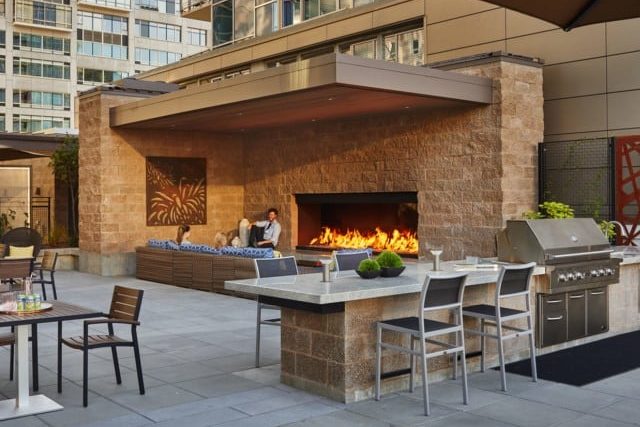 Explore our selection of custom outdoor fireplaces for your business.
Outdoor Fireplace Lounge
Who wouldn't want to bring the cozy and inviting feel of a fireplace to their outdoor patio space? With proper planning, large stone fireplaces outdoors can be added to any variety of unique and appealing outdoor lounge areas.
Implementation options could include a living-room style exterior alcove with plenty of seating, a "behind-the-bar" showpiece for your outdoor high-top counter space, or even using the fireplace as a sort of visual divider for distinct areas in your outdoor lounge.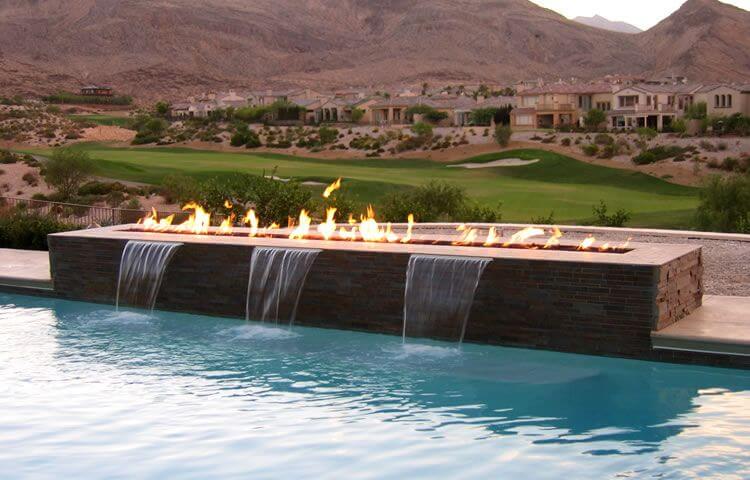 Waterfall Fire Burner By Pool
It's hard to overstate the "wow" factor that comes with seeing the elemental clash of a waterfall that has flames in close proximity. This splashy fire table implementation will require expert planning and installation to ensure the water pump system works cohesively with the fire table, but the finished product is undeniably strong.
With this style of fire table, your poolside guests get all of the comforting ambiance of a fire pit with the added soothing sounds of flowing water. It's a combo that is sure to make you practically melt into your lounge chair.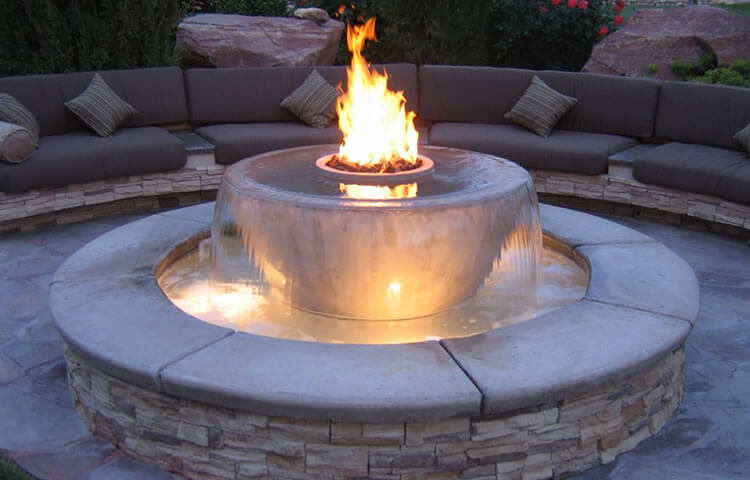 Small Outdoor Fireplace Idea With A Fountain
A small outdoor fireplace and fountain combo is another beautiful outdoor focal point option pairing running water and open flame. Better yet, this showy outdoor feature is more achievable than you might think, as gas-based fire pits can be created to accommodate a variety of unique fountain structures.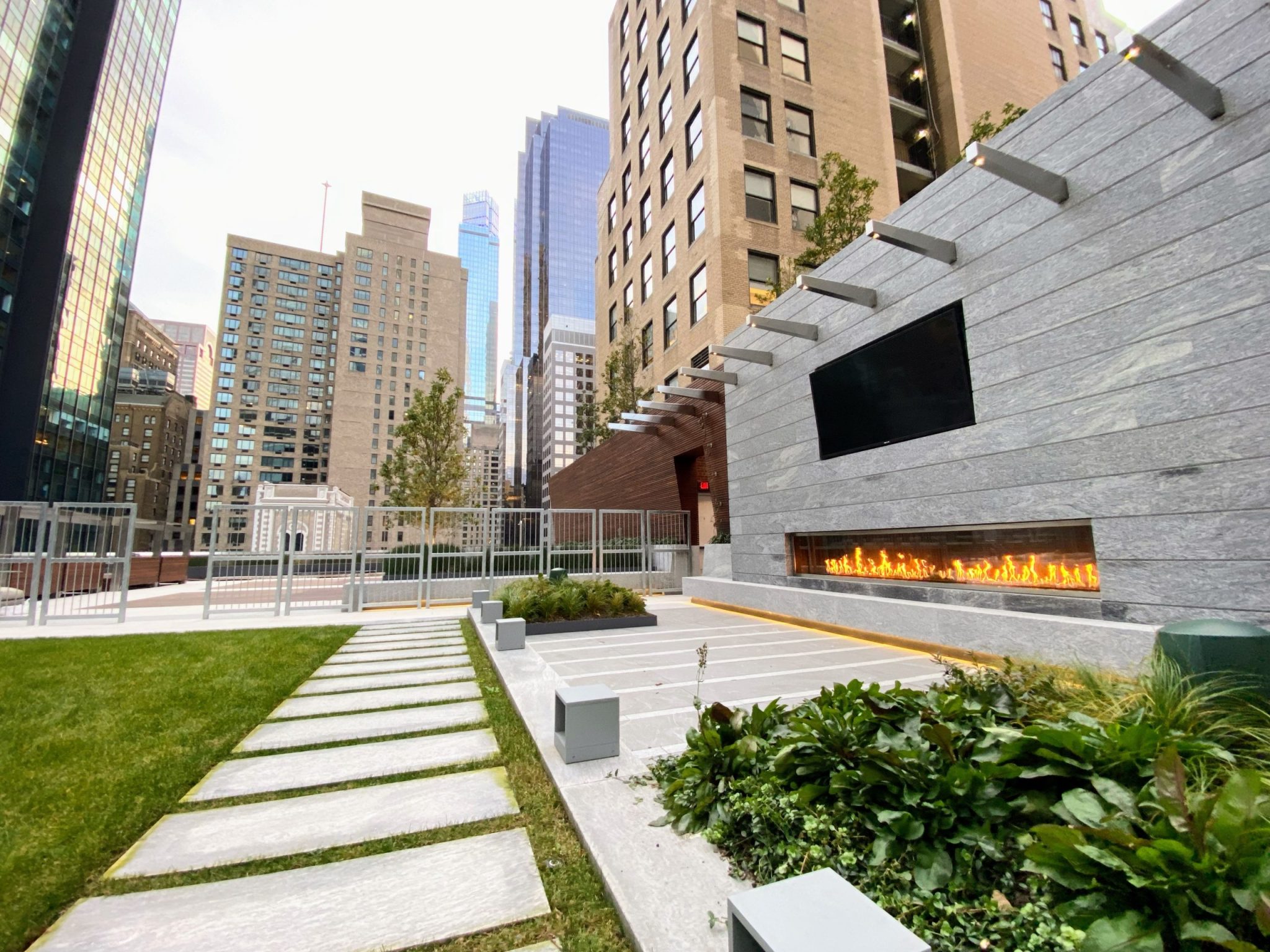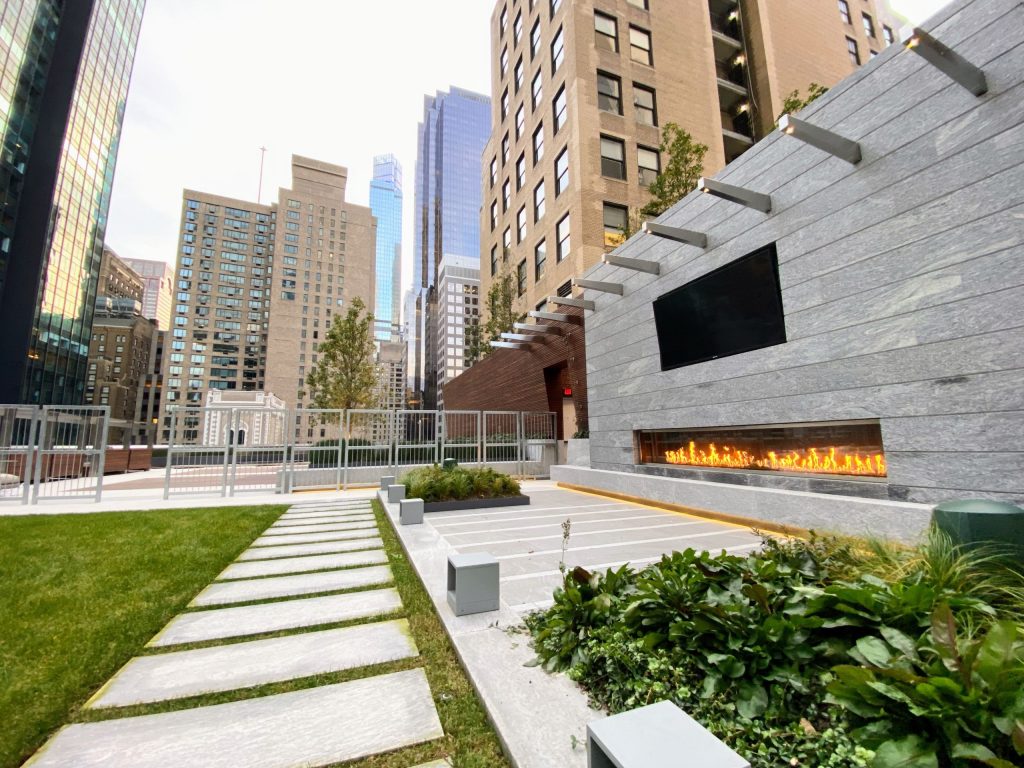 Courtyard Outdoor Fireplace
If you're looking to take a large outdoor courtyard gathering space up a notch, a long fire table or pit can be the perfect solution. These fire tables can be customized to fit the ideal length for your outdoor space and can easily make a previously underutilized space a destination for you and your guests.
These fireplaces are often found on the exterior boundaries of courtyards but can also work well as a central divider for your courtyard.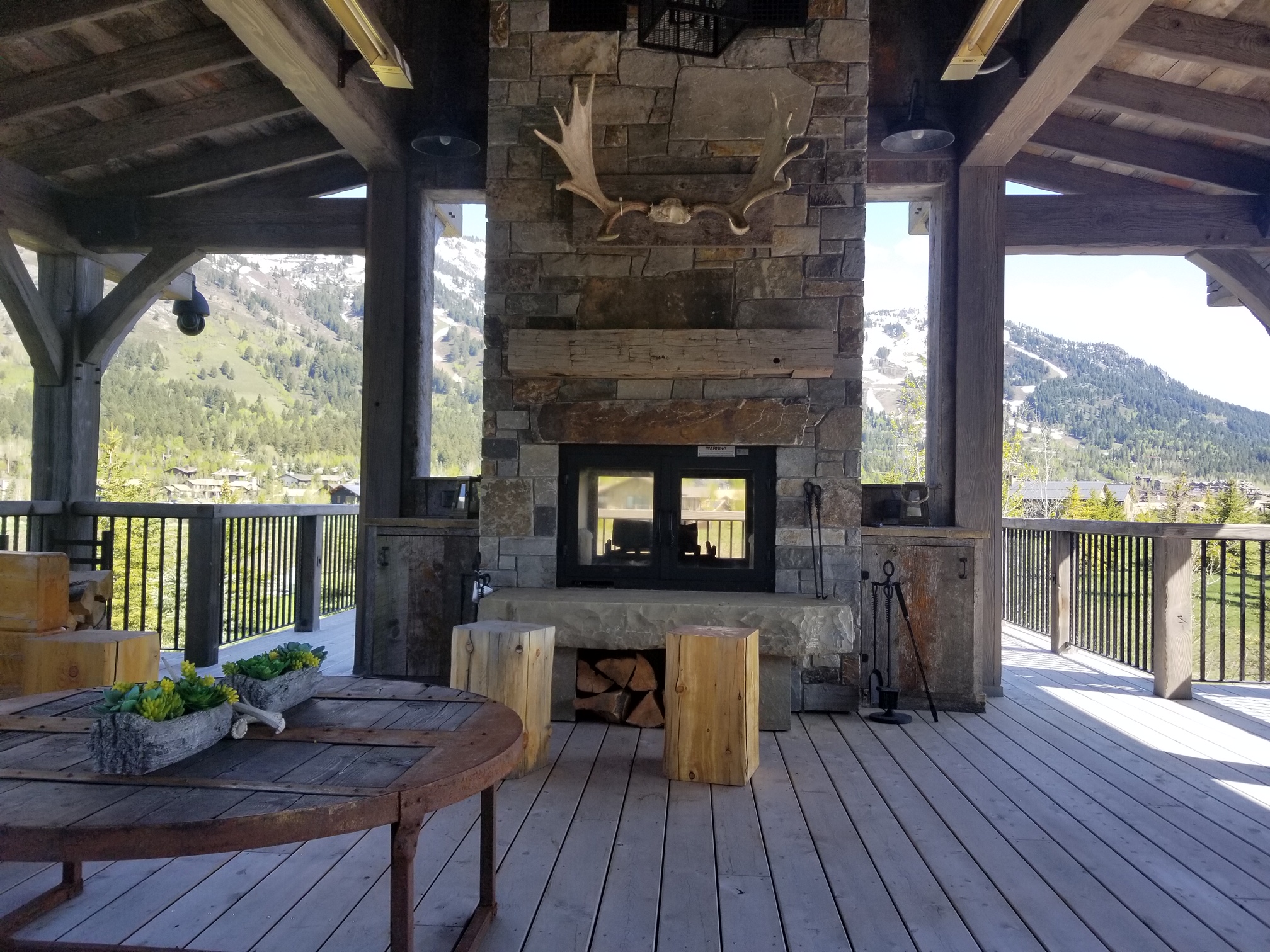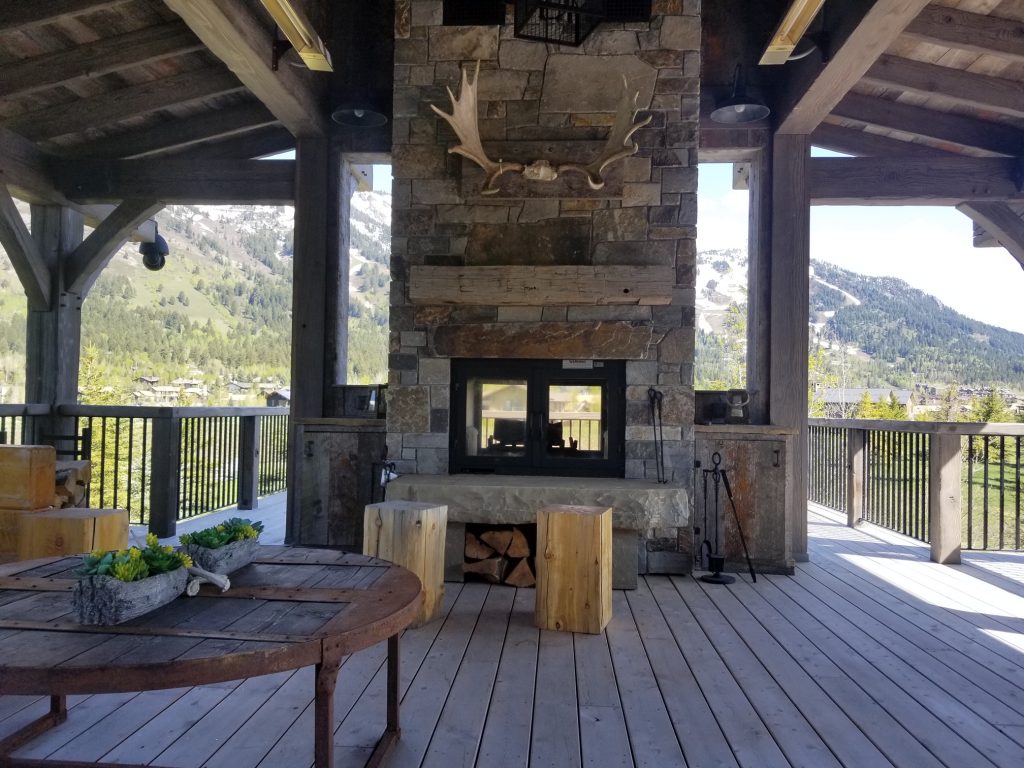 Outdoor Stone Fireplace With A Mountainous View
Have an outdoor space with a mountain view? Gather some outdoor stone fireplace ideas to compliment an already gorgeous natural outlook. These rustic outdoor fireplaces can be housed in local stone materials that fit the overall aesthetic of your natural view. Plus, with fireplaces coming in a variety of customizable glass covers, finishing options, and internal media like log sets or river rock, you'll have easy customization options to ensure the perfect look and feel for the setting.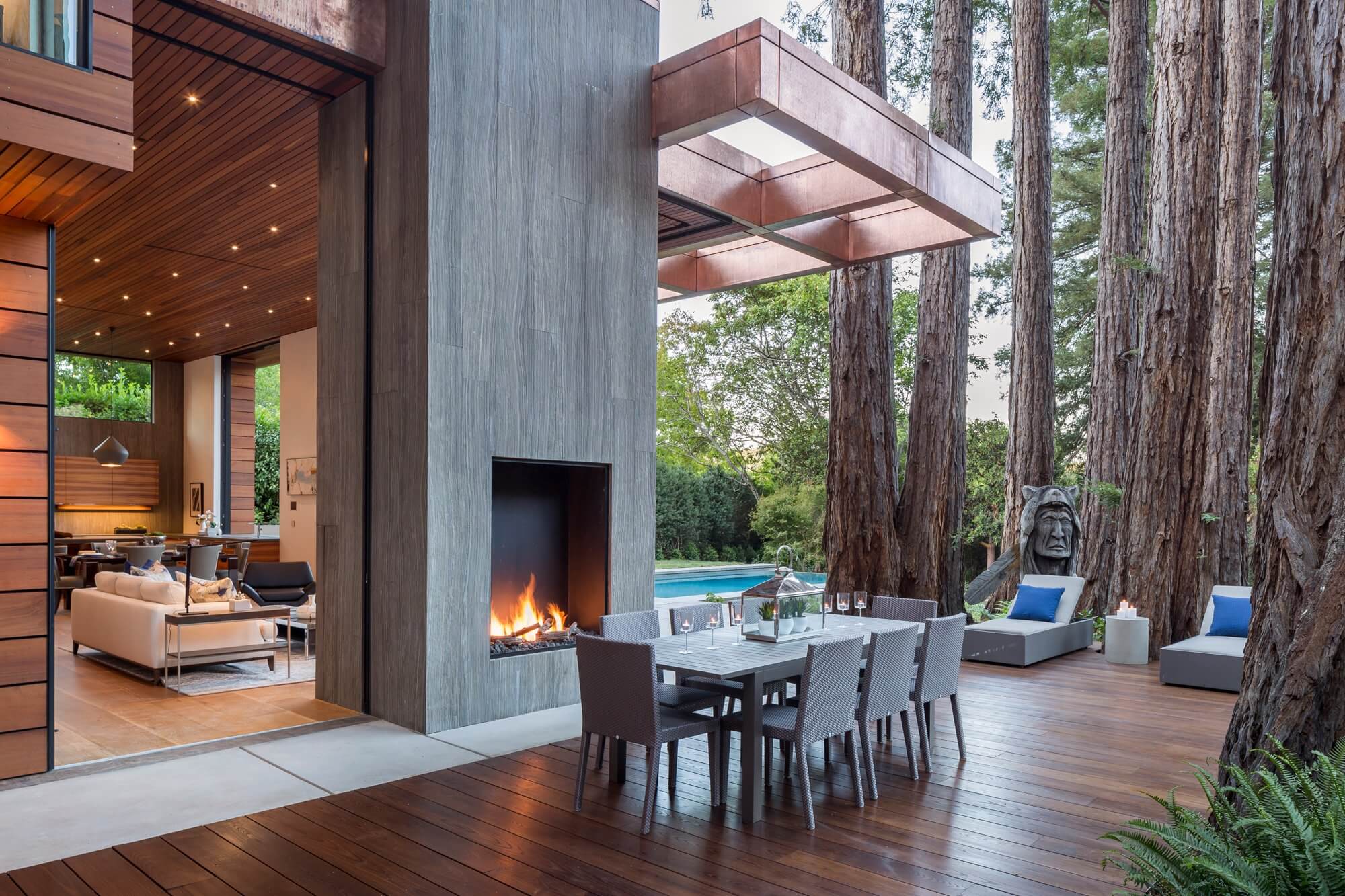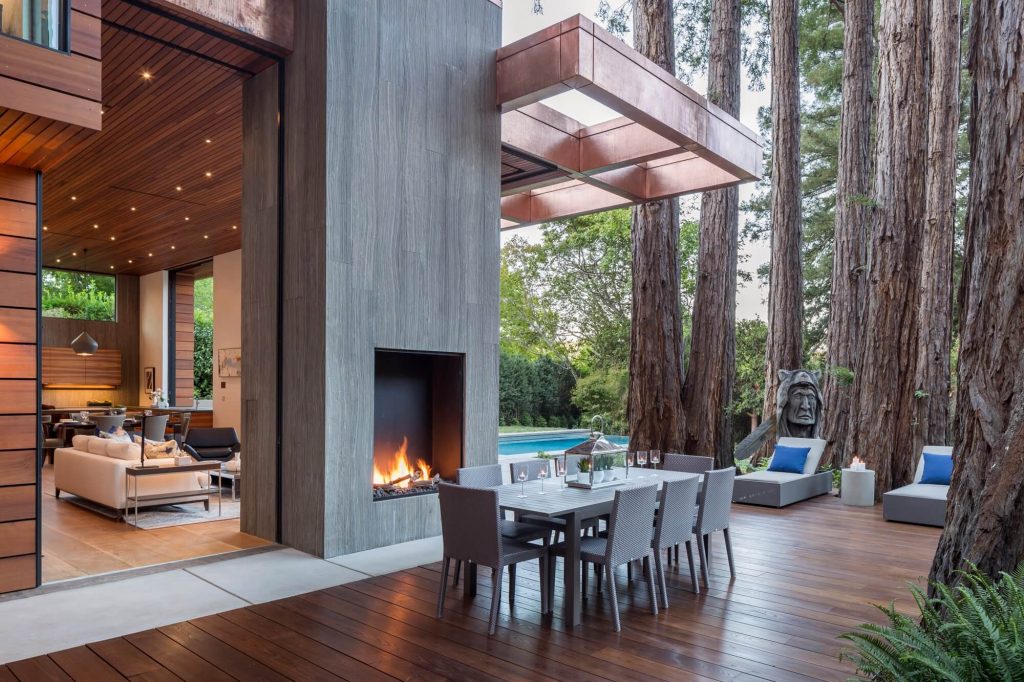 Are you curious about custom fireplaces for your living room? Check out our living room fireplace guide.
Outdoor Dining Room Fireplace
It's hard to improve upon dining al fresco on a beautiful day, but adding a spectacular outdoor fireplace feature to the ambiance of the dining area is definitely one way to do it. This impressive addition could take the form of an indoor-outdoor dual-sided fireplace or be exclusively outdoor facing. No matter the approach, you and your guests will appreciate the ability to gather for food and drink and the chance to linger on into the evening hours fireside.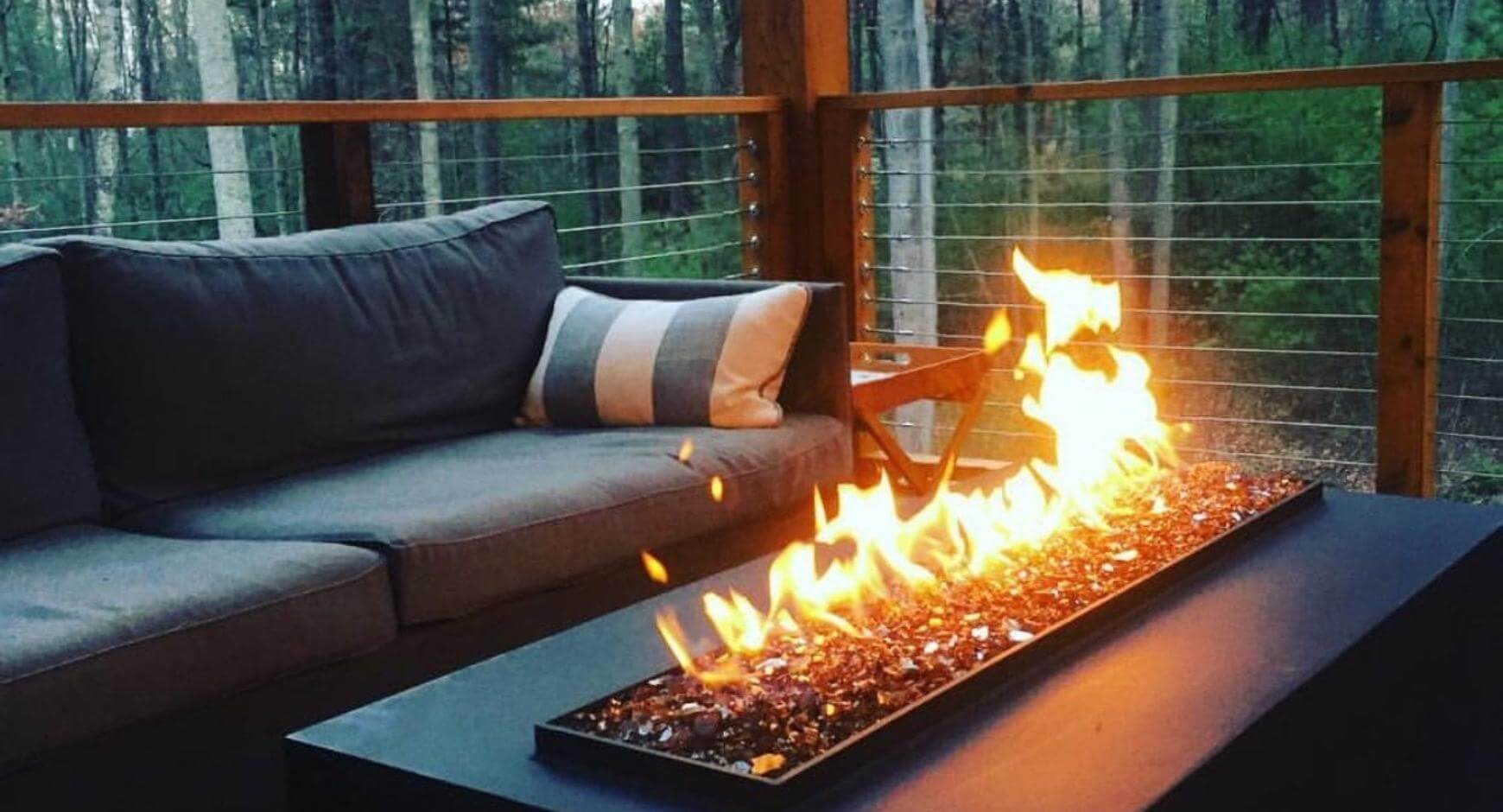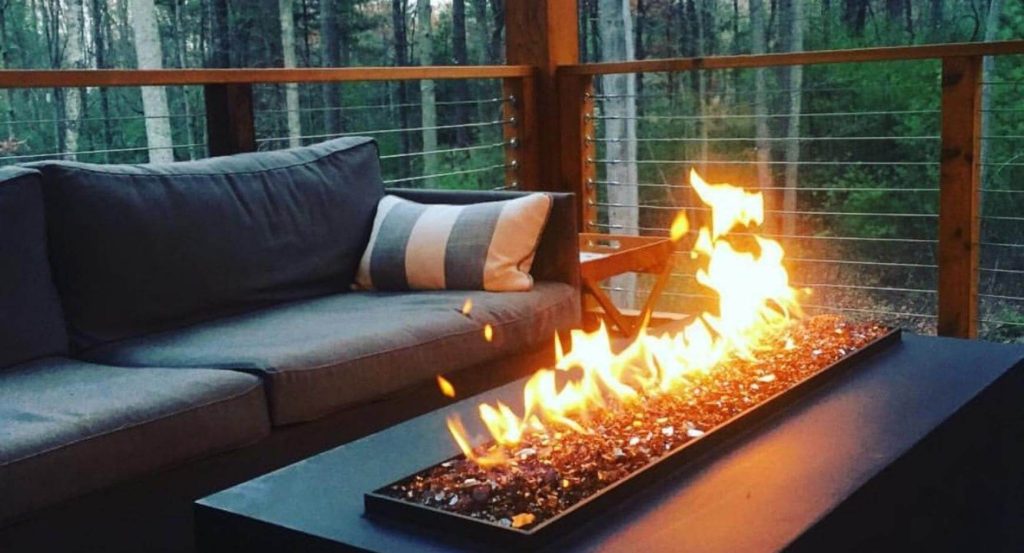 Deck Fire Table Idea
Deck fireplace ideas are becoming very popular among families. It doesn't take an extravagant space to enjoy the simple luxury of a fire table. Adding a fire table to your deck–whether it's a massive tiered wraparound or a modest outdoor gathering space–can be an easy way to upgrade your deck experience substantially. These tables come in a variety of sizes that can provide both usable ledge space and all of the aesthetic benefits of a fire pit.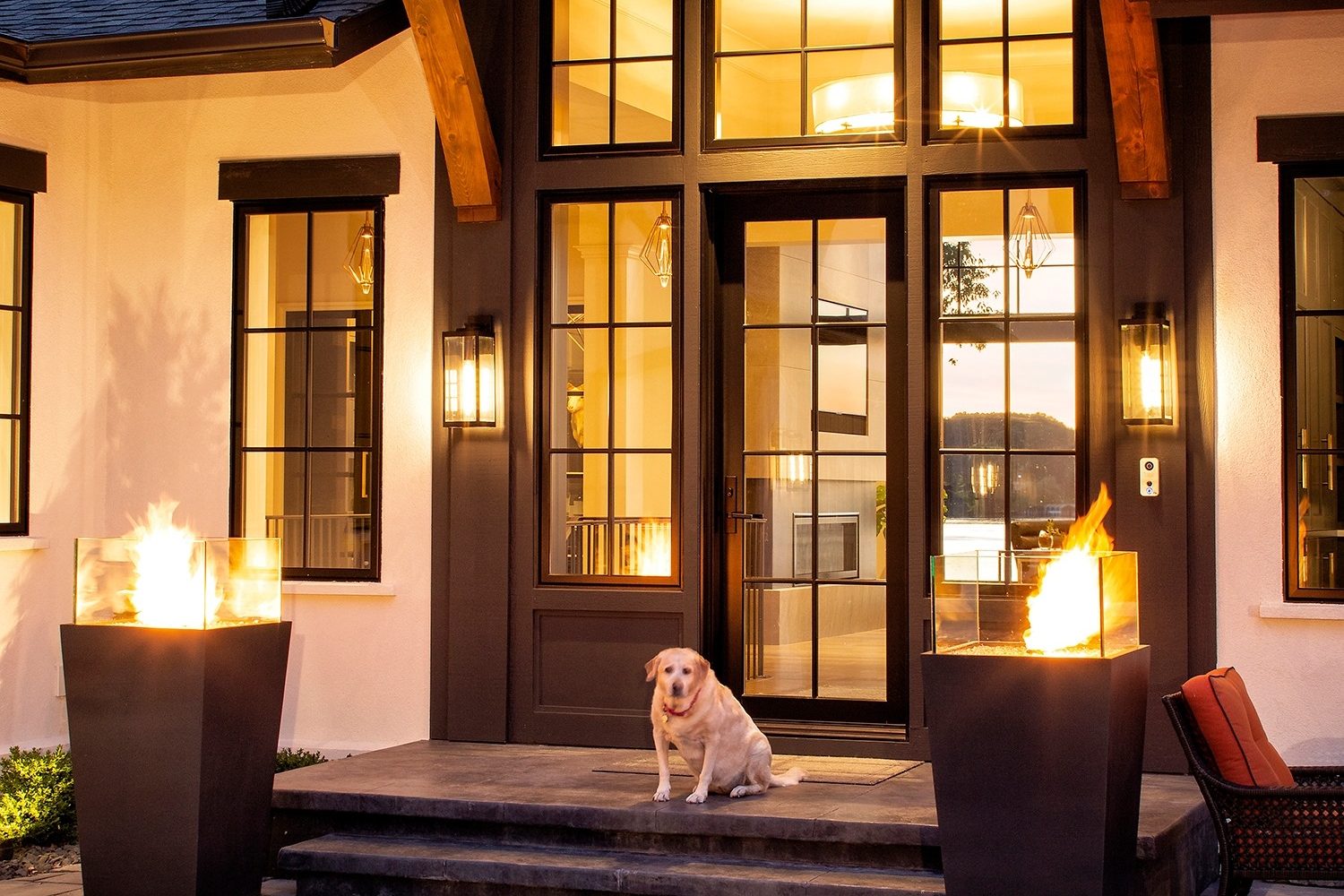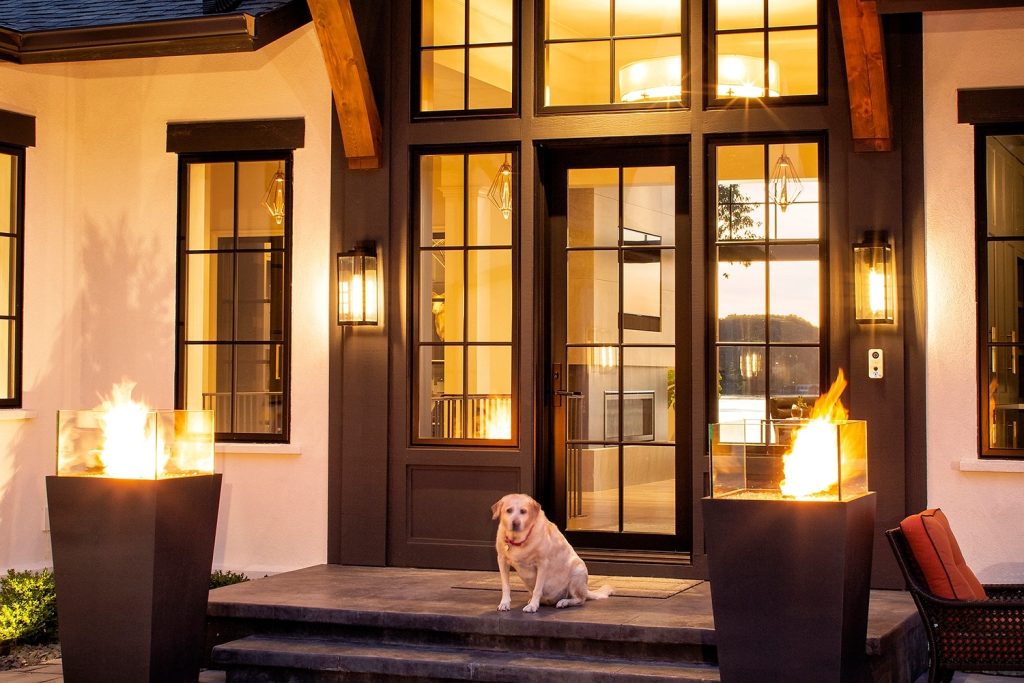 Outdoor Pedestal Torch Entrance
If you're looking for a way to impress your guests upon arrival, pedestal torches near your entryway is an excellent option. These can be as simple as two small fire pit pillars on either side of your entryway or a large fireplace with four panels in the center of a larger walkway or approach that provides 360-degree views.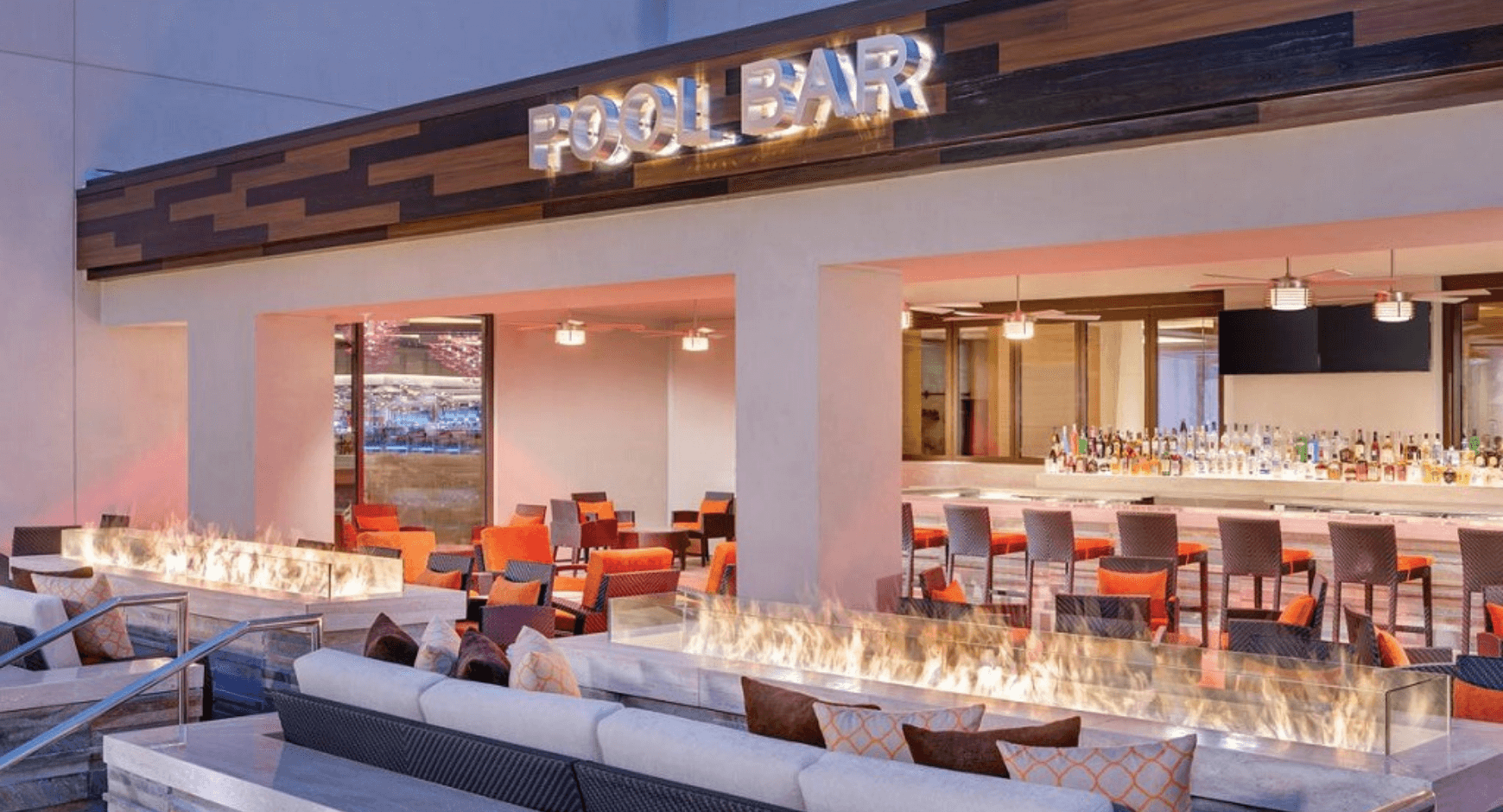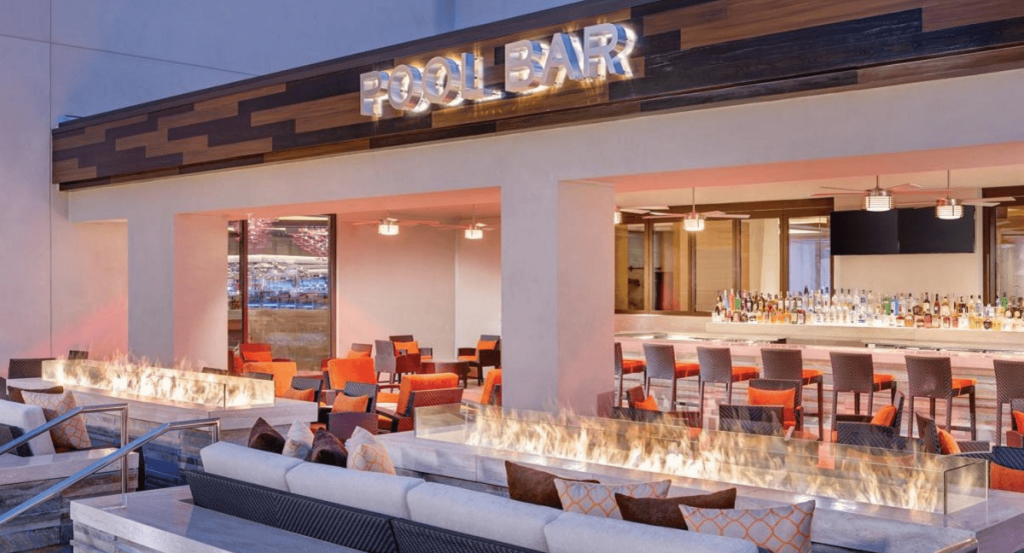 Outdoor Bar Fire Table
How does a fire "on the rocks" sound? Outdoor bars are a fantastic feature in residential and commercial spaces alike, and adding a fire table into the mix is a great way to take an already appealing space to the next level. These fire features can be customized to fit your space and can include additional safety measures like protective glass paneling to help keep guests out of harm's way.
These fire tables can be used as a natural visual divider for the bar area and other outdoor spaces or work as a central focal point for you and your guests to gather.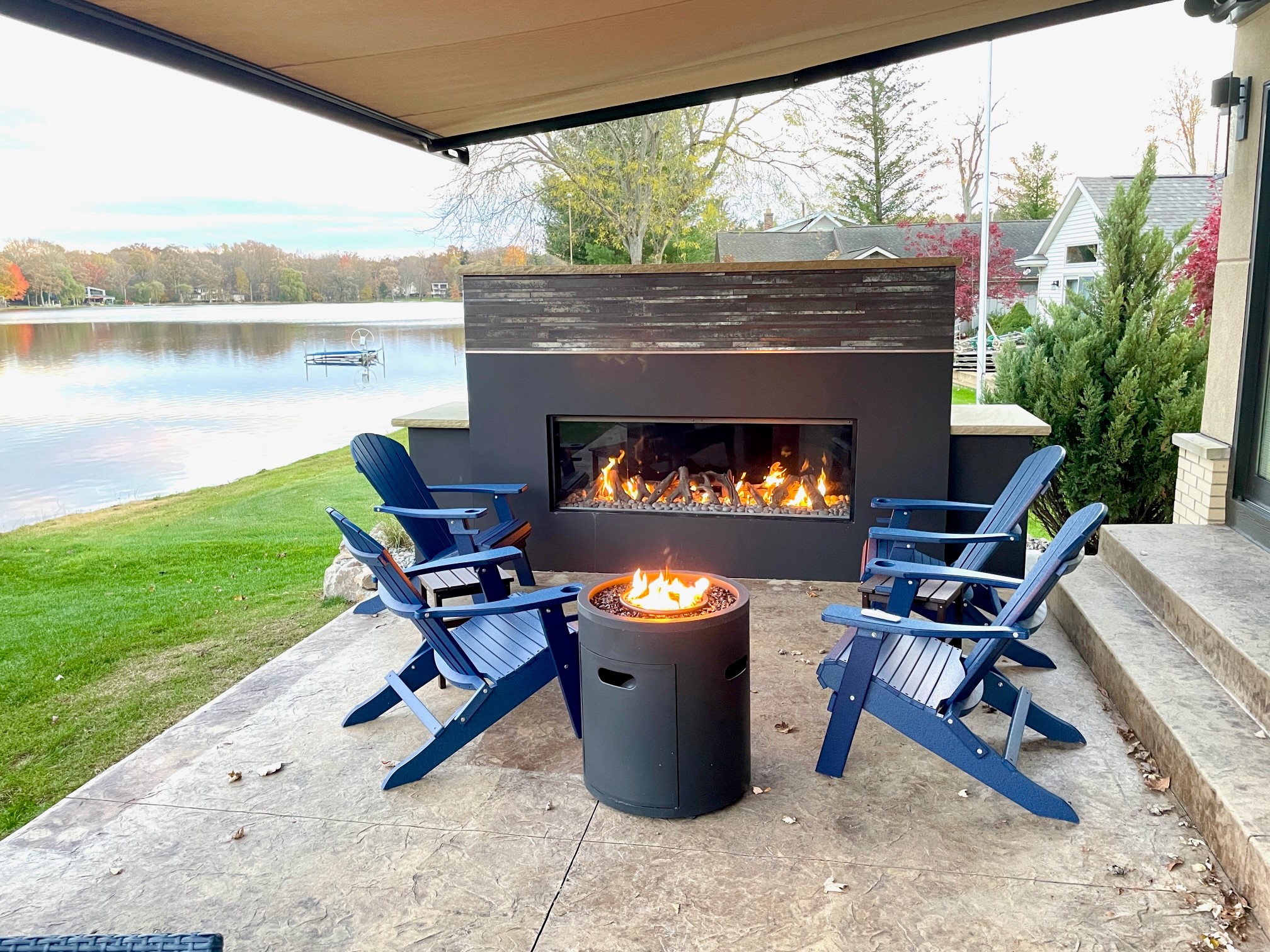 Lakeside Outdoor Fireplace
Gathering around a fire at night goes hand in hand with a day of lakeside outdoor fun. A gas-burning outdoor fireplace or fire pit can make this staple of lake cabin living a no-fuss endeavor. Instead of getting a wood fire pit rolling and worrying about whether the fire was properly extinguished at the end of the night, you can simply turn on a valve and press a button for instant comfort.
These outdoor fire features can be as simple as a small barrel or pillar-shaped fire table or as extravagant as a fully-enclosed gas fireplace for your patio area.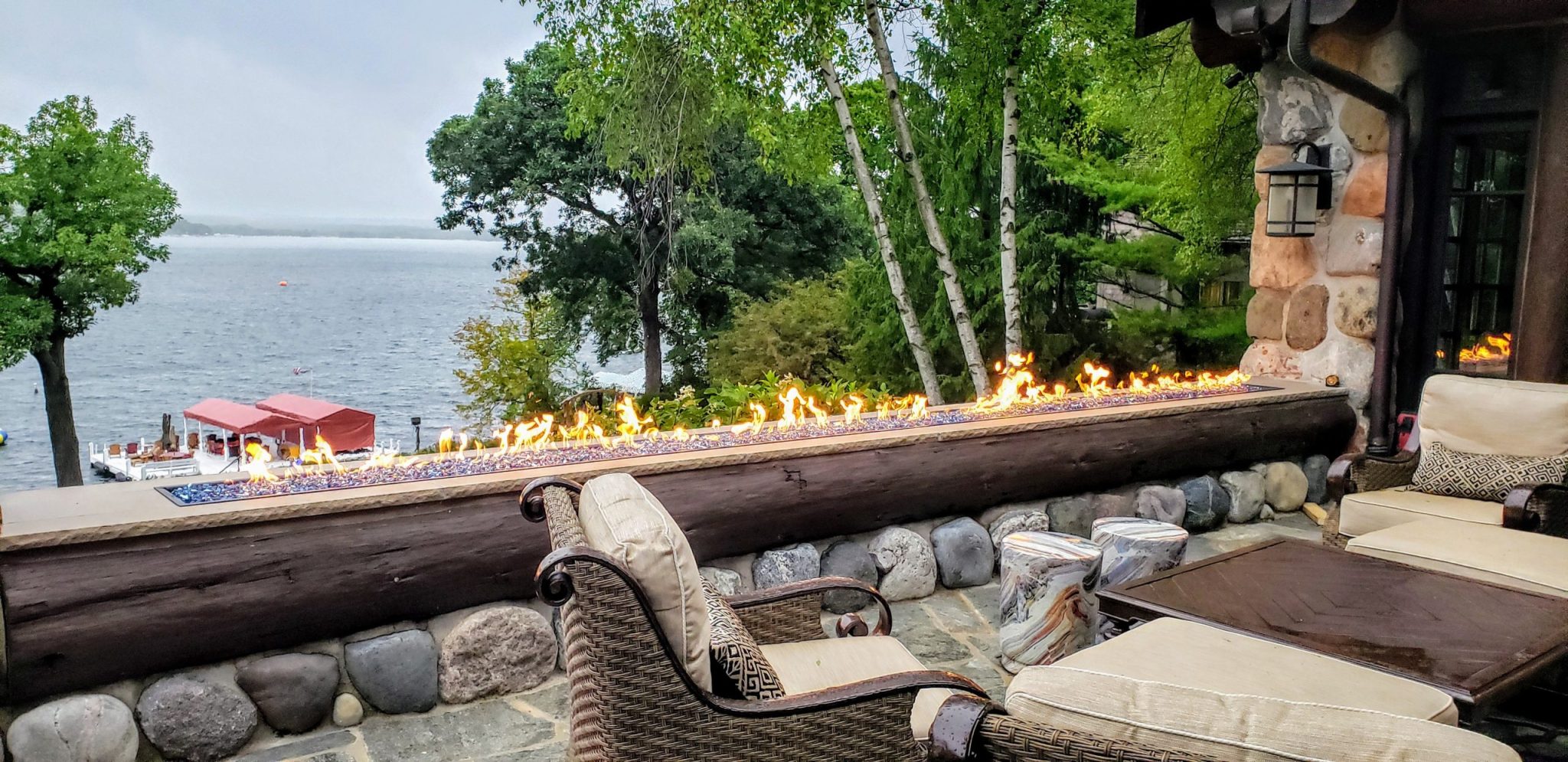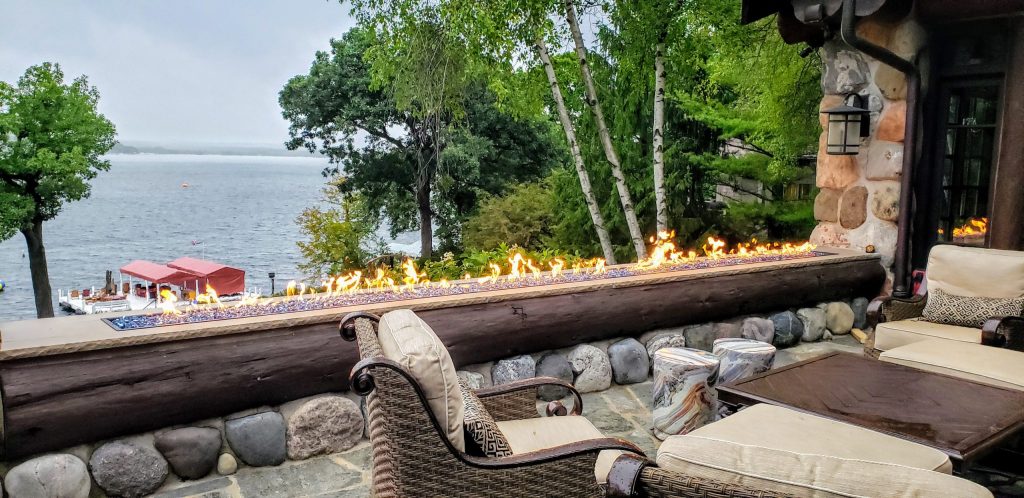 Transform your outdoor space into a captivating gathering spot with our exclusive custom fire pit burners.
Outdoor Fire Table On A Deck
If you have a large outdoor deck space, fire tables can provide a unique way to elevate the space. These fire tables can be placed as an aesthetically pleasing exterior barrier, on the corners or pivot points of your deck railing, or just simply as a focal point for chairs and other furniture to be grouped around.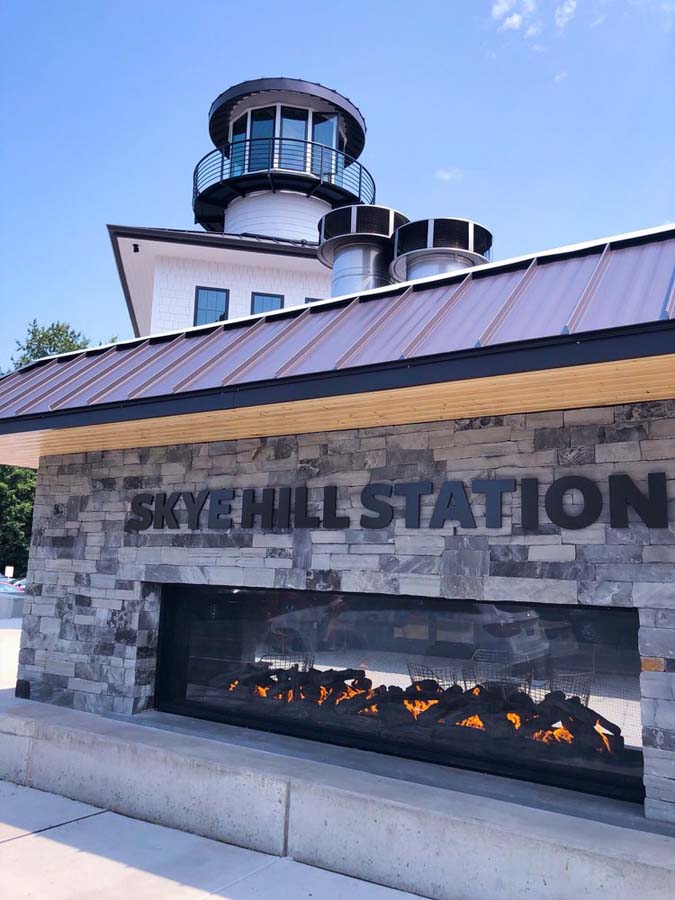 See Through Outdoor Gas Fireplace Sign
Signage is practically everywhere in our daily lives and, consequently, easy to overlook. Outdoor gas fireplace ideas are fantastic to tap into to make a sign stick out. Like moths to a flame, our eyes gravitate toward the fire. This approach can easily complement any property with a rustic, outdoorsy aesthetic.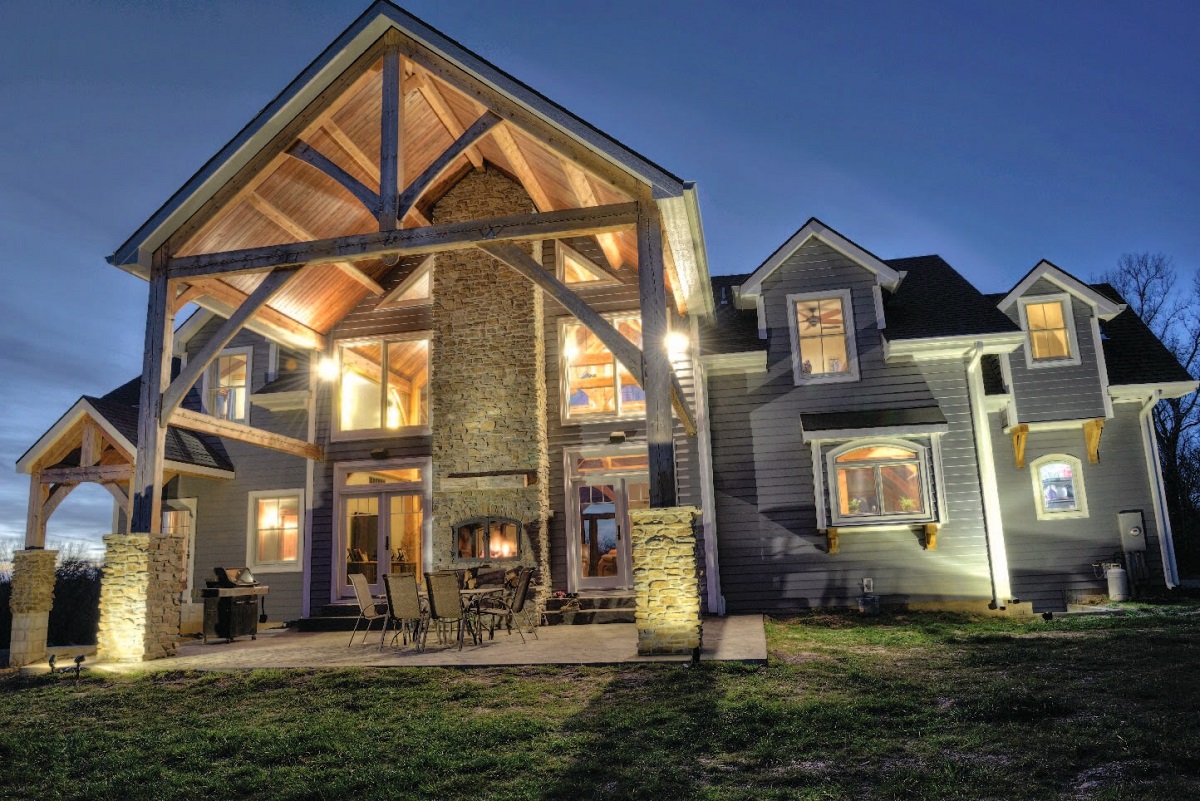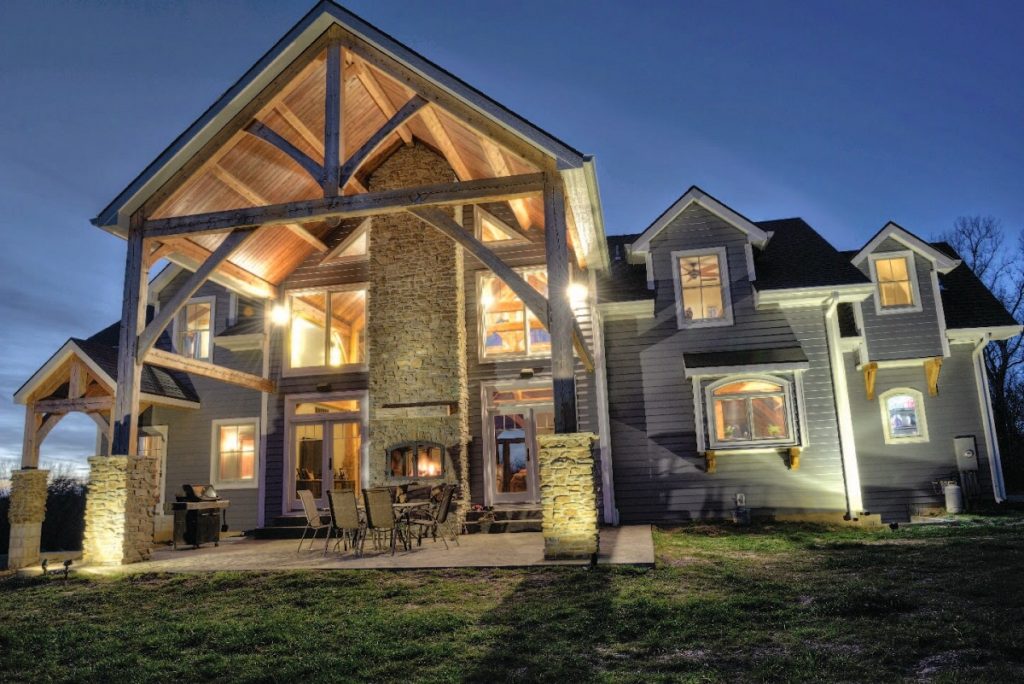 Indoor-Outdoor Wood Burning Backyard Fireplace Idea
There's definitely a rustic appeal to a traditional wood-burning fireplace, and a dual indoor-outdoor fireplace is certainly a spectacular way to tap into it. While perhaps not suitable for all spaces as ventilation is critical, a dual-sided fireplace that provides cozy comfort for multiple living spaces is hard to top.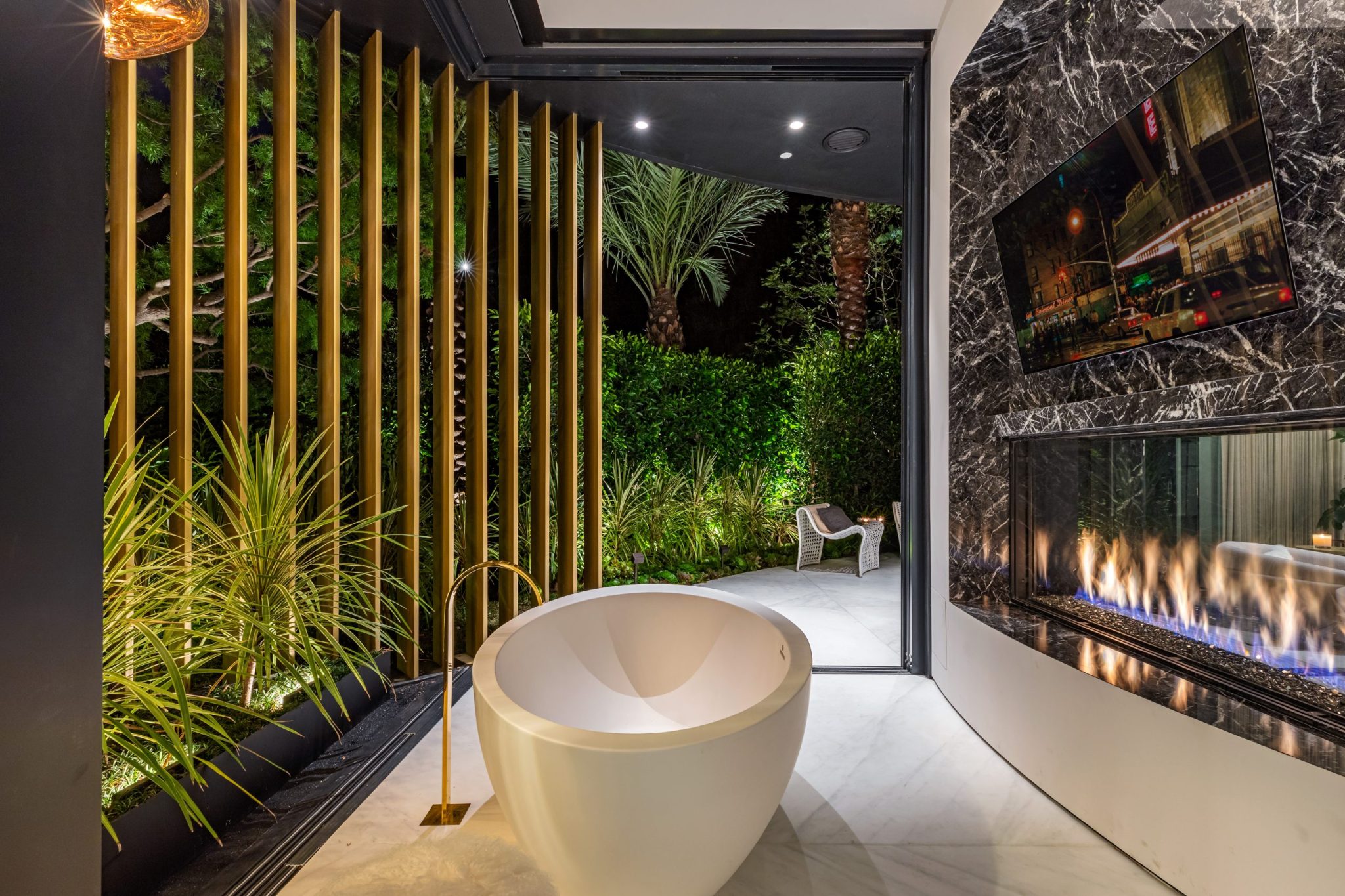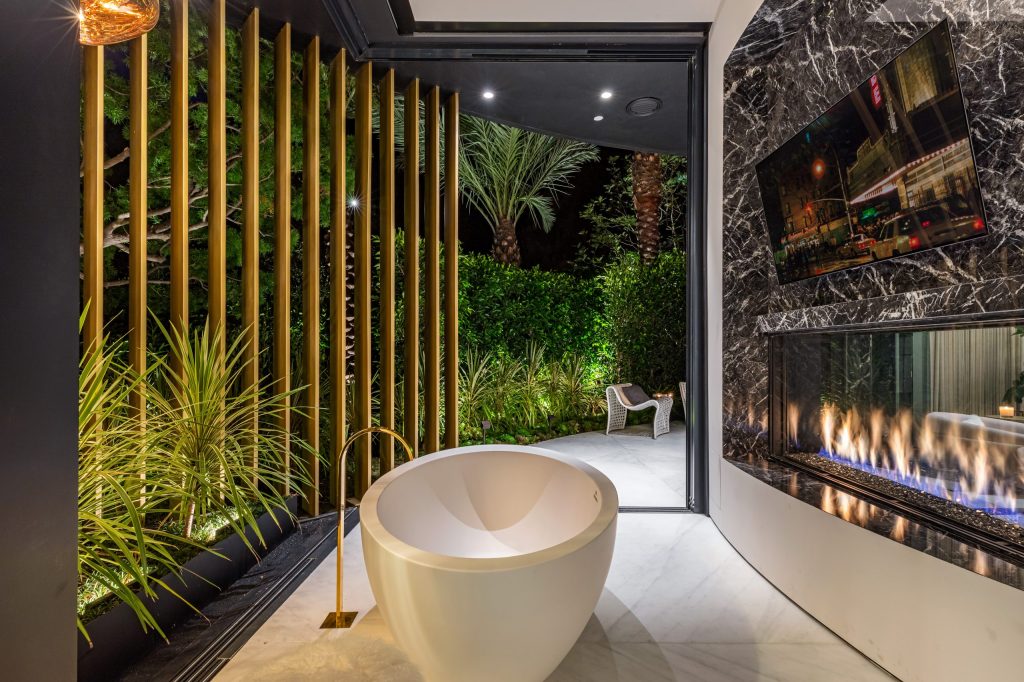 Modern Outdoor Fireplace Idea
While many outdoor fireplaces will lend themselves to a "cabin chic" aesthetic, there are definitely options for spaces with a more modern style. Gas fireplaces provide a lot of design latitude as they can be custom-built to fit a variety of enclosures. Whether you have a sleek marble look, a sophisticated all-black enclosure, or any other modern aesthetic in mind, you'll have customization options to make your ideal modern outdoor fireplace look cohesive.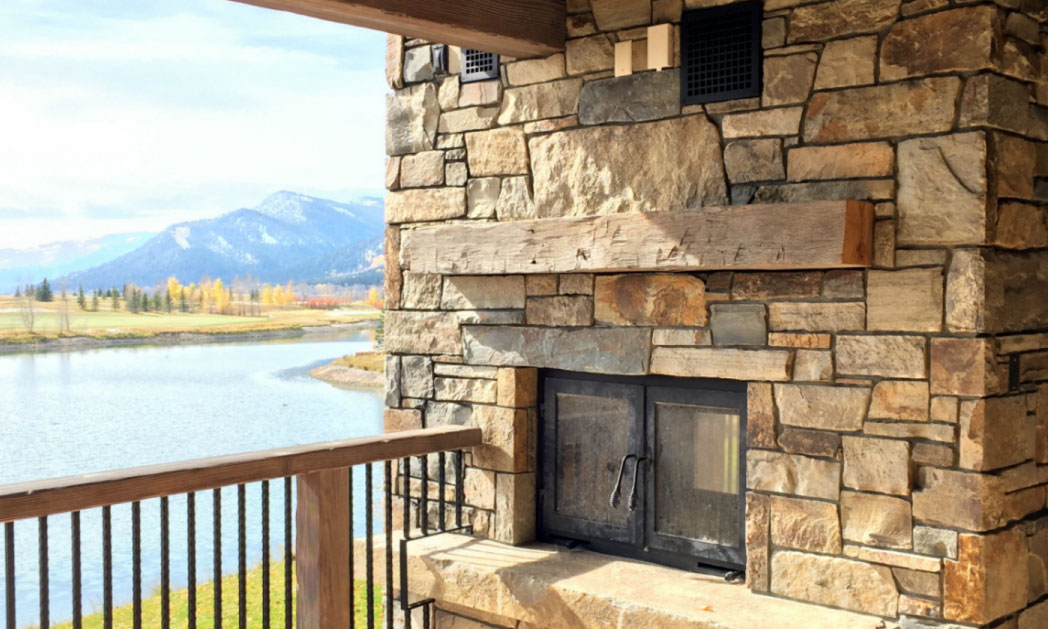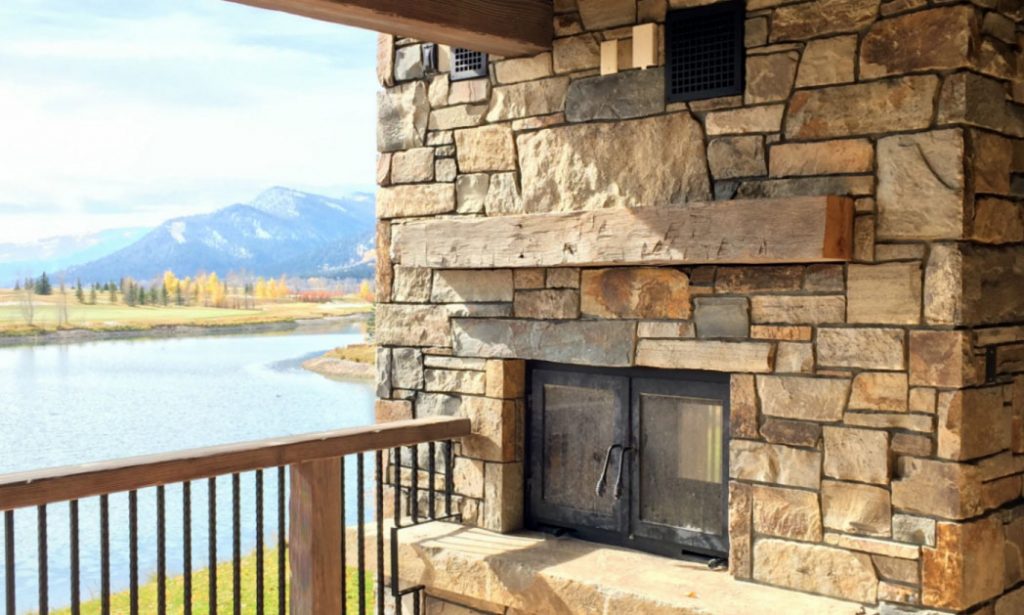 Outdoor Brick Fireplace Idea
Brick and stone outdoor fireplaces have been around for centuries, and that timeless look can be a great fit for your outdoor space. Even better? Gas-burning fireplaces can easily be added to brick facade structures on the exterior of your home–giving you the ease and convenience of a gas fireplace with the classic aesthetic appeal of stone masonry.
These brick-and-mortar style fireplaces can easily be added to cohesively compliment exterior stone facades and ledges or work as standalone features on a wood deck, back screened porch, or screened-in-patio.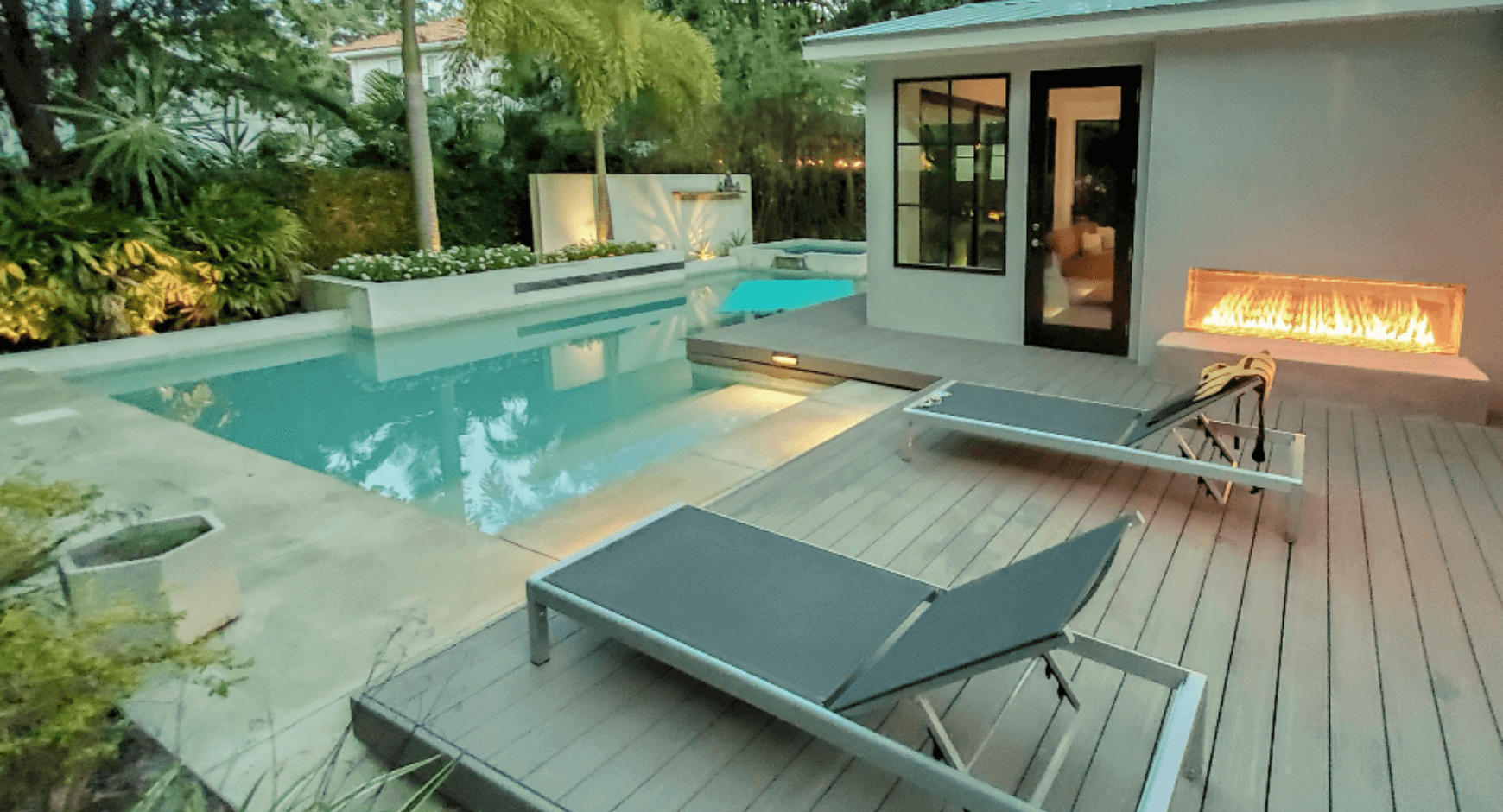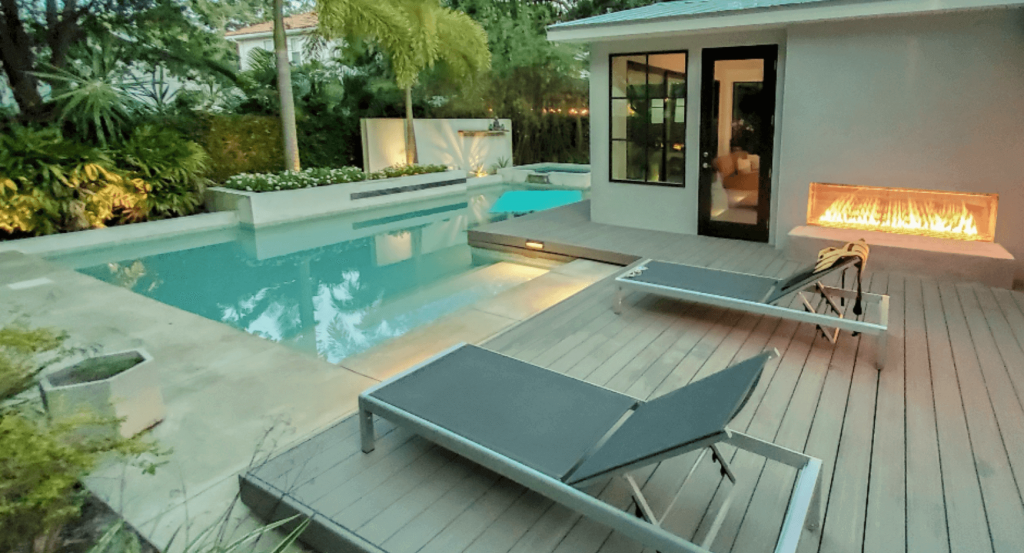 Poolside Outdoor Fireplace Idea
Imagine going for a night swim and toweling off next to the glow of a cozy fire feature–that's hard to beat. A poolside outdoor fireplace is an eye-catching way to easily elevate the look of your property's pool house, cabana, or similar space.
These can be as simple as a small gas fire table near your lounge chairs or as spectacular as a free-standing enclosed gas fireplace. It can even be a back porch fireplace with its own seating area. People can take a dip in the pool and then hang with friends around the outdoor porch fireplace.
Transform Your Outdoor Space with Acucraft's Expert Outdoor Fireplace Solutions
There's no shortage of outdoor fireplace ideas for you to add to your home or commercial property. Gas-burning and wood-burning fire features are customizable, which allows for plenty of flexibility as you start planning the ideal space for your new outdoor fireplace.
If you're ready to take the next step, check out our selection of outdoor fire features or contact us directly for a free consultation.