September 13, 2022
13 Best Firewood Storage Ideas for your Wood Fireplace
The elegance of a traditional wood-burning fireplace isn't worth much if you don't have the wood to burn close at hand. Explore these custom designs from around the world for firewood storage ideas that are as unique and creative as your fireplace design.
These 13 firewood storage solutions range from simple DIY fixes to large built-in projects. Scroll through to find one that fits your design ideals and provides adequate storage for firewood to keep you warm all winter. Whether you're looking for indoor firewood storage ideas or outdoor and patio firewood racks, there is something for everyone here.
Discover the modern wood fireplace of your dreams with the custom craftsmanship at Acucraft. 
13 Firewood Storage Ideas
Ideas for firewood storage can be as simple or extravagant as you could possibly imagine. Whether you're looking for a quick DIY solution or something that compliments the aesthetic of your home and fireplace design, you'll find it here.
Each design has pros and cons to consider before setting out to create your own. We've captured the highlights of each style in an attempt to ease your decision-making process before stacking up your wood for the winter.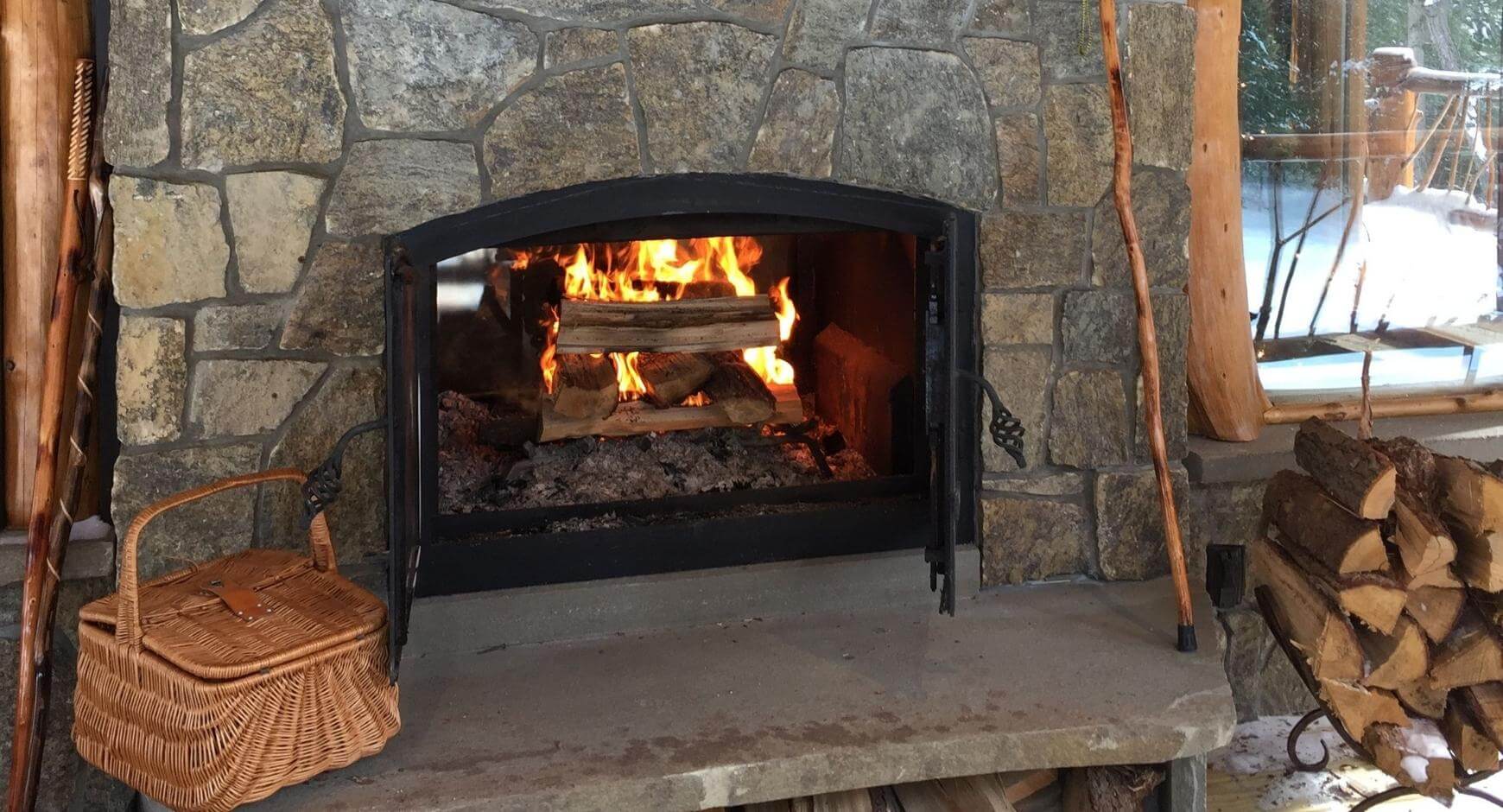 Simple Firewood Storage Rack Idea
If you're looking for a simple solution for a cozy cabin fireplace, and enjoy the rustic appearance of a simple wood stack, then this may be the wood rack idea you've been searching for. Simple wood racks can be purchased from most major home goods retailers. Twisted steel racks like the one in the photo above blend well with the iron doors of the fireplace.
Effective and inexpensive
Style options to fit your space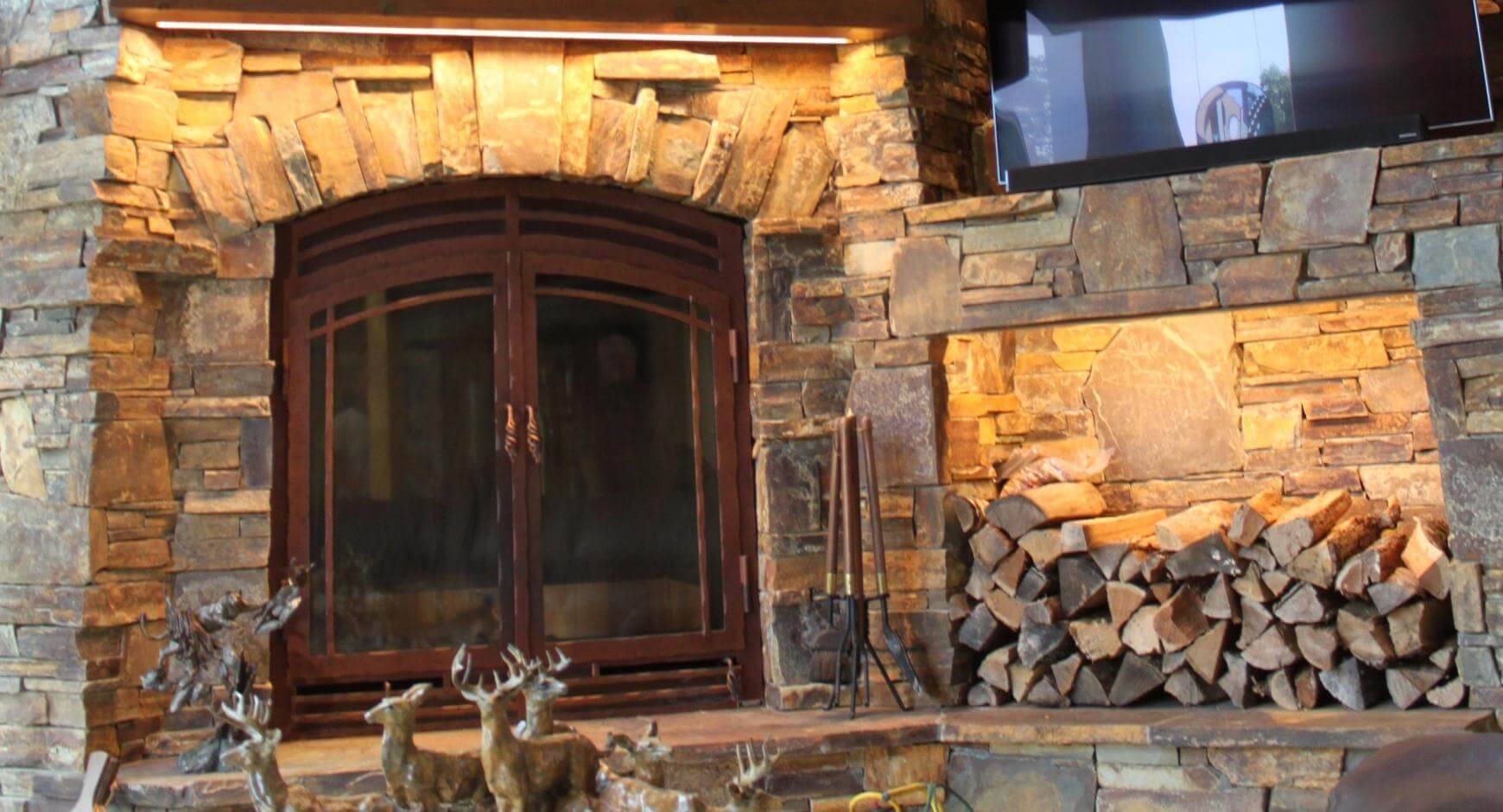 Built-In Storage for Firewood
If you design a custom fireplace for your home, you can work unique firewood holder ideas into the overall design. Expanding your custom stone veneer to include a built-in firewood box is a great way to integrate your wood storage into the room seamlessly.
Firewood storage out in the open like this can be a great way to make decor out of your wood. It's important to note that this design element is tricky to add to an existing fireplace but has excellent benefits.
Blends into the fireplace setting
Increases the breadth of your fireplace
Pulls firewood in as a decor element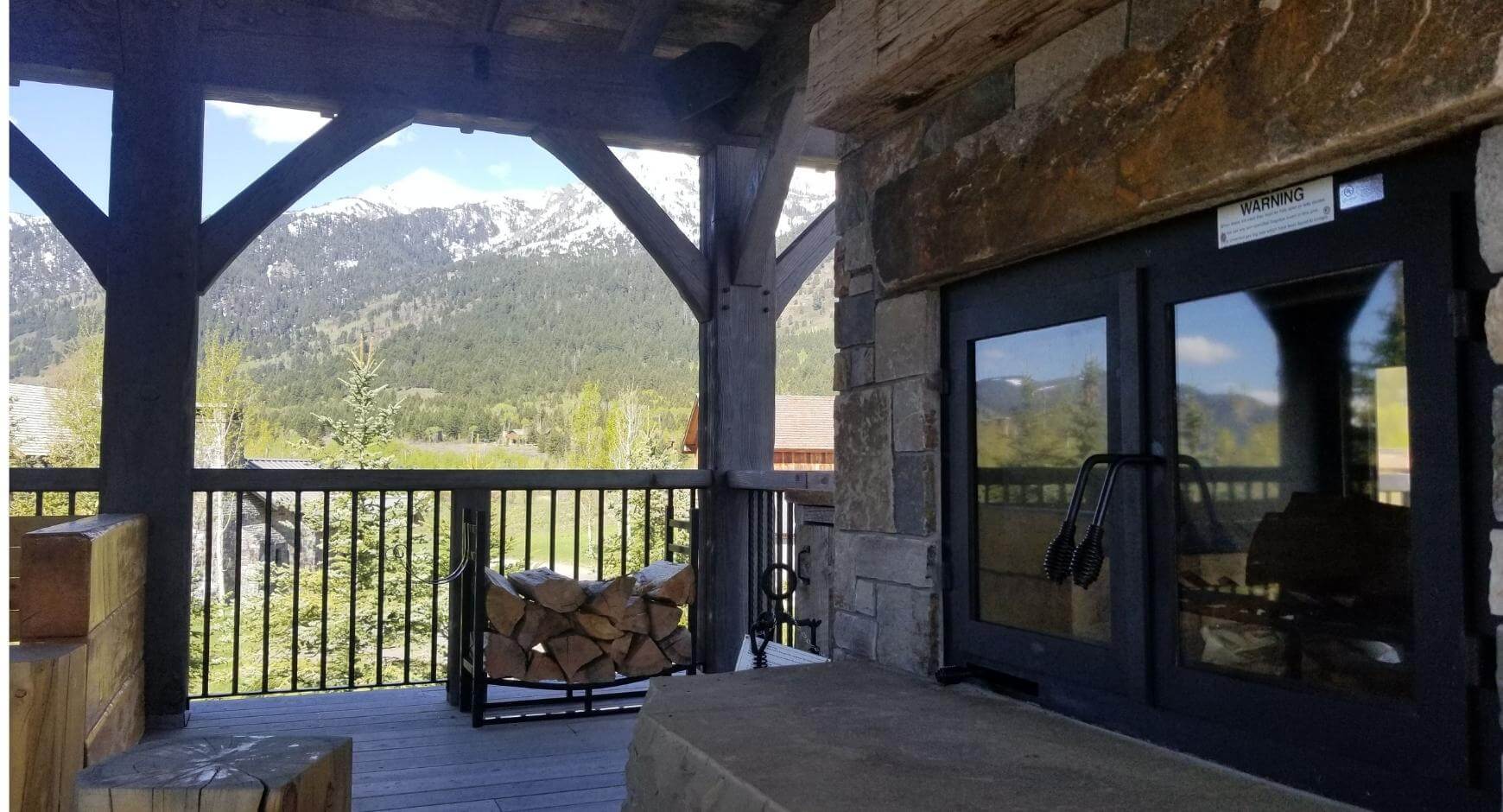 Outdoor Wood Rack Idea
Outdoor firewood holder ideas are perfect for deck, patio, and porch fireplaces. They can be simple and discreet or large and winding. The space is yours to use. Regardless of your style, if the wood rack is outdoors, you must cover it from the elements.
Look for covered wood racks that elevate the wood off the ground. There are a ton of great options for firewood storage outside.
Shields wood from the elements 
Readily available when you need it
Suitable for any outdoor area
See-Through Firewood Storage Solution 
The beauty of a see-through wood fireplace is that you can access it from both sides. So, it makes sense that you should be able to access your supply of firewood from both sides, as well.
Extending the stone veneer to cover a firewood storage area is the perfect solution. It creates an elegant symmetry within the home. This doesn't apply if your see-through fireplace is also indoor/outdoor. If a double-sided fireplace is your ideal home hearth, consider the benefits of double-sided wood storage.
Equal access from either side
Add depth to your fireplace wall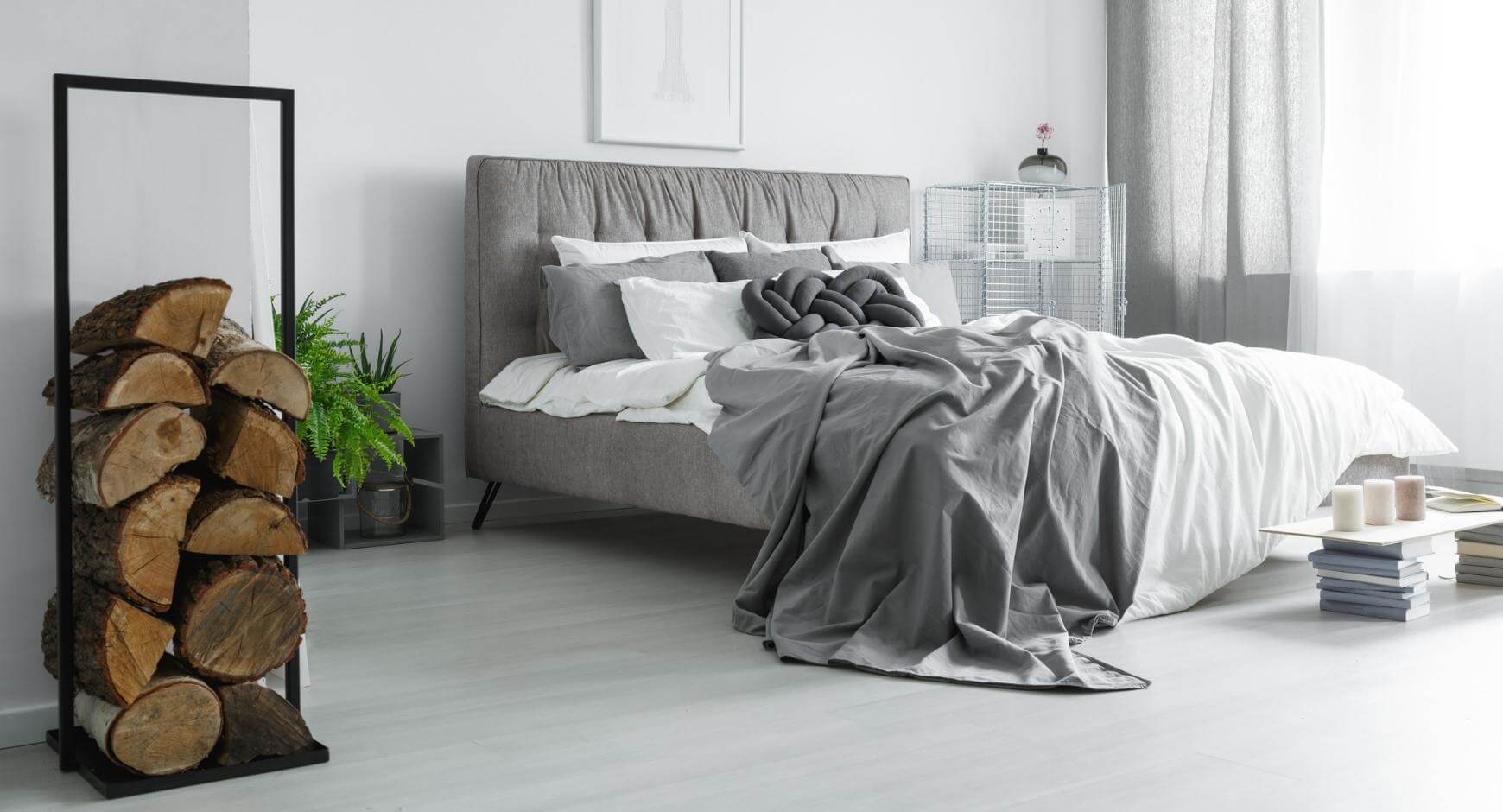 Bedroom Firewood Storage Rack Idea 
The scope of modern fireplace ideas is not limited to the living room or patio areas. A bedroom fireplace can create a romantic and relaxing atmosphere. Having firewood strewn across the floor is less romantic, so you'll want an elegant solution to maintain the atmosphere.
A vertical storage rack like the one in the photo above is modern and minimal so it won't get in the way—one of the many advantages of bedroom firewood rack ideas.
Minimalistic and unobtrusive
Fills out the fireplace atmosphere 
Options to fit any bedroom decor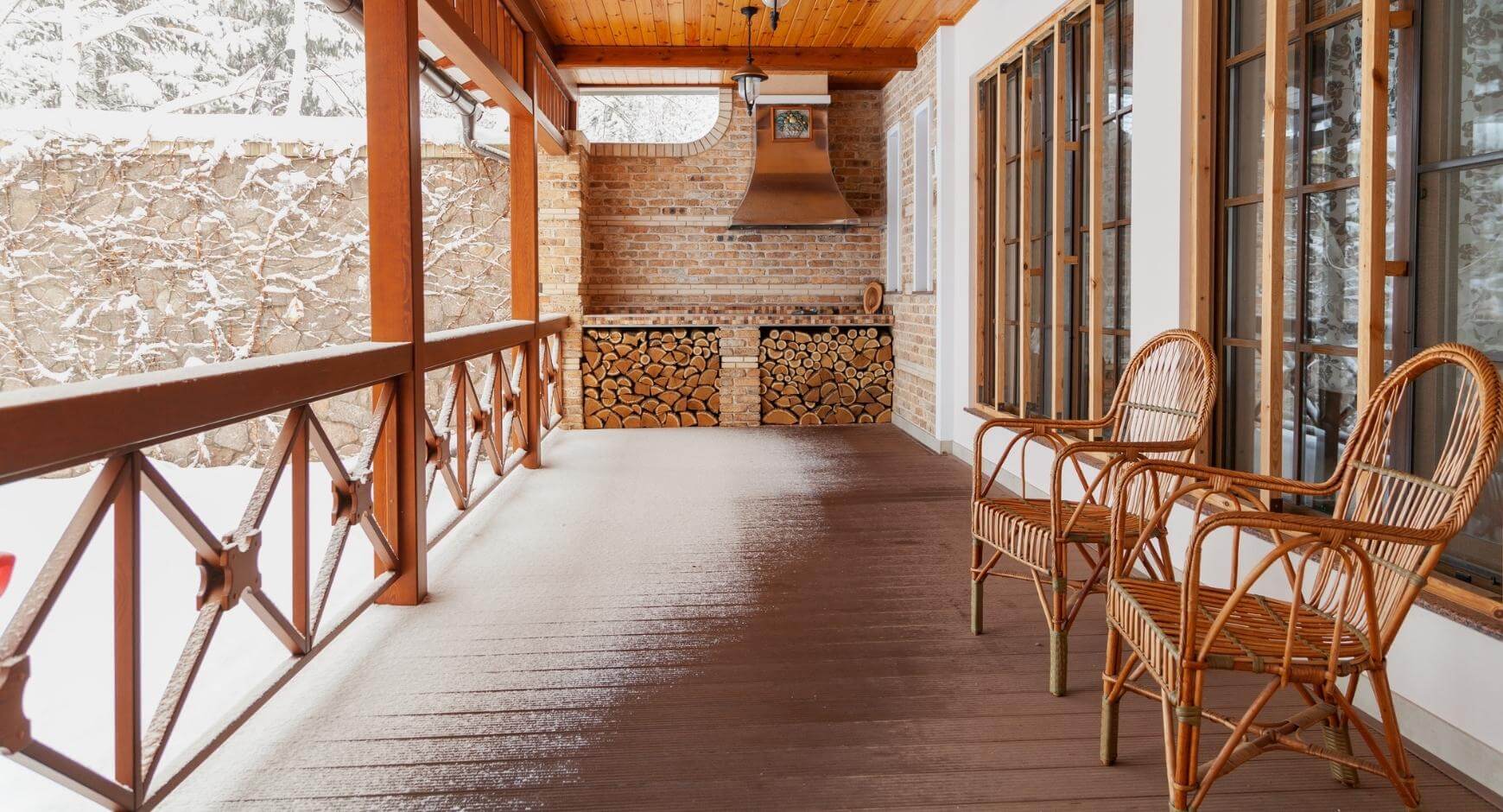 Built-In Outdoor Firewood Storage 
Indoor real estate can be scarce, and you can quickly run out of room when you're stockpiling firewood for the winter. Set your firewood outside and shield it from the rain and snow with a built-in storage solution. If you're looking for permanent firewood box ideas that look as naturally part of your home as the fireplace does, this may be for you. Ideal for your patio or pool fireplace designs, the built-in option has its perks.
Permanent fix with no maintenance
Keeps wood dry all year long
Gives a rustic feel to the patio area
Contact Acucraft to get started designing your dream wood-burning fireplace today.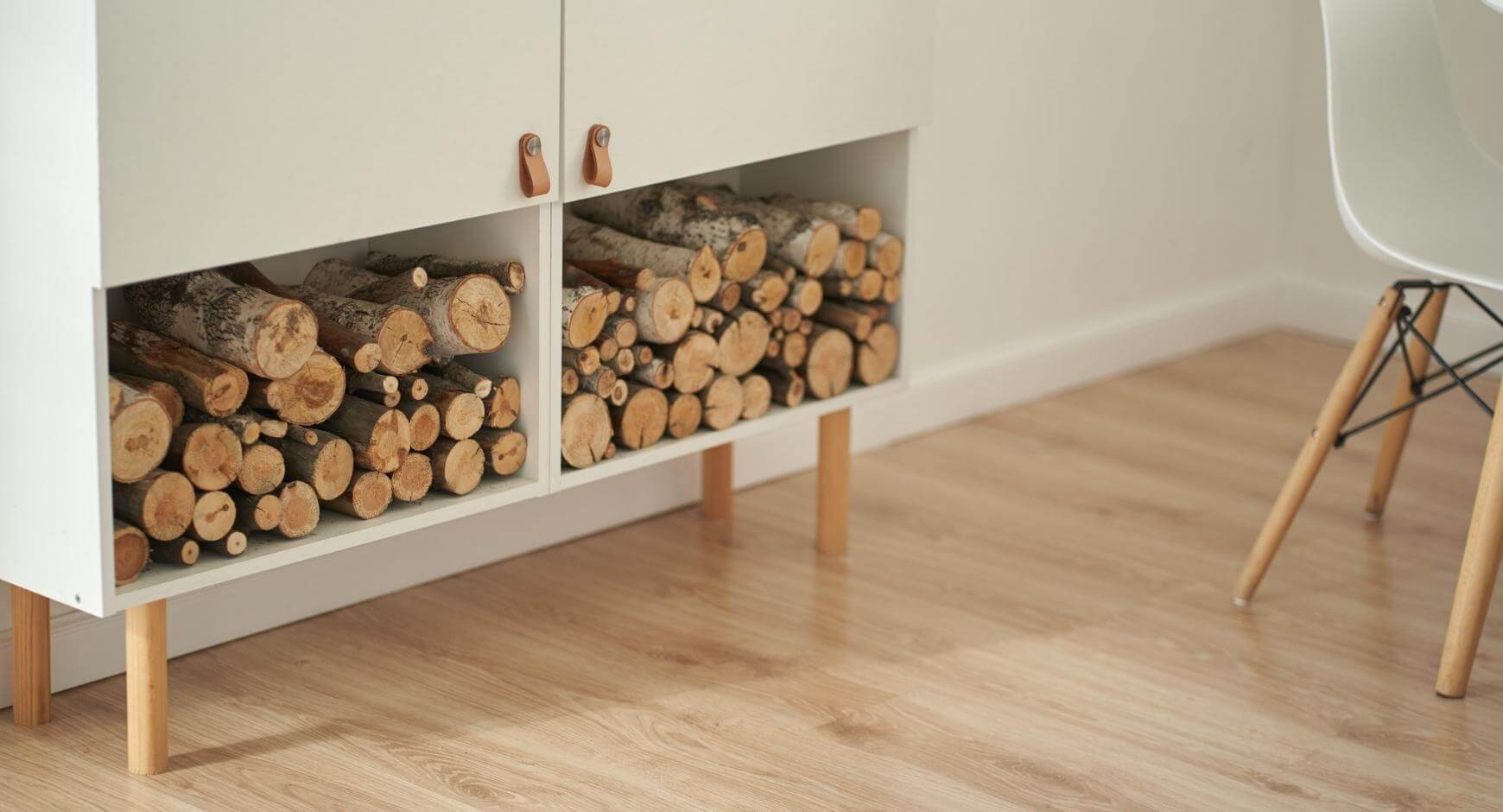 Simple, Space-Saving Indoor Firewood Storage Idea 
Clean and simple minimalism is one of the fastest-growing fireplace trends today. It makes sense that it would also transfer over to your firewood storage ideas. Use your imagination when shopping for furniture and cabinetry to find a unique and simple storage solution that suits your home.
You could also create a custom piece with the perfect space for your wood, drawers for your firestarters, and a few hangers for the poker, broom, and shovel. Think outside the firebox, and you will be rewarded.
Add storage for fireplace accessories 
Adapt retail shelves and cabinets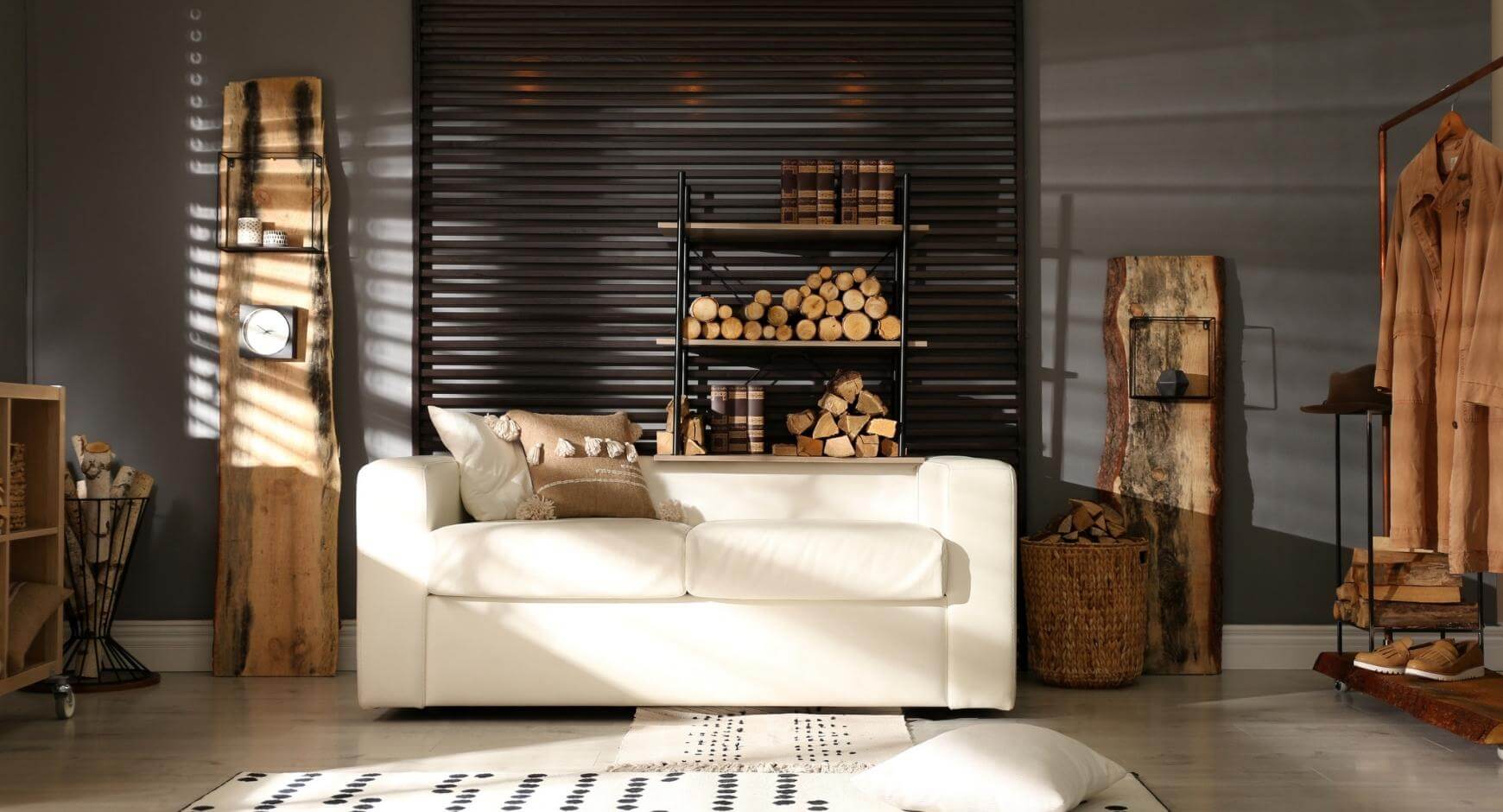 Decorative Indoor Firewood Storage
Firewood storage ideas don't have to be dull. You can take them off the floor and make a statement. Natural cut wood is one of the most lively accents you can add to any room. Elevate your firewood on a steel rack next to vintage books, or mount the rack on the wall and create a display of your fine wood-splitting skills.
Nothing compliments a beautiful custom fireplace like the wood you use to light the fire. Put the raw materials in the forefront and open yourself to the beauty of natural design.
Ever changing decor
Combine art and functionality
Declutter your floor space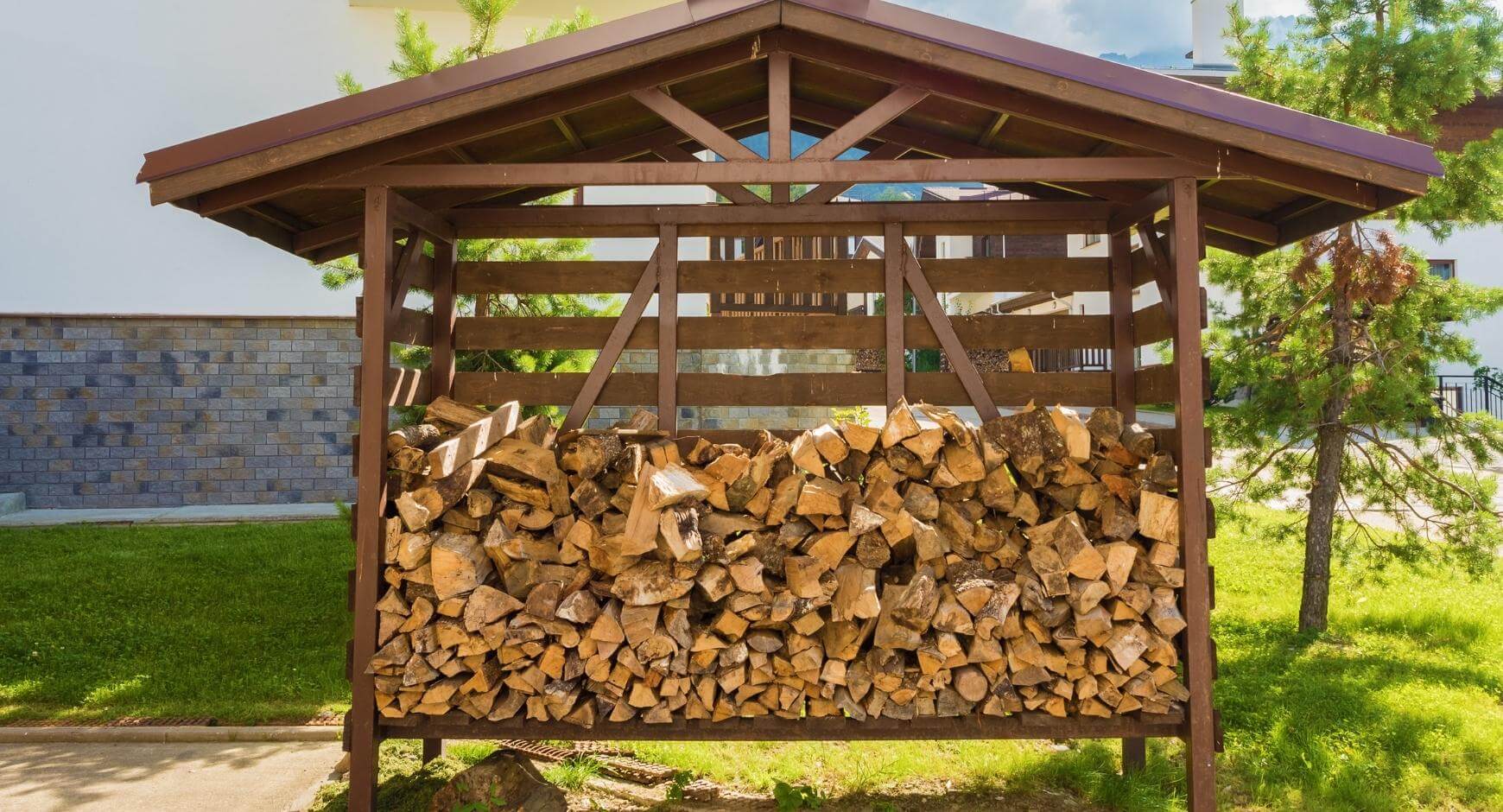 DIY Outdoor Firewood Storage Idea 
When it comes to outdoor firewood racks, DIY possibilities are far greater than that of indoor racks. With more space and rustic elements to blend into, even the most novice DIY enthusiast can create something unique and charming.
The rack in the photo above may be a bit advanced, but you will be set as long as you hit the critical elements for outdoor design. For outdoor racks, be sure the wood is kept off the ground and shielded from the rain. This will ensure the wood is dry and ready to burn when you need it. Make your firewood storage DIY and enjoy the benefits.
Flex your creativity and show off
Fully utilize your outdoor spaces
Keep indoors clear of wood scraps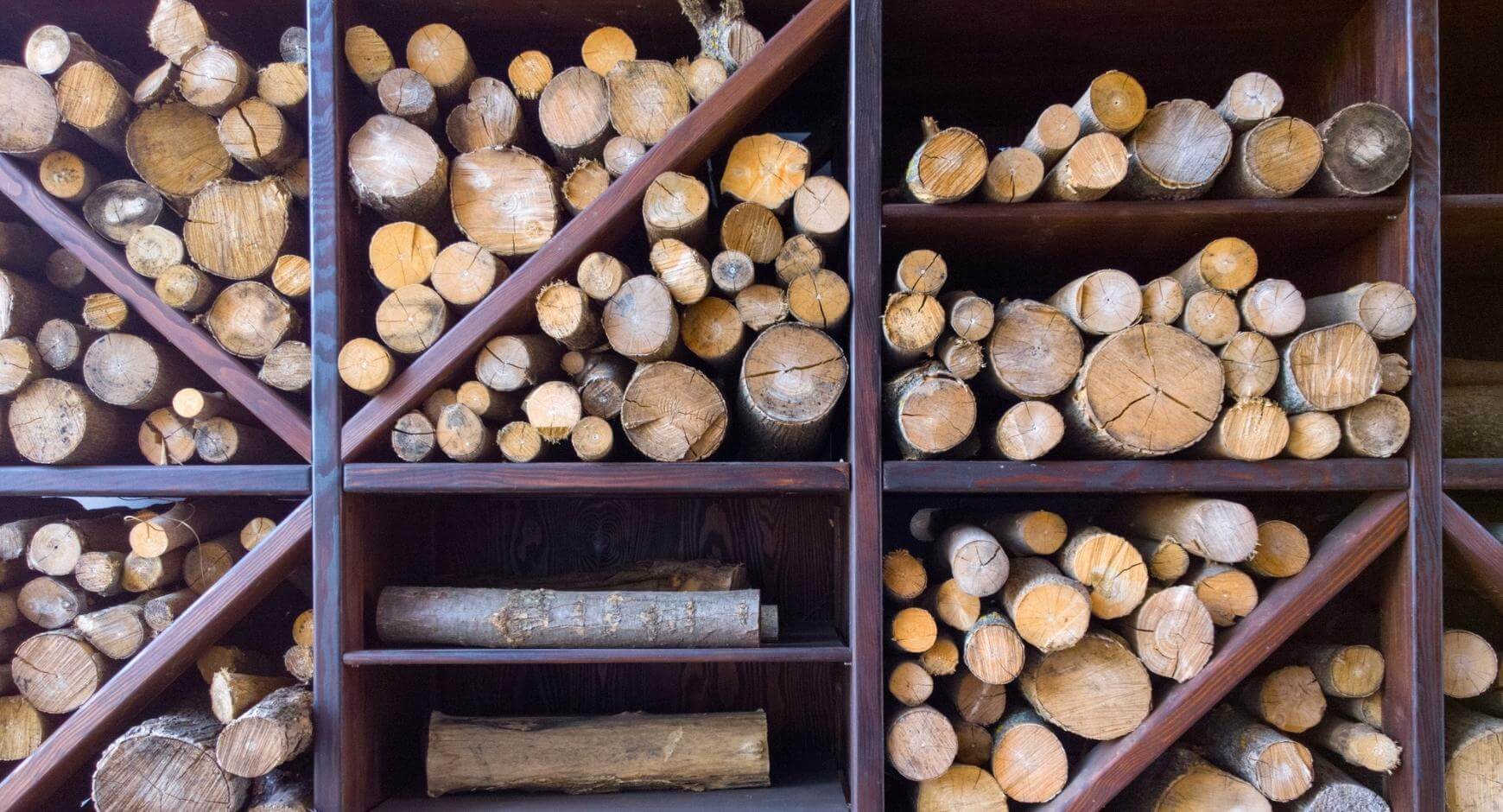 Modern Decorative Firewood Storage for the Outdoors
While the outdoors may be the perfect place to try your firewood storage DIY, sometimes you want a rack that looks a bit more polished. Modern decor is all about clean lines and contrast.
The outdoor rack above accomplishes this with dark wood to offset the lighter colors of fresh-cut timber. They have also incorporated lines and angles that compliment different-sized wood. You can't go wrong with a modern design approach for outdoor storage that isn't quite as rustic.
Dark wood will contrast cut wood
A mix of lines compliment the mixed logs
Combines modern design with natural shapes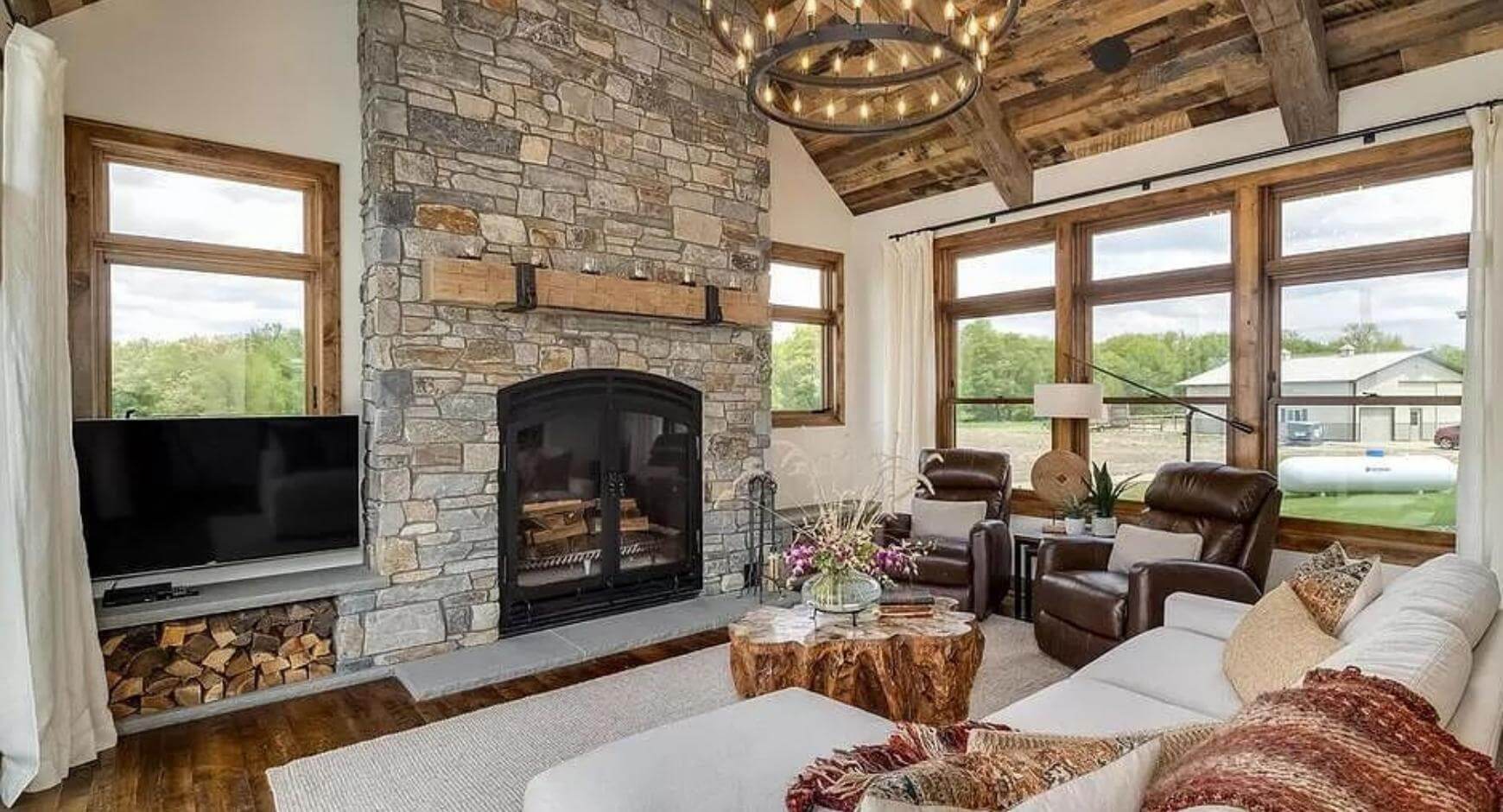 Firewood Storage Under the TV
Ideas for firewood storage are all around us, including under the TV. Take this one-of-a-kind front-facing wood fireplace, for example. Without that extra space under the TV for storage, that firewood may have taken up other precious floor space or needed to be set outside. Even if you don't have a TV to put in a space like that, it could also function as a bench for additional seating or other storage for other items.
Make room for added seating
Take advantage of unused spaces
Keep the firewood close to the fire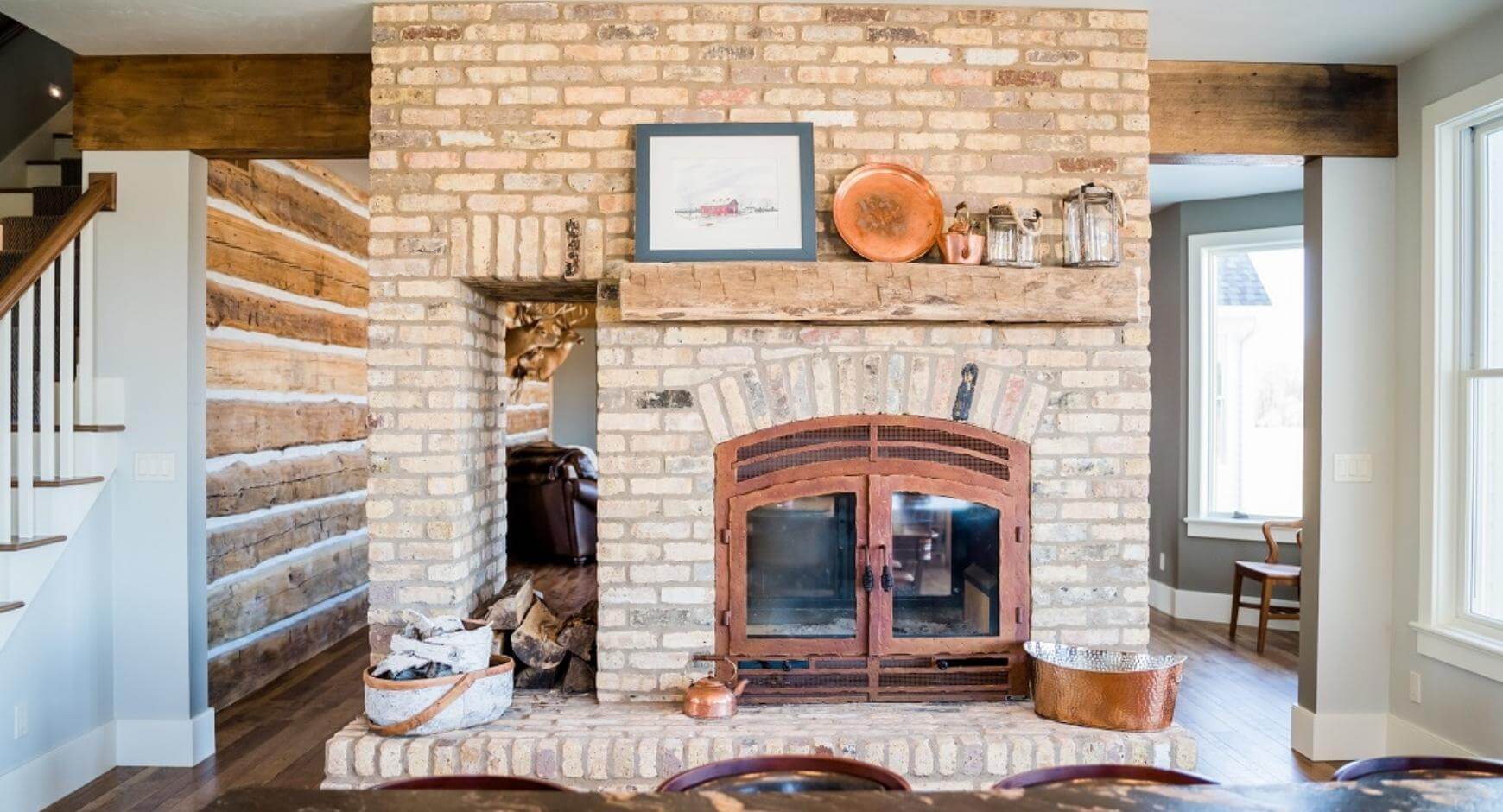 Tall, Built-In Firewood Storage 
When you've run out of storage for firewood in the spaces around the fireplace, it's time to start thinking vertically. You may only need a foot wide gap that follows your chimney to stack all the firewood you need. The double-sided fireplace in the photo above would have a tough time integrating any of the storage solutions we've seen thus far, but the vertical firewood box idea is perfect. Make the most of your space by utilizing the height of your fireplace to stack your firewood.
Create a towering wall feature
Tie firewood storage into the fireplace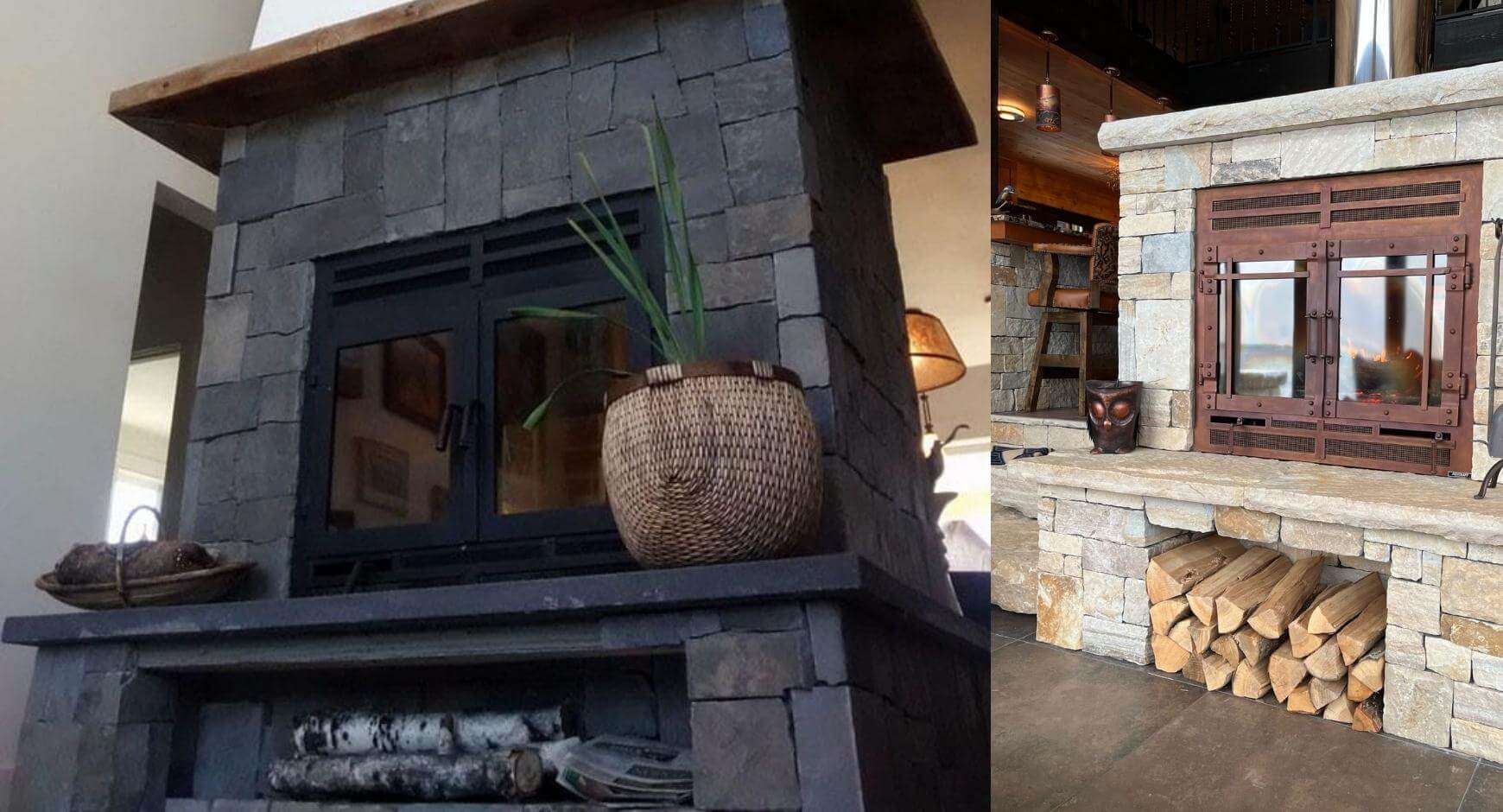 Firewood Storage Box Underneath the Fireplace 
If you're running out of ideas looking around your fireplace for storage space, consider elevating the fireplace to create storage space underneath it. Your firewood can't get much closer than that, all while being out of the way and discrete. Be sure to keep a clean hearth to prevent sparks from igniting the wood below. It's a key component of wood-burning fireplace maintenance and one you'll be glad you've done as it makes the space that much more relaxing.
All elements of the fire in one place
Stays clean with proper care
Ideal space saving solution
Create your ideal wood fireplace with the foremost experts on fireplace design at Acucraft. 
Find Your Fireplace and Firewood Storage Inspiration with the Experts at Acucraft
Firewood storage ideas may often come as an afterthought to installing a wood-burning fireplace, but that doesn't mean you're out of luck. Whether you're decorating or designing a fireplace, Acucraft has you covered with all the latest design tips and inspiration in our blog.
If you're seeking further inspiration or want to see our design experts in action, browse our photo gallery for some of the best custom fireplaces on the market. We hope that when it comes time to design your own custom fireplace, you'll trust the fireplace experts at Acucraft to make your vision a reality.